18 Best Perfumes For Women That Men Love
Create a lasting impression on the woman of your dreams with these alluring fragrances!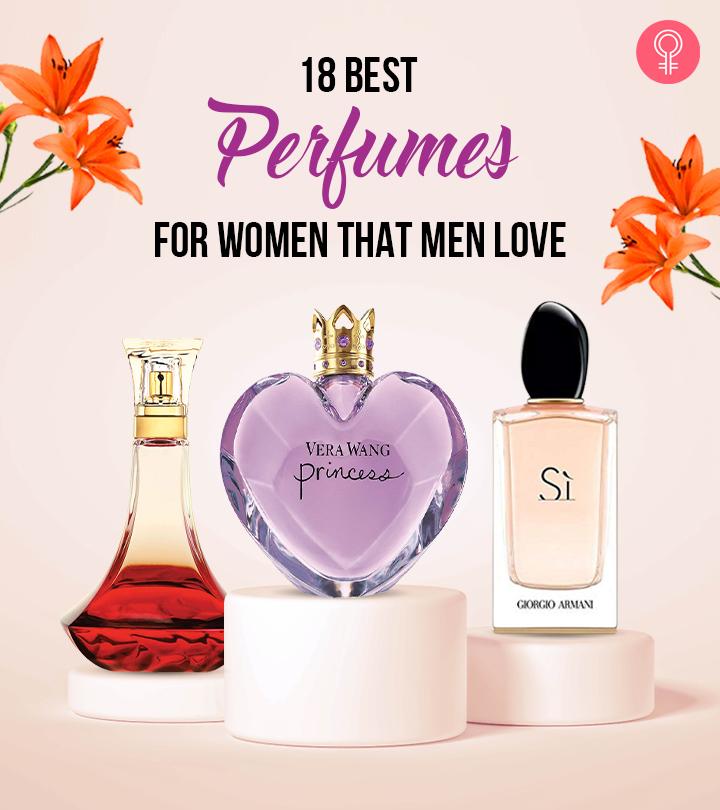 Are you planning to go on a date night or to a special event? If you want to make heads turn, you need the best women's perfume according to men. Your fragrance should be enchanting, mesmerizing, and allude to a mysterious vibe. It is believed that certain fragrances can evoke the desire and passion of people of the opposite sex. It is not just about your outfit or how you look, but also about how you smell.
In this article, we have curated a list of some of the best women's perfumes according to men. Scroll down to take a look at our selection!
18 Best Perfumes For Women That Men Love
Unleash the princess in you with this whimsical perfume from Vera Wang. This enchanting fragrance has unique floral and fruity scents like vanilla, lily, apple, and amber to excite the mind and body. A spritz of this perfume will give you a refreshed feeling at any time of your day.
The capturing perfume has a feminine scent, with apple, waterlily, and apricot as the top notes. Tempting chocolate and floral tuberose make up the heart notes, and the complementing amber and woody vanilla work as the base notes. This fruity women's perfume comes in a gorgeous tiara-topped bottle to complement your vanity. If you want to know more about the immediate results after using the product, take a look at this perfume enthusiast's review on YouTube.
Pros
Fruity scent
Radiant and whimsical
Youthful
Sophisticated aroma
Feminine and modern
Cons
Price at the time of publication: $25.0
This sensual and modern fragrance by Beyonce leaves you smelling irresistible. It comes in an exquisite, super luxurious bottle with a fiery gradient pattern and a gold-rimmed top for a touch of elegance. This seductive floral perfume has honeysuckle, almond, and musk heart notes. This high-end women's perfume has a blend of sensual and fruity neroli, peaches, and red vanilla are the top notes, while warm sequoia wood and amber constitute the base notes. The attractive scent of this perfume leaves you smelling like a goddess. This rich floral and fruity fragrance comes in an elegant and curvy amber bottle.
Pros
Oriental
Long-lasting
Soft sober scent
Perfect for an elegant party
Beautiful packaging
Cons
Price at the time of publication: $64.99
This elegant women's fragrance by Gianni Versace has a touch of dreamy yuzu and pomegranate, along with a lingering amber and musky mahogany base. It also has deep feminine floral notes of magnolia, lotus, and peony, giving a fresh summer feeling. This designer bottle comes with an enormous crystal topper making this charming perfume the ideal gift for any occasion. If you are still unsure about this women's perfume, you can check out an honest review of this popular product from a YouTuber.
Pros
Designer fragrance
High-quality product
Suitable for gifting on special occasions
Unique container
Musky
Cons
None
Price at the time of publication: $46
Daisy by Marc Jacobs, formulated by the famous perfumer Alberto Morillas, is as romantic as a perfume can get. The whimsical notes of juicy berries and enchanting white violets give a premium touch to this fragrance. The warm captivating base notes of cedar, rich jasmine, and intense sandalwood leave a lingering desire for more. The interesting bottle topper with garlanded blooming daisies gives this perfume a retro twist. This playful yet classy fragrance is the all-time favorite women's perfume perfect for everyday wear. If you want to find out more about this romantic women's fragrance, make sure to check this review out on YouTube.
Pros
Floral and musky scent
Comes in a fancy bottle
Suitable for all occasions
Luxurious
Cons
None
Price at the time of publication: $69.99
Light Blue from Dolce & Gabbana reminds you of floating in the deep blue sea on a beautiful summer evening. This seductive and fresh scent has crisp apple and Sicilian cedar top notes and delicate floral heart notes of jasmine and white rose. The heart-warming base notes contain amber, citron, and musk that evoke your womanhood. The delicate perfume is encased in a sleek strong glass bottle. This subtle and classic signature scent is ideal for everyday wear.
Pros
Pleasant and subtle scent
Suitable for date nights
Fresh and floral scent
Cons
Price at the time of publication: $77.89
Walk through an enchanting garden filled with fresh and seductive floral and woody notes with this hypnotic-smelling perfume by Clinique. The designer fragrance has a subtle feminine scent with a blend of chamomile, patchouli, and jasmine. The delicate orange blossom, sandalwood, rose, and vetiver undernotes leave behind an intoxicating scent like none other. This dynamic fragrance is ideal for any occasion and leaves a long-lasting fragrance.
Pros
Designer fragrance
Pleasant
Long-wearing
High-quality fragrance
Woody scent
Cons
None
Price at the time of publication: $8322
Meow by Katy Perry, inspired by the singer's whimsical and colorful personality, has a delectable, rich scent. The celebrity women's perfume is packed in a cute cat-shaped bottle and reflects what every independent and playful girl wants. It has top notes of juicy pear and tangerines, along with hearty gardenia and jasmine. The heart notes contain honeysuckle, lily, and orange blossoms that make you feel desired. The chic amber, vanilla, musk, and sandalwood base notes leave a lingering aroma that lasts all day. This romantic and seductive women's perfume is specifically formulated for young women and is a popular fragrance for women that is suitable for daily wear.
Pros
Comes in a quirky bottle
Citrusy, fruity scent
Refreshing and powdery
Cons
Price at the time of publication: $27.39
Unleash your inner goddess with this addictive perfume from Yves Saint Laurent. It has a rush of delicate coffee top notes followed by a calming and sweet, vanilla scent. The intoxicating yet seductive orange blossom, pear, and patchouli balance the fragrance and give it a modern yet vibrant feel. This timeless perfume has stolen the hearts of many!
Pros
Natural finish
Long-lasting
Woody
Pleasant
Suitable for all occasions
Cons
Price at the time of publication: $94.78
The Pheromone Perfume One Love from Eye Of Love is a spicy floral fragrance that can help you to feel confident and enhance your emotional and social connections. The perfume has an orange top note which is known for its uplifting, intriguing,and stimulating effect. The middle note of the perfume contains jasmine, lily, and rose with base notes of musk, vanilla, and ambergris for a touch of spice. The seductive women's fragrance is formulated with fragrance oil and high-concentration pheromones, which makes it long-lasting and suitable for all-day wear.
Pros
Vegan
Cruelty-free
Powerful smell
Long-lasting
Perfect for any romantic setting
Cons
None

Price at the time of publication: $54
This iconic perfume, encased in a luxurious fluted glass bottle, is all things glamorous. The statement fragrance of rich spices and lingering black orchids make this Tom Ford perfume a must-buy. It has a citrusy yet sweet scent with an alluring formulation that gives a modern and chic blend of perfection.
Pros
Sensual and alluring scent
Luxurious
Classy bottle
Glamourous perfume
Cons
Price at the time of publication: $149.56
This feminine and dreamy perfume by Coach comes in a sassy and luxurious rose gold bottle. The spray cap looks like the signature clasp of coach bags. This enchanting and irresistible fragrance for women reflects the chic and modern lifestyle of downtown New York and adds a blast of energy with the pink pepper, Turkish rose, and gardenia under notes.
The middle notes of juicy pears and tangy raspberry leaves add just the right amount of spark to this enchanting potion. The base notes of warming sandalwood, cashmeran, cyclamen, and suede musk make this perfume a premium scent. The long-lasting aroma of this winter wear women's perfume is also ideal for everyday use or special occasions.
Pros
Floral scent
Long-lasting
Luxurious bottle
Suitable for all occasions
Cons
None
Price at the time of publication: $85
Si by Giorgio Armani, formulated by the master perfumer Christine Nagel, is a mix of fruity, sultry, and spicy notes. This super long-lasting perfume is guaranteed to get you endless compliments. It brings out a woman's inner strength and sophistication with the rose and blackcurrant tones and a warm and musky base. The chic scent has an expressive and intense essence that is sure to turn heads. This spicy women's perfume has a lingering scent is ideal for daily use and gives you a sense of distinguished elegance.
Pros
Elegant
Musky, woody scent
Strong
Long-wearing
Ideal for evening wear
Cons
None
Price at the time of publication: $95.69
This old-school premium perfume crafted by Sophia Grojsman, Max Gavarry, and Bernard Chant is one of the best scents for women. It has a seductive and sweet blend of lily, orange flower, rose, and tuberose, along with fresh citrus and woody scents to add balance. The sweet-smelling women's perfume has a slightly spicy and floral perfume accentuated by rich fruit oils and leaves a long-lasting fragrance.
Pros
Pleasant
Suitable for all occasions
Luxurious
Beautiful bottle
Long-lasting
Cons
None
Price at the time of publication: $66.97
Lovely is a well thought and mindfully whipped up formulation, co-created by Sarah Jessica Parker. This sexy and chic concoction is a soft and intimate fragrance that opens with mild citrusy and rosewood notes, along with a sparkle of lavender. The intriguing women's fragrance then lingers into crisp apple martini, orchid, and narcissus middle notes and finishes off with moody and rich white musk, cedar, amber, and woody base notes. It offers an exotic and sexy feeling. This sensual women's fragrance is the ideal choice for all ages and leaves a lingering fragrance that lasts all day.
Pros
Comes in a beautiful bottle
Strong fragrance
Long-lasting
Luxurious
Suitable for all occasions
Cons
Has a strong smell of alcohol
Price at the time of publication: $24.07
The Maison Francis Kurkdjian Baccarat Rouge 540 Eau De Parfum Spray is a warm perfume that can be worn by both men and women and has a woody fragrance to it. This enchanting and irresistible perfume has a top note of Jasmine and saffron, a middle note of amber wood, and a base note of cedar and fir resin that makes the perfume smell like floral and amber.
The perfume has a soft and sweet smell that is not extremely loud and stays on for a long time. This perfume is packed in an elegant crystal container which will give your collection a touch of luxury.
Pros
Long-lasting
Can be worn by men and women
Light smell
Natural ingredients
Elegant packaging
Cons
Price at the time of publication: $261.1
This mysterious women's perfume is a rock and roll-themed perfume by Christian Audigier that leaves you in a trance of fruity and floral scents. This exciting fragrance opens with sassy notes of fresh juicy mangoes, crisp apple, tangy red grapefruit, and wild sweet strawberries. The mystical black freesia, lily, and lime form the heart notes, followed by base notes of rose, vanilla, and amber that give a soft and subtle finish. This daytime women's perfume is also great for daily wear.
Pros
Quirky and interesting container
Pleasant smell
Suitable for all occasions
Long-lasting
Musky
Cons
None
Price at the time of publication: $27.67
This oriental fragrance infused with rich floral scents is to die for! It is one of the most sought-after fragrances available out there. This hypnotic women's perfume opens with a citrusy kick of orange, mandarin, bergamot, and orange blossoms, followed by jasmine, rose, mimosa, and ylang-ylang middle notes. The base notes consist of tonka bean, vetiver, vanilla, and white musk.
Pros
Beautiful container
Long-lasting
Suitable for every occasion
Elegant fragrance
Luxurious
Cons
Has strong smell of alcohol
Price at the time of publication: $119
This perfume is yet another elegant and captivating collection from a designer brand and smells just like its name "Gocce Di Fiori," which means "drops of flowers." This delicate scent by Gucci is blended with a trio of exotic flowers – jasmine bud extracts, Rangoon creeper, and natural tuberose. The fresh fragrance of this floral women's perfume gives a rush of elegance, promise, and authenticity, and the scent lasts all day long.
Pros
Chic container
Long-lasting
Pleasant smell
Luxurious
Floral and sweet fragrance
Cons
Price at the time of publication: $112.73
Finding the right timeless perfume for women isn't a simple task, as there are a wide array of aromas out there. To ensure that you choose the best for yourself to smell enticing, here are a few features to consider before your next buy.
How To Choose The Best Perfumes For Women That Men Love
1. Concentration & Longevity
The longevity of a fragrance depends on the concentration of the perfume oil. Fragrances can be categorized based on this as:
Parfum: This is the highest concentration of any perfume, and is the most expensive category as well. Generally, a concentration of 20% to 30% perfume oil lasts 6 to 8 hours on the skin.
Eau De Parfum: This type of perfume has an oil concentration that ranges from 15% to 20%, and lasts for up to 5 hours. This is best for special occasions and evenings.
Eau De Toilette: This is one of the most common concentrations available, and has a percentage of 5% to 15%. It lasts for 2 to 3 hours, and is most often reasonably priced.
Eau De Cologne:This fragrance has a concentration of up to 2% to 4% perfume oil and can only last for up to 2 hours. This is ideal for short periods of time like gym sessions or workouts.
2. Notes
Most perfumes have three specific notes: top note, middle note, and base note. The perfect balance of all these three notes, gives the fragrance its unique scent. The mix and match of these notes are carefully created based on their evaporation time, and lasts perfectly into a medley.
The top note is the whiff of scent you get immediately as you spray the perfume and is lightweight so evaporates quickly. The initial impression of the fragrance can be fresh and crisp like light floral, citrus, or ginger scent or fruity top notes of persimmon, pomegranate, melons, and green accord.
The middle note comes right after the top note, and can last for up to 10 to 60 minutes. The middle note is the main character of your perfume, and is usually mellow and soft. It contains enchanting floral heart notes like roses, champaca flowers, black orchids, lotus blossoms, and lavender or even spices. The aroma of a fresh bouquet made with pink freesia, lilies, and seductive honeysuckles is also popular among perfume lovers.
The base note of the perfume appears immediately after the middle not evaporates. A base note brings depth and is the main theme of your perfume, thus is long-lasting. A base note can include dreamy liquid amber, creamy vanilla, mahogany, and cream accord.
3. Types Of Fragrances
You can choose the type of fragrance based on your personality, time of the day, and the season. For instance, citrus scent is great for spring and summer days, whereas floral scent is romantic and perfect for autumn and spring evenings. Oriental notes like vanilla, clove, and cinnamon offer a warm, sensual, and sexy fragrance, whereas woody scents like sandalwood and patchouli give a sophisticated touch to your appearance.
Why Trust StyleCraze?
Baishali Bhattacharya is a professional image consultant with a certification in makeup techniques. She also enjoys keeping up with fashion and beauty trends. Baishali has prepared this list of the best women's fragrances based on men's preferences after investigating several e-commerce websites for the top-rated perfumes and their reviews. She has also described the fragrance of each product to help you choose the right one for you.
Frequently Asked Questions
How to decide the longevity of the perfumes?
The longevity of the perfumes depends on the amount of oil in the formulas. A fragrance with a high concentration of essential oils will linger on the skin longer than those with more quantity of water. So, invest in scents that list a wide range of essential oils.
How do women's perfumes differ from men's?
Female and male fragrances are essentially similar, but certain distinctions are present. Male fragrances are more intense, whereas female scents tend to be lighter and fresh. Nevertheless, both kinds of fragrances can be worn by both genders.
Which perfume is most attractive to females?
Usually, females are more attracted to light and rejuvenating fragrances. Aromas of vanilla, strawberry, lavender, coffee, and peppermint attract the feminine senses. But fragrances are a very subjective domain, and one can prefer a musky scent over the above-listed aromas.
What is the most romantic scent?
The Marc Jacobs Daisy Eau De Toilette Spray is the most romantic fragrance. The captivating aromas of jasmine and sandalwood create an aura of romance and love.
Does the roll-on perfume work like the spray perfumes?
No. Roll-on perfumes are different from spray perfumes. Roll-ons come in tiny bottles applied in the underarms and neck regions. They have a high concentration of water and do not last long. In contrast, spray perfumes contain a high concentration of fragrance oils that last long.
Recommended Articles