10 Best Clinique Happy Perfumes That You Must Try In 2023
Enjoy smelling fresh and rejuvenating with intoxicating perfumes from the brand.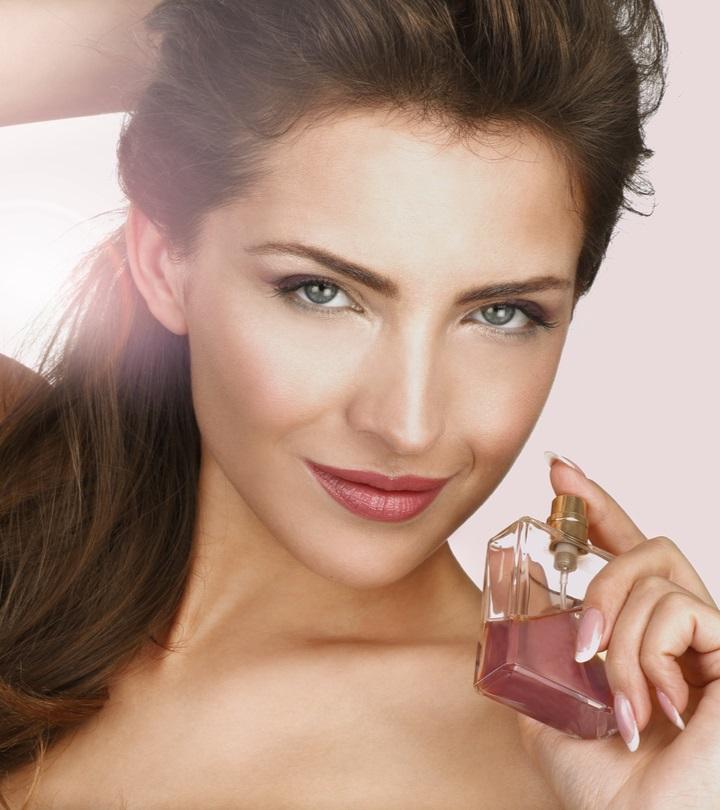 You know how it feels to be happy, but do you know how happiness smells? Try a Clinique Happy perfume. The expert perfumers at Clinique have been working diligently to observe the right aroma notes to portray how a burst of happiness can smell. Clinique Happy aromas have for quite some time been viewed as perhaps the best scents that can describe aromatically the sensation of being euphoric, carefree, and spirited. Embraced by ladies, youthful and old, all across the world, they are the perfect encapsulation of the smell of happiness. The best Clinique Happy aromas have the perfect equilibrium of fruity and botanical notes with a slight hint of muskiness that makes them ideal for both casual and occasional events. Only a couple of drops on all your pulse points can have you feeling and smelling wonderful the entire day. Of course, you do need to first find the perfect Clinique Happy perfume for yourself. If you are not certain where to begin, we can help. We've painstakingly arranged a list of the top 10 Clinique Happy aromas so that you can quickly pick the one that's just the right match for you.
Top 10 Clinique Happy Perfumes To Keep You Smelling Fresh
Start your day on a happy note with this fresh, vibrant perfume which is sure to fill up your senses and leave you in a jubilant mood. Recommended for daytime use, this fragrance will remind you of a floral, citrusy bouquet with a hint of soft, sensual notes. Base notes of ruby red grapefruit and bergamot blend beautifully with heart notes of spring mimosa and Hawaiian wedding flower to create a scent that will leave you with a happy high. Clinique perfumes have always been a popular choice amongst those who want a clean, crisp scent without any fuss, and this one hits the mark! If you need more convincing, feel free to take a look at this YouTuber's video on the merits and demerits of the product.
Pros
Citrusy accents
floral scent
Recommended for daytime use
Refreshing, long-lasting fragrance
Suitable for all skin types
Cons
Some might find the consistency of this perfume a bit thin.
Price at the time of publication: $41.78
Here's a bright floral scent that is so fresh and lively that it can be best described as spring in a bottle. Crisp top notes of yellow plum mingle beautifully with a heart of freesia and muguet, while a hint of amber and white wood adds just the right amount of muskiness to this scent. Just spay a few drops of this Clinique Happy perfume on your wrists, neck, and chest and envelop yourself in the irresistible fragrance which will remind you of gorgeous dew-laden flowers on a frosted spring morning.
Pros
Bright, floral scent with a hint of muskiness
Light and refreshing fragrance
Ideal for summertime wear
Designed for daily use
Cons
Some might find that the scent of this perfume doesn't last very long.
Price at the time of publication: $45.5
Designed for the individualist in every woman, this sensual fragrance has pleasing floral notes of rose, ylang-ylang, vetiver, and jasmine. This intriguing scent touches the senses in subtle ways without being too strong and overpowering. Ideal for the professional young woman, just a few sprays of this perfume on your pulse points will take you seamlessly from a busy day at work to a quiet, evening dinner with friends without requiring frequent touch-ups. If you want a detailed review of the product, make sure to take a look at this video.
Pros
Sensuous, pleasing fragrance
Ideal for use in professional settings
Subtle floral scent
Ideal for travel
Cons
Some might find the scent of this perfume a bit weak.
Price at the time of publication: $25.5
If you're looking for the perfect fragrance for a candlelit date night out in town, your search ends here. Celebrating the romantic side of the iconic Clinique perfume Happy, this deeply scented perfume has a heart of water hyacinth, brightened with sandalwood, cucumber, and yellow primrose. Fresh, warm, and optimistic, this long-lasting perfume is a must-have in your handbag for impromptu encounters with the special someone in your life. So go ahead and try some on, you'll definitely thank us later! You can also check this YouTuber's detailed review to know more about the results after using this product.
Pros
Warm, floral scent
Ideal for date nights
Fresh, long-lasting fragrance
Designed for special occasions
Cons
Some might find the scent of this perfume a bit strong for daytime use.
Price at the time of publication: $35.98
Calyx by Clinique is a scent that will captivate your senses and leave you feeling happy and energetic all day long. This exhilarating fragrance for women is perfect for those who love to stand out and make a bold statement. The perfume is a beautiful and balancing blend of exotic fruits and flowers. The top notes include mandarin orange, grapefruit, and green leaves that lead into heart notes of water lily, passion fruit, and jasmine, which give way to base notes of musk, oakmoss, and sandalwood. This unique combination creates an uplifting yet calming aroma that will linger on your skin all day long.
Pros
Unique scent
Sensual fragrance
Easy to use
Long-lasting
Suitable for all-day wear
Ideal for gifting
Suitable for daily use
Cons
None
Price at the time of publication: $54
If your style tends to be more dark and mysterious, here's the perfect perfume to finish your look. Exotic floral and succulent fruit notes with a bold hint of precious myrrh carry this perfume to impressive new depths. Strong and long-lasting, this perfume is suitable for all skin types and is designed for evening wear. So put your hair up, don your prettiest cocktail gown, and spray this sensuous perfume on your wrists, neck, and behind your ears. You will be turning heads all night with its delightful aroma!
Pros
Dark, bold scent
Long-lasting scent
Designed for evening wear
Suitable for daily use
Cons
Some might find the fragrance of this perfume a bit strong.
Price at the time of publication: $49.99
Here's a carefree and feel-good fragrance that can be best described as bottled sunshine! Designed for the perfect summer day, with sand in your toes and salty air in your hair, this perfume will transport you to the beach vacation of your dreams. Suitable to be worn alone or layered with another scent, this floral, woody perfume has just the right balance of sweet lily, frangipani, and a hint of coconut. Notes of vanilla, bergamot, and amber make this exotic perfume the perfect addition to your beach bag.
Pros
Floral, woody scent
Designed for summer days at the beach
Long-lasting and refreshing
Ideal for travel
Cons
This perfume might not be best suited for use during the winter months.
Price at the time of publication: $25.39
Here's the perfect fragrance for the happy-go-lucky, eternal optimist in you! Light, fresh, and uplifting, this Clinique Happy perfume will leave you feeling joyous and hopeful. The energizing notes of bergamot and spring mimosa blend seamlessly with ruby red grapefruit and citrus flowers in a refreshingly light splash. So don't hesitate to plunge into this fresh bouquet of spring flowers for an instant mood-enhancing experience. And there's more; this gorgeous perfume is ideal for packing into your handbag for little pick-me-ups as you go about your day.
Pros
Light, fresh, and uplifting fragrance
Ideal to pack into a handbag
Suitable to layer with compatible scents
Allergy-tested
Cons
Some might find the consistency of this perfume a bit thin.
Price at the time of publication: $28.64
This unique fragrance attempts to define the color white with its pure and intense notes of serene woods, transparent petals, and warm gray amber. Aglow with warmth, this summer fragrance has tart notes of Sichuan pepper, labdanum, and elegant violet leaves, which transition gently towards heart notes of patchouli and orange blossom. Equal parts floral and fruity, this effortlessly wearable perfume is a popular favorite amongst those brimming with happiness and confidence. A few rolls of this perfume on your pulse points is enough to have you feeling rejuvenated all day long.
Pros
Floral, fruity fragrance
Designed for the sophisticated and modern woman
Ideal for gifting
Suitable for everyday wear
Cons
Some might find the scent of this perfume a bit heavy.
Price at the time of publication: $64.78
If you're looking for a fragrance that will make you happy, look no further than Clinique Happy Perfume Rollerball. This perfume will bring joy and cheer with its citrus floral fusion. The rollerball design makes it easy to apply this delightful perfume wherever you go. And it even fits into a small clutch! All you need to do is twist and open the lid when required. This perfume is long-lasting, so you won't have to worry about reapplying throughout the day. Its high-quality ingredients and expertly crafted formula ensure that the fragrance stays fresh and vibrant.
Pros
Floral scent
Convenient rollerball design
Easy to use
Travel-friendly design
Cons
None
Price at the time of publication: $20.95
Now that we've had a look at our pick of the 10 best Clinique Happy perfumes in 2021, let us look at some things to consider when picking the perfect scent for your mood.
How To Pick The Best Clinique Happy Perfume
A perfume can be used to both reflect your current mood and to enhance it. A signature scent is one of the most critical choices you can make for an expressive style, and your loved ones will learn to associate that fragrance with you even when you're not in the room. Feeling fun and flirty? Pick a refreshing, floral scent that has a light, fruity notes of bergamot and citrus. A fragrance with just a hint of muskiness from sandalwood or amber is ideal for those who prefer a more reserved, subtle scent. Don't hesitate to try a few before finding a fragrance that truly reflects your mood and personality.
Heading on a beach vacation and want the perfect summer scent for the trip? While choosing a perfume, think of when and where you're most likely to use it. While fruity, floral aromas are perfect for lazy summer days, a more subtle scent that doesn't overpower the senses might be better suited for your day in the office. And who says you have to stick to one perfume for all occasions? Embrace your inner diva and decorate your dresser with a different scent for every mood, season, and occasion.
Depending on how strong you want your scent to be and how long you want it to last, pick a perfume with the right concentration for your requirement. Generally, fragrances labeled as Eau de Parfums have a higher concentration than those labeled Eau de Toilettes and tend to last longer. If you want a light perfume that can be conveniently touched up, pick a perfume that comes in the form of a rollerball that can be neatly tucked into your tiny purse, and you'll be smelling fresh and lovely all day long.
What Are The Ingredients In Clinique Happy Perfumes?
Clinique Happy perfumes are alcohol-based and have a range of floral, fruity, and woody ingredients depending on the formulation. The good news is that Clinique perfumes are allergy-tested and safe for all skin types, so you can rest easy knowing your favorite scent will not make you break out.
Why Trust Stylecraze?
Srijita De enjoys trying new products and specializes in writing about beauty and fashion. She understands the latest trends and loves to recommend the best products to her readers. Chaitra has searched and studied reviews across multiple blogs and forums while writing this post on some of the best Clinique happy perfumes. To assist you in buying the best, she has shared elaborate product descriptions along with the pros and cons.
Frequently Asked Questions
What do Clinique Happy perfumes smell like?
Clinique Happy perfumes smell just like summer bottled up with a wealth of flowers. Light, sweet, and floral, these scents have fresh, vibrant notes of spring and summer flowers. Depending on the perfume you pick, some are sweeter and more fruity, while others have just a hint of muskiness.
How long do Clinique Happy perfumes last?
Most Clinique Happy perfumes last an average of 6-8 hours before requiring reapplication. A pro tip – always apply your perfume on your pulse points – your wrists, neck, and the back of your ears, to make the perfume last longer.
Recommended Articles