9 Best Clinique Moisturizers You Can Try In 2023
Must-have products for your skincare kit to achieve hydrated and moisturized skin.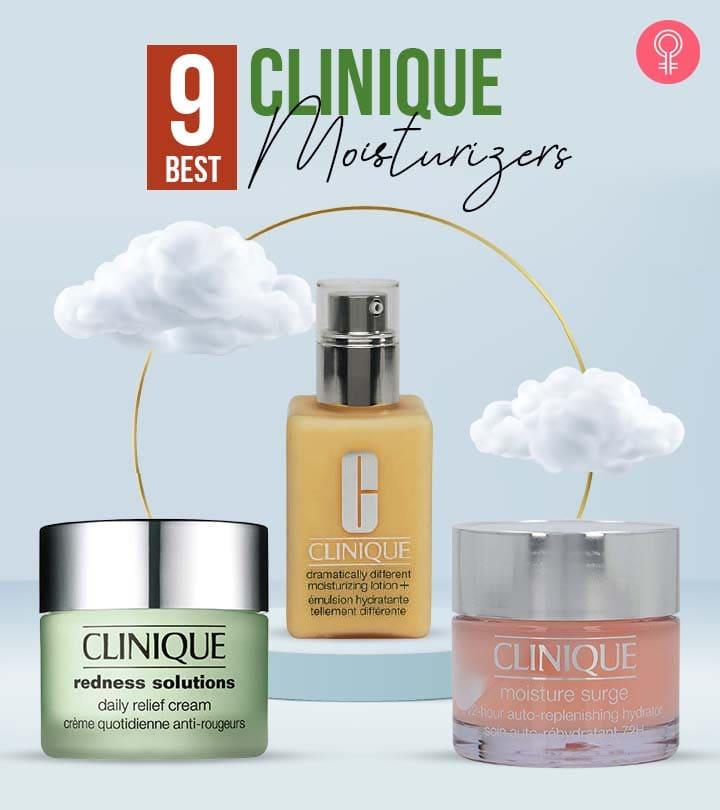 Skin dehydration can occur whether it's summer or winter. Your skin needs additional moisturizers to stay healthy and young. The best Clinique moisturizers come in a wide range of products in the form of gels, creams, lotions, and jellies to match various skin types. With top-notch and high-performance beauty products, Clinique is a notable brand with its own cult of loyal customers. Moisturizers from this brand are carefully crafted with potent ingredients to deliver outstanding results.
Moisturizers are part of an essential skin care regimen. So, we have rounded up the 9 best Clinique moisturizers recommended by dermatologists that are also toxin-free. Check them out below!
9 Best Clinique Moisturizers Of 2023
The Dramatically Different Moisturizing Lotion+ by Clinique is a dermatologically-tested product. It is a lightweight lotion that absorbs quickly and helps the skin remain hydrated for approximately 8 hours. The nourishing formula strengthens the skin's moisture barrier by 54%. It is enriched with sunflower seed extract, barley extract, and cucumber extract that work in tandem to boost the strength of the skin barrier, improve its elasticity, and retain your skin's natural moisture levels. The hyaluronic acid in this lotion is a natural humectant that smoothens dried, dehydrated skin. This moisturizer makes your skin soft, smooth, and younger-looking. Know more about this product in this video.
Key Ingredients: Sunflower seed extract, Barley extract, Cucumber fruit extract, and Hyaluronic acid
Pros
 Instant hydration
 Long-lasting results
 Allergy-tested
 Fragrance-free
 Sulfate-free
 Denatured alcohol-free
Cons
Price at the time of publication: $23.0
Say goodbye to dry, flaky patches and hello to plump, hydrated, and healthy-looking skin with Clinique Moisture Surge Intense Moisturizer. This lightweight gel-cream formula is specially designed to provide long-lasting hydration that instantly quenches thirsty skin. It is infused with vitamin E, hyaluronic acid, and activated aloe water that helps to replenish and retain moisture while enhancing your skin's natural hydration levels. This unique formula is suitable for all skin types. It is non-greasy, oil-free, and absorbs quickly into the skin, leaving it feeling soft, supple, and refreshed.
Key Ingredients: Vitamin E, Hyaluronic acid, and Activated aloe water
Pros
Non-greasy
Fast-absorbing
Oil-free
Dermatologist tested
Fragrance-free
Cons
None
Price at the time of publication: $23.89
The oil-free moisturizing cream by Clinique is ideal for daily use. It is developed with microbiome technology that uses lactobacillus extract, which is rich in antimicrobial properties. It reduces inflammation and strengthens the skin's natural defense against sensitivity. The Redness Solutions Daily Relief Cream works wonderfully for people with visible redness or skin problems like rosacea. In addition, the product protects your skin against any damage from external aggressors.
Key Ingredient: Lactobacillus extract
Pros
 Non-irritating
 Non-greasy
 Soothes blotchiness
 Instant results
 Oil-free
Cons
Price at the time of publication: $38.32
Clinique's Dramatically Different Hydrating Jelly makes your skin feel fresh on application. The oil-free formula is non-sticky and lightweight. It quickly penetrates the skin without leaving any residue. The product also protects your skin against pollution. It is a hydrating serum bottled in an aesthetically pleasing container. The key ingredient is a moisture magnet, hyaluronic acid, which helps maintain the skin's moisture. The sunflower seed extract, barley extract, and cucumber fruit extract in this product strengthen your skin's barrier, improve its resiliency, and retain its moisture levels. Learn more about this product in this video.
Key Ingredients: Sunflower seed, Barley extract, and Cucumber fruit extract
Pros
 Long-Lasting
 Non-sticky
 Alcohol-free
 SLES-free
 SLS-free
 Talc-free
Cons
 Too light for a moisturizer
Price at the time of publication: $20.9
The night moisturizer by Clinique is FDA-approved and targets all major signs of aging. It is an oil-free formula that innovatively moisturizes and works on wrinkles and fine lines. Its Smart Hydration technology helps the skin attract and retain moisture when you wake up. As a result, it gives your skin a youthful look.
The Smart Night Custom-Repair Moisturizer contains micrococcus luteus extract, an enzyme that repairs the skin while you sleep. It also contains hyaluronic acid that retains water and keeps the skin tissue well moisturized. The amino acids in the formula reduce fine lines and wrinkles and leave you with gentle, soft, and firm skin when used regularly.
Key Ingredients: Hyaluronic acid and Micrococcus Luteus extract
Pros
 Lightweight
 Ophthalmologist-tested
 Non-acnegenic
 Oil-free
Cons
Price at the time of publication: $43.95
The Moisture Surge Hydrating Supercharged Concentrate by Clinique is developed from liquid sphere and comes with a lightweight gel-like consistency. The product is enriched with activated aloe water, which alleviates dryness and seals moisture. It adds a boost of hydration to your dry skin instantly. The product is further enriched with antioxidants that have water-binding properties. Moreover, the hyaluronic acid blended with the aloe water not only moisturizes your skin, but also gives it a plump look. Use this concentrate twice a day for a radiant look.
Key Ingredients: Hyaluronic acid and Aloe vera
Pros
 Fast-absorbing
 Gentle on skin
 Lightweight
 Fragrance-free
Cons
 May not suit sensitive skin
Price at the time of publication: $23.54
The triple function moisturizer by Clinique hydrates, clarifies, and brightens the skin. The oil-free Even Better Skin Tone Correcting moisturizer is enriched with SPF 20 and protects your skin against the harmful UV rays. It also helps improve your complexion and evens out your skin tone. The formula consists of yeast extract, cucumber, and apple extract that has moisturizing and rich emollient properties that soothe skin and restore moisture content. In addition, the salicylic acid exfoliates dead skin cells, diminishes dark spots and hyperpigmentation, and leaves you with flawless skin.
Key Ingredients: Yeast extracts, Birch bark extracts, Cucumber extract, Apple extract, and Salicylic acid
Pros
 Gentle on skin
 Lightweight
 Oil-free
Cons
None
Price at the time of publication: $44.51
Clinique Dramatically Different Moisturizing Cream is a moisturizing cream that can give you the intense hydration you need to keep your skin looking and feeling healthy. This luxurious cream is specially designed to provide deep hydration for dry to very dry skin types. It is infused with hyaluronic acid, glycerin, and urea, to attract and retain moisture in the skin, leaving it soft and supple. The unique formula also features a blend of sunflower seed cake, barley extract, and cucumber fruit extract, which strengthens your skin's moisture barrier, helping to keep it hydrated for longer.
Key Ingredients: Sunflower seed cake, Barley extract, and Cucumber fruit extract
Pros
Long-lasting results
Applies easily
Absorbs quickly
Non-irritating
Non-greasy
Soothes blotchiness
Cons
Not suitable for oily skin
Price at the time of publication: $31.95
The oil-free hydrating pore refining solution by Clinique is a matte finish hydrator. It instantly eliminates excess oil and leaves your skin with a matte finish. It controls sebum secretion and gives you a shine-free look for 8 hours. It is rich in squalane and anti-inflammatory properties that reduce acne, pimples, and other skin breakouts.
The product further boosts collagen production and does not clog pores. It is infused with wheat germ extract that reduces excess sebum or oil production to prevent acne and pimples. The T-zone of your skin feels fresh on application. The product also reduces pore size.
Key Ingredients: Squalane and Wheat germ extract
Pros
 Lightweight
 Non-comedogenic
 Non-acnegenic
 Paraben-free
 Phthalate-free
 Synthetic fragrance-free
Cons
 Expensive
 Might irritate skin
Price at the time of publication: $44
These premium quality moisturizers nourish dry skin and improve its overall health. Read the following section to see how you can use these moisturizers to ensure the best results.
How To Use Clinique Moisturizers?
 Take a dollop of cream or gel on your hand: This must be done carefully after shaking the bottle or container (if your moisturizer is water-based). But if you have a cream-based moisturizer, you must take the appropriate amount onto your hand.
 Applying to skin: Apply the moisturizer to your face, neck, and other targeted regions carefully.
 Rubbing the product: Rub the product with your hand on the targeted region with appropriate pressure. This will help blend the product with the skin and give your skin the perfect finish and hydration.
A moisturizer is a must and a non-negotiable part of the skin care regime. It makes your skin look firmer, healthier, and radiant. Consider the following factors to choose the best Clinique moisturizer.
How To Choose The Best Clinique Moisturizer?
Different skin types have different requirements. Observe your skin without makeup. The T-zone of your face includes the forehead and the nose. If this zone accumulates oil or shines, you have oily skin – and you may opt for a water-based gel. If both the places are dry and do not shine, you have dry skin – and you may choose a moisturizer with hydrating benefits. But if the T-zone appears to be oily while the other areas are dry, you have combination skin – and this skin type needs special care. Do read the product labels thoroughly to identify the right moisturizer for your skin type.
Clinique offers an array of moisturizers curated to precisely target skin issues like oiliness, acne, dryness, aging etc. Choosing the right product that caters to your skin needs will give you effective results. For example, if you have oily skin, choose the Clinique Pore Refining Solutions Stay-Matte Hydrator; for dry skin, opt for Clinique Dramatically Different Moisturizing Cream; and for aging skin, go for Clinique Smart Clinical MD Multi-Dimensional Age Transformer Revolumize.
 Know Your Skin's Sensitivity
If you have acne-prone skin or sensitive skin, you must choose a product or moisturizer that does not contain any allergen. The Clinique Redness Solutions Daily Relief Cream With Microbiome Technology gives effective results against sensitivity and persistent skin redness.
Why Trust StyleCraze?
Shiboli Chakraborti, the author of this article, is a certified skin care coach. She conducted in-depth research on all Clinique moisturizers and sifted their user reviews on trusted online forums to shortlist the above products. Clinique moisturizers are made of high-quality ingredients, are non-greasy, and help maintain skin hydration. In addition, the products listed above reduce wrinkles, fine lines, and dullness.
Frequently Asked Questions
Does Clinique have good moisturizers?
Clinique has an excellent range of good-quality and high-performance moisturizers. Some of them are rich and creamy, perfect for dry skin while others are lightweight and hydrating, ideal for oily skin.
Is Clinique moisturizer recommended by dermatologists?
All Clinique moisturizers are dermatologically-tested and recommended.
Is Clinique a luxury brand?
Yes. Clinique is a high-end, luxury brand.
Does Clinique clog pores?
No. Clinique products do not clog your pores. They are non-comedogenic.
Does Clinique Dramatically Different moisturizer cause breakouts?
No. Unless you are allergic to any of its ingredients, the Clinique Dramatically Different Moisturizer will not cause breakouts.
Does Clinique Moisturizing Lotion have SPF?
The Clinique Dramatically Different Lotion does not have SPF. If you're looking for an SPF-infused moisturizer, go for the Clinique Even Better Skin Tone Correcting moisturizer. It has an SPF 20.
Does Clinique moisturizer have parabens?
No, all Clinique moisturizers are paraben-free.
Recommended Articles