11 Best Moisturizers For Darker Skin: Reviews And Buying Guide
These listed moisturizers for black skin are specially formulated for extra care.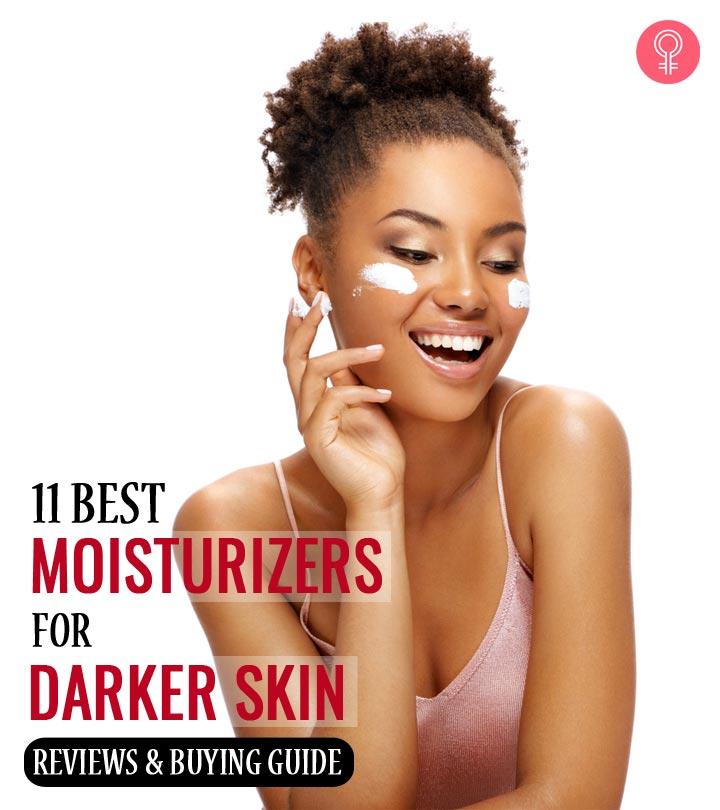 While everyone's skin structure is the same, darker skin is distinguished by melanin levels and barrier repair function. Accordingly, it also needs special care. Here, we have listed the best moisturizers for black people. These have received a good number of positive reviews on trusted online platforms. Some of these are also dermatologist-tested. When we think of dark(er) skin tones, our minds immediately conjure up images of African skin. On the other hand, African skin does not always imply a darker complexion. It can be both dark and white (1). In this article, we have also given a brief explanation of the skin kinds that darker complexion people have. Scroll down to know more.
Note: According to a study, dark African-American skin had a higher incidence of transepidermal water loss than lighter skin (2). As a result, moisturization is very important if you are an African.
11 Top-Rated Moisturizers For Darker Skin
Key Ingredient(s): Retinol, Shea Butter, Vitamins B5 and E, Jojoba Oil, Green Tea
Retinol is an excellent ingredient for your skin if you are looking for an anti-aging cream. This moisturizing cream contains the ultimate hydrating ingredients like shea butter and jojoba oil, along with antioxidants like green tea extract. This retinol in this moisturizer boosts the cell renewal process, gets rid of old skin cells, and promotes the growth of new skin cells. This helps improve the appearance of fine lines, wrinkles, and blemishes.
Pros
Cruelty-free
Paraben-free
Phthalate-free
Safe for all skin types
Organic ingredients
Improves skin texture
Cons
Packaging issues (dispenser may malfunction, and lid might break).
Price at the time of publication: $19.95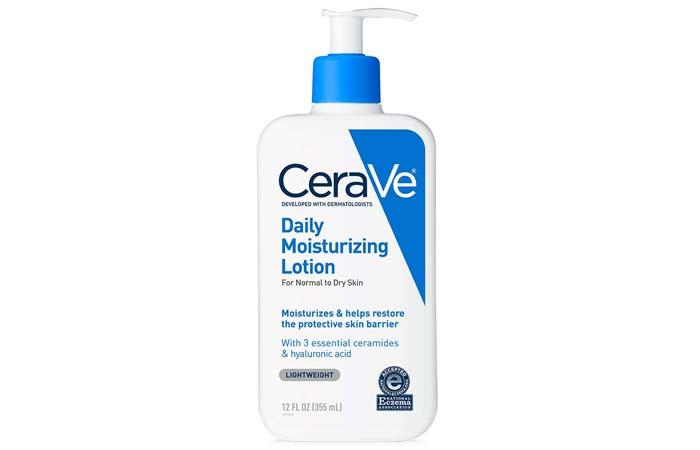 Key Ingredient(s): Ceramides and Hyaluronic Acid
This lightweight lotion is suitable for those who have normal to dry skin. It can be used on the face and body. This lotion contains ceramides. It helps replenish the low ceramide levels in your skin and keeps it feeling soft and moisturized. It ensures your skin stays hydrated for 24 hours and helps restore the protective barrier with ceramides 1, 3, and 6 II. It is hypoallergenic, so even those with sensitive skin can also use this lotion. Check out this video of a reviewer's experience to better understand the functions of this product.
Pros
Non-comedogenic
Hypoallergenic
Gentle formula
Dermatologist-recommended
Approved by the National Eczema Association
Allergy-tested
Boosts skin hydration
Can be used by those who have eczema and sensitive skin conditions.
Cons
The pump dispenser might break during shipping.
Price at the time of publication: $12.74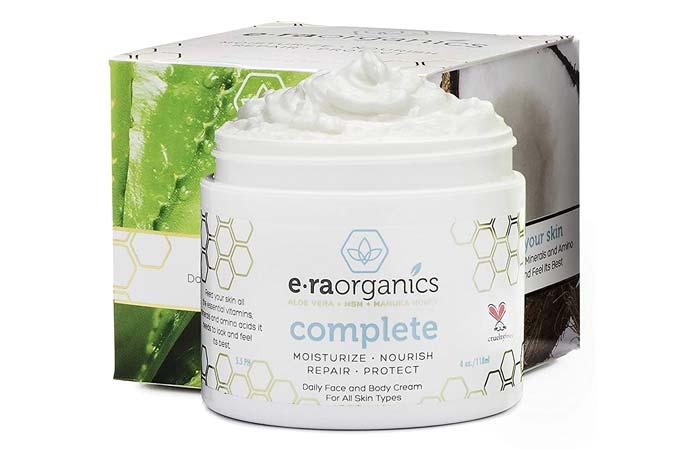 Key Ingredient(s): Aloe Vera and Manuka Honey
This face and body cream claims to keep your skin moisturized for 8-12 hours. It contains essential minerals, vitamins, and nutrients that keep your skin healthy. It helps repair the damaged skin cells, stimulates cell growth, and restores the natural moisture barrier. The cream is made from a nourishing formula that also helps maintain the skin's pH balance, stimulate collagen production, and improve elasticity. Here's a personal review video detailing a tester's experience to help you get a better understanding of the product.
Dr. Schwarzburg, MD, Cosmetic Dermatology suggests, "For creams designed for both the face and body, it is best to do a patch test beforehand as the sensitive skin on your face may be more sensitive than the skin that covers the rest of your body. This way you will know whether the product is right for you."
Pros
Hypoallergenic
Non-oily
Fragrance-free
Alcohol-free
Paraben-free
Non-comedogenic
No harmful chemicals
Suitable for all skin types
Non-greasy
Gets absorbed fast
Cons
Some users may not like the thick consistency.
Price at the time of publication: $27.45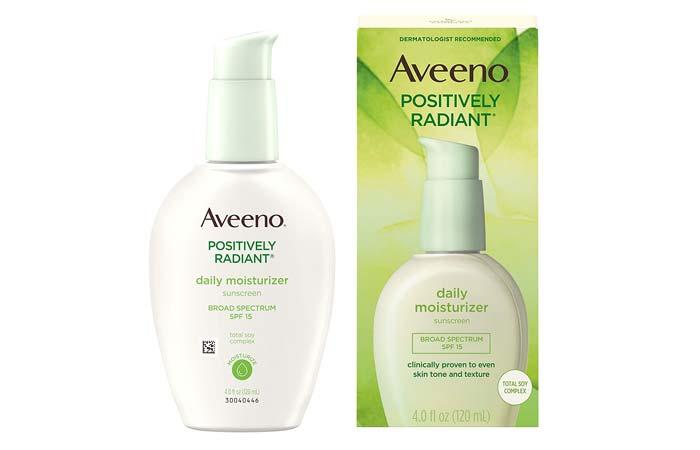 Key Ingredient(s): Soy
This is a daily moisturizer with SPF and is clinically proven to improve skin texture and tone in four weeks. It contains a Total Soy Complex (processed soybeans) that helps promote even skin tone and retain the integrity of your skin. The natural light diffusers in the moisturizer reflect light to smooth skin imperfections. It is hypoallergenic and does not irritate your skin. Not to mention, the product also helps promote natural skin radiance.
Pros
Non-comedogenic
Contains SPF 15
Hypoallergenic
No chemical solvents
Oil-free
Clinically proven
Cons
Strong fragrance
Contains mica
Price at the time of publication: $15.77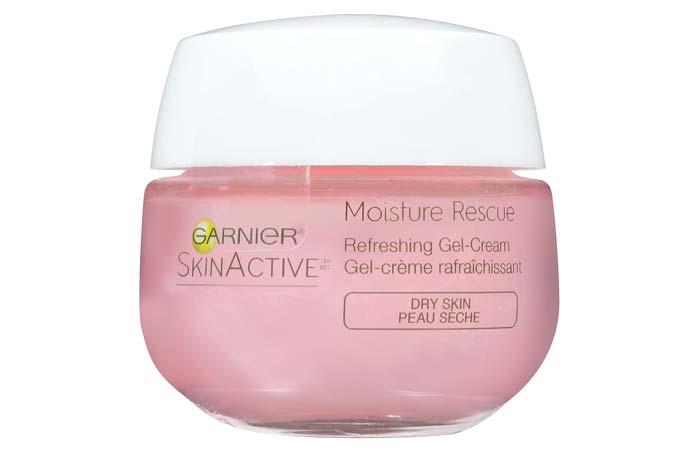 Key Ingredient(s): Vitamin C and Fruit Water (antioxidant complex)
This is an oil-free moisturizer that instantly locks in moisture. It contains vitamin C and a Fruit Water Antioxidant Complex that make your skin feel smooth, hydrated, and refreshed. This face lotion is suitable for all skin types. However, it is especially beneficial for dry skin. It claims to lock in moisture for 24 hours and protects your skin from stress and pollution.
Pros
Oil-free
Non-comedogenic
Lightweight
Cons
Contains alcohol
Contains artificial fragrance
Price at the time of publication: $7.99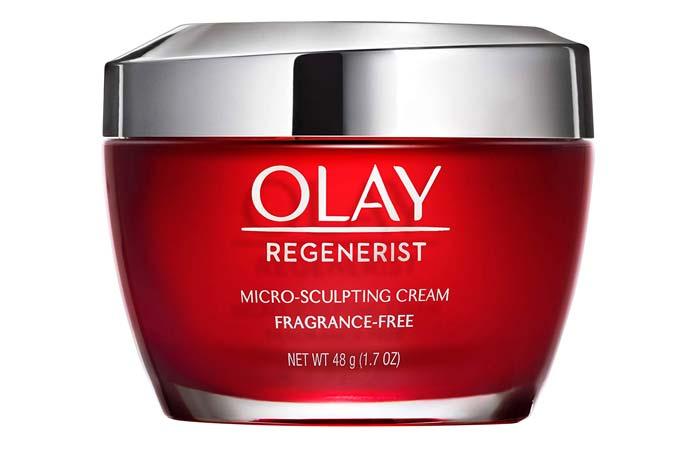 Key Ingredient(s): Hyaluronic Acid, Peptides, and Vitamin B3
This moisturizing face cream is formulated with vitamin B3 and hyaluronic acid, two of the most hydrating and skin-nourishing ingredients. It is ultra-hydrating for your skin and aids in skin barrier repair. It helps improve the rate of skin cell turnover and remove dead skin cells. This improves skin texture and reduces the appearance of wrinkles. This face cream gives you visibly firm and smooth skin with regular use.
Pros
Fragrance-free
Dermatologist-tested
Affordable
Suitable for all skin types
Strengthens the skin barrier
Reduces the appearance of wrinkles
Cons
Price at the time of publication: $19.87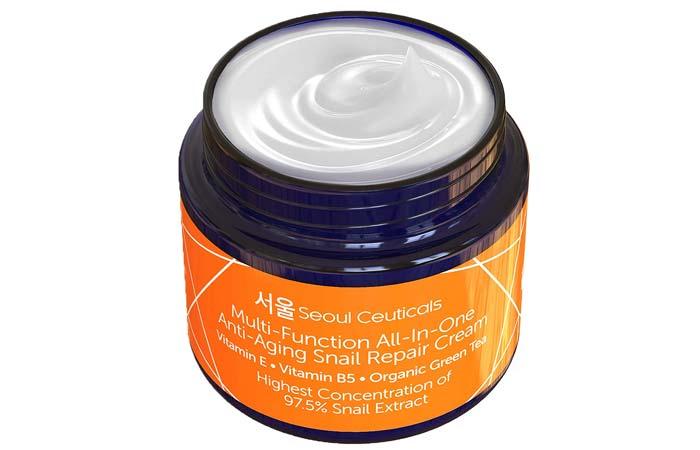 Key Ingredient(s): Snail Extracts
This snail cream contains the highest percentage (97.5%) of snail mucin. It is an extremely potent skin nourisher and moisturizer. It is ethically harvested, and no snails are harmed during the process. Apart from snail mucin, it contains aloe vera extract, jojoba oil, and shea butter. This cream helps reduce fine lines and wrinkles and keep your skin healthy. It is suitable for all skin types and works best for dry skin.
Pros
97% naturally derived ingredients
Cruelty-free
Reduces puffy eyes
Nice citrus fragrance
Lightweight
Gets absorbed quickly
Suitable for all skin types
Non-oily
Cons
None
Price at the time of publication: $20.0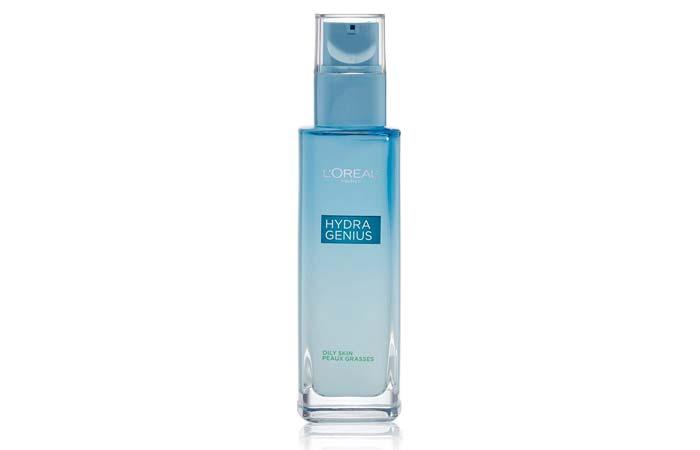 Key Ingredient(s): Hyaluronic Acid and Aloe Water
If you have oily skin, this water-based lightweight lotion is the perfect moisturizer for you. Dr. Schwarzburg, MD, Cosmetic Dermatology says, "Lightweight creams are great for most skin types as they are not oily or too dry." This cream contains hyaluronic acid and the skin-soothing aloe water that keeps your skin moisturized for up to 72 hours without making it feel greasy. It gets absorbed quickly and has a gel-like consistency. Hence,  it does not feel heavy on your skin.
Pros
Oil-free
Dermatologist-tested
Reduces shine
Quickly absorbed
Lightweight
Suitable for sensitive skin
Non-greasy
Feels refreshing (especially during warmer days)
Cons
The fragrance might be strong for some users.
Price at the time of publication: $18.54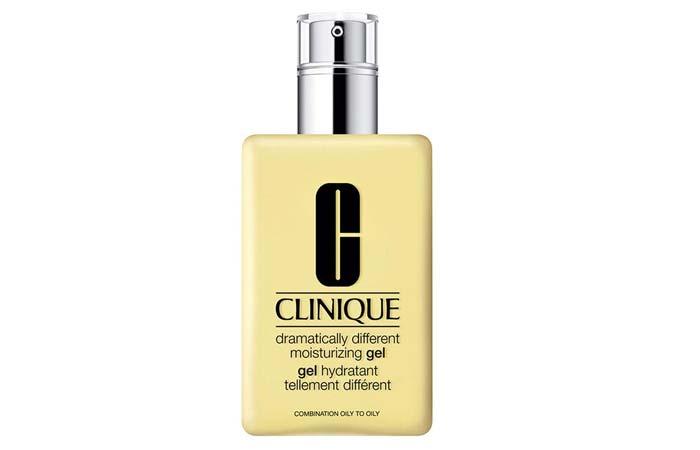 Key Ingredient(s): Hyaluronic Acid, Sunflower Seed Cake, and Cucumber Extracts
This product is a part of the 3-step customized skin care system by Clinique. This moisturizing gel is developed for those with oily and combination skin types. It is primarily for balancing the oilier parts of the skin and keep it refreshed. The sunflower seed cake, barley, and cucumber extracts help in strengthening the natural barrier of the skin. These ingredients help improve skin resilience and moisture levels.
Pros
Dermatologist-developed
Oil-free
Paraben-free
Phthalate-free
Vegan
Cons
None
Price at the time of publication: $15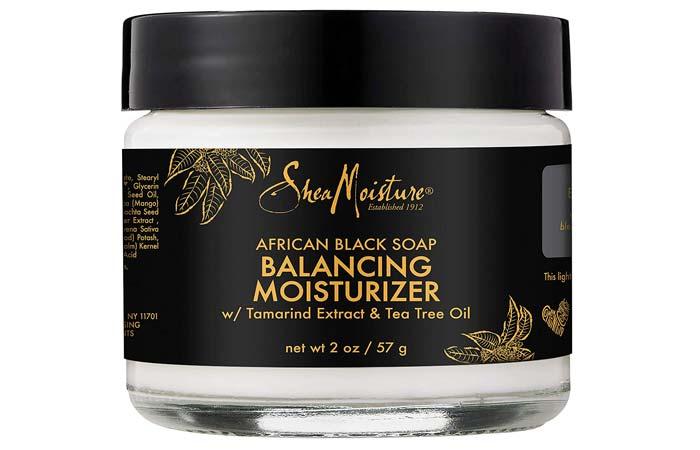 Key Ingredient(s): Shea Butter, African Black Soap, Tamarind Oil Extract
This facial moisturizer is meant for those with dry skin. However, it also works for combination and oily skin types. It is a lightweight lotion that contains shea butter and African black soap. It also contains tamarind extract and tea tree oil that help fight blemishes and keep your skin clear.
Pros
Paraben-free
Phthalate-free
Mineral oil-free
Sulfate-free
No animal testing
Cons
Price at the time of publication: $9.75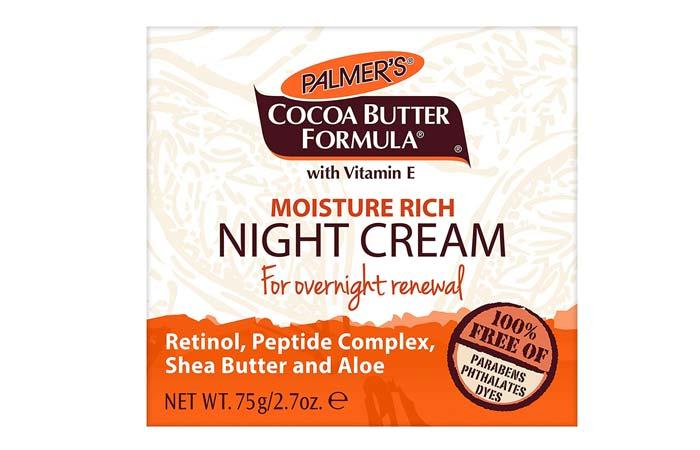 Key Ingredient(s): Retinol, Peptide Complex, Shea Butter, and Aloe Vera
This cream contains retinol and peptides that can help the skin regenerate while you are sleeping. This restorative moisturizer is rich in antioxidants and cocoa butter that keep your skin soft and smooth. It contains plant-based ingredients and is safe for sensitive skin.
Pros
Paraben-free
Dermatologist-tested
No animal testing
Non-comedogenic
Not greasy
Gets absorbed easily
Pleasant fragrance
Cons
The flowery fragrance might be overpowering for some people.
Price at the time of publication: $8.99
There is a wide color variability in African skin – it includes both white and dark-skinned people. The variation in color is mostly due to the geographic distribution of UV rays. The darker-skinned individuals stay close to the equator.  Leslie Baumann, the American dermatologist, introduced four parameters for characterizing the skin type accurately (1):
Dry or Oily (D/O)
Sensitive or Resistant (S/R)
Pigmented or Non-Pigmented (P/N)
Wrinkled or Unwrinkled (W/T)
Out of these, dark-skinned people often have the P/T type (Pigmented or Unwrinkled skin). Depending on your skin type, here are a few parameters you can consider while picking a moisturizer.
How To Pick The Best Moisturizer For Dark Skin
Consistency: If your skin feels itchy and dry, pick a moisturizer that has a thick consistency. For normal skin, creams with thinner consistency are fine. For oily skin, you can pick light lotions that are water-based.
Ingredients: Choosing the right skin moisturizer is all about picking the right ingredients.
For dry skin, look for ingredients like dimethicone, hyaluronic acid, glycerin, and propylene glycol as they help attract water. Ingredients like lanolin, mineral oil, etc. help to lock in moisture.
For oily and acne-prone skin, look for moisturizers that contain AHAs and are non-comedogenic. AHAs also have anti-aging benefits.
For sensitive skin, check for fragrance-free and hypoallergenic
Look for antioxidants (for all skin types) like chamomile, green tea, licorice root, and pomegranate extracts to keep the skin healthy and reduce free radical damage.
Check for ceramides. Dark skin tends to have the lowest percentage of naturally occurring ceramides in the skin (2). Fortifying your skin with ceramide moisturizers can keep it healthy. It is always recommended to do a patch test before using any new moisturizer on the skin to avoid allergic reactions from any ingredients you may be allergic to.
SPF: If you are picking a moisturizer for the daytime, make sure it has SPF. It is a myth that dark-skinned people do not need sun protection. While the high melanin content makes dark skin less prone to sun damage, it does not rule out the possibilities of skin damage by the UV rays. The damages may be less noticeable (like spots, pigmentation, and melasma). Dark skin is equally vulnerable to the sun, so never forget the SPF. In addition to these, pick a moisturizer that is of professional-grade with proven efficacy for the best results.
Why Trust StyleCraze?
The author, Shiboli Chakraborty, is a certified skin care coach. Her expertise lies in understanding skin needs at a cellular level. Her opinion is based on scientific research and user reviews on various online platforms. This list of the best moisturizers caters to the requirements of dark skin. Shiboli carefully selected products that offer hydration and keep the skin glowing and youthful. These moisturizers are formulated with safe and effective ingredients.
Frequently Asked Questions
Do dark skin people need a moisturizer?
Yes. People with dark skin are more prone to the drying effects of the weather. They experience transepidermal water loss at a greater rate than people with medium to fair skin. So, wearing a moisturizer that contains humectants is very essential.
Does moisturizer make the skin darker?
No. Moisturizer does not make your skin darker, rather it hydrates your skin and makes it appear supple. On the other hand, excessive sun exposure can make your skin darker, so to avoid tanning, generously apply sunscreen to your skin.
Is Cerave moisturizer good for African American skin?
Yes, the CeraVe moisturizer is good for African American skin. It replenishes the low ceramide level of your skin and keeps it moisturized throughout the day. This product is toxin-free, making it suitable for hypersensitive African American skin.
Recommended Articles: