11 Best Cruelty-Free Primers Of 2023, According To Reviews
Blur your pores and achieve smooth skin with these mattifying formulas.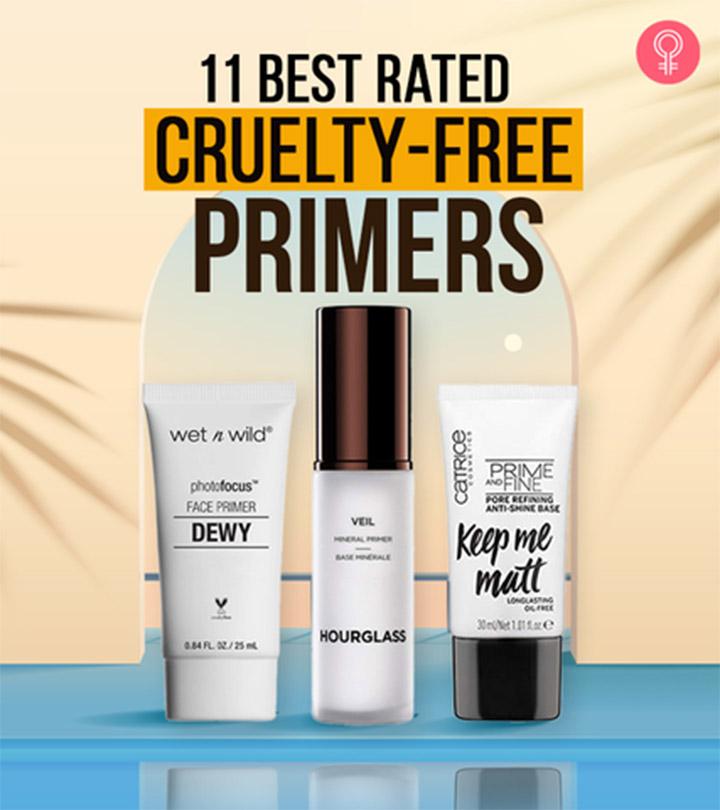 Primer creates a layer over your skin, prepping it for smooth makeup application by covering pores and other irregularities. However, sometimes, they may incorporate nasty chemicals and harmful ingredients. To save your skin from its effects, you should consider investing in the best cruelty-free primer to camouflage your skin imperfections and blemishes.
These primers are lightweight formulas and act as an ideal makeup base. They block the oil coming out of the pores and offer smoother and even skin. They also concentrate on textures, color correctness, hydration, and dullness. In addition, these earth-friendly primers have a non-greasy formula. While finding the right cruelty-free primer can be tricky when countless brands are available in the market, we have your back. In this article, we have listed the 11 best cruelty-free primers according to your skin tone. Keep scrolling to check them out!
11 Best Rated Cruelty-Free Primers – 2023 Update
If you have pledged allegiance to K-beauty products and also to invest a few extra bucks, then this cruelty-free Thank Me Later Face Primer from Elizabeth Mott is your best bet. The well-balanced formula of this primer helps you deal with the most frustrating skin woe – pores. In addition, it helps you create the perfect flawless pre-foundation canvas.
Besides minimizing pores and fine lines, it renders a silky and super mattifying finish. The primer combats oiliness by controlling sebum levels and gives a crease-free flawless coverage all day without adding extra shine. This cruelty-free brand ensures a perfect look with 100% customer satisfaction.
Pros
Sweat-proof
Waterproof
Non-greasy
Long-lasting
Lightweight
Paraben-free
Cons
Cakey
Not very effective on oily skin
Price at the time of publication: $25.0
Amp up your look by prepping your face with this Simply Ageless Makeup Primer from Covergirl & Olay. Its unique formulation preps your skin to maximize the results and performs great as a foundation as well. Moreover, it helps combat signs of aging and gives you younger-looking skin instantly. In addition, its super nourishing formula hydrates the skin and makes it plump. It is great for all skin tones. Besides, this cruelty-free anti-aging primer comes in a pump dispenser bottle that provides convenient usage.
Pros
Anti-aging
Hydrating
Nourishing
Lightweight
Cons
Greasy
Does not last longer
Not water-resistant
Unpleasant fragrance
Price at the time of publication: $11.89
Take your makeup to the next level with this 100% vegan and cruelty-free Hydrating Face Primer by e.l.f. It offers long-lasting coverage by blurring imperfections, smoothing texture, and hydrating your skin. The primer is infused with grape extract and vitamins A, C, and E – making it a powerful concoction of complexion-boosting formula. It blends well with the skin and fills in pores to leave you with a lovely matte finish.
Pros
Paraben-free
Phthalate-free
Nonylphenol-free
Ethoxylate-free
Triclosan-free
Triclocarban-free
Hydroquinone-free
Cons
Unpleasant fragrance
Greasy
Price at the time of publication: $12.04
Prep your skin and minimize its flaws to get a photo-ready look with this Photo Focus Dewy Face Primer from the most trusted beauty brand – Wet N Wild. Create a perfect makeup base with this vegan face prime to boost your glam quotient. Its lightweight formula smooths your skin and holds your makeup for a longer duration. It is infused with pearl pigment and vitamin E that helps moisturize skin and adds glow to your skin. Moreover, this cruelty-free face primer improves your skin texture and offers a studio-ready look instantly! For a more detailed review of this product, here's a video.
Pros
Moisturizing
Paraben-free
Gluten-free
Fragrance-free
Vegan
Cons
Too shimmery
May look tackey
Price at the time of publication: $5.28
Did you know that marshmallows work wonders on your skin to provide a soothing and softening effect? You heard that right! This primer from NYX Professional Makeup is infused with marshmallow root extracts that soften, smoothen, hydrate, and even out your skin tone for up to 16 hours. Its 10-in-1 benefits include blurring fine lines, adding a soft finish, and keeping the makeup fresh and intact. Moreover, this vegan primer is free of toxins and does not cause blocked pores and other skin issues. Know more about this product in this video.
Pros
Non-comedogenic
Dermatologist-tested
Vegan
Silicone-free
Cons
Price at the time of publication: $26.5
Are you struggling to keep your T-zone free from oiliness? Try out the Prime & Fine primer from Catrice Cosmetics, as it does not add oiliness to your skin. This ultra-light vegan primer accentuates your look without sliding down your makeup. Thanks to its pore-refining and anti-shine features, it controls unwanted shine, hides pores, and creates a great canvas for foundation. In addition, the primer spreads evenly to give a smooth skin with a mattified finish without weighing it down.
Pros
Vegan
Paraben-free
Gluten-free
Alcohol-free
Oil-free
Perfume-free
Long-lasting
Cons
None
Price at the time of publication: $8
It's a tricky task to refine and conceal skin imperfections. This Prime Light Strobing + Pore Minimizing Face Primer from Milani has, therefore, got you covered. This helps in blurring fine lines and creates a luminous glow that flatters your looks. Moreover, its vegan formula blends perfectly into the skin and gives a glamorous base for your makeup with its soft-focus pigments. Besides, get an extended makeup wear time with a flawless complexion with this cruelty-free face primer.
Pros
Vegan
Lightweight
Long-lasting
Easy to apply
Cons
None
Price at the time of publication: $2
Give your skin active sun protection while creating the perfect base for a foundation with this Mineral Primer from Hourglass Veil. It brightens your complexion, creates a smooth base, and conceals redness, pores, fine lines, and wrinkles. It is enriched with SPF 15 and is a mineral-based formula, making it suitable for all skin types, including sensitive and blemish-prone skin. Its lightweight, silky cloud-like texture blends smoothly and allows the foundation to glide on effortlessly. Moreover, this vegan primer is free from harsh chemicals and is water-repelling, and enables your makeup to last longer.
Pros
Vegan
Paraben-free
Sulfate-free
Phthalate-free
Nanoparticle-free
Fragrance-free
Gluten-free
Synthetic dye-free
Oil-free
Cons
None
Price at the time of publication: $56
The Better'n Ur Skin Mineral Makeup Primer from Fifth & Skin checks all boxes since it's cruelty-free, natural, lightweight, non-greasy, and hydrating. In addition, its formula is packed with nourishing botanical extracts, including aloe vera, jojoba oil, rosehip seed oil, rosemary, lavender oil, and others. They work in tandem to hydrate and smoothen your skin.
The hydrating features of this primer enhance suppleness, reduce redness, and balance your skin's pH levels. Its antioxidant-rich properties hide signs of aging and reveal younger-looking skin. It also helps absorb excess oil, thereby creating the perfect makeup base that lasts for 8 to 12 hours. Moreover, the toxin-free primer keeps pores from clogging and reduces skin irritation.
Pros
Non-comedogenic
Hypoallergenic
Gluten-free
Paraben-free
Fragrance-free
GMO-free
Preservative-free
Talc-free
Cons
May cause breakouts in some
Price at the time of publication: $20.95
Add a filter to your skin that would buff off your skin imperfections without ripping it dry. This is possible with the My Skin Perfector Tinted Primer from Essence Cosmetics. The mousse-like texture of this primer preps your skin for a flawless look before you put on makeup. This vegan primer's moisturizing and velvety formula spreads seamlessly to blur your scars, patches, and other blemishes instantly. This cruelty-free product smoothens your skin and leaves it with a natural look that lasts all day. Moreover, this is free from harsh chemicals and comes in six distinctive tinted shades that suit all skin tones.
Pros
Matte finish
Acetone-free
Alcohol-free
Paraben-free
Oil-free
Vegan
Cons
None
Price at the time of publication: $7.95
Create a flawless base for makeup with The Leveler Pore Minimizing Makeup Primer from Beautyblender. This light-medium primer with high-performing silicone smoothens your skin's texture to give you a professional touch. Its lightweight formula creates a humidity-proof base that stays on all day and night. Besides, it is infused with niacinamide that evens out skin tone and minimizes pores and redness. This vegan primer comes in tan-deep color and is great for normal to oily skin.
Pros
Vegan
Gluten-free
Sulfate-free
Phthalate-free
Mineral oil-free
Formaldehyde-free
Oxybenzone-free
Coal tar-free
Hydroquinone-free
Triclosan-free
Triclocarban-free
Etinyl Palmitate-free
Cons
Price at the time of publication: $41.95
The world is becoming more and more conscious in terms of the products it consumes on a daily basis, and the cosmetic industry is happily catering to the wants of many. There is a wide range of options available for cruelty-free primers,  and given below are some factors to help you make a choice.
Things To Consider While Buying The Best Cruelty-free Primers
Skin type
Oily: If you have oily skin, pick a mattifying primer. This will provide a dry base and minimize the shiny, oily appearance of the face.
Dry: Incase of dry skin, choose a primer with moisturizing and hydrating ingredients. Olive oil, hyaluronic acid, and agave leaf extracts neutralize the skin while butters like shea or cocoa offer moisturization. Dewy primers are best suited for dry skin as they make the face glow without making it too shiny.
Sensitive: If your skin is sensitive and prone to breakouts, pick a primer with salicylic acid. This helps treat the problem from inside while giving the face an even texture.
Certification
Look for a cruelty-free label and a PETA or Leaping Bunny certification to be sure that the primer uses no animal by-products or test on any. A vegan product is also cruelty-free.
Formula
Primers form a base and must remain non-cakey and smooth on the skin. Choose a sweat-proof, waterproof, and hypoallergenic formula so that it lasts long without dripping or smudging. Look for a lightweight, non-greasy formula that offers nourishment and is enriched with vitamins A, C, and E.
Ingredients To Avoid
Pick a primer which is free of parabens, phthalates, and silicones and other harmful chemicals. Avoid artificial fragrances and alcohols in your primers as they cause irritation and dryness.
Cruelty-free primers are not only beneficial for your skin but also promote our planet's health. This secret beauty weapon with the cruelty-free formulation is a perfect game-changer for your daily makeup regimen. From a pore minimizing primer from Elizabeth Mott to a blurring primer from Covergirl & Olay, all these primers work great to fix your skin imperfections. Pick your favorite product from the list today!
Why Trust StyleCraze?
The author, Baishali Bhattacharya, is certified in makeup techniques and loves reviewing different makeup products. She has carefully selected these best cruelty-free primers after closely reviewing user reviews and feedback on multiple forums and brand websites. These cruelty-free primers help hydrate the skin, make it plump, and stay on for a long time.
Frequently Asked Questions
Does cruelty-free primer work well with aging skin that has wrinkles?
Yes, cruelty-free primers work well with aging skin that has wrinkles. They help fill in your wrinkles and make your skin look smooth.
Can we use cruelty-free primers as a lip primer?
Yes, you can use cruelty-free primers on your lips. They help you apply lipstick evenly on your lips.
Does cruelty-free reduce redness on the face?
Yes, cruelty-free primers reduce the redness on your face.
Are cruelty-free primers long-lasting?
Yes, cruelty-free primers last long and keep your skin hydrated.
Recommended Articles