11 Best Eye Primers For Mature Skin To Fight Fine Lines
These eye primers for mature skin increase the longevity of your makeup and enhance your looks.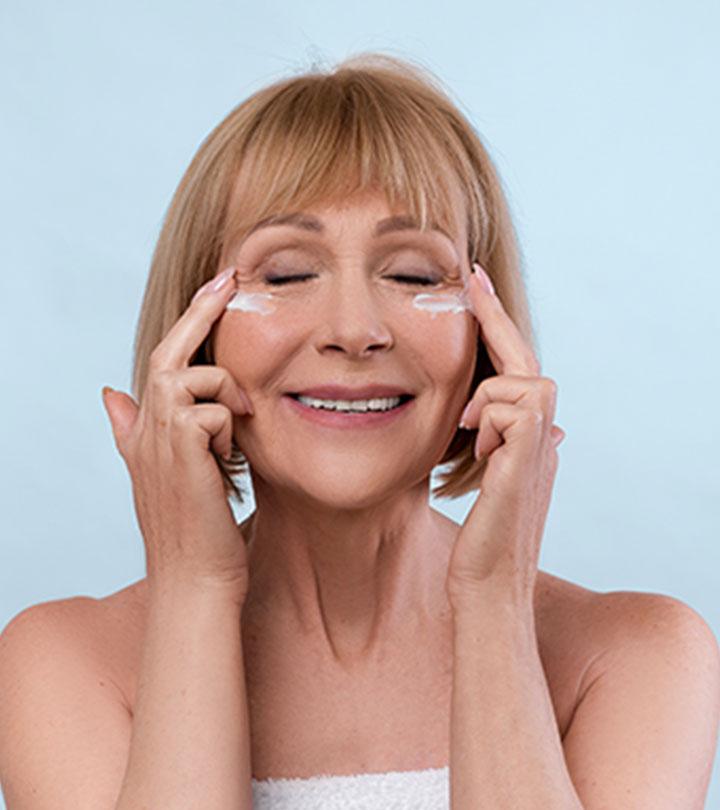 As we age, the loss of estrogen makes our skin loose and dry, making our eye makeup look creasy, settling into fine lines or fading easily. To prevent this, you need the best eye primer for mature skin. It expands the longevity of your makeup, smoothens the base, and diminishes all signs of aging, preventing the makeup from settling down into fine lines and wrinkles.
The prevention of visible fine lines and wrinkles is enough to rewind your age seamlessly, making you look well-maintained, youthful, with healthy and natural-looking skin. However, with so many brands and eye primer products out there in the market, it might get overwhelming to pick the best one for your mature skin. Finding a skin-friendly one that gives you a flawless finish can get challenging. So, we have listed the 11 best eye primers for mature skin to solve this query for you. Have a look!
The 11 Best Eye Primers For Mature Skin You Need To Try In 2023
The name Thank Me Later may strike you a tad overconfident. But this silky formula brought to you by the NYC-founded and Korean beauty-inspired makeup company, Elizabeth Mott, isn't all talk; they also deliver a perfect lightweight sheer application. Their paraben-free formula contains a powder to control excess sebum, which fights oily skin, enhances eyeshadow application, and locks in your eyeshadow color all day for exceptional results. It offers a comfortable finish, so now you can prep your eyelids in the morning and attend that dinner date after work sans the hassle of harried reapplications. Score!
This invisible primer can help boost your favorite eyeshadow's color, giving your palette a whole new pop of vibrancy. The crease-proof formula applies nude and dries quickly, giving you an even base to work with. A small amount can go a long way, and this invisible finish lid primer lasts all day providing consistent coverage even on greasy eyelids. Milani was founded in the richly diverse East LA and takes pride in designing makeup for all ethnicities, shades, and attitudes. Furthermore, this eye primer's affordable price point makes it a fan favorite. Check out this review for a detailed understanding about the illuminating product from the reviewer's experience of using it.

This supremely silky, silicon-based primer will sit just like an angel's kiss, providing a satin smooth, uniform canvas for your entire face. The formula is cruelty-free and on the slightly wetter side (though definitely not runny) to give an easy application on dry skin that is often seen with aging. It's also been formulated to minimize shine so that you appear flawlessly fresh all day. It allows for a good color payoff and eyeshadow consistency. If you appreciate the design, you can also finish your look with NYX Professional's range of eyeshadow, mascara, and liquid eyeliner that complement this eye primer. This video review detailing a tester's experience with the product will help you understand more about it.
Here is your very own eyeshadow insurance! This featherweight formula brought to you by Too Faced is waterproof as well as crease-proof. It contains unique binders that lock down the pigments of your eye shadow and significantly increase its wear whilst simultaneously intensifying the color and helping you create statement-making makeup looks. The formula also successfully neutralizes any discolorations on your skin, giving you a smooth, blank canvas to work with so you don't have to worry about crepey skin and uneven color payoff. Besides the 24 hour-wear guarantee, a little product also goes a long way during application. What's not to love? If you are still unsure, check out this honest review video and know about a tester's experience of using the product.
Urban Decay has a reputation for making extraordinary eye primers, and their anti-aging potion doesn't disappoint either. This nude shade primer contains dermaxyl to help even out textures, and is perfect for those with mature skin complaints like fine lines. This tiny wonder with an anti-sagging formula contains kalpariane for firmer and plumper skin, and for better hydration for dehydrated skin, which improves its elasticity and suppleness. This allows for a flawless base that helps maintain the consistency of the eyeshadows. Additionally, its enhanced features like optical-blurring pigments aid in reducing the appearance of red, puffy lids with an extra boost to eyeshadow color, so you can say good-bye to hooded, tired eyes.

If you're a gal who works hard but plays harder, you need an immaculate primer base that ensures 24 hour coverage. And the 100% cruelty-free bareMinerals is just the one for you! Their silky smooth formula is lightweight and designed to last all day and all night – perfect for those who suffer from fading eye color after a long day. It gives you a brand new canvas for applying eyeshadow every day. This crease-free solution is quick to dry and fights excess sebum accumulation so that your eyelids never look greasy.
An uber hydrating eye primer from the LA-based makeup empire, SmashBox, this ingenious formula will truly have mature gals selfie-ready at any time of the day. Infused with the enhanced features and soothing properties of peptides and caffeine, the Photo Finish primer helps fight undereye bags, dark circles, crepey skin, and inflammation whilst smoothening the texture. This is great if you want a non-greasy finish in a humid climate. It is hydrating for the driest skin around the eyes. It exhibits exceptional results with immediate and long-term skin benefits. It's also designed to lock in your eye concealer, preventing it from feathering into delicate fine lines, thereby keeping you looking fresh all day.
This creamy formula, by the beloved Anastasia Beverly Hills, glides smoothly to create a perfect, uniform base for eyeshadow application. The satiny texture of the award-winning nude eyeshadow primer ensures easy blending and smudge-proof smooth application of any metallic, matte, and shimmery eye colors. The transparent finish of the primer allows for a blank canvas for eyeshadow. Additionally, the dermatologist-tested primer helps boost the eyeshadow's colors by locking in the color for all-day wear, thereby establishing great hold vibrancy all day.
Made as a smooth, clump-free formulation for a spotless matte finish, the Angel Eyes Eyeshadow Primer is available in 3 expertly crafted shades to flatter a wider range of skin tones and offers 12 hours of smudge-free resistance. The lightweight and silky texture applies evenly to prevent creases and lines, whilst the high-grade emollient base blends with ease and gives your eyeshadow a uniform foundation. Damascene rose extract and hyaluronic acid hydrate the skin and protect against fine radicals to maintain the timeless beauty of your skin. The primer diminishes the appearance of redness and dry eyelids with its skin-loving ingredients. Bonus? The indie beauty brand True + Luscious uses all skin-loving, non-toxic ingredients and incorporates natural botanical ingredients to give your makeup routine its own glamorous glow up!
The LORAC Behind the Scenes Eye Primer is suitable for oily eyelids. The silky texture and oil-free, lightweight formula of this eye primer offer a smooth, radiant finish that does not fade. It gives you a blank canvas for eyeshadow application along with good color payoff. This long-lasting eye primer holds your powder, cream, or glittery eye makeup all day. It is fragrance-free and parabens-free and is suitable for all skin types.
The bareMinerals Prime Time Eye Primer has a lightweight and creamy formula that spreads evenly on your eyelids and is suitable for all skin types. It is long-lasting and makes for your all-day or night needs and is perfect for dry eyelids. This antioxidant-rich eye primer creates a smooth base for eyeshadow and maximizes color intensity without creases.
*The prices provided in this article are based on the latest available information. However, they may vary due to changes in pricing by the seller and/or promotional offers.
No more hiding behind sunglasses and wacky hats. With our pick of the best age-defying eye primers for mature eyes, you can reclaim your makeup magic and get Insta-ready within minutes. But before you go grab your credit card, take a quick peek at our buying guide for helpful tips for choosing the right primer for you. Read on!
Buying Guide To The Best Eye Primer For Mature Skin!
How To Choose The Best Eye Primer For Mature Eyelid Skin
If you're an older woman who hasn't had much experience with eye primers or if, whilst scrolling down, you've gotten progressively nervous with the overwhelming amount of choice in this article, fear not! We're about to break down the basics of what makes the best eyelid primer for mature skin. Take a look:
Thick, clunky eye primer formulas are a big no-no. Not only do they not look natural, but they also settle rather stiffly and exacerbate the appearance of creases and puffiness in mature skin. Besides, no one likes to feel any extra weight upon their lids. Ergo, a light and clump-free formulation is a crucial feature to assess when purchasing an eye primer for mature eyes. These also, characteristically, make the best under eye primer to prevent creasing. And since they typically require less product for more coverage as they apply rather evenly and provide a smooth canvas, they're friendlier to your wallet too!
Another essential primer feature to search for is an all-day wear guarantee. The older you get, the more responsibilities you stack up. Be it due to juggling work, home or kids, most of your hours now belong to social commitments that demand you to look fresh and crisp at all times. Meanwhile, those luxurious windows for self-care and makeup magic get squeezed to mere minutes. Solution? Don't work overtime; get an eye primer that works overtime for you! Get 24-hour wear resistance and save yourself more worry lines.
How To Use An Eye Primer For Mature Skin
Introducing a primer into your makeup routine is easier than you would think. You apply a pea-sized portion on your eyelids right after you finish moisturizing. Once you've patted it into your creases and achieved a smooth base, go ahead and apply your eye makeup— Voilá! You're good to go!
Why Trust StyleCraze?
Srijani Roy Chowdhury, the author of this post, is a makeup wizard fond of trying products that make makeup look flawless. Here, she has compiled a list of the best eye primers for mature skin that prevents the makeup from settling into fine lines and creases. Chaitra has invested an immense amount of time studying and analyzing these products to provide their pros and cons that help the reader navigate their options better. She has also included a buying guide to assist readers in picking the best.
Frequently Asked Questions
Do eye primers help with wrinkles?
Not all. But, yes, some primers are specifically formulated for aging skin to help prevent the appearance of creasing.
Is there a difference between face primer and eye primer?
The core difference between an eye primer and a face primer lies in the formula. Silicon is a key ingredient in most face primers as it fills out potential pores and smoothens imperfections. But if applied to the surface of the eyelids, it creates an excessively slippery surface that accentuates creases and makes the even blending of eyeshadow difficult.
Can I use eyeshadow primer under my eyes?
Yes, you can. A dual action eyeshadow primer prevents your foundation from creasing and also helps boost its longevity.
Can I use face primer on my eyes?
No. While using face primer on the eyes is not recommended, the ones without silicones can still be used. Face primers contain ingredients that are too strong for the delicate skin around your eyes, so it is better to check the ingredients list before using the same on your eyes.
How long should you wait to apply eye primer after moisturizer?
Put the eye primer on after waiting at least a minute or two post moisturizing, hyaluronic acid serum, or any skin elixirs you put on your face before makeup. You need your skin to feel refreshed and settled before applying the makeup products one after the other.
Should I put an eye primer before or after concealer?
You should put on an eye primer before using a concealer. It is always recommended to use an eye primer first and let it settle for 60 seconds. After that, you can apply your concealer and other eye makeup products for a glam look.
Recommended Articles