10 Best Jeans For Plus-Size Women That Are Trendy And Comfortable
Stylish, comfortable, and well-fitted jeans to flaunt your big curves confidently.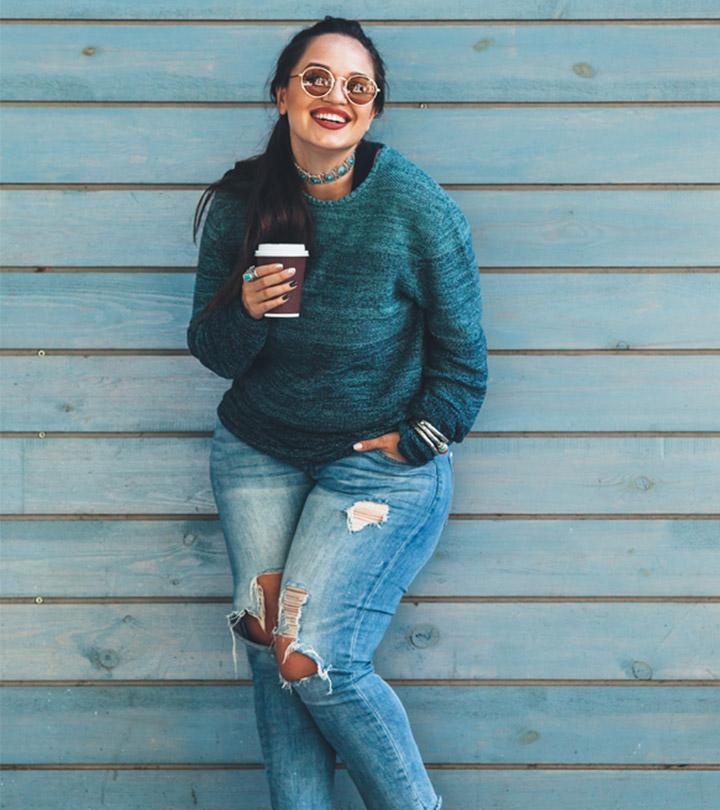 Ever felt that finding the best jeans for plus-size women is rocket science? Putting an end to the quest and finding a pair that accentuates your curves isn't that difficult anymore since more and more brands are now catering to plus-size beauties. You can find trendy and chic jeans that are comfortable enough to not make you feel like you're in a cast. In this article, we have shortlisted some of the best jeans that you will love. Read on to know more.
10 Of The Best Plus-Size Jeans For Women
This pair of jeans from Levi's combines quality craftsmanship with authentic style. They are made of a super stretchy denim material that makes your curves look flattering. The skinny leg opening ensures that your legs appear long and lean. You can wear this pair of jeans for both formal and casual occasions. It hugs your curves and makes your body look naturally in shape. These jeans are durable and machine washable, and the color does not fade. You can get it in various sizes depending on your needs.
Pros
Machine washable
Five-pocket design
Available in different colors
True to size
Form-hugging
Non-fading colors
Cons
Wide leg jeans go well with casual oversized tops and sandals. This jeans from Woman within Women is a real treat for short plus-sized women. The waistline is not that high, which makes it sit comfortably on the body. The jeans have five pockets with a zip fly and two-button closures. The jeans are made from cotton and come in a range of colors, including black, blue, indigo, and light blue. You can select from a range of sizes as well. It is the best plus size high waisted jeans.
Pros
Comfortable
Machine washable
Button closure
Ideal for everyday wear
Available in multiple colors
Cons
Price at the time of publication: $34.96
Ripped jeans show off your curves with just a glimpse of the skin. They go with almost all types of outfits. You would love them with a matching crop top and heels. Chicrechery's jeans aren't just ripped. They are mid-rise jeans with five-pocket compartments in the front and back, a button hook, and front zip. This pair of jeans is made of 75% cotton, 23% polyester, and 2% spandex. The fabric is breathable and keeps you comfortable all day. It is the best plus size jeans for big stomach.
Pros
Lightweight
Moisture-wicking
Breathable
Retains shape
Form-fitting
Five functional pockets
Cons
Price at the time of publication: $20.0
High-waist plus size designer jeans keep the belly in check and make your butt look rounder. They usually come with buttons to help maintain the desired body shape. These high waist skinny jeans are one of the best jeans for curvy women. They are made of 75% cotton, 23.5% polyester, and 1.5% spandex. They make your silhouette look sexy as hell. You can wear this pair of jeans with a T-shirt, shirt, or a nice top and pair it up with accessories. You can finish off your look with a pair of heels, platforms, or high ankle boots. It is the best jeans for fat women.
Pros
Stylish, high-waisted design
Butt-shaping fit
Breathable
Stretchable
Durable fabric elasticity
Cons
The waistband may roll down.
Price at the time of publication: $53.99
Straight leg jeans are comfortable for all body shapes. The only issue is selecting one that fits the body size and is not too big. This classic beauty from Lee Indigo is a good fit for plus-sized women. The mid-rise pattern of these jeans ensures that it sits naturally on your waist. It is the best jeans for plus sizes women.
It is made of 71% cotton, 28% polyester, and 1% spandex. Team it up with a formal shirt or top and pumps, and you are good to go.
Pros
Non-pinching
Comfortable
Machine washable
Durable
Stretchable
Mid-rise hem
5-pocket styling
Cons
None
Price at the time of publication: $27.69
This is one of the best jeans for apple-shaped plus-sized women. It is made of81% cotton, 2% elastane, and 17% polyester. It features a tummy-slimming and curve-smoothing technology. It shapes your hips and thighs and lengthens your legs. You can wear it for both casual as well as formal occasions. Pair it with colored tops, in eye-catching colors like red, orange, or pink, and heels, and look effortlessly chic. It is the best jeans for larger women.
Pros
Tummy-slimming design
Comfortable waistband
Stretchable
Zip fly with button closure
5-pocket styling
Tummy-slimming front panel
Skinny fit
Mid-rise design
Cons
None
Price at the time of publication: $39.98
The Lee Women's Plus Size Relaxed Fit jeans are made up of 92% cotton, 7% polyester, and 1% elastane. These are straight-fit jeans with a mid-rise of 12.375 inches and 18 inches leg opening. They hug your thighs in a flattering fit, then run down in a flowy, relaxing fit. These comfy, machine-washable, plus-size jeans come with a zipper closure and five pockets. The back pockets are embroidered, which offers a stylish back look.
Pros
Offers a relaxed fit
Features five pockets
Machine washable
Comfortable to wear
Durable
Cons
Angel women's curvy jeans are cute plus-size jeans for women. It has embroidered and embellished front and back pockets. The double button waistband has a hidden slimming tummy panel that makes your tummy look flat, and your silhouette looks contoured and smooth. You can pair it up with a black shirt or a formal top, depending on the occasion.
Pros
Available in different colors
Machine washable
Tummy-slimming design
Curve-hugging design
Zipper closure
Double button waistband
Hidden tummy tech panel
Overlock stitch
5-pocket styling
Stretchable
Soft denim fabric
Cons
Price at the time of publication: $19.99
The Gloria Vanderbilt Women's Amanda Classic Tapered Jeans is a high-rise pair with functional pockets, zippers, and belt loops. The material is 98% cotton, which makes it comfortable for regular wear. This versatile pair of jeans is suitable for various occasions. Style it with a basic t-shirt and a pair of sunglasses, and you're good to have a fun day out with your friends.
Pros
Flattens tummy
Eliminates muffin top
Suitable for women of all age groups
Classic high rise taper design
Easy zipper fly
Cons
The sizes are not accurate
The Democracy Women's Plus Size Ab Solution Ankle Skimmers offer a curve-hugging fit to your plus-size figure. They are made of 54% cotton, 27% rayon, 17% polyester, and 2% spandex. These jeans feature soft and stretchable denim stitched with their
statement Ab solution fit technology, offering a lifted look to your booty. The power mesh panels flatten your tummy area, and the hidden no-gap elastic waistband and zipper and button lock systems securely hold the jeans on your waistline.
Pros
Machine-washable
Comes with no-gap hidden, elastic waistband
Zipper and button lock system
Comfortable to wear
Value for money
Stretchable fabric
Cons
Price at the time of publication: $10
Everyone has different tastes and preferences, so it is important to take into account what you like. However, there are a few things that all plus-size women look for, like style, comfort, and quality, so here is the list of points to consider before buying jeans for plus-size women.
How To Choose The Perfect Jeans For Plus-Size Women
Fit: You should try on different pairs to find a pair that fits perfectly in the waist without being too loose or too tight around your thighs or hips. Jeans that are too baggy may make you appear bigger and should be avoided if you are looking for a comfortable fit. While purchasing online, check reviews on e-commerce sites to know whether the jeans that you are looking for are true to size, run smaller, or run larger. Make sure to select the size as per your fit preferences and the brand's specifications.
Style: It is important to make sure your jeans match your style. You should be able to find a pair that looks great whether they are skinny, bootcut, flared, or straight cut. You can find cute and trendy plus-size jeans in many different shades, but the dark washes tend to look better on women who are chubbier.
Price: You probably do not want to end up spending too much on a pair of jeans that you can find for less just down the street. If your regular store does not have options available in your size, it is always a good idea to shop around and find the best deal while buying new clothes to save some money. Keep an eye out for big sales and coupons in your preferred online stores as well.
Quality: You should also make sure that the jeans are durable, especially if you are planning to wear them often. Choose a pair that holds up well when washed and put under strain as well, so that you can wear them for years and years to come.
High-waisted: Many plus-size women prefer high-waisted jeans and they generally fit better on their body, and flatter their curves. If you are not used to wearing high-waisted pants, then try them on to see if they make you look slimmer or just too awkward. You will find a lot more options available in different styles of this type of jeans if you're willing to shop around a bit.
Hope this list will help you find the right pair of jeans. There is nothing more positive than feeling beautiful about yourself. So, go on, buy the one that makes you happy, confident, and body-positive. Let us know how you styled your look by commenting in the box below.
Why Trust StyleCraze?
The author, Baishali Bhattacharya, is a certified image consultant. She has come up with the above list of the best jeans for plus-size women following hours of research and a thorough screening of the reviews posted on trusted online forums. The jeans accentuate the curves and are comfortable for all body shapes, which makes them a must-have for plus-size women.
Frequently Asked Questions
Which type of jeans looks good on a chubby figure?
High-waist jeans look good on curvy, plus-size body types. They keep the belly and buttocks tucked and provide proper shape to their curves.
What kind of jeans is suitable for big thighs?
Stretchy denim jeans like straight-cut, casual-cut, and bootcut jeans look good on big thighs. These pants have extra room on the upper part to accommodate bigger thighs easily.
How do you look good in plus-size jeans?
To look good in plus-size pants, pair them with peplum tops, V-neck shirts, or jackets. This will highlight your waist.
Do bootcut jeans look good on plus-size body types?
Bootcut jeans are the best for plus-size body types. They contain enough legroom and are not narrow at the end. Moreover, they balance your curves perfectly.
Can bigger people wear skinny jeans?
Yes. Skinny jeans can look fantastic, even if you are curvy, especially if the fabric gives your curves a proper shape. Several jeans brands are super stretchable that can accommodate all body types.
Recommended Articles