10 Best Jeans For Plus-Size Women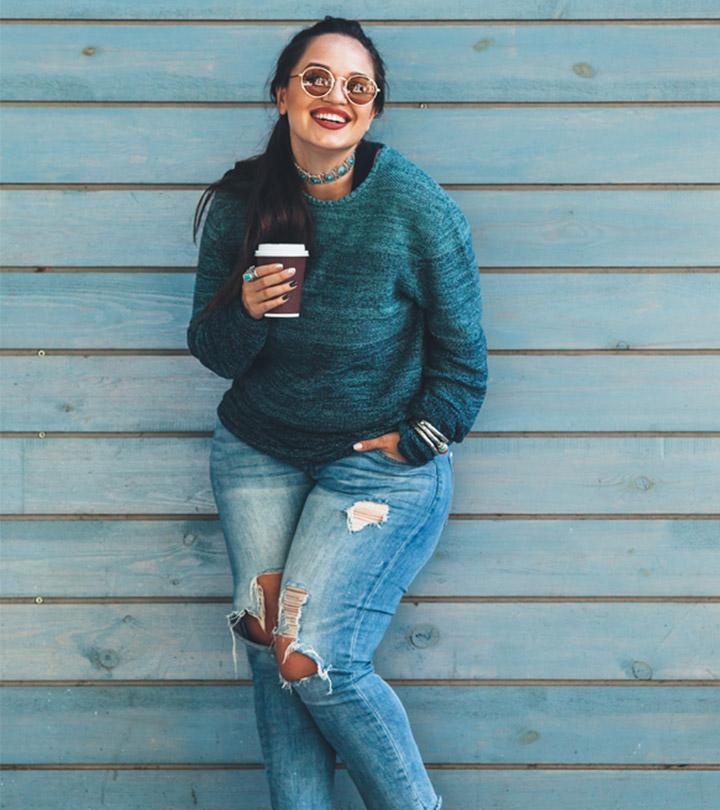 Finding the perfect pair of jeans is a never-ending quest. Getting your hands on jeans that accentuate your curves and, at the same time, look smart on you can be tricky due to the lack of options for plus-sized women. However, trends are changing, and more and more brands are coming up with lines catering exclusively to plus-sized women. In this article, we have listed out the 10 best jeans plus-size jeans for women. Take a look.
10 Of The Best Plus-Size Jeans For Women
This pair of jeans from Levi's combines quality craftsmanship with authentic style. They are made of a super stretchy denim material that makes your curves look flattering. The skinny leg opening ensures that your legs appear long and lean. You can wear this pair of jeans for both formal and casual occasions. It hugs your curves and makes your body look naturally in shape. These jeans are durable and machine washable, and the color does not fade. You can get it in various sizes depending on your needs.
Wide leg jeans go well with casual oversized tops and sandals. This jeans from Woman within Women is a real treat for short plus-sized women. The waistline is not that high, which makes it sit comfortably on the body. The jeans have five pockets with a zip fly and two-button closures. The jeans are made from cotton and come in a range of colors, including black, blue, indigo, and light blue. You can select from a range of sizes as well. It is the best plus size high waisted jeans.
Ripped jeans show off your curves with just a glimpse of the skin. They go with almost all types of outfits. You would love them with a matching crop top and heels. Chicrechery's jeans aren't just ripped. They are mid-rise jeans with five-pocket compartments in the front and back, a button hook, and front zip. This pair of jeans is made of 75% cotton, 23% polyester, and 2% spandex. The fabric is breathable and keeps you comfortable all day. It is the best plus size jeans for big stomach.
High-waist plus size designer jeans keep the belly in check and make your butt look rounder. They usually come with buttons to help maintain the desired body shape. These high waist skinny jeans are one of the best jeans for curvy women. They are made of 75% cotton, 23.5% polyester, and 1.5% spandex. They make your silhouette look sexy as hell. You can wear this pair of jeans with a T-shirt, shirt, or a nice top and pair it up with accessories. You can finish off your look with a pair of heels, platforms, or high ankle boots. It is the best jeans for fat women.
Straight leg jeans are comfortable for all body shapes. The only issue is selecting one that fits the body size and is not too big. This classic beauty from Lee Indigo is a good fit for plus-sized women. The mid-rise pattern of these jeans ensures that it sits naturally on your waist. It is the best jeans for plus sizes women.
It is made of 71% cotton, 28% polyester, and 1% spandex. Team it up with a formal shirt or top and pumps, and you are good to go.
This is one of the best jeans for apple-shaped plus-sized women. It is made of81% cotton, 2% elastane, and 17% polyester. It features a tummy-slimming and curve-smoothing technology. It shapes your hips and thighs and lengthens your legs. You can wear it for both casual as well as formal occasions. Pair it with colored tops, in eye-catching colors like red, orange, or pink, and heels, and look effortlessly chic. It is the best jeans for larger women.
Butt-lifting jeans are designed to make your butt looking amazing. These jeans intensify and complement your curves and make them more conspicuous. They increase the butt size and eliminate the need for padding. They also flatten the stomach, giving you a sexy hourglass figure. The wide waistband smoothens your tummy. It is made of cotton, which makes it super comfortable to wear. It is machine washable and does not fade. You can pair it with tunics, tops, jackets, and a nice pair of heels.
Angel women's curvy jeans are cute plus-size jeans for women. It has embroidered and embellished front and back pockets. The double button waistband has a hidden slimming tummy panel that makes your tummy look flat, and your silhouette looks contoured and smooth. You can pair it up with a black shirt or a formal top, depending on the occasion.
Small waist jeans make a good fit for plus-sized women despite the crankiness of the waistline. This is because the thigh to the leg region is free. These types of jeans look good with shoes and a shirt. This five-pocket, zipper-closed straight jeans are made from a stretchable material that is a cotton blend. It is super comfortable, which makes it ideal for long official meetings and presentations.
This pair of straight, mid-rise jeans are a good option for plus-sized women. It is made of 95% cotton, 3% polyester, and 2% elastane. It has a zip fly with button closure. You should consider the inseam length that fits you when choosing a size fit. These jeans can be worn comfortably with all formal tops or shirts. You can wear a pair of block heels to finish off the look.
Hope this list will help you find the right pair of jeans. There is nothing more positive than feeling beautiful about yourself. So, go on, buy the one that makes you happy, confident, and body-positive. Let us know how you styled your look by commenting in the box below.
Recommended Articles
The following two tabs change content below.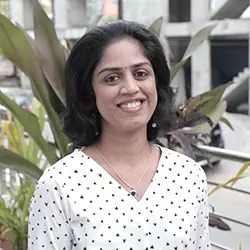 As Chief Editor, Harini sets the tone and editorial direction for StyleCraze to deliver engaging, interesting, and authentic content revolving around women's health, wellness, and beauty. She has over 14 years of experience in content writing and editing for online media. She specializes in the areas of Beauty, Lifestyle, and Health & Wellness and is proficient in Medical Sciences (Biology, Human Anatomy and Physiology, and Biochemistry). Her background in Biomedical Engineering helps her decode and interpret the finer nuances of scientific research for her team. Harini is a certified bibliophile and a closet poet. She also loves dancing and traveling to offbeat destinations.