10 Best Jeans For Plus-Size Women That Are Trendy And Comfortable
Stylish, comfortable, and well-fitted jeans to flaunt your big curves confidently.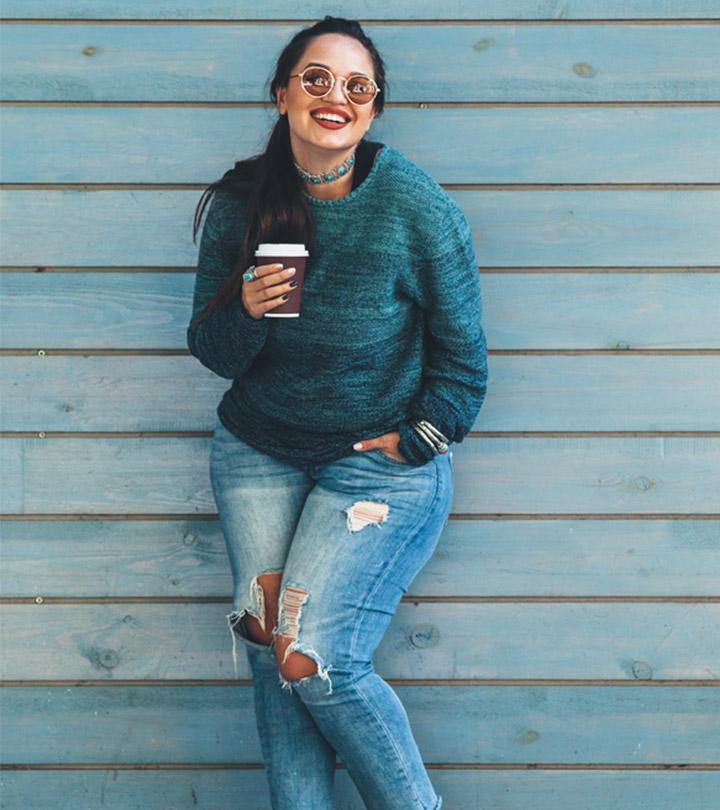 Ever felt that finding the best jeans for plus-size women is rocket science? Putting an end to the quest and finding a pair that accentuates your curves isn't that difficult anymore since more and more brands are now catering to plus-size beauties. You can find trendy and chic jeans that are comfortable enough to not make you feel like you're in a cast. In this article, we have shortlisted some of the bestselling jeans for plus-size ladies that will boost your body confidence. These options are top-rated by many reviewers as well. Read on to know more.
10 Of The Best Plus-Size Jeans For Women
The Luscious Curvy Mid-Rise Bootcut jeans from Wallflower are a comfortable fit with a contoured waistband to prevent gapping while sitting. The double button closure at the waist gives a trendy look while making them easy to wear. These shape-sculpting jeans are crafted from stretchable fabric that is a blend of cotton, rayon, polyester, and spandex. Many reviewers mention that the material has a long-lasting hold that does not bag out and has excellent recovery. These comfortable plus-sized jeans have a five-pocket styling and a classic vintage-inspired jean look with contrasting stitching. In addition, they have a kick-leg opening which creates a slim silhouette. The Wallflower's commitment to sustainability makes this garment eco-friendly, as it is fabricated using cleaner processes.
Pros
Machine washable
Premium fabric
Wide waistband
Eco-friendly
Long-lasting holding power
Easy zipper closure
Cons
None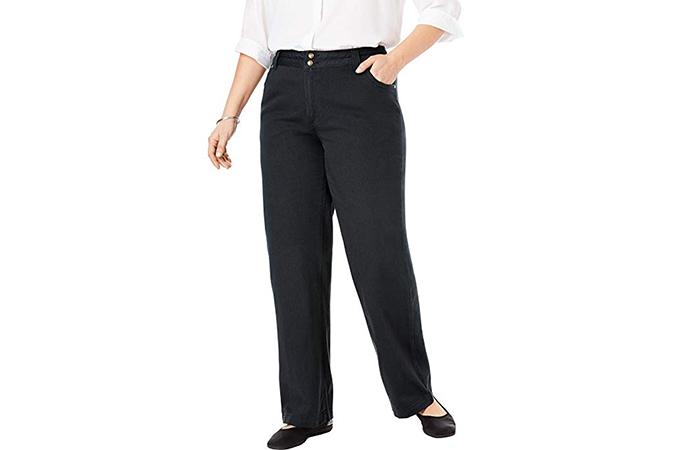 Wide leg jeans go well with casual oversized tops and sandals. This jeans from Woman within Women is a real treat for short, plus-sized women. The waistline is not that high, which makes it sit comfortably on the body. The jeans have five pockets with a zip fly and two-button closures. These petite plus size jeans are made from cotton and come in a range of colors, including black, blue, indigo, and light blue. You can select this black jeans from a range of sizes as well. It is the best plus size high waisted jeans.
Pros
Comfortable
Machine washable
Button closure
Ideal for everyday wear
Available in multiple colors
Cons
The figure-flattering plus-size Democracy Ab Solution jeans are designed with interior mesh panels that offer ample tummy control. They provide a vintage look with hand sanding and destruction details. The jeans are crafted from soft and stretchy denim, a blend of cotton, rayon, polyester, and spandex that offers a relaxed fit. According to numerous reviews, they have an elastic waistband that conforms to the waist for no gaps when you sit. An additional "booty lift" fit is obtained with darts near the back pockets. The sweetheart-shaped yolk and curved exterior pocket mold accentuate your curves. This classic pair has a relaxed fit from hip to hem that offers a straight-leg silhouette.
Pros
Machine washable
Tummy control
Booty lift fit
Stretch fabric
Slimming
Cons
The classic straight-leg Suki Mid-Rise jeans from Silver Jeans Co. have a unique shape-enhancing fit specially designed for plus-size women. The contoured waistband is positioned right to prevent gapping at the back. They are fabricated from high-stretch fabric that combines cotton, polyester, and elastane to give maximum flexibility and comfort. The deep five-pocket styling makes it convenient to store a mobile phone or even a slim wallet. These relaxed-fit jeans are offered in eco-washes that use less water, energy, and chemicals. The elegant mid-rise look offers a comfortable wear and makes them ideal for day or night wear.
Pros
Machine washable
High-stretch fabric
Shape-enhancing jeans
Relaxed-fit
Cons
The versatile Marilyn Straight Jean in plus size from NYDJ features their proprietary Lift Tuck technology. It uses a slimming panel with a criss-cross design to help flatten your midriff, curves in the back and provide a sleek silhouette. Reviewers like this low-rise jeans' flattering waist and straight-leg fit that allows you to pair them with all your tops. The classic five-pocket styling, button closure, and zip fly make these straight jeans ideal for all-day wear. They are crafted from cotton, lyocell, and elastane to ensure they conform to all body types and don't restrict mobility.
Pros
Machine washable
Tummy control
Curve-flattering
High-stretch fabric
Cons
May not retain shape well
The hip-hugging ellos Boyfriend jeans feature an extra-wide waistband designed to help in tummy control and ensure that they sit comfortably at the waist. In addition, these boyfriend jeans are equipped with front and back deep pockets for convenient storage of mobile phones and other small accessories. These plus-size jeans are fabricated from a blend of cotton and spandex denim that offers the perfect fit. These jeans are extremely comfortable and can be paired with crop tops and tees. In addition, they are suitable for hot weather conditions as they have a sweat-absorbing material.
Pros
Machine-washable
Stretch fabric
Extra-wide waistband
Tummy control
Cons
The Lee Women's Plus Size Relaxed Fit jeans are made up of 92% cotton, 7% polyester, and 1% elastane. These are straight-fit jeans with a mid-rise of 12.375 inches and 18 inches leg opening. They hug your thighs in a flattering fit, then run down in a flowy, relaxing fit- a factor much appreciated by several reviewers on Amazon. These comfy, machine-washable, plus-size jeans come with a zipper closure and five pockets. The back pockets are embroidered, which offers a stylish back look.
Pros
Offers a relaxed fit
Embroidered jeans
Features five pockets
Machine washable
Comfortable to wear
Durable
Cons
The ultra-modern Roamans Wide-Leg Jeans are created with wide 25" leg flares perfect for pulling off the retro look. These plus-size flared jeans are curve-hugging and feminine, crafted from soft denim that combines cotton, lyocell, polyester, and spandex. The high-stretch fabric offers a super-comfortable fit and easy mobility. These white jeans feature an invisible stretch waistband that eliminates the back gap while sitting and ensures they fit comfortably at the waistline. The pockets are situated at the back in a figure-flattering position. They will look great with solid colors, graphic tees, or a flowy floral top.
Pros
Machine-washable
Stretch waistband
Super stretch fabric
Figure-hugging
Five-pocket styling
Cons
The ultra-chic Gloria Vanderbilt Amanda Pull-on jeans have a high-rise fit that gives them a classic and versatile look for women of all ages. A wide waistband with a hidden elastic comfort band instantly flattens the tummy, eliminates unsightly muffin tops, and creates flawless curves. Several reviews boast about its high-stretch fabric, which is a blend of cotton, polyester, and spandex and has maximum recovery to help retain the shape and offer comfortable movement. In addition, the functional five-pocket styling and mock fly elevate the stylish look of these jeans. These high-rise jeans are available in various color washes, you can pair these jeans with your favorite flats, high heels, or boots to make them for college, work, a daytime outing, or a night out with the girls.
Pros
Tummy control
Pull-on closure
High stretch
Machine washable
Slimming effect
Cons
Not suitable for tall plus size women
The Democracy Women's Plus Size Ab Solution Ankle Skimmers offer a curve-hugging fit to your plus-size figure. They are made of 54% cotton, 27% rayon, 17% polyester, and 2% spandex. These ankle-length jeans feature soft and stretchable distressed denim stitched with their statement Ab solution fit technology, offering a lifted look to your booty. The power mesh panels flatten your tummy area, and the hidden no-gap elastic waistband and zipper and button lock systems securely hold the jeans on your waistline.
Pros
Machine-washable
Comes with no-gap hidden, elastic waistband
Zipper and button lock system
Comfortable to wear
Value for money
Stretchable fabric
Cons
*The prices provided in this article are based on the latest available information. However, they may vary due to changes in pricing by the seller and/or promotional offers.
Everyone has different tastes and preferences, so it is important to take into account what you like. However, there are a few things that all plus-size women look for, like style, comfort, and quality, so here is the list of points to consider before buying jeans for plus-size women.
How To Choose The Perfect Jeans For Plus-Size Women
Fit: You should try on different pairs to find a pair that fits perfectly in the waist without being too loose or too tight around your thighs or hips. Jeans that are too baggy may make you appear bigger and should be avoided if you are looking for a comfortable fit. While purchasing online, check reviews on e-commerce sites to know whether the jeans that you are looking for are true to size, run smaller, or run larger. Go through the brand's size chart for an accurate fit assessment, as finding the right size in garments made with stretchable material can be difficult at times. Make sure to select the size as per your fit preferences and the brand's specifications.
Style: It is important to make sure your jeans match your style. Doing a quick stylistic evaluation can help you find a pair that looks great on you whether they are skinny, bootcut, flared, or straight cut. You can find cute and trendy plus-size jeans in many different shades, but the dark washes tend to look better on women who are chubbier.
Price: You probably do not want to end up spending too much on a pair of jeans that you can find for less just down the street. If your regular store does not have options available in your size, it is always a good idea to shop around and find the best deal while buying new clothes to save some money. Keep an eye out for big sales and coupons in your preferred online stores as well.
Quality: You should also make sure that the jeans are durable, especially if you are planning to wear them often. Choose a pair that holds up well when washed and put under strain as well, so that they withstand the test of time and you can wear them for years and years to come.
High-waisted: Many plus-size women prefer high-waisted jeans and they generally fit better on their body, and flatter their curves. If you are not used to wearing high-waisted pants, then try them on to see if they make you look slimmer or just too awkward. You will find a lot more options available in different styles of this type of jeans if you're willing to shop around a bit.
Why Trust StyleCraze?
The author, Baishali Bhattacharya, is a certified image consultant. She has come up with the above list of the best jeans for plus-size women following hours of research and a thorough screening of the reviews posted on trusted online forums. The jeans accentuate the curves and are comfortable for all body shapes, which makes them a must-have for plus-size women.
Frequently Asked Questions
Which type of jeans looks good on a chubby figure?
High-waist jeans look good on curvy, plus-size body types. They keep the belly and buttocks tucked and provide proper shape to their curves.
What kind of jeans is suitable for big thighs?
Stretchy denim jeans like straight-cut, casual-cut, and bootcut jeans look good on big thighs. These pants have extra room on the upper part to accommodate bigger thighs easily.
How do you look good in plus-size jeans?
To look good in plus-size pants, pair them with peplum tops, V-neck shirts, or jackets. This will highlight your waist.
Do bootcut jeans look good on plus-size body types?
Bootcut jeans are the best for plus-size body types. They contain enough legroom and are not narrow at the end. Moreover, they balance your curves perfectly.
Can bigger people wear skinny jeans?
Yes. Skinny jeans can look fantastic, even if you are curvy, especially if the fabric gives your curves a proper shape. Several jeans brands are super stretchable that can accommodate all body types.
Recommended Articles