9 Best Knee Braces For People Who Are Overweight – Reviews And Buying Guide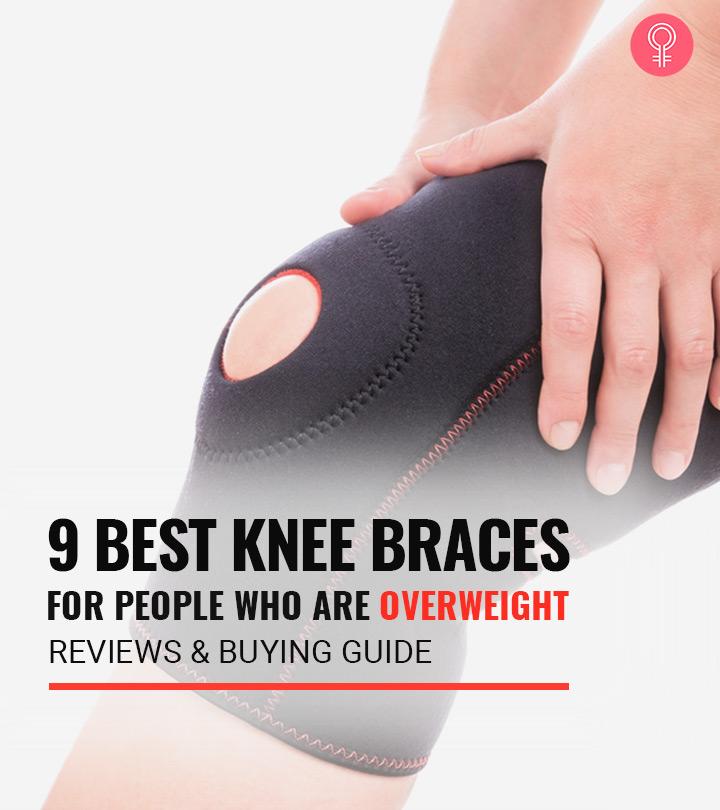 Our bodies are designed in a way that our skeletal system supports our weight. Extra weight puts pressure on our knees and impacts the knee joints. In fact, obesity can cause chronic knee pain and limit the mobility of the person. People who are overweight exert more force on the cartilage supporting the knee, which makes it very painful for them to move. Simple physical activities like walking or taking the stairs become strenuous. Excess body fat and inflammation also makes people who are overweight susceptible to knee osteoarthritis.
Knee braces and compression sleeves provide additional support to your knees and take the excess pressure off them. They act like cushions and shock absorbers that help in protecting the knees from further damage or injury. Knee braces also provide stability and are medically approved as precautionary medical aids to avoid knee-related injuries. Prolonged pressure or strain on the knees can lead to serious health complications and should be taken seriously.
Plus-size knee braces are designed keeping in mind the comfort and extra support required by people who are overweight or obese. They ensure that they fit comfortably and allow for a normal range of motion. These large knee braces need to be flexible yet restrict unwanted movement that can potentially damage the knee.
We have compiled a list of the 10 best plus-size knee braces available right now along with a buying guide. Check them out below!
10 Best Knee Brace For People Who Are Overweight
BraceAbility 4XL Plus Size Knee Sleeve is made of premium-grade latex-free neoprene that is soft, lightweight, and comfortable. It fits snugly and can be worn under pants without any discomfort. It is great for people with large legs or large thighs. As the sleeve applies compression and warmth to the knee joint, it helps in reducing swelling and pain. This makes standing and walking easier and convenient. It can be used for knee-related issues such as knee sprains, knee arthritis, patella and ligament issues, and anterior knee pain. It is also beneficial for knee injury recovery and prevention as it promotes blood circulation and aids the healing process.
Pros
Reduces inflammation
Provides warmth and relief to sore or stiff knee joints
Improves blood flow to your knee
Suitable for treating conditions like arthritis, patella pain, knee sprains, or strains
Eases daily activities such as walking
Cons
BraceAbility Obesity Knee Pain Brace is specially made to ease pain caused by degenerative joint conditions and post-surgery recovery. It is constructed from neoprene, a breathable, lightweight, and comfortable material. It can be worn on the right or the left leg. Its heavy-duty hinges give you support and stability to relieve general obesity-related knee joint pain. The open back helps in increasing the mobility and prevents the brace from bunching as you bend. This makes it really comfortable to use during simple physical activities like walking, sitting, or standing. This hinged brace is useful when recovering from meniscus tears, muscle ligament injury, media /lateral instability, or mild knee osteoarthritis.
Pros
Breathable, premium-grade neoprene
Latex-free
Increases mobility
Prevents sweat build-up
Does not fall or bunch
Heavy-duty hinges provide medial and lateral support and stability
Helps in alleviating the pain associated with obesity and larger builds
Prevents long-term, chronic knee pain
Cons
BraceAbility 6XL Plus Size Knee Brace has a front-closure that is great for recovery from damaged tendons, weak ligaments, torn meniscus, sprains, strains, and tendonitis. This brace is helpful for patients who want to be independent while performing physical activities. It is also useful for people with osteoarthritis, hyperextension, patellar tracking disorder, and post-surgery recovery. The knee brace has dual axis polycentric hinges to enhance stability in the inner and outer sides of the knee, thus providing extra support to people who are overweight. The circular cutout behind the knee prevents the brace from bunching when walking or bending. The lightweight open patella design helps in reducing the pressure on the knee cap. This plus-size brace is made with premium-grade neoprene and is more breathable and flexible than a solid knee sleeve. This thick material provides adjustable compression that promotes heat retention and flexibility and is perfect for playing sports or working out.
Pros
Adjustable compression
Improves flexibility
Convenient front closure enables you to use it independently
Medical-grade materials guarantee durability
Cons
Nvorliy Plus Size Knee Brace is designed to fit around large legs comfortably. It has six flexible metal springs that help support the knee ligaments. It also has an EVA pad that absorbs the shock and pressure on your patella or kneecap. Using this knee brace is helpful while walking or taking the stairs. The lightweight neoprene material is durable, antibacterial, and breathable. The 4 non-slip silicone strips distribute the compression evenly and make sure that the knee brace stays in place. The knee brace is reinforced with double stitching and has knee straps that can be adjusted to your desired compression level. This skin-friendly knee brace provides immediate relief to people who are recovering from inflammation, arthritis, tendonitis, knee surgery, knee swelling, meniscus tear, or serious knee injury.
Pros
Comfortable and breathable material
Provides immediate relief from pain
Durable
Six flexible springs for extra support
Adjustable straps to customize the pressure or compression level
Cons
Bunches behind the knee and causes discomfort
Cambivo Knee Compression Sleeves are made of 65% nylon, 20% latex, and 15% spandex with anti-slip silicone waves for extra comfort and stability. The 3D elastic weaving material is breathable and flexible so it fits easily. It supports the knee during physical activities like walking, sitting, or mild exercise. These knee sleeves can be used to manage pain, inflammation, and swelling when the knee is injured or recovering. It is a perfect accessory to use to absorb the pressure on your knee during sports like cycling, hiking, basketball, or football. It helps in reducing stress and recovering from any knee-related injury, like a hyperextended knee.
Pros
Flexible and breathable fabric
Reduces stress and swelling
Allows faster recovery
Suitable for all activities and exercises
Aids in injury prevention
Provides immediate pain relief
Made with anti-slip material for extra support
Improves blood circulation
Cons
The sleeve keeps slipping
The best feature of the EzyFit Knee Brace is that it comes in 3 different sizes that fit most body types. It is made with flexible neoprene material that fits around your knee easily. It has double-stitched curved edges for your comfort. The non-slip silicone gel lines keep the brace firmly in one place. The dual stabilizers on each side of the knee provide support and ensure flexibility. This knee brace also has 3 strong adjustable closures that allow you to customize the strength of the compression to your needs. This ensures ease of movement and prevention of unwanted slippage. This knee brace is versatile as it can be used by sports enthusiasts, the elderly, and people who are overweight. It is even helpful for treating severe cases of a wounded or broken knee.
Pros
Flexible
Easy to wear
Dual-action knee straps for stability
Open patella for improved mobility
Adjustable closures
Does not slip
Breathable neoprene material
Available in 3 sizes
Cons
Shock Doctor Hinged Knee Brace provides maximum comfort and support. It prevents and protects the body from knee injuries, sprains, and hypertension. The heavy-duty bilateral dual hinges boost movement and provide incredible support. Its integrated aluminum stays, X-fit straps, and Hypalon sleeves add stability and hold the brace firmly in one place securely. The premium stitching ensures quality, and the lycra mesh helps in accurate fitting. This knee brace is made with antibacterial tex-vented neoprene that enhances airflow and keeps moisture, sweat, and odor away. Its compression improves blood circulation, which helps in healing soft tissues and joint alignments.
Pros
Improves stability
Antimicrobial
Made with premium-quality materials
Compression helps in recovery and healing
Boosts movement and flexibility
Comfortable
Cons
Needs to be replaced quickly
The DonJoy Tru-Pull Lite Knee Brace is made with the breathable material, Breath-O-Prene. This lightweight fabric is anti-microbial and hypoallergenic. The brace provides support to the patella (kneecap) for mild to moderate patellar dislocations. It also has pull straps and removable plastic hinges that help in anchoring the knee brace securely. These pull straps are placed above and below the knee cap to mimic the flexion and extension motions that realign the patella. This is particularly helpful in reducing the pain caused by the dislocation of the kneecap. The knee brace is popular among athletes and runners. It is useful for people who are overweight as they need extra support for their knees.
Pros
Comfortable
Lightweight
Flexible
Made with antibacterial and hypoallergenic material
Ideal for runners and recreational athletes
Cons
VieVibrante Plus Size Knee Brace is specially designed for plus-size individuals as it provides extra support and comfort to the knee. It does not slip or roll down as it has anti-sliding strips and two D-rings that secure the brace with their locking mechanism. There is an alternative extra back strap that provides stability and two metal stabilizers and four metal springs that improve mobility and flexibility. The wrap-around design ensures that there is no cutting at the back of your knee. The silicone gel protects the patella or the knee cap from pressure and physical shock.
Pros
Easy to wear with the side closure
Open patella design for mobility
Does not slide down
Flexible
Made with breathable and sweat-absorbing fabric
Cons
When it comes to buying a knee brace, there are few features like the design and your knee condition to keep in mind if you are overweight and need extra support. Let us check out all the factors that you need to consider in the next section.
Factors To Consider When Buying A Knee Brace For People Who Are Overweight
Heavy Duty Hinges: Knee braces should have heavy-duty hinges made with high-quality materials. These hinges provide stability to the knee joint, especially if it is recovering from surgery or injury. These hinges control the motion of the knee joints and keep them secured from being displaced. Poor-quality or badly designed hinges can result in lateral or medial collateral ligament damage.
Weight: A lightweight, durable knee brace is preferred. It is easier and more comfortable to wear and carry it around. Bulky knee braces hamper movement and may cause further strain to your knees.
Material: Go for fabrics such as neoprene that are breathable and popularly used in knee braces. Materials that are strong but can stretch and mold to the shape of your body are good choices.
Brace Design: It is important to choose knee braces that stay in place and do not slip or roll down. Most of them come with Velcro straps to secure them to the knee. They should be adjustable so that the full range of motion is not compromised. They should keep in mind the excess weight on the knee cartilage.
Open Patella: This is another essential feature to keep in mind when buying a knee brace. An open patella ensures that your knee gets the support you need but does not have material bunching on the knee joint. This can be uncomfortable and restrict mobility. An open patella also prevents excessive sweating and chafing.
Price: It is always important to analyze and stay within your budget before buying a product.
One of the most common mistakes people make is to choose a knee brace that does not fit them properly. Let us find out how to take proper measurements and select the right-sized knee brace for you.
How To Select The Correct Size For A Knee Brace
Take measurements of your mid kneecap, thigh, and the area below your knee.
Check the size chart for the corresponding measurements.
Choose the size that is closest to your knee measurements.
Most plus-size knee braces are made considering different body sizes and body types.
Keep in mind the type of support you need. A hinged knee brace is suitable for knees with injury and tears. A compression sleeve helps in alleviating pain and offering support to weak knees due to age or weight.
A knee brace can be very beneficial for you if you are overweight. Find out how in the next section.
Benefits Of A Knee Brace For People Who Are Overweight
Knee braces help in providing stability and support to people who are overweight. They also help increase the range of mobility and flexibility without causing damage. Knee braces help in daily activities like walking, jogging, or any form of physical exercise. They protect the knees from further injury and minimize the damage to the knees. People who are overweight or obese can use knee braces as a precautionary measure. Compression sleeves improve blood circulation and help in the recovery and healing of knee tears and injuries.
Plus-size knee braces are specially made for people who are overweight. They provide support and stability and protect your knees from further damage. It is important to choose knee braces that are durable, comfortable, and effective. They equip you to perform daily chores and even enjoy mild physical activities without straining your knees. You can try out one of the knee braces listed above and let us know about your experience in the comments section below!
Frequently Asked Questions
Is it okay to wear a knee brace all day?
Depending on the condition of your knees and the physical activities you perform, it is necessary to wear knee braces all day. They provide support to the knees.
Should I sleep with a knee brace on?
You can sleep with a knee brace on. However, make sure that you are comfortable. Use props such as pillows to help you. It is advisable to consult a doctor before you sleep with a knee brace on.
Should a knee brace be tight?
Yes, a knee brace needs to be tightly secured so that it does not fall off or slip away. The tightness can be adjusted with the help of the straps and compression levels available in different types of braces.
How tight should knee support be?
Knee support should be tight, but not so tight that it feels uncomfortable and restrictive.
Can you wear a knee brace over your pants?
No, a knee brace should be worn directly against your skin, under your pants. Wearing it over your pants can cause it to slip down.
Recommended Articles
The following two tabs change content below.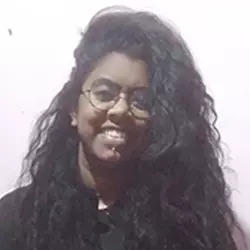 Aditi holds a postgraduate degree in English Literature from Presidency University, Kolkata, and a bachelor's degree in Education from the University of West Bengal. She has previously worked as a scriptwriter for an educational technology company and as an editor and proofreader for a digital marketing agency. She specializes in reviewing fitness products and equipment and aims to provide the readers with all the information required to make an informed decision. She is passionate about teaching and her other interests lie in parkour, short stories, journaling, and Indo-Pakistani sign language.