17 Best Travel Soaps You Can Check Out
Providing the required skin protection for safe and stress-free travel anytime.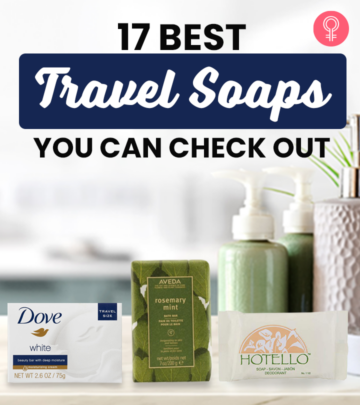 Travel soap is one of the most essential things to pack as it helps to maintain hygiene while you are on the move. The best travel soap can effectively manage post-travel skin irritation, itchiness, and other skin issues. But, many of you may wonder why is it required when you can buy a bar of soap or use the one provided by the hotels. Well, good travel soaps help you maintain your skin health, make you smell good, and combat all the skin issues while being compact enough to be easy to pack.
There are many varieties of travel soaps available, which range from antibacterial to fragrance-free, in small sizes. Check out the 17 best travel soaps below!

17 Best Travel Soaps You Can Check Out
The Cetaphil Deep Cleansing Bar cleanses the skin thoroughly, removing any dirt, oil, and impurities. This soap contains five nourishing ingredients that gently cleanse your skin without drying or stripping it of moisture. It lathers well and makes the skin feel refreshed and clean. The soap is non-irritating and non-comedogenic and can be used for the face and the body.
Pros
Non-comedogenic
Hypoallergenic
Triclosan-free
Triclocarban-free
Suitable for sensitive skin
Can be used on the face and body
Cons
Strong smell
Leaves a residue
The Paul Mitchell Tea Tree Body Bar produces a rich lather that cleanses and refreshes your skin. It contains tea tree oil that has antiseptic and antibacterial properties that soothe and protect the skin. The parsley flakes gently exfoliate the skin. This soap has the refreshing and invigorating aroma of mint, eucalyptus, lavender, and rosemary. It is suitable for all skin types and can be used for shaving. This video will help you make an informed decision about your purchase.
Pros
Contains tea tree oil
Refreshing fragrance
Suitable for all skin types
Cons
Dissolves easily
Too gritty
The Dove White Cleansing Bar contains mild cleansers and 1/4 moisturizing cream to cleanse your skin and make it soft and smooth. This bar does not strip your skin of its natural moisture, unlike regular soaps. The moisturizing soap replenishes the skin's nutrients and makes it soft and supple. It is dermatologist-recommended, non-irritating, and can be used on both the face and the body.
Pros
Non-soap
Non-irritating
Dermatologist-recommended
Moisturizing
Suitable for all skin types
Cons
The Aveda Rosemary Mint Bath Bar gently removes impurities while naturally restoring the skin's pH. It leaves the skin soft and fresh. It is infused with the certified organic rosemary and peppermint fragrances that calm the senses and refresh the skin. This soap also lightly exfoliates your skin.
Pros
Cruelty-free
Contains naturally derived ingredients
Refreshing fragrance
Cons
The Eco Amenities Green Tea Travel Soap is great to use on the go or while on vacation. It is formulated with green tea scent to elevate the senses and leave you feeling fresh and clean. This cruelty-free soap is made with natural ingredients like green tea extract that nourish the skin. It is free of parabens, harsh chemicals, heavy perfumes, and other additives that might irritate the skin. This soap is available in a pack of 400.
Pros
Cruelty-free
No harsh chemicals
No irritants
No heavy perfumes
Paraben-free
Eco-friendly
Cons
This soap bar from The Yellow Bird is handcrafted with natural and organic ingredients that make the skin healthy and impart a natural glow. It is specially formulated for those dealing with acne, eczema, psoriasis, and rosacea. The soap contains activated charcoal that draws out dirt, oil, and toxins from the skin. Shea butter moisturizes the skin and makes it soft and supple. Lemongrass has astringent and antiseptic properties that soothe skin irritation, while lavender essential oil invigorates your senses and kills the pore-clogging bacteria. This soap bar can be used by men and women and is suitable for all skin types.
Pros
Paraben-free
Sulfate-free
No synthetic ingredients
Cruelty-free
Invigorating scent
Cons
Not long-lasting
May dry out the skin
The FRESHSCENT Bar Soap is specially formulated with a refreshing scent using high-quality ingredients. It is a unisex product, and each bar soap is individually wrapped in an air-tight, tamper-resistant pack extending the shelf life of the soap. Moreover, the plant-based ingredients used in the soap uplift your mood and make you feel refreshed. Watch this video to get a detailed review of the product.
Pros
 Vegan
 Cruelty-free
 No synthetic ingredients
 Unisex fragrance
 Mess-free
Cons
None
The Eucalyptus Spearmint Body Bar from Bath & Body Works provides stress relief aromatherapy to relieve your senses from tension. It is made with glycerin, eucalyptus, and spearmint essential oils. Spearmint essential oil soothes and uplifts the senses, while eucalyptus oil clears the mind. Glycerin moisturizes and gently cleanses the skin.
Pros
Invigorating smell
Lasts long
Soothes the body and mind
Cons
This is a dermatologist-recommended daily facial cleanser. It has a fragrance-free formula that gently cleanses the skin of impurities and removes excess oil. This soap bar is enriched with glycerin, which moisturizes the skin and makes it soft, smooth, and supple. It cleanses the face without leaving behind any residue in the pores. This soap is made with the original Neutrogena formula and is hypoallergenic and free of harsh detergents, dyes, and hardeners that may cause skin irritation.
Pros
Hypoallergenic
Dermatologist-recommended
Fragrance-free
No harsh detergents
Dye-free
Hardener-free
Non-comedogenic
Cons
The Bergman Kelly Face and Body Bar is infused with the soothing scent of white tea that revitalizes and awakens the senses. It is scientifically formulated to cleanse and rejuvenate your skin. Each soap is individually wrapped in a recyclable, leakproof cover to ensure freshness and hygiene. This soap is perfect for traveling due to its compact size and eco-friendly packaging.
Pros
Compact
Cruelty-free
Paraben-free
Durable
Eco-friendly
Recyclable
Cons
The La Chatelaine Lavender Travel Soap is made in Provence and formulated with high-quality organic and natural ingredients that replenish the skin while cleansing it. This vegetable-based soap contains organic shea butter and calendula that hydrate, cleanse, and soften the skin. It does not contain any BHT, parabens, phthalates, gluten, soy, or GMOs.
Pros
BHT-free
Paraben-free
Phthalate-free
Gluten-free
Soy-free
GMO-free
Cons
None
The Dial White Antibacterial Deodorant Soap produces a rich and creamy lather that gently removes all dirt and impurities from the body, leaving the skin hydrated and clean. It cleanses the skin thoroughly without drying it out or leaving any residue. This soap offers long-lasting deodorant and antibacterial protection that eliminates bad odor and keeps you smelling fresh all day long.
Pros
Antibacterial
Long-lasting deodorant protection
Mild scent
Cons
The Bisous de Provence Green Tea The Vert Triple Milled Soap produces a luxurious lather to cleanse the skin. It has the enveloping scent of green tea that revitalizes the senses, offers stress relief, and restores skin balance. This soap is made with high-quality natural botanical extracts that gently moisturize the skin. It does not contain harsh chemicals like BHT, ethyl alcohol, phenoxyethanol, DEA, soy, and GMOs and is cruelty-free.
Pros
Long-lasting odor protection
Cruelty-free
BHT-free
Ethyl alcohol-free
Phenoxyethanol-free
DEA-free
Soy-free
GMO-free
Cons
Very mild scent
May dry the skin
This Natural Beauty Bar from Tom's of Maine has a refreshing orange blossom scent. It is made with a blend of Morrocan argan oil, virgin coconut oil, and raw shea butter. This soap cleanses the skin of germs and bacteria. It is dermatologist-tested and proved to maintain the natural moisture levels of the skin. The bar does not contain any artificial colors, parabens, fragrances, or preservatives and is cruelty-free.
Pros
Dermatologist-tested
Paraben-free
Preservative-free
Cruelty-free
No artificial coloring or fragrances
Cons
The Desert Breeze Pure Citrus Cleansing Bar is formulated with organic honey, pure olive oil, and aloe vera. This soap contains organic ingredients that moisturize the skin and keep it hydrated and soft. It is paraben-free, sulfate-free, and vegetable-based. This cruelty-free bar is wrapped with earth-conscious packaging and made with all-natural and organic ingredients. This product is available as a pack of 1000 bars.
Pros
Cruelty-free
Contains organic ingredients
Paraben-free
Sulfate-free
Cons
Dr. Bronner's 18-in-1 Hemp Peppermint Pure Castile Soap is formulated with the purest organic ingredients. It is scented with organic peppermint oil that cools the skin and clears the sinuses. Sustainable and fair-trade ingredients contain nutrients that nourish the skin. This concentrated liquid soap is biodegradable and can be used for your face, body, hair, and laundry. It does not contain any synthetic preservatives, detergents, or foaming agents.
Pros
Contains organic ingredients
Detergent-free
Foaming agent-free
No synthetic preservatives
Cons
The Everyone for Everybody 3-in-1 Soap can be used as a shower gel, shampoo, and bubble bath. It can also be used as a shaving gel. This product is formulated with gentle coconut cleansers, organic plant extracts, and vitamins E and B5 and scented with pure essential oils. It is infused with the soothing scent of lavender and refreshing aloe vera essential oil to uplift your senses. The soap does not contain gluten, parabens, phthalates, synthetic fragrances, dyes, or harsh detergents. It is EWG verified and cruelty-free.
Pros
Paraben-free
Phthalate-free
No synthetic fragrances
Dye-free
No harsh detergents
Cruelty-free
Gluten-free
EWG verified
Cons
Listed below are some pointers to help you choose the right travel soap for your needs.
How To Pick The Right Travel Soap
Size: Decide what size of soap you would require depending on the length of your travel. Choose one that lasts through the length of your travel.
Ingredients: If you have sensitive skin, check the ingredients to ensure the product is safe for you. If you are going camping, opt for an antibacterial soap that will keep you protected. If you have anxiety, migraines, or stress, pick essential oil-based soaps. If you are staying at a hotel, go for a fragrant soap.
Texture: If you are hiking or camping outdoors, liquid soap is better. But if you are staying indoors, you can opt for either of the two.
Skin Needs: Check the soap to make sure it suits your skin type and issues. For instance, if you have oily skin, using a moisturizing soap can cause excess skin hydration, leading to breakouts.
Remember to take a leakproof travel soap case along to ensure the longevity of the soap.
Why Trust StyleCraze?
Shiboli Chakraborti is a certified skin care coach. She understands the importance of travel-friendly products and has thus scoured several websites to bring you this list of the best travel soaps. These soaps are ideal for maintaining your skin health while helping you deal with post-travel skin woes. She has also included a detailed buying guide to help you pick the right one for your skin.
Recommended Articles