11 Best Pure Rose Quartz Rollers – 2023 Update
Increase blood circulation and reduce dark circles with authentic rose quartz rollers.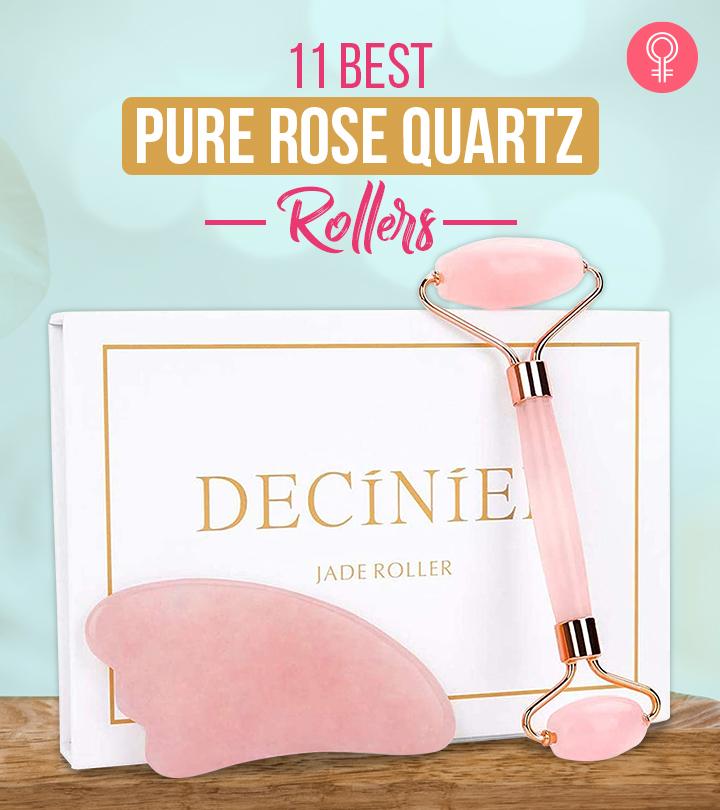 Rose quartz rollers are essential to your skincare routine as they prevent your skin from aging, increase blood circulation, and reduce pesky dark circles under your eyes. Hillary Clark, a third-generation beauty entrepreneur, celebrity makeup artist, and medical esthetician, "Your lymphatic system is your body's housekeeper, designed to sweep toxins and stagnant fluids from the body. Manual lymphatic massage with Rose Quartz rollers and Gua sha assist lymphatic drainage while stimulating healthy blood flow for an immediate glow."
While the search for the best rose quartz roller may seem impossible, we're here to tell you that it's not! Our list has plenty of options that will indeed ensure your skin is back to its prime. Simply skim through our list, and we're sure you'll bring a rose quartz roller that is best suited for your precious face.
11 Best Authentic Rose Quartz Rollers
The two-in-one kit from Deciniee features a roller and a gua sha tool. The anti-aging massage tool is crafted from 100% authentic Brazilian rose quartz jade stone. It is equipped with premium quality ABS plastic fasteners to make it smooth and noiseless. The thick handle is long-lasting and offers a comfortable grip. This double-sided roller can be used on different parts of the face.
The large facial roller is for the forehead, cheeks, chin, and neck, while the small one is mainly for the eye area. Regular use of this roller helps reduce under-eye puffiness, smoothens wrinkles, improves lymphatic drainage, tightens the skin, and promotes blood circulation to reveal a smooth and youthful look. This when used with your favorite serum helps improve your appearance and provides a circulation boost. The gua sha massaging stone is curved to fit the facial contours for a relaxing deep tissue massage and can also be used to massage the shoulders, back, and other parts of the body.
Pros
Sturdy handle
Noiseless operation
Authentic quartz stone
Premium quality fasteners
Cons
The smooth-rolling surface of the Leicare face roller ensures a relaxing massage that releases facial tensions. This perfect Gua sha alternative features a natural rose quartz jade stone built on an integrated frame with a contoured handle for ease of use. This handy little tool improves skin elasticity and reduces dark circles and puffiness to promote a youthful glow.
The stone has a cooling effect on the skin and works as a relaxing facial massager which helps tighten the open pores and fades away fine lines. It helps in the absorption of beauty products and even relieves headaches. It can be used on the face, eyes, neck, and arms to boost lymphatic drainage and improve blood circulation. This facial tool also reduces eye bags. This crystal healing tool has quick action and shows instant and visible results while delivering a spa-like soothing experience. Use your favorite serum as a base and use the natural stone to improve your appearance. Many reviewers suggest that having a face roller is a must for the best skincare routine experience.
Pros
Noiseless operation
Imparts smooths skin texture
Authentic rose quartz
Durable
Cons
Does not remain cold for long
The Jade Roller & Gua Sha Beauty Tool by Baimei is crafted with superior quality natural rose quartz jade that releases muscle tension and promotes lymphatic drainage to reduce facial edema. It lifts the skin to leave it looking firm and fresh. The roller is designed for smooth action and can be used with facial oil, serum, or cream to promote its absorption. The rose quartz stone is a natural energy tool that has a cooling action on the that delivers visible results, such as reducing puffiness and dark circles under the eyes. It revitalizes tired-looking skin. The gua sha stone has curved edges and can be used to sculpt the face and relax larger muscles to obtain relief from aches and pains. This facial tool promotes radiant skin and is a must-have in your beauty regimen.
Pros
Noiseless operation
Promotes relaxation
Multipurpose
Sturdy design
Cons
Gua sha tool is not durable
Fragile roller
The non-squeaky Rose Quartz Roller from Inotka is crafted with organic Brazilian quartz rose and silicone inserts on a welded metal frame to provide a smooth and noiseless operation. This ergonomic roller improves blood circulation on the facial muscles and removes toxins to give the skin a clean, fresh look. It has a dual-ended design with a small and a big stone to target different areas of the face. This facial tool can be stored in the fridge overnight to maximize the cooling effect, which reduces inflammation, tightens the skin, and reduces the appearance of fine lines. This easy-to-use tool can be used on the go to ease migraines and also help with sinus pain. It can be used for deep massage and promotes clean skin and a youthful appearance. It is available at an affordable price. Watch this YouTuber's honest review to get a better idea about the product and its functions.
Pros
Noiseless operation
Real quartz
Sturdy metal frame
Travel-friendly
Cons
The dual action of the two rose quartz massaging devices in the June Berry set ensures a smooth jawline and uplifted facial muscles. The double-sided facial massage roller is made with 100% rose quartz and rose gold-plated iron to give it a delicate attractive look along with a smooth, noise-free operation. It can be used morning and night to reveal softer skin and soothe muscle tensions. This massager firms and tightens skin and improves blood circulation to reduce the look of under-eye bags and dark circles while naturally cooling the skin. You can also use it after applying masks, serums, or facial creams to ensure proper absorption. The gua sha tool can be used on other parts of the body to ease muscle aches. Put it to the test today and witness the results firsthand.
Pros
Authentic rose quartz
Noiseless operation
Solid handle
Durable iron frame
Cons
The ergonomic handle and sturdy construction of the BeautyBio Rose Quartz Roller make it easy to use and durable. It is crafted from sustainably harvested genuine Brazilian rose quartz stone that feels cool to the touch and can be further chilled by refrigerating overnight. It is designed with a wide end for the face and body and a narrow end for the eye area. The rolling massage action contours the face to improve lymphatic drainage, reduces puffiness, calms sensitive skin, and minimizes dark circles to leave the skin with a radiant glow. It facilitates the tightening of pores and seals the benefits of beauty products. It can be dipped into warm water to heat the roller for a relaxing massage to release tensions and relax the muscles. This video review will give you a better insight into the benefits of the product.
Pros
Ergonomic handle
100% pure rose quartz
Long-lasting
Nourishes and hydrates skin
Cons
None
The Beauty By Earth Rose Quartz Roller provides maximum skin serums and oil absorption to deeply hydrate the skin and leave it with a healthy tone. It is dual-sided to treat all parts of the face from the forehead, cheeks, chin, and the delicate eye area. This beauty tool can be used every morning and night to relieve under-eye puffiness and dark circles and reduce wrinkles and fine lines. Regular massage with this roller boosts circulation and improves lymphatic drainage to reveal a more even skin tone and contoured facial lines. It eases facial tension and relaxes the muscles to leave the body energized and comforted at the same time. It encourages a healthy complexion, according to several reviewers of this product.
Pros
High quality rose quartz
Safe for skin
Lightweight
Easy to use
Cons
The anti-aging benefits of the Ina Beauty Rose Quartz Roller come from the rose quartz crystal enriched with minerals that help minimize inflammation and promote skin cell renewal. The gentle rolling motion and pressure of this tool boost circulation while keeping the skin plumped to enhance its natural glow. The roller can be refrigerated to reduce puffiness and promote facial muscle relaxation. Headaches and migraines due to sinus can be relieved with this tool that helps in detoxification and lymphatic drainage. It is crafted from premium quality welded metal that provides a smooth, noiseless operation. Get it today if you wish to enjoy the visible results delivered by this roller!
Pros
Durable
Protective cloth bag included
Cons
None
The Visagisto Rose Quartz Face Roller comes in a convenient carrying pouch that makes it travel-friendly for a relaxing massage on the go. It is handcrafted with 100% authentic crystal stones and a sturdy handle that offer a noiseless operation. This dual-sided massaging tool can be used for warm and cold therapies that help relieve stress and facial tension and offer skin-firming effects. The roller supports the absorption of serums and creams while helping to soothe irritated skin. This roller provides anti-aging benefits and delivers visible results by reducing dark circles, improving skin elasticity, and shrinking enlarged pores. It helps add a youthful glow to the skin.
Pros
Enhances product absorption
Noiseless operation
Travel-friendly
Cons
None
The authentic and delicate pink Rose Quartz Roller from Muzhi is crafted from 100% genuine stone, which cools and rejuvenates the skin. It provides a gentle massage to the facial muscles to promote blood circulation, reduce dark circles, and fade wrinkles. The application of oil or serum before the massage ensures their optimal absorption. You can use a gentle soap to wash off the excess or massage it in until it is absorbed. This double-ended tool can be used to release neck pain, frozen shoulder, and muscular aches all over the body. It also offers a face-slimming effect. It is equipped with premium quality ABS fasteners to deliver a noise-free soothing massage. It has an affordable price and promotes clean skin and a youthful appearance.
Pros
Sturdy handle
Noiseless operation
Handcrafted
Integrated frame
Cons
None
This portable massage roller from Lekeemy is made from smooth rose quartz with no sharp edges or corners. It delivers a gentle massage that instantly revives and rejuvenates the skin. This dual-sided massaging wand can be used for the body and all parts of the face, including the delicate under-eye areas. It is suitable for all skin types and can improve blood circulation, relax tensed muscles, and promote skin cell renewal. This easy-to-use tool offers better absorption of oils, creams, and serums when they are applied prior to use. The curved handle is secured with superior-grade rose gold fasteners that ensure smooth and noiseless operation. If you are on the fence about it, check out the Amazon reviews before purchasing.
Pros
Noiseless operation
Portable
Firm structure
Cons
Requires pressure to make it spin
*The prices provided in this article are based on the latest available information. However, they may vary due to changes in pricing by the seller and/or promotional offers.
A rose quartz roller helps increase blood circulation and reduce dark circles. They are easy to use and effective when used daily. They also play a crucial role in preventing the skin from aging. There are many products out there suitable for everyone. Take this guide into consideration when buying the best pure rose quartz roller.
What To Consider When Buying Best Rose Quartz Roller
Look for a roller that has an ergonomic design so that you can use it with ease. It should go easy on the skin without hurting when rolled. The product's design should be such that it doesn't dig into the skin. It needs to be comfortable for daily use. Make sure it has a wide handle, as this is the most essential factor. Look for a roller that doesn't have sharp edges and has a perfect design.
Buy a roller with a stone that's of high quality. It should not have tiny pores or any sharp edges on the surface. Of course, the stone best for you depends on your skin type, so look for the right one! You can opt for gua shas recommended by a board-certified dermatologist.
The roller should be long-lasting and durable. It should be able to withstand everyday use and regular pressure. It should not break, crack, or chip when used regularly. Look for a durable product that can last long. The handle should have a good grip and not slip off your hands.
The roller should be elegant, with perfect craftsmanship. It should be made of high-quality material, and its structure should be perfect. The handle should be fitted perfectly and not too tight or too loose.
These are the top rose quartz rollers available on the market. These tools have some exceptional benefits that make it a must-have beauty tool. Check them in the next section.
What Are The Special Benefits Of A Rose Quartz Roller?
Offers Anti-Aging Benefits
The gentle rolling massage helps soothe facial tension and relax the muscles. It helps fade fine lines and wrinkles. This roller also improves the skin's elasticity to make it more supple and plump.
The cooling therapeutic effects of the rose quartz stone keep the facial muscles stress-free and minimize inflammation. The stone can be refrigerated to enhance the cooling benefits.
Exfoliates Dead Skin Cells
The minerals in the rose quartz stone boost the turnover of dead skin cells while encouraging skin cell renewal.
Improve Absorption Of Skincare Products
The application of oils or serums before a massage with a rose quartz roller ensures easy glide and smoother action. The roller also promotes better absorption of these products.
Using a rose quartz roller is simple and can be included in your daily skin care regimen. Follow the steps below for the best results.
How To Use A Rose Quartz Roller?
Wash your face with a gentle cleanser and pat it dry.
Apply a moisturizer, oil, or serum of your choice. The roller can be used without a skin care product, but it is best to apply one to maximize the glide on the skin.
The roller can be stored overnight in the refrigerator to enhance the cooling effects.
Start from the neck region and slowly massage in an upward direction using the bigger stone.
Use the same upward action along the jawline and cheeks.
For the forehead, start from the center and move downwards towards the ear on either side.
The small end of the wand can be used under the eyes. Start from the inner corner of the eye and roll outwards towards the ear. This side of the roller can also be used around the lips.
The bigger stone relieves pain and tension of the larger muscles. It can be used on the back and shoulders and the arms and legs with an inner to outer motion; and an upward movement from the wrist to elbow, elbow to shoulder, and ankle to knee.
Each action should be repeated 4 to 5 times for maximum benefits.
Why Trust Stylecraze
The author of this article, Shiboli Chakraborti, is a certified skin care coach. She loves to explore various products used in skin care and brings the top picks for the readers. The best rose quartz rollers list is compiled after thorough research and reading many customer reviews online. These rollers are a must-have in your skin care regime for multiple reasons, such as increased blood circulation in the facial region, which in turn keeps signs of aging at bay.
Frequently Asked Questions
What's the difference between a rose quartz roller and a jade roller?
The difference between a rose quartz roller and a jade roller can be seen in the different elements the stones contain. Rose quartz has iron, silicon, magnesium, and sodium while jade stones have calcium, nephrite, and magnesium. Rose quartz retains its coolness during use and is better known for its wrinkle-reducing properties.
Should I use a rose quartz roller before or after applying my skin care products?
It is best to use a rose quartz roller on moistened skin, which can be achieved by applying a face serum, oil or moisturizer, for a smooth and comfortable massage experience. But you may also use the roller without any skin care products.
Can you use a rose quartz roller without serum?
Yes. You can use rose quartz rollers with or without serum or cream. However, a rose quartz roller allows better absorption of the serum. Use a rose quartz roller in a downward motion to help drain lymphatic fluids and detox the skin.
How long should I use the rose quartz roller?
There is no upper time limit to using a rose quartz roller. You can use it as much as you like. But use it at least once a day for 8-15 minutes to get a youthful look. It is often used along with serums, moisturizers, facial mists, and oils for better absorption.
Can you put a rose quartz roller in the freezer?
Yes. The rose quartz crystals are naturally cool. However, for extra cooling and an extra soothing experience, you can place it in the refrigerator. However, it should not be frozen.
Which crystal roller is the best?
Rose quartz is the best crystal roller for cooling the face. This skin rejuvenation tool is also known for its anti-aging and wrinkle-reducing benefits.
Recommended Articles