13 Best Serums For Combination Skin To Enhance Your Natural Glow
Enhance the natural glow of your face with the right skincare essentials.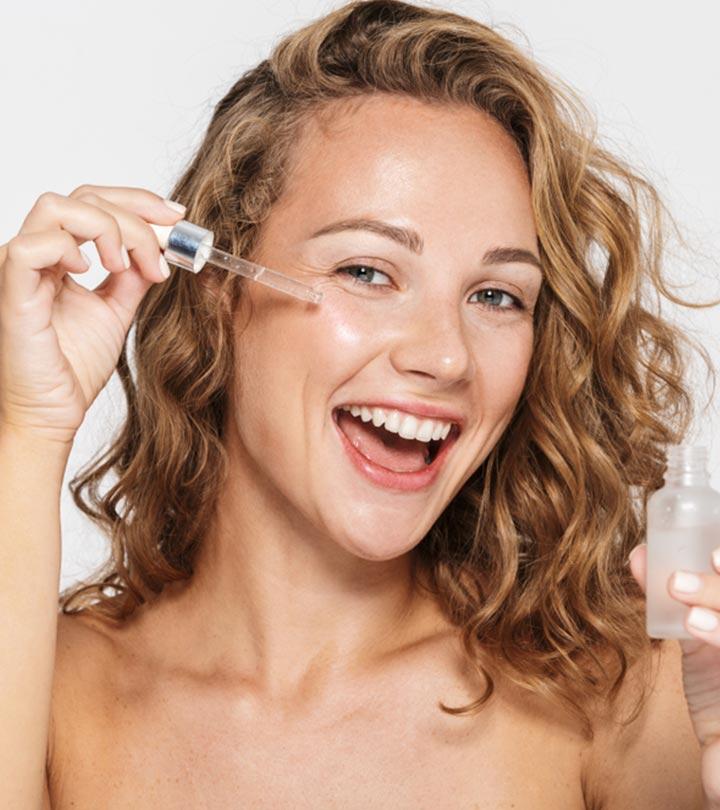 When choosing skin care products, including serums, knowing your skin type is essential. While tons of products are segregated for oily and dry skin types, finding the best serum for combination skin might seem challenging. Combination skin has the boons and bane of both dry and oily skin merged in one. While the T-zone, including the forehead and nose bridge and the chin, might seem oily and more prone to acne, the cheeks and under-eye areas tend to be dry. Finding the serum that balances your skin's natural oils and moisture content becomes tough. However, we can help you find a suitable serum for your skin.
Serums can help enhance your complexion, address specific skin care issues like acne, dryness, etc., leaving your skin look soft, supple, and radiant. Scroll down to check out the 13 best serums for combination skin and pick the one that suits your skin needs.
13 Best Serums For Combination Skin To Boost Your Natural Glow!
Trust Loreal Paris to restore your skin's moisture levels and leave a visible glow. Infused with 1.5% pure hyaluronic acid, it ensures plump, hydrated, and moisturized skin in just one week! Also, its sheer and dewy finish makes it a great primer under makeup too. And while you enjoy its moisturizing benefits, it will also ease fine lines and wrinkles, thus making your complexion look younger and hydrated all day long. Add it to the cart now!
Pros:
Dermatologist-tested
Lightweight gel serum
Improves skin's elasticity
Ensures relief from dryness
Non-greasy and leaves no residue behind
Paraben-free, fragrance-free, mineral oil-free, and more
Suitable for combination, sensitive, mature, oily, and dry skin
Cons:
Price at the time of publication: $22.69
Like your body, your skin needs vitamins as well to stay supple and glowing. Hence, this cold-pressed vitamin C serum by Eclat would be a great addition to your kit. Formulated to provide deep nourishment to your skin, this vitamin C (20%) and ascorbic acid blend also contain hyaluronic acid, jojoba oil, ferulic acid, retinol, MSM, vitamin E, and aloe vera. With 94% of users ensuring their skin looks radiant and healthier (as claimed by the brand), there's no reason why you should give this gem a miss!
Pros:
Boosts hydration
Combats fine lines
Ensures all-day hydration
Reduces hyperpigmentation and sunspots
Absorbs quickly and increases collagen production
Non-comedogenic and dermatologist-tested
Vegan, cruelty-free, silicone-free, and paraben-free
Cons:
Fragrance maybe a hassle for some
Price at the time of publication: $9.99
Have you never used a k-beauty product before? If not, then this serum might make you a fan instantly! Ideal for those with dry, combination, or oily skin, Day Glow Serum offers multiple benefits, all thanks to its powerful formula which contains hyaluronic acid, 20% vitamin C, and ferulic acid. Be it acne marks, aging lines, breakouts, sun spots, or scars, consider all your skin woes taken care of with this Asian tonic. Also, you can use it as a base under your makeup. Try it! If you want to know more about the benefits of this product, check out this quick review on YouTube.
Pros:
Ensures results within 3 weeks
Reduces fine lines, wrinkles, and crow's feet
Improves complexion and leaves a youthful glow
Shrinks pores and prevents future breakouts
Diminishes dark spots and dullness
Cons:
Not suitable if you have very sensitive skin
Are you wondering how to restore your youthful glow? Add this powerful serum to your skincare routine. Packed with retinol, hyaluronic acid, vitamin C, niacinamide, salicylic acid, aloe vera, MSM, rosehip oil, and more, its age-defying power is no joke. Also, the infused grapefruit essential oil makes sure your skin feels soft, smooth, and younger-looking with every use. Who's ready to fight those stubborn wrinkles and fine lines now?
Pros:
Anti-aging advanced formula
Improves and uplifts complexion
Cruelty-free and Non-GMO
Fragrance-free, paraben-free, sulfate-free, and silicone-free
Cons:
Price at the time of publication: $24.79
It's never too late to banish those aging signs, and this pure hyaluronic acid is the proof. Fighting wrinkles, fine lines, discoloration, and dark spots, it claims to leave skin firmer, smoother, and softer than before. So, if you are ready to obsess over your younger-looking skin again, then you must give this power-packed daily serum for combination skin a try.
Pros:
Ensures a radiant glow
Improves skin tone and texture
Soothes irritated and dry skin
Leaves skin clearer and plumper
Shrinks pores and lightens age spots
Safe, gentle, and vegan
Suitable for dry, oily, and combination skin
Cons:
Price at the time of publication: $10.97
Are dark circles making you look more like a raccoon than a human? Try this hyaluronic acid serum ASAP! Providing intense moisture, the hydrating serum also contains jojoba oil, aloe vera, vitamin E, vitamin C, and acido hialuronico. Giving your skin the power to fight wrinkles, fine lines, and sunspots as well, indulge in this moisturizing serum for combination skin this season to restore the optimal pH of your skin.
Pros:
Improves skin's texture and tone
Ensures a plump and radiating glow
Brightens skin and shrinks pores
Prevents breakouts and boosts collagen
Cruelty-free and fragrance-free
Paraben-free, sulfate-free, and gluten-free
Suitable for combination, sensitive, oily and dry skin types
Cons:
Slightly sticky
Not suitable to wear under makeup
Price at the time of publication: $9.99
This supercharged drink for your skin will make you regret not having bought it earlier. Go green with this ultra-nourishing blend from the k-beauty universe that guarantees to purify your complexion with every use. Do you have blemish-prone or combination skin? Or has your skin been irritated lately? Then you will love this serum even more as it claims to clarify and soothe with kale, niacinamide, moringa seed extract, and more. Try it!
Pros:
Nourishes intensely
Rich in antioxidants and nutrients
Cruelty-free, gluten-free, and vegan
Paraben-free, silicone-free, sulfate-free, and phthalate-free
Suitable for combination, normal, oily, and dry skin
Cons:
Slightly sticky
Maybe too concentrated for sensitive skin
Price at the time of publication: $25
Don't hide the pores; shrink them! Yep, if you don't mind loosening your purse strings a little, this premium pore-refining serum would be a great pick. Fighting aging signs head-on and refining your skin's texture with its powerful glycolic acid formula, say yes to this serum that guarantees smoother and radiant skin. Try Effaclar serum if you haven't already!
Pros:
Reduces oiliness
Eases fine lines
Exfoliates clogged pores
Non-comedogenic and non-greasy
Paraben-free and fragrance-free
Suitable for oily and combination skin
Cons:
It may sting slightly on sensitive skin.
Price at the time of publication: $44.99
Aging skin comes with its own set of challenges. Also, it mostly starts with moisture loss. So, if you are noticing dullness and fine lines lately, then you must grab this hydra boost ASAP! Packed with ceramides, retinol, lanoline acid, soy, and linoleic, it claims to lock in moisture and boost hydration too. Yep, watch your skin go from dull to dazzling as it improves elasticity and complexion with every use. A must-try to reduce fine lines, wrinkles, and leave a healthy glow, trust this retinol serum to comfort your skin in just 15 minutes.
Pros:
Cruelty-free product
Advanced hydration formula
Boost collagen and suppleness
Soothe rough and dry spots
Improves tone, texture, and appearance
Ideal to use around eyes too
Suitable for oily and combination skin
Cons:
The dispensing pump can be a hassle.
Price at the time of publication: $79.99
This skin-quenching combo of peptides and hyaluronic acid will make your skin bloom like a flower. Reviving and refreshing skin with an intense moisture boost, the formula contains 6 types of peptides and 5 hyaluronic acid layers blended in one. Helping your skin boost collagen and elastin to improve complexion and elasticity, get ready to be showered with compliments with this one. Do you think you can handle the glow-up?
Pros:
Heals moisture barrier
Protects skin and locks in moisture
Reduces pigmentation and wrinkles
Boosts regeneration and hydrates intensely
Non-oily and leaves a powdery finish
Suitable collagen serum for combination skin
Dermatologist-tested and free from harsh chemicals
Cons:
May take longer to absorb into the skin
Price at the time of publication: $14.99
If you are dealing with aging lines, clogged pores, and acne woes, then we have an ideal serum for you! Give your skin the strength to fight acne, exfoliate intensely, and get rid of blemishes without drying the surface. This tea tree oil blend also contains retinol, botanical hyaluronic acid, vitamin C (20%), niacinamide, and salicylic acid. Besides this, it soothes, hydrates, and enhances skin texture with aloe vera, rosehip oil, MSM, and more. Want more? It claims to fight aging signs too! Still, want to miss it?
Pros:
Improves complexion and skin tone
Leaves skin younger and healthy-looking
Reduces dark circles, sun damages, and age spots
Diminishes acne spots and hyperpigmentation
Vegan, fragrance-free, dye-free, and oil-free
Paraben-free, alcohol-free, and non-GMO
Cons:
Not ideal if you prefer thick consistency
Price at the time of publication: $14.95
What's special about this antioxidant serum? It guarantees radiating and healthy skin within 8 days! Don't believe us? There's more. It also claims to keep your skin hydrated for up to 24 hours. Now, that's something worth trying, right? So, if you are dealing with dullness, enlarged pores, fine lines, or uneven skin tone, this serum is all you need to fight them. Infused with Neohesperidine, Adenosine, Liquorice Extract, LHA, and Vichy Mineralizing Water, it plumps the skin and fights pigmentation as well. Try it!
Pros:
Improves complexion
Refines and ensures skin smoothness
Allows skin renewal and enhances texture
Dermatologist-tested and non-comedogenic
Paraben-free and suitable for sensitive skin
Cons:
Price at the time of publication: $39
Go makeup-free confidently with this peptide-infused serum by Peach & Lily. Blended with earth-born and high-tech ingredients, watch your skin radiate luminously with every use. Yep, say no to filters on those selfies when this silky-smooth and lightweight serum can hydrate, brighten and tighten for a picture-perfect glow. Do not skip it!
Pros:
Translucent formula
Refines and reduces pores
Quick-absorbing and non-irritating
Suitable hydrating serum for combination skin
Cons:
Price at the time of publication: $33.17
A healthy complexion is now a serum away! There you go; those are the 13 best serums for combination skin you must try in 2023. Do you need more assistance with choosing the best serum? Or wondering how to use it? We've explained it all in the buying guide below.
Buying Guide
How To Choose A Serum For Combination Skin?
Simple! Look out for the following features in the product before buying:
Skin type: Many people confuse combination skin for oily skin or vice versa. Hence, you must first figure out your skin type before choosing the product. Also, never use an oily skin product on combination skin as you may end up worsening the condition rather than improving it.
Lightweight and non-greasy: Nobody's goal is to have a greasy and heavy feeling on the skin. So, before you add the product to the cart, check if it is weightless, non-sticky, and non-greasy for the best experience.
Hydration formula: Lack of moisture can turn combination skin dull and lead to fine lines in extreme cases. So, no matter the serum you choose, always make sure it hydrates your skin to help it look plumper and healthier with every use.
Pore-refining solution: Since combination skin is prone to dirt and oil build-ups, it's ideal to choose a formula that exfoliates pores and prevents breakouts too.
Anti-aging signs: There is never a particular time or age to start using an anti-aging serum. Hence, before the aging signs become too noticeable, it's preferable to pick a product that boosts hydration and ensures younger-looking skin always.
How to Use Serum for Combination Skin?
Always use a serum before a moisturizer, morning or night cream. Apply a few drops on your face and around the eyes and then, move on to dabbing or massaging until it has absorbed entirely. Post this; you can move on to applying your moisturizer or even makeup.
Why Trust StyleCraze?
The author, Sneha Manandar, is a skin care enthusiast. She has done in-depth research before recommending these top facial serums for combination skin. She has gone through various beauty and skin care forums to make sure you get to select from only the best! These serums are specially formulated for combination skin to help improve the texture and appearance of your skin while keeping it nourished and hydrated with their moisturizing ingredients.
Frequently Asked Questions
Are Serums Good for Combination Skin?
Absolutely! A serum will boost hydration, repair the moisture barrier, fight aging signs, reduce pores, and improve complexion. So, if you have combination skin and are dealing with dryness or dullness lately, you must try a serum.
Is Vitamin C Serum Good for Combination Skin?
Yes, vitamin C serum is ideal for combination skin as it brightens, hydrates, and reduces pigmentation in one go. So, if you are looking for a vitamin C-rich serum, then you must try Eclat vitamin C Serum and Seoul Ceuticals Day Glow Serum as they are infused with 20% vitamin C.
Can Vitamin C Serum Cause Pimples?
Yes, it can cause breakouts or zits if the serum is concentrated or if you have blemish-prone or ultra-sensitive skin. Hence, figure out your skin type before using a vitamin C serum.
How often should you use a serum on combination skin?
You can add serum to your daily skin routine and apply it twice daily.
Is hyaluronic acid serum good for combination skin?
Hyaluronic acid serum works perfectly well for combination skin. It hydrates the
dry patches and soothes the oily portion.
What ingredients should I avoid for combination skin?
If you have combination skin, look for products made without pomade, fragrances, oleic acid, and other irritants.
Recommended Articles