Top 10 Skin Care Serums Available In India
Face serum?? Now, what's with the new frenzy? Suddenly these are everywhere, from drugstores to high-end cosmetic stores, malls and e-commerce sites. Every brand has started making their version of serum. Are you one of them who knows nothing about it? Or, you have already been using them and looking for options? You've come to the right place. We've got it all covered!
But, just to be on the same page, let's quickly understand what a face serum is and how different is it from a face oil or a moisturizer.
What Is A Serum And How To Use It?
A serum is a thin, runny and watery essence that infuses efficient and essential ingredients deep into your skin. You apply this after cleansing and before using a moisturizer or any other makeup bases. It's absorbed quickly and leaves no traces, so there's nothing to worry about.
There are some daytime serums while some are for the nights. And then, there are some specifically meant for oily or acne-prone skin and some that are age-defying/skin tightening. They come with a dispenser, so you just take a few drops and spread it evenly across your face and neck. You need to use this once a day at least or more depending on your skin type.
And, now, Let's look at the Top 10 Skin Serums Available In India.
Best Skin Serums In India
1. Neutrogena Fine Fairness Brightening Serum
Neutrogena Fine Fairness Serum is infused with pure retinol, Phyto-lily extracts, vitamins and other antioxidants. If you have acne-prone skin or scars/dark spots because of oily skin, then you should give this serum a shot. It is light and seeps into your skin very quickly. In a couple of minutes, you can apply moisturizer, sunscreen or foundation depending on your skin type. And, within a few weeks, you start to see clearer and lighter skin.

2. Biotique Bxl Cellular Dandelion Youth Serum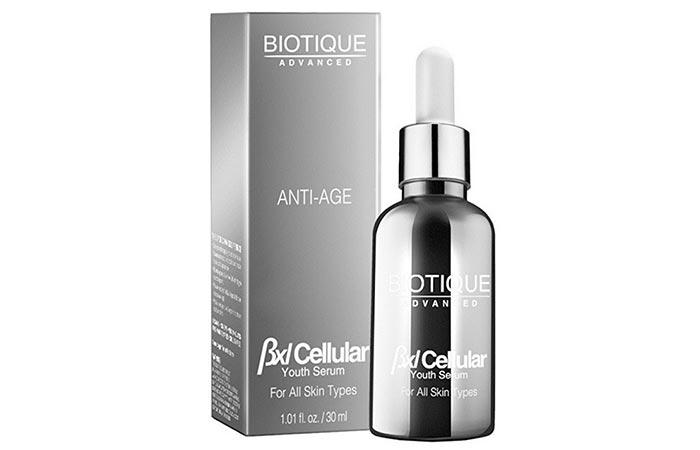 Biotique Bxl Cellular Dandelion Youth Serum is made from natural botanical extracts that help with skin tightening while working on lightening your skin. It revitalizes your skin and drastically reduces your dark spots, pigmentation, etc. giving you an instant glow. Works best for dry skin.

3. Lakme Absolute Perfect Radiance Skin Lightening serum
Only people with dry skin will understand the importance of being hydrated and doing everything it takes to keep their skin hydrated. If this describes you, then you should try this serum from Lakme. Staying true to its name, a few drops every day for a couple of days can do wonders to your skin. The main ingredients are an aqueous veil and mineral laden glacial water that penetrates into your skin in no time and hydrates your skin from deep within. It adds instant radiance and a glossy sheen to your face.

4. L'oreal Paris Youth Code Youth Booster Serum
Another great product from L'oreal Youth Code series, the Youth Booster serum is an anti-aging serum that works on your fine lines, freckles, and wrinkles, making them plumper and your skin firmer. It is supposed to be formulated using the patented Pro-Gen technology that is 10 times more concentrated and efficient. So, one product on your face like this will go a long way for you.

5. Juicy Chemistry Frankincense & Hemp Seed
Juicy Chemistry started a few years ago with an aim to provide unadulterated, cruelty-free skin care products made with organic, pure and rich ingredients. It is a blend of jasmine, sandalwood, tea-tree, neem, turmeric, mint, hemp seed and frankincense oils that work wonders on oily skin. It works on minimizing the scars from acne and deals with it from the roots and stimulates skin regeneration. It is soothing and antiseptic, works on your scars and improves the overall health of your skin.

6. Blue Nectar Kumkumadi Ayurvedic Anti Ageing & Brightening Night Serum
Blue Nectar Kumkumadi Radiance Night Glow Serum is a 100% Ayurvedic serum made from 26 vital ingredients with saffron being the base. It is formulated as a skin brightening serum that repairs any or all issues you might have with your skin. Apply a few drops all over your face for a few weeks to see results, from deeply cleansing your face to removing impurities, fungal infections due to acne, fine lines, etc. And it delivers what it promises.

7. Lotus Herbals White Glow Intensive Skin Serum + Moisturiser
The Lotus White Glow Intensive Skin Serum + Moisturiser does the job of a serum and a moisturizer for you. If you are lazy and don't prefer so many products, you can do with just this. This helps especially during travel. This dewy-looking serum permeates and uses an advanced delivery system to do so. It is a rare blend of grape, mulberry, Saxifraga extracts plus milk enzymes that work on skin lightening, giving your skin an even tone.

8. Olay White Radiance Brightening Intensive Fairness Serum
Olay is one of the most commonly used cosmetic brands by women across all ages. They are especially known for their anti-aging and skin whitening products. And, this falls under the same product line. The Olay White Radiance Brightening Intensive Fairness Serum is a highly concentrated yet light serum that contains two-color vita beads to clear your skin from within and give you an even skin tone. Your skin will look remarkably clean with consistent use.

9. Forest Essentials Advanced Soundarya Age Defying Face Serum
If you are looking for a Kumkumadi tailam based serum, then here's one of the top contenders from Forest Essentials. This age defying serum is a heavenly blend of 24 karat gold bhasma and anti-aging herbs that work on pigmentation, dark spots and fine lines that come with age, and are otherwise stubborn. You will see a clear difference within no time.

10. The Face Shop Chia Seed Moisture Recharge Serum
Chia is the new mantra for everything—from weight loss to beauty products, it's the next big thing. And, this serum or the 'moisture bomb' as they call it, is condensed and hydrated emulsion made from chia seeds. It is transparent, gooey yet non-sticky serum that seeps in quickly and makes your skin supple, soft and glowing.

*Subject to Availability
So that was the list of the best skin serums available for different skin types. Whatever it is, make sure you buy one and start using, if you are not already. You will see the difference for yourself. If you have any more questions, write back to us anytime. Ta-da, until next time!
Recommended Articles

The following two tabs change content below.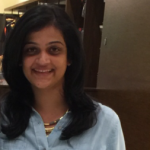 Latest posts by Pratima Ati (see all)