27 Best Sunscreens In India
Pick a shield against the sun with these effective sun protection products.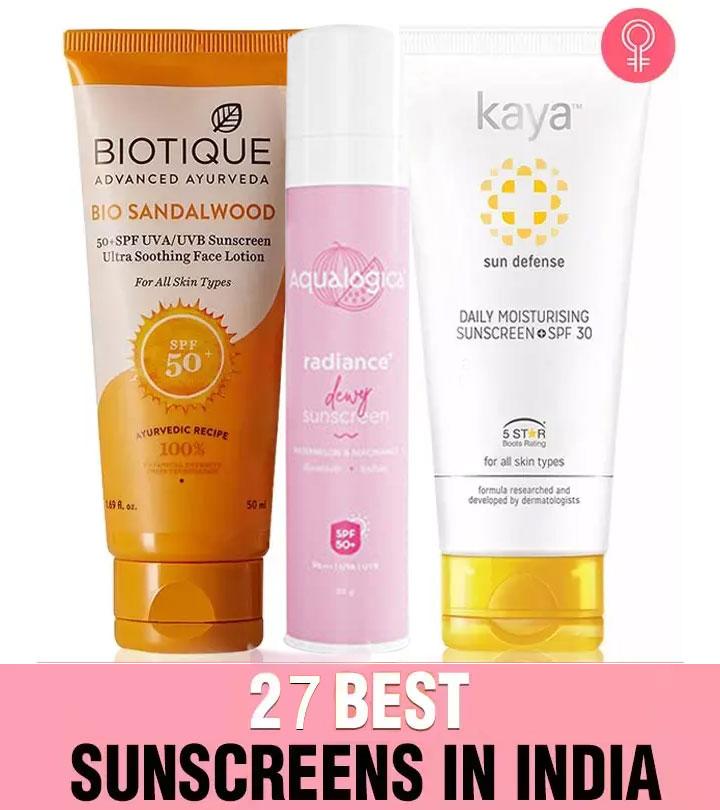 If you don't care about wearing sunscreen, you probably should start right away. You may ask – why, what's the deal with it? The thing is, even if you don't burn easily, you need to put it on because sunburn is only an immediate reaction, but sun damage, my friend, occurs over a lifetime. Also, skin cancer does not discriminate when it comes to the color of your skin, it can affect those with darker skin just as much as people with lighter skin. Scary, right? We've chalked out a list of the 26 best sunscreens in India for every skin type. Find one that suits you, wear it on the reg, and not just over that summer beach holiday. Your future self will thank you!
Top 27 Best Sunscreens In India For Every Skin Type
Let's begin with the reviews. Read on to find out more.
Sunscreens For Normal Skin
Pros
100% Ayurvedic
Paraben-free and cruelty-free
Water-resistant (retains SPF even after 80 minutes in the water)
Broad spectrum sun protection with a high SPF of 50
Cons
It has a rather strong fragrance
Review
For those of you who are into cosmetics that are loaded with the goodness of only natural ingredients, this Biotique sunscreen is meant for you. This nutrient-rich formula is packed with pure sandalwood, saffron, honey, wheat germ and the bark of the Arjun tree, to keep your skin soft, fresh, and moisturized. The best part? It's water-resistant. So, it's perfect to wear when you're going swimming or to the beach. It's quite moisturizing, so you don't need to go in with a separate moisturizer, and it won't leave you with that dreaded whitish cast either.
Pros
Botanical extracts
No white cast
Water-resistant
Non-greasy
Anti-aging benefits
Sulfate-free
Mineral oil-free
Paraben-free
Cruelty-free
Cons
May not be suitable for combination skin
Review
This mineral-based sunscreen with SPF 30 provides excellent protection from UVA and UVB rays. Zinc and titanium dioxide offer complete protection from the sun, while vitamin C neutralizes the free radicals and repairs your skin for a bright complexion. In addition, the vitamin E infused in the cream prevents signs of aging, and vitamin B3 decreases redness. This sunscreen also contains botanical extracts like saffron and lemon that help nourish the skin.
Price at the time of publication: ₹357
Pros
Has SPF 50+ and PA+++
Offers UVA, UVB, and blue light protection
No white cast
Hydrating
Lightweight
Non-sticky
Non-greasy
Suitable for all skin types
Dermatologically tested
Color-free
Fragrance-free
Paraben-free
Phthalate-free
Sulfate-free
Mineral oil-free
Vegan
Cruelty-free
Cons
None
Review
Most of us shield ourselves from the sun, but we often forget the silent harm that our screens are doing to our skin. The Aqualogica Radiance+ Dewy Sunscreen with SPF 50 & PA+++ offers protection from harmful sun rays and blue light. The non-sticky, lightweight formula is enriched with radiance-boosting niacinamide that reduces the appearance of dark spots and blemishes and even tones your skin. Hyaluronic acid and watermelon extracts moisturize and hydrate the skin, making it soft and youthful. Titanium dioxide prevents the absorption of harmful sun rays.
Pros
Lightweight and non-greasy formula
High UVA/UVB protection against premature skin aging
PABA-free
Moisturizing formula
Cons
Tends to leave a white cast if you apply too much of it
Review
The Kaya Youth Protect Sunscreen is filled with the goodness of botanical extracts like Geranium and potent antioxidants. It not only protects your skin from exposure to harmful sun rays, but also helps improve your skin's elasticity while preventing photoaging. It also works wonders in boosting oxygenation of skin cells and regenerating them. It leaves your skin with a beautiful, radiant finish and is also great for winters.
Pros
Lightweight and absorbs easily into the skin
Contains cucumber and lemon grass extracts
Paraben-free
Travel-friendly
Cons
Leaves a whitish cast initially, but this settles down after a while of application
Review
This sunscreen from India's most beloved brand, Lakme, is one of the best formulas out there for anyone looking for a reasonably-priced, quality product. It provides broad-spectrum protection against UVA and UVB rays and will look after your skin even on the harshest summer afternoon. How you ask? Besides the SPF 50 protection, it's enriched with the goodness of zinc oxide, lemongrass, and cucumber extracts that will prevent premature aging, dark spots, and skin darkening. It's easy to apply, has a pleasant fragrance, and leaves your skin with a nice, subtle glow.
Pros
Ultra-light gel texture
Vegan
No white cast
Non-comedogenic
Cons
Review
The Plum Green Tea Day-Light Sunscreen has SPF 35 that gives both UVA and UVB protection to the skin. This sunscreen provides balanced hydration to the skin. The ultra-light gel formula gets absorbed quickly into the skin and does not leave behind a white cast. This sunscreen is enriched with acne-fighting green tea and blemish-fighting natural extracts of licorice and goji berry. It is vegan, made with non-comedogenic ingredients, and has never been tested on animals.
Price at the time of publication: ₹30
Pros
Non-sticky
Non-oily
Lightweight
Quick absorbing
Water-based
Paraben-free
Dermatologically-tested
Cons
Review
Sunscreen with SPF 50 and PA+++ by Lacto Calamine is specially formulated for oily skin. It provides complete protection against UVA and UVB rays. The sunscreen is enriched with lemon extract and Kaolin that helps prevent tanning, clears dark spots, and reduces hyperpigmentation to give you a shine-free look. The quick-absorbing formula spreads evenly on the skin.
Sunscreens For Combination Skin
Pros
Non-greasy
Lightweight
Absorbed quickly
Dermatologist approved
Prevents acne
Reduces excess shine
Suitable for normal to
Cons
None
Review
The O3+ Mattifying Gel Cream controls excess shine and helps brighten your skin. The broad-spectrum SPF 50 protects your skin from harmful UV rays. The lightweight formula does not leave your skin oily and greasy. It provides a matte finish and makes the skin appear smooth and fresh.
Pros
Nourishes skin
Easy to use
Enriched with lemon and other natural ingredients
Affordable
Cons
Review
The VLCC Anti Tan Sunscreen Lotion is a sweat-free formula that provides proper protection against UVA and UVB rays. Its non-greasy formula gives your skin a nice, satin finish. It helps keep your skin supple as it's enriched with natural ingredients like lemon, jojoba oil, aloe vera and sandalwood extract, zinc oxide, and wheatgerm oil. For combination skin, this one works wonders. However, this is better for those "not-so-sunny" or rather cloudy days as it only provides you an SPF of 25.
Pros
Paraben-free
Moisturizing and provides sufficient sun protection
Travel-friendly
Pocket-friendly
Cons
Overwhelming fragrance (much like a mosquito repellant)
Review
Baba Ramdev's Patanjali products have gained immense popularity in India, and this sunscreen is a pretty big hit owing to its Ayurvedic composition. The formula is white in color, and it has a runny consistency similar to that of a body lotion. It's easy to apply and spread, and it also absorbs quickly. If you only like sticking to natural, Ayurvedic products, this one's for you, but the rest of you may not like it as much.
Pros
Offers an SPF of 60 PA++++
Water-resistant
Lightweight
Travel-friendly
Cons
Review
This sunscreen from Jovees is a water-resistant, herbal formula that's been scientifically developed using wholesome ingredients like argan oil, green tea, calendula, and chamomile. It's enriched with antioxidants and anti-inflammatories that will not only protect your skin from sun exposure but also help in maintaining its health and appearance. It feels incredibly lightweight and gentle on the skin and does not leave a white cast on the face. Also, its packaging is convenient as it comes in a leak-proof bottle with a pump dispenser.
Pros
Lightweight and nutrient-rich
Prevents premature aging and tanning
Free of parabens and harsh chemicals
Contains non-nano zinc oxide
Cons
Available only in an SPF 20 variant
Review
This gel-based aloe vera sunscreen is a lightweight, nutrient-rich formula that provides full protection against UVA and UVB rays. It holds moisture in and forms an invisible barrier on your skin. It's great for days you won't be outdoors for too long because of its low SPF. If you're on the hunt for a soothing formula that cools your skin on hot summer days and is non-greasy, this one by Aroma Magic is worth trying.
Sunscreens For Sensitive And Acne-Prone Skin
Pros
Does not clog pores or aggravate acne
Moisturizes and hydrates the skin
Prevents premature aging and sunburn
SPF 50 provides broad-spectrum protection against UVA/UVB rays
Cons
It takes some time to absorb into the skin completely
Review
This one's another sunscreen that's recommended by dermatologists for its beneficial medicinal properties. Its consistency is slightly runny and it's easy to apply and blend into the skin. However, it does take a while to soak into the skin. If you're someone who stays a lot outdoors, this one will definitely keep your skin insured. It's enriched with antioxidants and vitamin E, and also happens to be sweat-resistant.
Pros
Contains SPF 50 and PA+++
Non-comedogenic
Dermatologically-tested
Non-greasy
OMC-free
Paraben-free
Cons
Review
Reequil Oxybenzone and OMC-free sunscreen is a blessing for oily and acne skin. It provides 6 hours of protection from sun rays on a single application. The non-greasy formula is packed with aloe vera and olea europaea leaf extract for soothing and nourishing your skin. Additionally, the advanced sunscreen filters are proven safe as they do not penetrate deep into your skin.
Pros
Lightweight
Non-comedogenic
Designed for sensitive skin
Free of parabens and fragrance
Cons
Expensive for the quantity you get
Review
If you want a sunscreen that delivers a non-greasy, invisible finish and has no smell to it, this one from La Roche-Posay is one of the best ones out there. It has a light, watery consistency, which makes it easy to spread and blend into the skin. It does not leave a whitish cast or any sort of residue on the skin. A little goes a long way, and this tube will last you for a long time. The best part? It does everything that it claims very efficiently.
Price at the time of publication: ₹34.99
Pros
Moisturizes skin
Non-comedogenic
Lightweight and absorbs quickly
Great packaging
Cons
Review
Clinique is known for its luxurious range of products and this sunscreen is no less. It comes in a sleek plastic tube with a silver screw-cap, making it easy to carry around in your handbag. It's an oil-free formula and is lightly tinted, so it instantly brightens up your face and makes it look very radiant. The formula is fragrance-free and won't irritate your skin or aggravate acne.
Pros
Easy to use
Leaves no white cast
Made with 99.3% natural ingredients
Hygienic and travel-friendly packaging
Cons
Frequent reapplication required
Review
The Kama Ayurveda Natural Sun Protection formula contains natural-origin, UV protection minerals like Zinc Oxide and Titanium Dioxide, which reflect the sun rays back from exposed skin. The olive oil and glycerin in its formula help nourish and condition the skin while shea butter soothes irritation, and repairs sun damage. It does not clog pores and is wonderful for sensitive skin in all aspects!
Sunscreens For Dry Skin
Pros
Non-comedogenic and water-resistant
Non-greasy and lightweight
Offers an SPF of 50+
Convenient pump dispenser and travel-friendly packaging
Cons
Price is on the higher side
Review
If your dry skin is sensitive and prone to sunburn, this sunscreen from Avene will be your best friend. It covers every spectrum of UV protection, using a combination of exclusive active ingredients. Its light texture spreads easily onto the skin and absorbs almost immediately. It's free of parabens, alcohol, silicon, and other harsh chemicals that are known to dry out your skin, and instead provides the right amount of moisture, leaving you with a gorgeous dewy finish.
Pros
Moisturizes and protects skin
Creamy and lightweight
Brightens up the skin
Spreads easily
Cons
Review
The Kaya Daily Moisturizing Sunscreen is another great option for dry skin. Its broad spectrum formula protects the skin from UVA and UVB rays. It also helps to maintain essential hydration and nourishment all day long. This goes on smoothly and absorbs quickly, and it's also a non-greasy formula that's PABA-free. Niacinamide is one of its active ingredients, which helps to visibly improve the appearance of fine lines, enlarged pores, dullness, and an uneven skin tone.
Pros
Organically pure and preservative-free
Nourishes and protects the skin efficiently
Enriched with carrot seed extracts
Affordable
Cons
Tub packaging is unhygienic
Review
This one's a nutrient-rich sunscreen lotion from Biotique, and it's blended with extracts of nyctanthes leaf, carrot root, lodhra bark, and sprouted wheat germ to ensure your skin says soft, fair, and moisturized in the sun. It spreads effortlessly, and does not make your skin feel sticky, or greasy – instead, it leaves it supple and hydrated. This makes a great base for your makeup too.
Pros
Dermatologist-tested
Water-resistant
Hypoallergenic
Non-comedogenic
Oil-free
Paraben-free
PABA-free
Fragrance-free
Cons
Review
This sunscreen from Nutregona is specially formulated for sensitive skin. This mineral-based sunscreen has naturally sourced zinc oxide that offers optimum sun protection without any irritation. In addition, it comes with a water and sweat resistance of 80 minutes, thereby offering you an extended time of fun in the water!
Pros
Provides broad-spectrum sun protection in a water-resistant formula
Lightweight
Easy to apply
Offers a high SPF of 50
Cons
Review
This sunscreen lotion from Aveeno is a blessing for dry, parched skin. Its formula is oil-free, non-comedogenic, and sweat and water-resistant for 80 minutes. This makes it a great sun protection product to use when you're going swimming. It also works well for dry, acne-prone skin as it won't clog your pores or aggravate acne.
Sunscreens For Oily Skin
Pros
Lightweight and absorbs instantly
Works well as a makeup base
Controls oil and shine effectively
Won't break you out or irritate your skin
Review
This is undoubtedly one of the best sunscreens for oily skin. It's a translucent gel-based formula that is so easy to use – it spreads easily, has an incredible fragrance, and leaves your skin feeling refreshed and cool. It contains ingredients like vanilla extract and horse chestnut that are great for the overall health and appearance of your skin, besides the high SPF of 50 PA+++. I highly recommend this to anyone with an oily to combination skin type.
Pros
Has a wonderful creamy texture
Lightweight and absorbs easily
Does not make your skin sticky
Offers SPF 50+ and PA+++
Cons
If you prefer a full matte finish, you may not like this as much
Review
This formula by Neutrogena is a breakthrough in sun protection as it provides superior balanced broad-spectrum protection against UVA and burning UVB rays and skin-aging. It has a light, fresh scent and works well for sensitive skin as well. You can wear this on a hot summer day and not have to worry about this sunblock making your skin sweaty or sticky.
Price at the time of publication: ₹669
Pros
Easy to use
Lightweight
Travel-friendly
Enriched with Ayurvedic essential extracts
Cons
Does not leave you with a completely matte finish as it claims
Review
If you're tired of sunscreens making your oily skin look and feel more oilier, the VLCC Matte Look Sunscreen is an oil-free formulation that won't fail you. This non-sticky formula is enriched with pineapple extract, which absorbs quickly and leaves you with a semi-matte finish.
It also contains white sandalwood extract, turmeric extract, aloe vera extract, and zinc oxide to nourish and repair your skin from within. However, don't be mistaken with the word "gel" in its name as its formula is more on the creamy side.
Pros
Absorbs quickly
Won't leave you with a whitish cast
Free of parabens, alcohol, and other harsh chemicals
Also works well under makeup
Cons
It has a very synthetic smell
Review
Aloe vera is great for every skin type, and this sunscreen from Aroma Magic combines sun protection with the power of cucumber and aloe. Sounds great, right? However, I recommend using this during the winters as this is quite hydrating and will work best for oily skin during the colder months. It won't break you out, even if you have oily skin that is prone to breakouts, owing to its wholesome ingredients. For its price, this is a total value for money.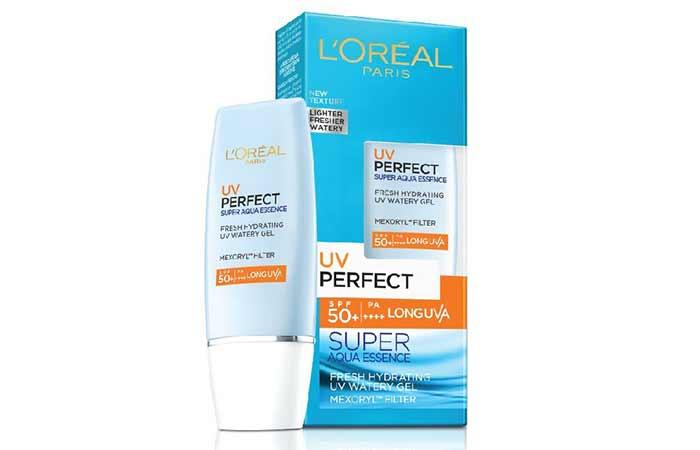 Pros
Non-greasy, lightweight formula
Does not irritate skin or cause breakouts
Travel-friendly packaging
Provides an SPF of 50 PA+++
Cons
Its 12-hour protection claims are false
Review
This sunscreen from L'Oreal blends easily, absorbs quickly, and leaves your skin feeling refreshed. It's a miracle product for hot summer days when you don't feel like applying too many products on your skin. Its watery texture won't clog your pores or cause any breakouts. If you have oily, acne-prone skin, I highly recommend you to try this formula!
Now that you know which are the best sunscreens to go for, here are a few things that you need to consider before buying any sunscreen. 
Things To Consider When Buying A Sunscreen
Check the label to look for a broad-spectrum sunscreen that offers both UVA and UVB protection. Go for mineral sunscreens that contain zinc oxide and titanium dioxide. Avoid anything that contains PABA and Oxybenzone.
Pick a sunscreen that has at least SPF 30. This is important to prevent sun damage and reduce the risk of skin cancer. A sunscreen with SPF 30 can protect you from 97% of sun damage.
Sunscreens are available in cream-based, gel-based, and spray forms. They all have different consistencies and levels of spread ability. Depending on your comfort and like ability, opt for the one that you feel is easy to apply. Cream-based sunscreens are a bit sticky, gel-based products get absorbed quickly, and sprays are best for traveling.
The quantity of sunscreen should match the price. Some high-end sunscreens may be expensive in terms of the quantity of the product. Any mid-range sunscreen with SPF 30 will also protect your skin in the same way. Ensure that you do not regret spending too much on a palm-sized package that may not even last for a few weeks. However, if the sunscreen meets all your criteria, there is no harm in compromising on the quantity.
Ladies, sun protection does not have to be expensive or a complicated step to incorporate into your daily routine – it needs to be consistent. Make it a habit not just for the scorching summer but all through the year, and you'll thank yourself later for taking good care of your skin.
That was our roundup of the 27 best sunscreens in India for every skin type! Which one are you looking forward to trying? Let us know in the comments section below.

Recommended Articles on Sunscreens