16 Best Purple Shampoos For Silver Hair
Preserve your hair color and keep brassy tones at bay with effective products.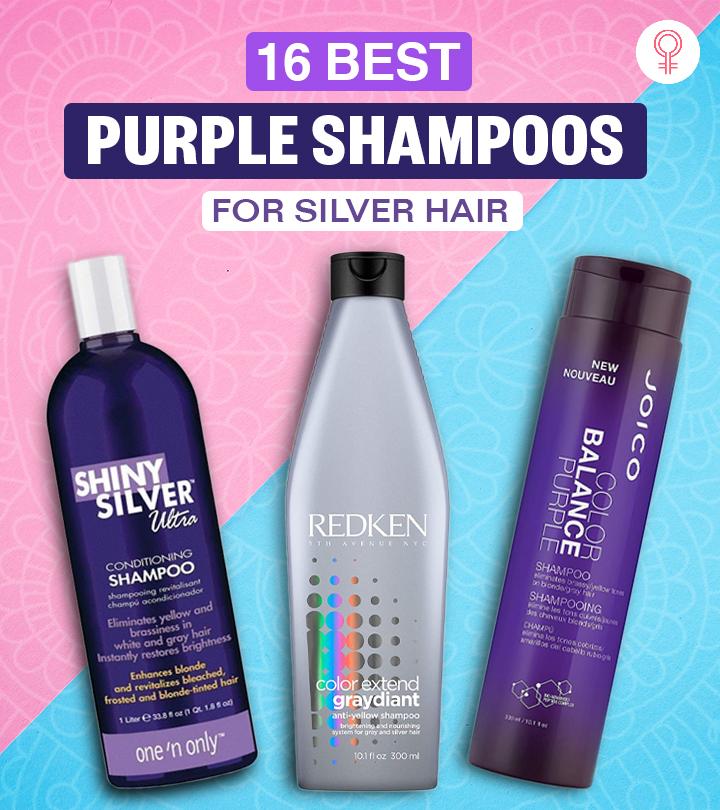 Having silver hair is the newest trend in the hair-coloring world. However, keeping those locks shiny and smooth needs a lot of effort. This is where Purple shampoos for silver hair get it right. These help maintain your grey hair color without getting brassy or orange. These are not designed for color-correcting blonde hair alone. The formula neutralizes the brassy red tone from dark hair that has been bleached to attain the silver color. They impart moisture to the hair and keep your mane from turning dry and coarse. Scroll down to find out the list of the 16 best Purple shampoos for shiny and smooth silver hair.
Why Should I Use A Purple Shampoo For Silver Hair?
Whether you are a natural blond or have gone blond to go silver later, you need to know that the color in your hair gets oxidized with every passing day. This results in brassy, uneven-toned, and orange hair. While experts recommend washing your hair less for color preservation, it does not work if your scalp tends to get oily or flaky. This means you have to shampoo your hair to keep it healthy.
But a regular shampoo will strip your hair of its gorgeous color. Thanks to certain hair care brands, we now have tone-correcting hair products in the market. These shampoos deposit purple pigments on the hair, which neutralize unwanted tones and orange shades. They also add coolness to the stale color and remove dullness, which means your hair dye will look fresher for a longer time.
Before coloring your hair gray or silver, you must be aware that even though these are gorgeous shades, they are extremely high maintenance. Even if your hair has naturally turned gray, aka silver, and you love your new look, a pigmented shampoo specifically formulated to keep your hair bright and brass-free can keep you looking your best.
If you have been thinking about which purple shampoo to opt for, here is a list of the best shampoos for silver hair that you can choose from.
16 Best Purple Shampoo For Silver Hair
This product by MATRIX is a clarifying shampoo that not only cleanses the hair but also neutralizes brassy and gold tones and eliminates dull, yellowish tones from the hair. This popular favorite shampoo hydrates porous and dry hair, leaving it super shiny and healthy with a lovely scent. This shampoo illuminates already present highlights on blondes and adds radiant shine to color-treated or natural hair – especially gray to white shades It is suitable for natural blonde, lightened blonde, and icy blonde and gray hair and freshens your color job every time you wash it. This is, undoubtedly, one of the best purple shampoos for gray hair. If you need further convincing, check this YouTube video detailing a tester's experience with the product.
Pros
Great fragrance
Adds volume
Value for money
Cons
May cause allergies
May dry out the hair
This product by TIGI is an awesome tone-correcting shampoo for silver hair. It gently cleanses the hair while refreshing the color and conditioning it. This shampoo contains purple pigments that tone and neutralize brassy hair and enhance cool tones. It is formulated with Polyquaternium 10 which prevents and controls static, frizz, and flyaways. Regular use of this shampoo improves the hair's vibrancy and imparts shine to it. It makes chemically treated hair soft, smooth, and manageable. This product is recommended to be used once every week. Check this video on YouTube detailing a tester's experience with this product to know why it is one of the best out there.
Pros
Great fragrance
Reasonably priced
Quick results
Cons
Dries out the hair
Contains SLS that may strip hair dye
Joico's Color Balance Purple Shampoo cleanses your hair while adding purple pigments to the strands. It contains a unique color-correcting formula that preserves the cool tones in your tresses. This shampoo eliminates brassiness and orange tones and refreshes your silver hair. It increases the hair's vibrancy and shields it against external damage.
This damage control shampoo contains a Multi-Spectrum Defense Complex, which contains green tea extract and UV filters that protect your silver color from fading and losing vibrancy. The Bio-Advanced Peptide Complex repairs, protects, and adds shine to your mane while fighting frizz. In this YouTube video, you will find a detailed review of this product.
Pros
Smells nice
Value for money
UV protection
Does not stain the shower
Cons
If you are looking for a color-correcting shampoo that will keep your silver hair healthy and vibrant, go for this shampoo. As we know, environmental pollution and frequent washing result in unwanted yellow and orange tones in your hair. This shampoo has special purple pigments that counteract the yellow tones. It contains vitamin-rich and nourishing ingredients like blueberries, raspberries, and strawberries and restructuring milk and yogurt proteins that make your hair shinier and healthier. Milk protein also has a conditioning effect on the hair strands.
Pros
Organic ingredients
Great fragrance
Delicate
Suitable for everyday use
Cons
None
This color-enhancing shampoo is enriched with protein to give you glossy, beautiful hair. It tones down the brassiness of silver or gray hair and eliminates yellowness. Regularly using this shampoo refreshes highlighted hair and maintains cool ash-toned hair color. Without leaving any residue, this shampoo cleanses your hair and makes it healthy-looking and glossy.
Pros
Conditions the hair
Glossy finish
Nice smell
Conditioning
Cons
This shampoo is designed to remove yellow undertones and brassiness from lightened or gray hair. It contains hyaluronic acid and edelweiss flower that boost hair shine and deeply nourish the hair fibers. Hyaluronic acid heals and fills fiber wounds from the inside out for uniform, deeply nourished cuticles. Edelweiss flower, which is rich in antioxidants, protects your tresses from daily damage.
This amazing product removes excess oil and impurities and protects your hair and scalp against daily oxidation and pollution. It adds moisture to the hair and boosts its luminosity. This shampoo instantly neutralizes brassy and yellow undertones. It claims to repair hair fiber by up to 46% when combined with its Cicaflash product. According to reviewers on Amazon, you can use it once a week in your hair care routine to eliminate unwanted tones from your silver hair.
Pros
Cruelty-free
Great fragrance
Protects the hair from pollution
Cons
This shampoo by Pravana is a godsend for those who want a sulfate-free option to tone their highlighted, blonde, or silver tresses. It eliminates brassiness and revives your hair color in just one use. This shampoo features built-in optical brighteners and an exclusive dual ultra-violet dye system to gently purify, cleanse, and neutralize unwanted brassiness and yellow tones and reveal brighter, whiter strands. It adds shine, strength, and elasticity to your hair with nourishing ingredients like keratin, wheat, and silk amino acids. This product has a special dye that keeps your hair orange-free and makes silver or gray color maintenance easy.
Pros
Sulfate-free
Paraben-free
Formaldehyde-free
Cocamide-free
DEA-free
Phthalate-free
A little goes a long way
Biodegradable packaging
Contains natural ingredients
Cons
This shampoo is a great choice for those looking for a nourishing shampoo that also provides color correction. The Jhirmack Silver Brightening Ageless Shampoo is formulated with green tea extract and folic acid that strengthen and condition the hair strands. Its CoQ10 content protects the hair from environmental stressors and styling damage and makes it strong and healthy.
This shampoo also contains acai berry, which is rich in essential vitamins and proteins. It deeply moisturizes the hair while enhancing its shine and color. The product is enriched with collagen and macadamia nut oil that deep condition the hair. This shampoo cleanses and removes the brassy tones from blond hair. It is suitable for all shades of gray, silver, blonde, and platinum hair and makes cool-toned hair glossy and shiny. If you're not sure, check out some reviews before making a commitment.
Pros
No greasy residue
Protects against styling damage
Great fragrance
A little goes a long way
Cons
Makes the hair dry and brittle
The Redken Color Extend Graydiant Anti-Yellow Shampoo deposits purple pigments on the hair while cleansing it and tones, brightens, and illuminates blond, gray, and silver hair. This anti-yellow shampoo acts as a hair toner that instantly neutralizes orange and brassy hair. It contains customized violet and blue pigments that color-correct your tresses and make them soft and shiny. According to several reviews on Amazon, this shampoo provides a gorgeous silver finish to your hair. Its amino acid content rebalances the manageability and silky texture of your hair.
Pros
Great fragrance
Makes the hair smoother and brighter
Improves manageability
Cons
This shampoo by AG Hair Care is a boon for dry, damaged tresses. It is specially designed for those with blonde and silver hair as it removes brassy, orange tones from the hair. This violet pigments-based shampoo uses natural ingredients to keep your mane healthy. It is formulated with NaPCA, a highly potent natural moisturizer, and Cinnamidopropyltrimonium chloride, which fights against the harmful effects of the sun's UVB rays on your hair.
This shampoo is suitable for all hair types. It contains sunflower seed extract that fights color-destroying free radicals and protects your silver hair from UV degradation. It also contains polyphenols, which are natural compounds found in flowers. They provide protection from sun damage and keep your hair color vibrant, even when out in intense sunlight for long periods. The polyphenolic blend in this shampoo includes aqueous extracts of marigold, red clover, lavender, pine, and carnation. The shampoo has a pH level of 4.5-5.5, which makes it milder than most products on the market. This product is also vegan and has not been tested on animals.
Pros
Salt-free
PABA-free
Paraben-free
DEA-free
Non-staining
Contains natural ingredients
Cons
Makes the hair straw-like
The One 'n Only Shiny Silver Ultra Conditioning Shampoo restores brightness to blond, white, and gray hair. It revitalizes bleached, frosted, and silver-tinted hair. This shampoo contains lavender, orange peel, lemon, grapefruit, and tangerine that soothe, condition, and nourish the hair. Regular use of this product improves the manageability, texture, and softness of your tresses.
This product deep conditions your hair and restores moisture and is specifically suitable for dry, damaged hair. The UVA/UVB absorbers protect your hair and give it a healthy shine. The gentle formula is designed to eliminate yellow undertones and brassiness in white and silver hair and leave it healthy, shiny, and manageable.
Pros
Long-lasting results
Contains UVA/UVB absorbers
Easy to rinse out
Cons
This shampoo from Dr. Fischer gently neutralizes orange and brassy undertones and restores the natural color and shine of white, silver, platinum, light blonde, and gray hair. Its ultra-gentle complex nourishes the roots, locks in moisture in the hair strands, and keeps your hair silky smooth and manageable.
This amazing shampoo nourishes the hair with healing herbs and essential vitamins to provide restorative care. It contains chamomile extract that enriches the hair's color and radiance and moisturizes and softens it. Almond extract fortifies the hair roots and promotes hair growth. Vitamin E, an antioxidant, fights free radical damage, while pro-vitamin B5 restores essential moisture and gives you healthier, thicker hair that is soft and manageable.
Pros
Long-lasting results
Non-staining
Lathers well
A little goes a long way
Value for money
Cons
This professional-grade shampoo by Pantene not only cleanses your hair but also boosts its moisture levels. It eliminates brassiness from the grey strands and infuses it with hydrating lipids and protective antioxidants. This anti-fading shampoo restores shine and increases the elasticity of the hair fibers from within.
It contains biotin, a water-soluble B-vitamin that strengthens weak or damaged hair follicles and makes the hair thicker and healthy, and vitamin E that repairs your hair and protects it from breakage and split ends. The purple pigment is a temporary dye molecule that eliminates yellowing and brassiness. This shampoo is excellent for taming unruly frizz. Its formula includes Pantene's Pro-V Color Adapt Nutrient Blends, which claims to strengthen hair at the core while maintaining vibrant color and providing shade-specific nutrition. Multiple reviewers report that this shampoo makes their dyed or silver hair more manageable and smooth.
Pros
Paraben-free
Silicone-free
Mineral oil-free
Great fragrance
Cons
This purple shampoo is excellent at eliminating yellow and brassy tones from silver, white, and blonde hair. It is one of the best purple shampoos for silver hair. The gentle plant-based cleansing formula removes dirt and grime from the hair without stripping it of its color or moisture. The organic herbal blend of argan oil, avocado oil, and sunflower seed oil deeply conditions the hair and imparts shine. This shampoo neutralizes yellowing from environmental damage and product buildup. It has a pleasant fragrance and is suitable for all hair types.
Pros
Cruelty-free
Silicone-free
Paraben-free
Sulfate-free
Phthalate-free
No synthetic fillers
Cons
The MARC DANIELS Powerful Purple Shampoo is formulated with Australian native blue cypress oil, a cobalt blue oil that contains naturally restorative purple pigments. It is the perfect shampoo for color-treated, highlighted, blonde, gray, and silver hair. This shampoo instantly neutralizes brassy orange and yellow tones and delivers your hair a salon-quality finish that looks nourished, natural, and shiny.
It also contains sage leaf extract that adds shine and luster to your hair. Rosemary leaf extract aids hair growth, improves the condition of your scalp, and acts as an antioxidant that repairs damaged hair. The pro-vitamin B5 regenerates, strengthens, and restores dry, dull, brittle hair. This shampoo also protects the hair from UV damage. Multiple reviewers love its gentle formula that keeps their hair soft while getting rid of the brassy tones.
Pros
Cruelty-free
Paraben-free
Sulfate-free
Vegan
No added MIT
Silicone-free
100% natural ingredients
Light, pleasant fragrance
Suits sensitive scalps
Cons
This silver shampoo by Royal Moroccan is formulated to provide clarity and shine to cool-toned hair. It contains organic Moroccan argan oil, which reduces brassy and yellow undertones in white, silver, or blonde hair. It also repairs dry and damaged hair and prevents static, frizz, and split ends. This shampoo moisturizes the hair and freshens your color. The non-greasy formula protects the hair against heat and humidity, making it suitable for curly hair. Check out some reviews online before making a purchasing decision.
Pros
Keratin-free
Pleasant fragrance
Cons
*The prices provided in this article are based on the latest available information. However, they may vary due to changes in pricing by the seller and/or promotional offers.
Silver hair looks oh-so-chic and stylish when styled the right way. But, it is one of the most high maintenance hair colors, which requires the right shampoos. Given below are a few factors to consider to choose the best purple shampoo to maintain your brilliant silver hair color.
How To Select The Best Purple Shampoos For Silver Hair
Ingredients – Ingredients are extremely important factors in a shampoo, especially the ones for colored hair. Make sure you avoid ingredients such as sulfates, alcohol, silicones, and mineral oils that can strip the nutrient as well as the color from your hair making it dry and dull.
Look for color-safe and nourishing ingredients like hyaluronic acid, wheat proteins, milk proteins, silk amino acids, and botanical extracts to boost moisture, strength, and shine in your dyed silver white hair.
Color – To get the best out of a purple shampoo, make sure you choose one that has a dark color that almost appears indigo or blue. The darker the color of the shampoo, the better the result you will get for your silvery white hair. Avoid the ones that appear either very transparent or extremely bright purple.
Perform a patch test – Before you finalize on a shampoo or before applying it to your hair, try to perform a patch test to make sure it suits you well and does not cause any allergic reaction or staining on your skin. This step becomes all the more important if you have extremely sensitive skin.
Frequently Asked Questions
Blue shampoo vs. purple shampoo – Is there a difference?
Blue shampoos contain blue-violet pigments that bond with your hair shafts when you shampoo, cooling down natural warm hair tones and removing orange tones and brassiness. Purple shampoos contain purple pigments that correct and maintain light-colored hair, removing the yellow tones to maintain silver, platinum, or white hair.
How often can I use the purple shampoo for gray hair?
You can use a purple shampoo one to two times a week to maintain gray hair.
How long do you leave the purple shampoo in your hair?
Leave the shampoo on for up to 20 minutes and then wash it off and follow up with a moisturizing conditioner.
Should I apply the purple shampoo to dry or wet hair?
You can apply the purple shampoo to both dry and wet hair.
Is the purple shampoo good for hair extensions?
Depending on the color and type of hair extensions, a purple shampoo works perfectly fine on hair extensions.
What shampoo can I use with the purple shampoo?
You can use your regular shampoo. However, keep in mind that purple shampoos tend to be drying, so a moisturizing shampoo will balance it out.
Recommended Articles