13 Best Purple Shampoos To Keep Your Gray Hair Healthy
Correct, boost, and enhance your gray-dyed hair with these specific formulations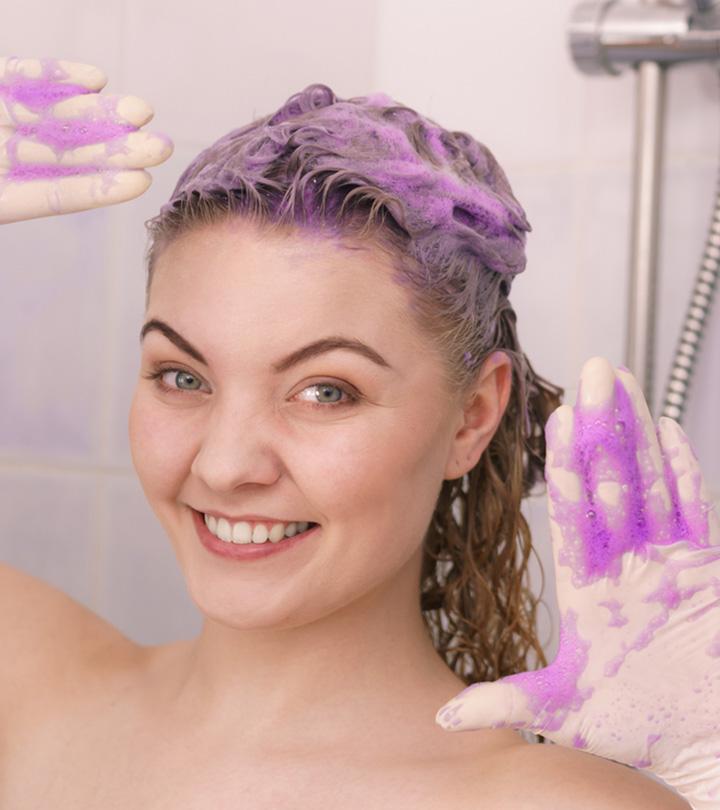 If your gray hair looks dull and has lost its shine, then it is time for you to try the best purple shampoos for gray hair. As the name goes, purple shampoos are purple in color and are suitable for all types of hair colors. Whether you have blonde hair or gray, purple shampoo can do wonders for your hair. It contains purple pigments that strip off the brassy, yellow tones from the hair, restoring its original health and shine. Instead of making multiple visits to the salon, use a purple shampoo to nourish and preserve the hair color. While there are several brands that make purple shampoos in the market, choosing the right one for your hair may seem overwhelming. Hence, we have listed the 13 best purple shampoos for you that you can safely use to have Insta-ready hair at all times!
Top 13 Purple Shampoo For Gray Hair in 2020
Bold Uniq Purple Shampoo is exclusively for taking care of blonde, gray, platinum, and silver hair. This purple shampoo is good at protecting your hair color against fading due to damaging ultraviolet radiation caused by too much sun exposure. It is made for easy hair care at home. The purple shampoo contains no harmful chemicals or additives. With this one, you can keep your hair vibrant and the hair follicles healthy without ripping your pockets at salons. This video helps you know more about the product.
Pros
PETA-approved
Cruelty-free
SLS-free
Paraben-free
Cons
Might not work that well on dark hair
Price at the time of publication: $29.95
When you want to take great care of your colored hair or your highlights, it is time to try out the Matrix Total Results So Silver Color Obsessed Shampoo. This purple shampoo for gray colored hair cleanses well and has amazing toning effects. If you are dealing with yellow undertones spoiling your great hair color, then this is the perfect shampoo. The shampoo is suitable for light blonde, ashy, gray, and silver hair colors. It lends your hair mesmerizing brightness and ensures moisturizing of every hair strand. Check out this video to know more about this product.
Pros
Doesn't dry hair
Good for sensitive skin
Good for color-treated hair
Removes yellow tones from hair
Cons
Price at the time of publication: $20.0
Get Back Gorgeous aka GBG purple shampoo is a celebrity-approved shampoo which keeps away the brassiness and yellow undertones from your gorgeously colored hair. It is the perfect rescue to all hair troubles including sun damage. Formulated with organic compounds like coconut oil, GBG purple shampoo gently cleanses the scalp and keeps the dirt and gimmick at bay. After shampooing your hair, you can feel the silky, smooth hair.
Pros
Protects hair color
Maintains full control
Quick use
Safe and effective
Cons
Might tangle hair after wash
Price at the time of publication: $19.95
The Joico Color Balance Purple Shampoo has a color-correcting formula that eliminates warm and yellow undertones in gray hair. It keeps cool blondes, and silver grays intact while enhancing their true vibrancy. It cleanses hair well and removes buildup while strengthening hair, repairing damage, and protecting it against harsh elements. It also has green tree extract and powerful UV absorbers to prevent color fading from sun exposure. Use 2-3 times a week for best results. Before buying, have a look at this video for more details.
Pros
Repairs hair
Lasts up to 12 washes
Protects color-treated hair
Paraben-free
Pleasant scent
Cons
Might be a little drying for hair
Price at the time of publication: $42.5
Keratase paris purple shampoo is ideal for cool-faux blonde and gray hair. This purple shampoo for gray hair is loaded with mallow flower extract, hyaluronic acid, and edelweiss flower which neutralizes brassiness. It instantly enhances the hair luminosity and protects hair from regular oxidation. The formula not only nourishes hair strands but also cleanses the hair well.
Pros
No-frizz shampoo
Makes hair shiny
Keeps hair moisturized
Removes yellow undertones
Cons
Price at the time of publication: $31.9
Do you want to make your hair color last, avoid the yellow undertones and keep your curly hair healthy, all at the same time? Then, this purple shampoo for curly gray hair has to be the one for you. It has the dual action system to strengthen your hair and protect your hair from being faded away. Formulated with customized violet pigments, this purple shampoo brightens and nourishes gray hair.
Pros
Strengthens hair
Adds shine
Adds softness
Good quality
Cons
Price at the time of publication: $46.0
Luseta Color Brightening Purple Shampoo has a protein-enriched formula that removes yellow build-up and neutralizes brassy tones, thereby enhancing the shine of blonde and gray hair. It is infused with coconut oil and extracts that deeply hydrate the hair; vitamin E repairs split ends and hair follicles, revealing healthy hair. It is formulated with 5.5 – 6.5 pH level and is free from sulfates, making it perfect for all hair types, including color-treated and keratin-treated hair.
Pros
Sulfate-free
Color-safe
Cruelty-free
pH-balanced
Cons
Smell might not be great
Price at the time of publication: $18.99
Tec Italy Lumina Purple Shampoo is a hair-dye shampoo for gray hair that cleanses effectively. It is the ideal anti-yellowing shampoo for bleached hair, gray hair, or naturally blonde hair. You can expect this top-rated purple shampoo to lighten your grays, neutralize the yellow tones, and cleanse your hair at the same time. Enriched with Bota Jc complexes, the shampoo nourishes and strengthens hair. Follow the directions on the product and you are all set to have beautiful long lasting gray color.
Pros
Works for colored hair
Removes unwanted yellow pigments
Makes silver hair brighter
Easy-to-use
Cons
Might not work for all hair types
Price at the time of publication: $19.7
The Cocohoney VR Color Enhancing Purple Shampoo neutralizes yellow and brassy tones, highlighting your blondes and grays like never before. It renews your  hair vitality and boosts volume, adding life to your dull and damaged hair. Free from sulfates and parabens, it has a pH level of 5.5-6.5, making it safe for color-treated hair. Use this regularly to get lustrous and healthy hair.
Pros
Color-safe
Cruelty-free
Sulfate-free
Paraben-free
Cons
Price at the time of publication: $26.99
 For people who want to protect, nourish, and preserve their bleached hair, this purple shampoo from ArtNaturals is the apt choice. It is especially designed for balancing tones and protecting bleached or color-treated hair. The natural formula of this product is restorative in nature and helps fight damage. Loaded with coconut extract, it hydrates the scalp and helps treat dry hair. Infused with Vitamin E, this purple shampoo for bleached and blonde hair stimulates blood circulation in the scalp and encourages hair growth. 
Pros
Natural ingredients
Sulfate-free formula
Repairs hair damage
Doesn't make hair dry
Cons
A generous amount of product is required.
Price at the time of publication: $11.95
This special, scientifically-formulated purple shampoo is a must-use product to cleanse blonde, silver, gray, platinum, bleached, and color-treated hair. You can use the shampoo to remove the brassy yellow tones from your hair. Infused with vitamin E, vitamin B5, and chamomile, this purple shampoo is great for hair growth, restoring moisture and reviving the shine of your grays. 
Pros
For all hair types
Enriched with vitamins
Makes hair soft
Makes hair manageable
Cons
Price at the time of publication: $14.4
This toning shampoo for yellow and gray hair tones keeps out any unwanted shades and leaves you with great hair color. Other than removing the brassy tones, it lends a platinum shine to hair and maintains the softness of your hair. The best part about this purple shampoo is that it can be used for any hair tone from dark blonde to platinum. Using this toning shampoo is really simple. Just apply it to wet hair, lather it well, let it stay for 5 minutes, and then rinse. Try using a detangler conditioner after using the shampoo. With this shampoo, you can rinse away the brassiness and extend the hair color. 
Pros
No-sulfate formula
Enhances color
Works quick
Simple to use
Cons
Price at the time of publication: $23.27
This anti-brassy purple shampoo is especially designed for women with gray, white and silver hair. The shampoo is strong enough to cleanse your scalp yet gentle enough to not rip off your color treated hair. This paraben-free shampoo from Pantene is loaded with adaptive Pro-V lend technology to nourish every inch of your gray strands. It works well on reducing dullness, neutralizing yellow tones and brightening hair strands. Thus, doing the job of the best purple shampoo for gray hair. 
Pros
Good for color-treated hair
Nourishing formula
Silicon-free
Mineral-oil free
Cons
Might not suit people with sensitive scalp
Price at the time of publication: $18
Whether your hair is naturally gray, or you have undergone a color treatment to create gorgeous green locks, it is ideal to pick out a proper purple shampoo to keep your hair color looking slick. From the type of hair to targeting the needs of your hair and the ingredients of your shampoo, there are several aspects to look into before picking out the right purple shampoo for any hair. Here are a few things to consider before choosing the best purple shampoo to keep your gray hair healthy.
How To Choose The Best Purple Shampoos To Keep Your Gray Hair Healthy
UV rays from the sun fade hair color faster by degrading the natural pigments or the dye bonds, and make the hair dull and lifeless. Opt for a shampoo that is formulated with UV protection to help maintain the vibrancy of your hair and hair color.
Coloring your hair also comes with consequences. It strips off the moisture from your hair and leaves it dull and lifeless. You may also experience split ends, hair fall, hair thinning, hair breakage, and a lot of other side effects. It is crucial that you keep your hair hydrated after bleach treatments. Choose a shampoo that is super hydrating as well as color safe.
It is mandatory that you always look at the label and check the ingredients in your shampoo. Toxic chemicals like silicones, for example, flatten out your hair cuticle, thus reducing the definition of your hair. It can further cause buildup and can damage your hair. If you have a sensitive scalp it can cause painful irritation too. Colored hair is already introduced to a lot of harsh chemicals. So, make sure to stay away from harsh ingredients like parabens, sulfates, phthalates, silicones, and alcohols.
Most products come with instructions for the type of hair. Choose the shampoo which best suits your type of hair. Choosing the wrong hair type can be problematic.
For Example:
If you have an oily scalp, avoid an oil-rich, greasy shampoo.Cchoosing a shampoo which is loaded with essential oils can make your hair heavy and greasy.
If you have thin or fine hair, avoid shampoos that weigh your hair down, making it look flat and limp. So, opt for a non-greasy, lightweight formula that also volumizes the hair.
How To Use Purple Shampoo For Gray Hair?
The first step of using a purple shampoo for gray hair begins with choosing the right shampoo for your hair.
Look for a shampoo that is thick in consistency.
Get a dark purple shampoo in case you have gray, silver, or platinum hair.
The right way to use a purple shampoo for gray hair is to apply it with slightly warm water.
Take some purple shampoo in your palm
Rub the shampoo in your hair
Let it sit for 2-3 minutes
Rinse your hair thoroughly
Apply the conditioner for deep conditioning
Benefits Of Purple Shampoo For Gray Hair
Given below are the benefits of purple shampoo for gray hair:
Neutralizes the yellow tones
Leaves hair looking dimensional
Makes hair look shiny and vibrant
Effective for daily use
Keeps your hair color fresh
Why Trust StyleCraze?
The author of this article, Vaishnavi Kothuri, loves all things hair care. She conducted hours of research on a plethora of purple shampoos and sifted hundreds of user reviews on trusted online forums to compile this list of the best purple shampoos to keep your gray hair healthy. These products can keep your hair color fresh and make your hair shiny.
Frequently Asked Questions
Is purple shampoo good for gray hair?
Yes, purple shampoo is good for gray hair to keep away the yellow tones.
Does purple shampoo work on natural gray hair?
Yes, purple shampoo works on natural gray hair.
How do you keep gray hair moisturized?
Try using a leave-in-conditioner to keep your hair moisturized for longer durations. You can also use a hair serum for moisturizing hair.
How can I make my gray hair look better?
You can make your gray hair look better by using transition colors. In case you don't want to opt for transitions, then make sure you make your gray hair shinier by using the right purple shampoo. You can even keep a clean look by getting a modern cut. Also, you can try makeup and clothing that flatters your gray hair.
How often should you wash grey hair with purple shampoo?
Use a purple shampoo to wash your grey hair 2-3 times a week. However, every hair is different and you can make your own schedule to suit your hair needs.
Does purple shampoo make gray/white hair look more vibrant?
Purple shampoos contain violet pigments that help neutralize the brassy and yellow tones and make your blond hair look more vibrant and flattering.
Should I complement my purple shampoo with a purple conditioner?
Yes. You can complement purple shampoo with purple conditioner to enhance your blonde shade and add shine.