8 Best All-Natural And Safe Shampoos To Use During Pregnancy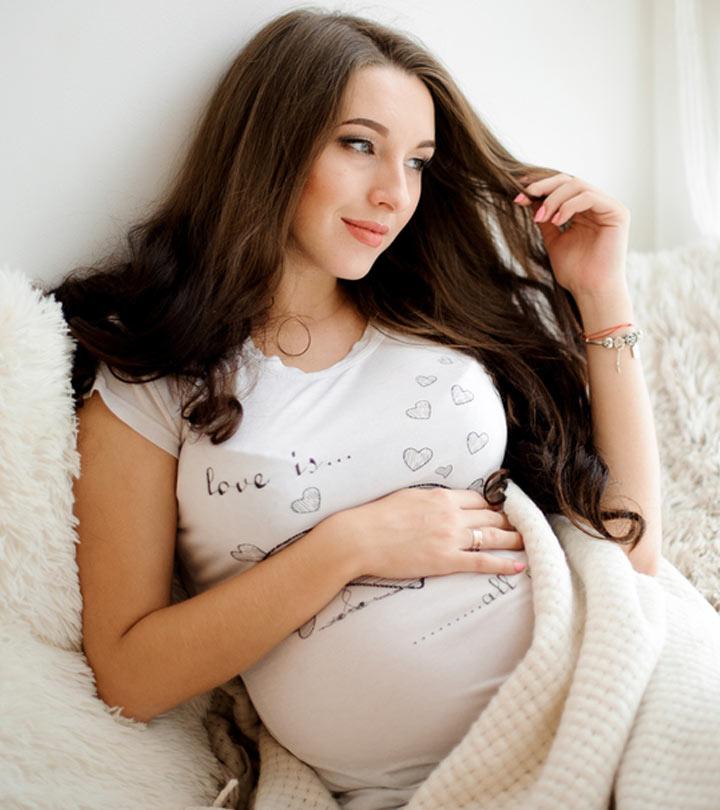 A woman's body goes hormonal changes during pregnancy, which not only affects her food habits and moods but also impacts skin and hair. As much as it is vital to eat the right kind of food during pregnancy, it's equally (rather more) important to be wary of the sort of products you use on your skin. Studies show that due to the higher levels of estrogen in a woman's body during this period, hair can grow thicker and longer. But while some women may have thick, lustrous hair, others may experience greasy or dry hair, and even hair shedding.
Whether your hair is showing signs of good health or losing its luster, it's essential to use the right hair cleansing products to keep your locks healthy. Shampoos are known to have a considerable impact on your hair. But, most shampoos are known to contain ingredients and chemicals that may be too strong for your sensitive skin, and some experts claim that it may also be harmful for your soon-to-be-born baby. At this point, it becomes all the more important to choose a shampoo that is mild, fragrance-free, and does not contain harsh chemicals. We have compiled a list of the 8 best shampoos available on Amazon, all of which are pregnancy-safe. Take a peek!
8 Best Pregnancy-Safe Shampoos of 2020
A shampoo that contains no toxic chemicals definitely deserves a spot in your bathroom cabinet. The best thing about this product is that it is natural,plant-based, and specially formulated for pregnant women. One of the main ingredients used is aloe vera extract, which leaves your hair soft and hydrated! The addition of fruit extracts and botanical oils makes it mild but helps remove dirt and oils without damaging dry and sensitive scalp and hair. It doesn't contain sulfate and paraben, which could be harmful to you. So, no matter the kind of scalp you have, it can be your go-to shampoo throughout your pregnancy, and after giving birth, too.
Pros
Contains essential oils
A mild and refreshing scent
Plant-based ingredients
Suitable for sensitive skin
Prevents irritation
Sulfate-free
Paraben-free
Adds volume to your hair
Cons
Needs to be used along with a conditioner for best results
Similar Products
Nine Naturals Nourishing Pregnancy Shampoo is one of those plant-based products you will fall in love with instantly! Why is that? One of the main problems that pregnant women experience is dull and greasy hair. This shampoo works to repair and perk up grumpy hair with soothing peppermint, lime, and lemon. The citrus-mint fragrance acts as a great mood booster and helps fight nausea and fatigue. It is sulfate-free, paraben-free, phthalate-free, and does not contain petrochemicals, synthetic fragrances, or artificial preservatives. But that's not all! Additionally, vitamin B5 strengthens and helps prevent split ends, while organic jojoba seed oil and shea butter boost shine and seal moisture. This gentle shampoo is suitable for all hair types and safe for color-treated hair, too.
Pros
Plant-based product
Refreshing citrus and mint scent
Chemical-free
No artificial preservatives
No synthetic fragrances
Mood booster
Prevents split ends
Locks in moisture in the hair
Ideal for all hair types
Cons
The shampoo doesn't rinse out easily
Slightly expensive
Similar Products
Best for a dry scalp, this organic seeds shampoo by Whamisa is as lush as it gets. Don't we all love a good shampoo that is organic, natural, and vegan? This shampoo is all that and more. Composed of 28 carefully selected natural ingredients, it keeps your scalp and hair hydrated and nourished. With the pH level at 4.5, it offers gentle cleansing and leaves your hair soft and healthy. While ingredients like barley, soy and aloe extracts deeply condition hair and moisturize the scalp, the oat ferments and natural cedarwood have hair strengthening properties. This shampoo is free from chemicals, artificial dyes and fragrances, silicon, mineral oils, and animal origin ingredients. It is pregnancy-safe and recommended for normal and dry hair.
Pros
2% organic
Natural and vegan
Mild
Strengthens hair
Chemical-free
No artificial dyes and fragrances
Mineral oil-free
Suitable for normal and dry hair
Silicon-free
Includes unique fermented ingredients
BDIH certified, and EWG verified
Cons
Similar Products
If you're looking for a shampoo that is organic and natural, and does not include a trace of harmful toxic chemicals, Christina Moss Naturals Hair Shampoo is your go-to product! To begin with, it contains certified organic and plant-based ingredients and is eco-friendly, vegan, chemical-free, and GMO-free – something a pregnant woman should look for in a hair care product. Enriched with the goodness of coconut oil, aloe vera, and shea butter, it softens, soothes, hydrates, and gently removes oil and dirt without stripping, drying up, or leaving build-up in your hair. Additionally, olive oil works as an antioxidant, which helps prevent or reverse damage from ultraviolet radiation. It is a hypoallergenic, fragrance-free formula that does not contain toxic anesthetizing ingredients (tear duct numbing agents), making it baby-safe, too!
Pros
Certified organic
No harmful chemicals
Contains essential oils and fatty acids
Includes plant extracts
No animal testing
Environment-friendly
GMO-free
Vegan
Ideal for all hair types
No accumulation of build-up
Hypoallergenic
Suitable for babies
Cons
Similar Products
Pregnant women often complain of excess hair loss, especially after giving birth. This is a time when the body produces extra hormones, resulting in mood swings. To combat that, we recommend Majestic Pure Hair Loss Shampoo. It is well-known for its 14 DHT blockers (DHT is a hormone that shrink follicles and cause hair loss) that offer perfect herbal and natural nourishment, along with strengthening hair follicles. It's undoubtedly a gentle and fortified formula! It also contains natural ingredients such as argan oil to prevent dryness, biotin to stimulate hair growth, niacin to increase circulation, and various other botanical extracts that promote healthy hair.
Pros
Contains botanical extracts
No harmful chemicals
14 DHT blockers
Stimulates hair growth
Sulfate-free
Can be used by men and women
Paraben-free
Gluten-free
Free from harsh chemicals
Cons
The shampoo is a watery consistency
Similar Products
If you are looking for a pregnancy-safe, argan oil-infused shampoo which is also  budget-friendly, Brooklyn Botany Moroccan Argan Oil Shampoo is the one for you. Often referred to as liquid gold, argan oil is extremely rich in nutrients like vitamins A, C, and E, as well as loaded with antioxidants, linoleic acid, and omega-6 fatty acids, which makes it an excellent ingredient to be included in your hair care routine. This sulfate-free shampoo combines avocado oil, jojoba oil, camellia seed oil, botanical keratin, almond oil, and coconut oil along with argan oil to repair, nourish and hydrate damaged and dehydrated hair. Finally, you can say goodbye to your dry hair days!
Pros
100% argan oil
No harmful chemicals
Blend of various herbal oils
Repairs dry hair
Hair volume increases
Affordable
Sulfate-free
Cruelty-free
Cons
Some may find the scent too strong
When you have aloe vera extract listed as one of the main ingredients, rest assured that this shampoo will leave your hair noticeably smoother and shinier. Using aloe vera instead of water, this hair thinning therapy shampoo by Pura D'or promotes hair growth, but it's full of other key active natural ingredients, too. The combination of 15 active DHT blockers like He Shou Wu and nettle extracts create healthier, thicker-looking hair, while a blend of natural oils and extracts, which includes amla oil, argan oil, black cumin seed, biotin, green tea, and many others work together to treat thinning, damaged, and color-treated hair. This is a clinically tested formula proven to help strengthen, minimize breakage, and reduce hair thinning. Moreover, it is hypoallergenic, color-safe, vegan, gluten-free, cruelty-free, and contains no harmful chemicals whatsoever.
Pros
Sulfate-free
Paraben-free
Clinically tested formula
Hypoallergenic
Vegan
Gluten-free
Works on color-treated hair
Reduces hair breakage
Contains 15 DHT blockers and botanical extracts
For both men and women
Cons
Does not lather well
Some may not like the strong medicinal smell
With an idea to create excellent products for color-treated hair, Pureology was founded in California in 2001 and there has been no looking back since. The Pureology Hydrate Shampoo is a perfect option for anyone experiencing dry and damaged hair due to coloring and other chemical treatments. This sulfate-free hydrating shampoo combines proteins of soy, oat, and wheat with jojoba, green tea, and sage to condition and helps strengthen, rebuild and repair weakened hair. The advanced micro-emulsion technology deeply hydrates hair, and the brand's exclusive AntiFade Complex protects color vibrancy. Wait, there's more! The product's signature aromatherapy blend of ylang-ylang, bergamot, and patchouli scents will leave you smelling divine. All in all, this award-winning shampoo keeps your hair healthy and soft!
Pros
Sulfate-free
Includes AntiFade Complex
Formulated for color-treated hair
Hydrates hair
100% vegan
Aromatherapy scent
Repairs weakened hair
Concentrated shampoo
Contains natural extracts
Sustainable packaging – Made of 95% post-consumer recycled materials
Value for money
Award-winning shampoo
Cons
For some, the aromatherapy fragrance could be overwhelming
You might be wondering how something as harmless as a shampoo, which is applied and washed off immediately, can be harmful to you. But various studies have proven that commercial shampoos contain chemicals such as paraben, sulfate, and phthalates, which can be toxic during pregnancy as it gets absorbed by the skin and makes its way into your bloodstream. Now, this can be damaging to your highly sensitive skin and can also affect your unborn baby's wel-lbeing. With that in mind, we have handpicked these 8 best shampoos specially formulated for expectant mothers – they are non-toxic and all-natural.
Have you made your choice from the list provided? Do you have other products that you would like to add to our list? Let us know by leaving a comment below!
Recommended Articles: