10 Best Detangling Brushes For Curly Hair To Swear By In 2022
Good detangling brushes to help you manage your curls and tackle all the knots and tangles.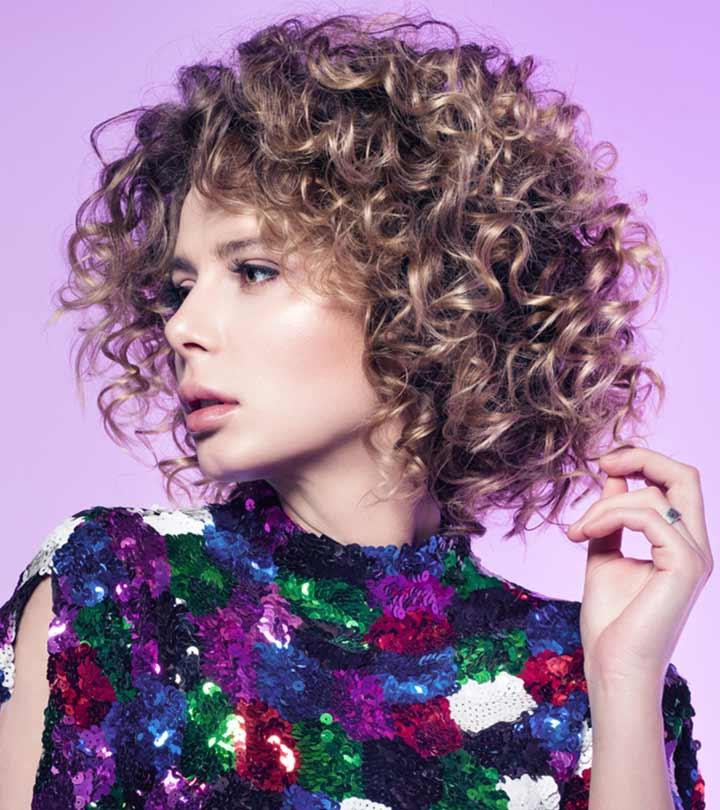 Have your gorgeous curls even been called the Bermuda triangle because brushes just get lost in them, and untangling them is a nightmare? If yes, we understand why you are searching for the best detangling brushes for curly hair. Curls are gorgeous, and most people envy them because they simply can't have them. But managing is a different ball game, probably because someone cast the "evil eye" on them. Jokes apart, maintaining curls can be woeful without the proper care. To learn more, head on down to our list and check out the best detangling brushes for curly hair!
10 Best Detangling Brushes For Curly Hair Of 2022
If you have a head full of curly hair, you should make this popular hair brush, the Tangle Teezer, your wash-and-go buddy. A perfect handbag-friendly hair styler, this detangling hair brush is designed for textured and long, thick curly hair. This detangling brush is useful for both wet or dry hair. With the help of its 2-tiered firm-flex teeth, it leaves your curls tangle-free and adds impressive volume. Its long, soft teeth detangle knots and help in reducing breakage. On the other hand, the short teeth help you achieve smooth, glossy, frizz-free hair. The popular hair brush also massages the scalp for healthier follicles. Here's a personal review video to help you get a better understanding of the product.
Pros
Palm-friendly size
Detangles both wet and dry hair
Reduces breakage
Available in many colors
Cons
It doesn't come with a cover.
Price at the time of publication: $12.49
This classic styling brush is a popular choice among curly-haired beauties. It detangles even the unruliest of manes in seconds and can be used for blow-drying sessions and styling as it defines your curls, giving a smooth and glossy look. The brush features 7 rows of soft, round-ended pins, which reduce the chances of hair getting snagged and breaking. Its unique staggered pin pattern offers maximum grip and tension while combing. It's smooth nylon pins are anti-static, and the natural rubber pad makes it ideal for shaping, smoothing, and polishing the hair. Click here to check out a detailed personal review of this product.
Pros
Lightweight
Optimum grip and control
Suitable for all hair types
Long handle
Non-slip grip handle
Cons
It may not be well-suited for 4C type hair.
Price at the time of publication: $18.83
With the Crave Naturals Glide Thru Detangling Brush, wave hello to knot-free and healthy-looking hair. This daily detangler hair brush can be the best friend for natural, curly, straight, wet, or dry hair. It is equipped with beadless flexible bristles that are gentle on the scalp and glide through hair. Its cone-shaped, trademarked Real-Flex plastic bristles gently unravel the tangles by separating the hair sideways. Moreover, it gently smooths the cuticle layer, which increases the overall shine. To understand the nuances of the product in detail, you can check out this review.
Pros
Suitable for all hair types
Works on wet and dry hair
Gentle on the scalp
Cons
Its flexible bristles can take more time and effort to brush long hair.
Price at the time of publication: $11.99
Stay on trend with the Wet Brush Original Detangler hair brush. Its ultra-soft IntelliFlex bristles allow it to glide through tangles without causing pain and breakage. Be it curly or straight, long or short, thick or fine, wet or dry hair, this brush works wonder on all hair types. The hair brush is designed to protect hair against split ends and breakage as it lets you brush your hair in gentle strokes. As you brush your hair regularly with this brush, it will leave your tresses looking healthy and shiny.
Pros
Ideal for all hair types
Reduces breakage
Avoids forced brushing
Enhances shine
Cons
Some may find the handle too short.
Price at the time of publication: $13.0
Does your long, thick curly hair give you a hard time? Try using a curved and vented detangling boar bristle detangling hair brush. This set of 2 impressive brushes work wonders on unruly curls, leaving them tangle and knot-free. These brushes work like a pro and promote hair growth as it stimulates natural oils from the scalp making your hair look voluminous. Its curved and oversized head makes it apt for all hair types. Moreover, using it with a blow dryer will give you quick-drying results.
Pros
Flexible head
Boar bristles
Curved design
Anti-slip grip
Cons
May not be travel-friendly.
Price at the time of publication: $19.97
You can always count on some cutting-edge technology to tame your unruly mane. Yes, you read it right. With the Remington electric detangling hair brush, you can comb away even the knottiest of knots without any pain. Hold the comb in place, and let it work its magic for you! Simple to use, the battery-powered brush is like a classic styling brush that glides through wet or dry hair and smoothes out all tangles effortlessly. This little gadget will reduce your hair-brushing time significantly to detangle your fussy locks.
Pros
Gentle on the scalp
Cordless
Wet and dry use
Comes with cover
Easy to carry
Cons
It may require frequent charging
Price at the time of publication: $19.08
Make your brushing experience soothing one with the Osensia Detangling Flexi Brush. This daily detangling brush comes with an anti-slip rubber handle, making it easy to use. The brush offers a smooth gliding movement, unlocking the knots without any pulling or snagging. Its nylon bristles are infused with 17 rare elements that help protect, hydrate, and nourish your hair. The detangler brush's flexible head bends as per your head shape and gives you a soothing scalp massage with swift yet soft brush strokes.
Pros
Retains moisture
Unisex
Glides through toughest locks
Promotes hair growth
Eliminates breakage
Anti-slip rubber handle
Cons
Some may find the bristles slightly sharp.
Price at the time of publication: $13.99
This FlexiGlide hair brush is ideal for detangling wavy, curly, coily/kinky hair. Its sleek design makes it durable and lightweight when compared to other brushes in the same category. Its resistance to high temperatures makes it fit for use while styling with a blow-dryer. FlexiGlide Octopus design head has 8 individual bristle detangling comb rows, making it flexible to bend and tackle unruly knots with ease. The non-slip rubber handle offers a comfortable grip and tension while combing.
Pros
Durable
Lightweight
Flexible brush head
Anti-static bristles
Resistant to high heat temperature
Cons
It may not be suitable for those with a sensitive scalp.
Price at the time of publication: $10.99
This hair brush for curly hair is the perfect solution for kinky/medium and tight curls. The brush will detangle your hair without any damage. Although it is lightweight, it's a durable brush and is easy to use and clean. Its flexible silicone bristles work actively towards massaging your scalp and reinvigorating your hair follicles. For best results, use this detangling brush after applying some hair conditioner. Owing to its unique cushion design, it helps get rid of bacteria and product residue when bathing.
Pros
Lightweight and easy to clean
Perfect for sensitive scalps and stubborn knots
Durable
For wet and dry hair
Perfect for shower use
Cons
Some may find the brush rather bulky.
Price at the time of publication: $24.11
Fight away stubborn knots and detangle your hair in seconds with the help of a Janeke Superbrush. This patented wet-to-dry styling brush helps detangle stubborn knots while stimulating the scalp. It distributes natural oils from root to tip and rejuvenates the scalp. The long and flexible nylon bristles distribute hot air evenly, making the process quick without causing heat damage. Ideal for hair types ranging from 3A to 4C, this brush helps eliminate static, making your hair thicker and healthier. It also works wonders on wigs, weaves, and hair extensions.
Pros
Suitable for all hair types
Ideal for wet and dry hair
Speeds up blow-drying process
Lightweight
Anti-static
Patented hair brush
Cons
Some may find the handle too short.
Price at the time of publication: $16.95
These are the 10 best detangling hair brushes for curly hair you can buy before 2022 comes to an end. But wait, how will you select which one is the best for your hair type? Do you need to look at the bristles, or should you focus on its durability? Don't worry, we are here for you to answer all your queries. Before buying the best daily detangling brush for your curls, keep these following things in mind:
Points To Keep In Mind When Buying A Detangling Brush For Curly Hair
Choose the bristles wisely
Detangling brushes for long thick curly hair come in 3 different types. One must choose them as per their hair type:
They are made from natural materials, which helps in reducing static. However, they may not be the best-suited curly hair.
Made of strong yet flexible materials like nylon, these are suitable for detangling thick and curly hair.
These bristles are made of wild boar hair. They are soft and suitable for fine hair. They detangle the hair smoothly by evenly disturbing natural oils from root to tip.
Pick a good detangling brush depending upon the length of the hair. For short and mid-length hair, opt for a palm-sized hair brush. They come with long, soft teeth that detangle knots without causing breakage. Long hair needs to be tackled with brushes with long handles for a non-slip grip. If the brush is too small, your hair might get stuck in between the bristles.
Always look for a brush that glides effortlessly through your hair and reduces breakage. Opt for a brush that works for curly and dry hair. Brushes designed for both wet and dry hair are incredibly gentle and do not cause unnecessary wear and tear.
Why Trust StyleCraze?
Our skin and hair care aficionado, Vaishnavi Kothuri, has presented this list of the best detangling brushes in the market. She selected these products after scouring numerous product listings and user reviews on trustworthy websites. Sneha has described each product and has provided a buying guide to help in your search for the ultimate solution for tangled hair.
Frequently Asked Questions
Is detangling good for curly hair?
Yes, however, you should detangle your curly hair while it's wet. Avoid detangling your hair when it is dry, as it causes a lot of breakage. To detangle your hair, apply a generous dose of conditioner. Work in sections and use a wide-tooth comb to loosen tangles gently.
Are boar bristle brushes good for curly hair?
Boar bristle brushes are considered a good choice for curly hair because of their soft bristles that glide through the hair without causing much breakage. However, this brush is not best for wet hair or during styling.
Why does curly hair knot so easily?
Curly hair tends to be dry and tangles easily. To keep your hair happy, make sure your scalp is kept well-hydrated.
Should I detangle my curly hair every day?
Ideally, people with curly hair should detangle their knots at least once a week. To keep your curls happy, detangle them when they are wet.
Should you detangle curly hair wet or dry?
The best time to detangle knots in curly hair is when they are wet.
What is the best way to detangle curly hair?
•  Detangle your hair when it is damp.
•  Use a conditioner that makes the detangling process easy.
•  Use a wide tooth comb or fingers to comb through knots and smoothen your curls.
•  Begin combing from bottom to up to prevent hair fall.
What kind of brush works best to detangle very thick, curly, and long hair?
The Tangle Teezer thick and curly detangling hairbrush loosens knots and tangles on wet or dry hair. It smoothes, detangles, and adds shine to your thick, curly, and long hair.
Recommended Articles
How To Brush Your Hair The Right Way