11 Best Sea Salt Body Washes For A Refreshing Shower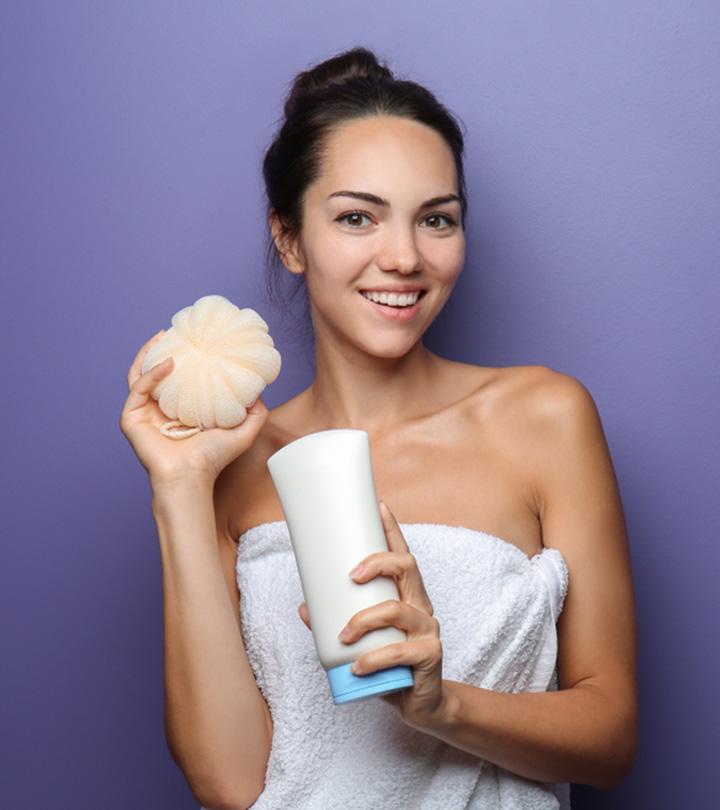 Over the past year, with the rising pandemic, it has become imperative to soak in every self-care routine you come across. Whether it is binging on your favorite show or soaking in a bath infused with your favorite essential oils, taking some time out to care for your body and mind is truly relaxing. So, when it comes to a relaxing bath, why not top it off with a luxurious sea salt body wash? Sea salt-infused body washes draw out toxins and impurities from your body, leaving it squeaky clean, and soft. It is also rich in mineral content that helps restore the body's natural barrier while hydrating and moisturizing the skin.
If you've meant to add a body wash with sea salt to your skincare routine and don't know where to start, we suggest right here! Take a look at our list of 11 best sea salt body washes designed to make you feel like you are frolicking in the ocean or lounging away at a luxurious spa. Keep reading to learn which body wash with sea salt is best suited for your unique skin.
Draw Out Impurities With The 11 Best Sea Salt Body Washes
Enjoy this refreshing body wash with sea salt, a layered and complex formulation that evolves with every wash. The rich formula is infused with natural extracts like grapefruit and mandarin, along with sea salt to exfoliate dead skin cells, leaving it smooth and supple. The body wash provides a gentle exfoliating experience that helps tame dry, rough skin patches. The concentrated formula also leaves your skin feeling moisturized without any waxy residue.
Pros:
Fresh citrus scent
Gentle exfoliating formula
Long-lasting fragrance
Moisturizing
Cons:
If you are looking for a luxurious liquid body soap that provides gentle exfoliation, this is the sea salt body wash for you. The OGX Rose Water & Pink Sea Salt Scrub & Wash cleanses your skin with a rich formula infused with rosewater, rose quartz, and pink sea salt. The gel foams into a rich lather with every wash and results in soft, smooth skin. The sea salt exfoliates your body, while rosewater hydrates your skin. You don't have to worry about your skin drying out because the body wash has no harmful sulfates.
Pros:
Infused with rose water and pink sea salt
Foams into a rich, sumptuous lather
No sulfates
Hydrating
Cons:
Fragrance may be overpowering for some
This refreshing salt body wash is perfect for men and women. You will experience refreshed and clean skin with every wash. The body wah formula contains plant-based ingredients like coconut extract, Himalayan sea salt, and citrus essential oils. The gel formula, along with the natural elements, exfoliate and purify your skin. Since the body wash has a pH level of 5.5, it is suitable for people of all ages and skin types.
Pros:
No parabens or sulfates
Suitable for all skin types
Includes plant-based ingredients
Provides hydration
Cons:
It may not offer a rich lather
This Dead Sea salt body wash is perfect for people with dry skin. This is because it is infused with coconut oil and sea salt, so it will exfoliate without stripping your body of any moisture. The formula is quite gentle and will leave you feeling hydrated, clean, and fresh. The sea salt body wash removes any dirt, oil, and impurities that settle on your skin through the day, and the coconut oil keeps your skin soft.
Pros:
Moisturizing
Suitable for dry skin
Cruelty-free
Hydrating formula
Cons:
Not suitable for oily skin type
Whether it's a post-gym shower or a self-care bath, you must add this sea salt body wash to your shower caddy! This gel-based body wash features Australian sea fennel and salted cypress that provide a refreshing scent and feel with every wash. The body wash also includes cardamom, marine, and blue cypress notes that leave you feeling sea-soaked and reinvigorated. So, what are you waiting for? Your path to beautiful, soft skin is only one body wash away!
Pros:
Refreshing fragrance
Natural ingredients
Cruelty-free
Suitable for sensitive skin
Cons:
It may be mild for dry skin
This vitamin E and sea salt-enriched body wash is the perfect product if you look for an exfoliating body wash that leaves your skin moisturized and supple. The formula is free from any harmful parabens and mineral oils, and it has a bubbly texture that will make you feel like you are at the beach, frolicking in the ocean. The gel-based formula is gentle and perfect for sensitive skin types.
Pros:
Suitable for sensitive skin
Gel-based formula
Refreshing fragrance
Moisturizing
Cons:
May not provide a rich foamy lather
The St. Ives Sea Salt Body Wash has to be a cult favorite with refreshing exfoliating body washes. On days where you feel exhausted to step out of the house, you can use this body wash and send your senses to the ocean right from your bathroom. The formula is infused with sea salt and kelp extracts, which gently cleanses and rejuvenates the skin's surface. Also, this pacific kelp exfoliating body wash is dermatologist tested and paraben-free, so you don't have to worry about any adverse reaction on your skin.
Pros:
Paraben-free
Cruelty-free
Natural ingredients
Dermatologist tested
Suitable for sensitive skin
Cons:
May leave a grimy residue
Visibly transform your dry, rough, flaky skin with this body wash with sea salt. The Olay sea salt body wash formulas consist of vitamin B3 complex and seas salt that helps cleanse the skin and transform it. The formula of this good exfoliating body wash also has a lock-in-moisture technology that goes deep within the skin to keep it hydrated. With consistent use, you will notice that the body wash leaves your skin feeling smooth and healthy.
Pros:
Provides a creamy lather
Incredibly moisturizing
Suitable for dry skin
Gentle exfoliation
Cons:
May not suit oily or acne-prone skin
If you are looking for an ultra-moisturizing body wash that purifies and hydrates, you must try Dr Teal's Deep Marine Sea Kelp Body Wash. The refreshing formula consists of lemongrass, shea butter, vitamin E, magnesium, aloe vera, and sea kelp, which helps nourish and cleanse your skin. The magnesium does a great job at relaxing tired and achy muscles. So, the next time you are looking to soak in your bathtub, ensure that you add this body wash for a spa-like experience.
Pros:
Help revive muscle ache
Refreshing scent
Gentle exfoliation
Ultra-moisturizing
Cons:
It may not be suitable for daily use
If you want a spa-like experience without leaving your home, this body wash is the perfect one for you. Whether you wish to use it in the shower or the bath, it will replenish, cleanse, and exfoliate your skin. The formula is made from concentrated dead sea minerals, which come in an easy-to-use gel form. It also includes magnesium, calcium, and potassium that help relax muscle tension. If this was not all, its formula is also hypoallergenic, vegan, and paraben-free.
Pros:
It helps relax muscle tension
Provides gentle exfoliation
Gel formula
Travel-friendly
Hypoallergenic
Vegan, and paraben-free
Cons:
May cause an allergic reaction in rare cases
Cleanse and rejuvenate your skin with this refreshing body wash! This versatile product can be used as a hand soap or a body washes because of the convenient pump that comes with the bottle. The formula is made from vegetarian products like coconut oil, castor oil, olive oil, sea salt, citrus essential oils, and sea salt. Together they moisturize and hydrate skin, so you feel refreshed and relaxed. The body wash also contains essential oils that provide an invigorating scent, which lasts on your skin for hours after every wash.
Pros:
Vegetarian ingredients
Suitable for dry and rough skin
Versatile
Refreshing scent
Cons:
It May be harsh on sensitive skin
Now that you are aware of the 11 best sea salt body washes, let's look at some essential factors you must keep in mind before investing in the perfect one.
Buying Guide For Selecting The Best Sea Salt Body Wash
How To Choose Sea Salt Body Wash?
When choosing any body wash, the first factor you must remember is your skin type. If you have oily or sensitive skin, you will want a cleansing body wash that offers mild exfoliation. The body wash should clean out oil and dirt from your pores and not leave you feeling greasy or cause breakouts. On the other hand, if you have dry skin, you must look for body washes that offer moderate exfoliation while hydrating your skin.
If you are looking for formulas that hydrate and cleanse, look for cream or gel formulas. These body washes will provide a rich lather as well. If you are looking for formulas that cleanse and leave you feeling fresh, then look for gel-based formulas as they leave your skin feeling clean and rejuvenated.
It's always recommended that you look for body washes with natural or plant-based ingredients, without parabens or sulfates. They are easy on the skin, and the chances of having any allergic reactions are pretty low.
How To Use Sea Salt Body Wash?
Step 1 – Squeeze the body wash onto a natural sponge or loofah
Step 2 – Apply it onto your skin until it lathers, and then rinse it off.
Step 3 – If you want to use it for a bath, add the formula to running water for a foaming effect.
Sea Salt Body Wash Benefits:
Sea salt body washes are laden with benefits for your skin; some of them are:
It helps cleanse your pores from dirt and grime
Balances oil production
Retains skin's moisture
Discourages bacterial growth
Naturally exfoliates the skin
People love using body washes because it's convenient to use while offering a refreshing experience. All you have to do is squeeze the required amount onto a loofah and apply it to your skin. The rich lather, gentle exfoliation, and exotic scents provided by a sea salt body wash can take your whole self-care routine to the next level. Hopefully, our list of the 11 best sea salt body washes will help you decide on the perfect product for you. If you still have trouble making a decision, you can always browse through the buying guide before adding the perfect one to your cart.
The following two tabs change content below.