The 11 Best Antibacterial Soaps Of 2022 To Buy Right Now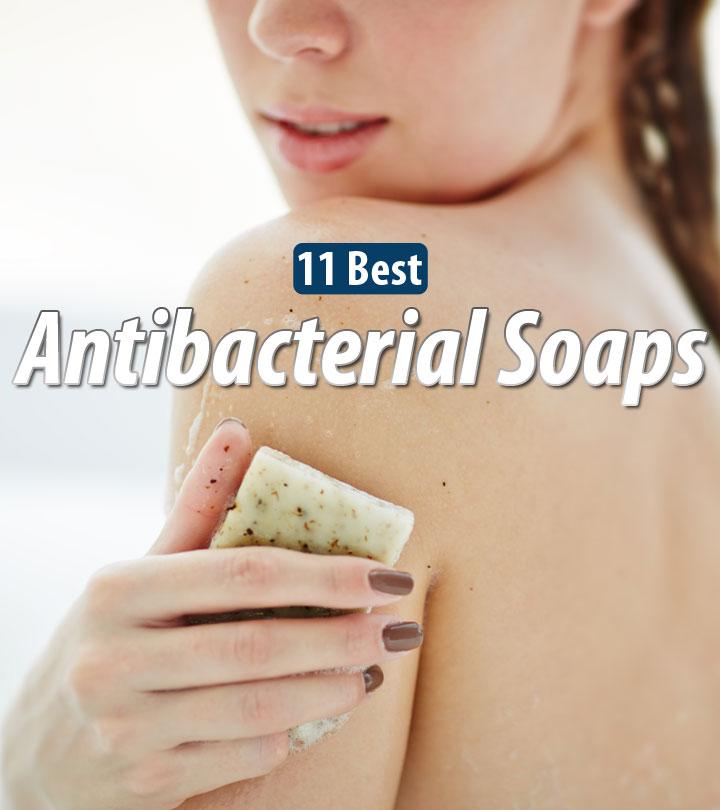 Having the best antibacterial soap in your bathroom is essential to your skin health. These soaps get rid of body odor, remove soil, oil, and dirt, and most importantly, protect your body from bacteria. The perfect antibacterial soaps retain the moisture in your skin, stopping it from drying out quickly like regular soaps. If you haven't bought one, it's time you do so! Check out our list of antibacterial soaps to keep your skin healthy and germ-free. Scroll down to take a look at what they are!
The 11 Best Antibacterial Soaps Of 2022
This soap contains natural tea tree oil and eucalyptus oil and can wash away bacteria and germs effectively. It does not harm the natural barrier of your skin. It clears dead skin cells, sebum, and oil build-up and is great for those who have rashes and itchy skin.
Note: Avoid this soap if you are allergic to tea tree oil or essential oils.
Pros
Clinically proven
Hypoallergenic
Safe scents
Fragrance-free
Dye-free
Petrochemical-free
SLS-free
Alcohol-free
Cons
Tea tree oil may cause dryness.
This is a natural zinc soap with antibacterial and antifungal properties. It is suitable for all skin types, including sensitive skin, and also helps reduce acne, itching, redness, and scaly skin. It contains antioxidants that calm the skin.
Note: Avoid this soap if you are allergic to oils.
Pros
Contains emu oil and olive oil
Chemical-free
No chemical lathering agents
Contains oatmeal
Low comedogenic
Handmade
Contains natural ingredients
Cons
The Safeguard Antibacterial Soap helps keep your skin young-looking, clean, and fresh. It contains triclocarban that eliminates up to 99% bacteria, dirt, and odor.  This product retains the natural moisture of your skin and makes it healthy.
Pros
Claims to eliminate up to 99% bacteria
Non-drying
Pleasant fragrance
Does not tighten the skin
Cons
This is an antibacterial liquid soap that claims to clear skin irritation and infections caused by bacteria and germs. It protects your skin and is extremely gentle. It is very effective for hand washing and skin cleansing.
Note: Consult a doctor before using this soap as it contains chlorhexidine that might cause allergic reactions.
Pros
Recommended by pharmacists
Kill germs in 24 hours
Kills 99% germs
Dermatologically testedBest Dermatologist-Tested Formula:
Works for acne and fungal infections
Cons
Cetaphil is one of the most popular skin care brands. This soap is specially made for those with dry and sensitive skin. It has a non-soap formula and is milder than any other antibacterial soap. It cleans your skin and keeps it hydrated. It is suitable for all skin types and can also be used on rosacea and eczema-prone skin. Click here to check out this YouTuber's unbiased review.
Pros
Non-comedogenic
Detergent-free
Soap-free
Mild
Pleasant fragrance
Affordable
Cons
The fragrance can be an issue for some.
This soap is developed with antibacterial deodorant protection technology that kills odor-causing bacteria and keeps you feeling fresh all day long. It forms a creamy lather that washes away germs and keeps your skin hydrated, moisturized, smooth, and soft.
Pros
Contains benzalkonium chloride
Mild fragrance
Cons
May feel a little bit drying (unlike claims)
This antibacterial soap kills odor-causing bacteria to keep you smelling fresh all day long. The relaxing fragrance of lavender and the mood-boosting fragrance of twilight jasmine provide an indulging experience every time you use the soap. Here's a personal review video to help you get a better understanding of the product.
Pros
Contains benzalkonium chloride
All-day odor-control
Cons
This soap is infused with the power of five essential oils like lemongrass, eucalyptus, sweet orange, lime, and tea tree that effectively cleans your skin while keeping it healthy. Its potent antimicrobial property washes away bacteria and fungus to protect the skin against common concerns like ringworm, athlete's foot, facial acne, itchy feet, etc. In addition, it has vegetable glycerin that provides intense moisturization to your skin.
Pros
Non-drying
Paraben-free
Sulfate-free
Triclosan-free
Fragrance-free
Value for money
Cons
None
This is an extra-strength no-residue soap that claims to keep germs and bacteria away from your skin. It contains honeysuckle and lemon peel extracts and essential oils that keep your skin clean without irritating it.
Pros
Organic ingredients
No synthetic fragrance
No colorants
No preservatives
Cons
None
This antibacterial soap is designed to keep germs away from your skin. It is suitable for all skin types and can be used by people of all ages. It contains aloe vera extracts and has skin conditioning effects. It does not make your skin excessively dry.
Pros
Paraben-free
Sulfate-free
Cons
None
Dettol is a widely trusted brand, and this soap promises complete germ protection. It has a zesty orange fragrance that freshens up your mood and your skin and makes you feel re-energized. It keeps your skin clean and healthy without drying.
Pros
Fresh fragrance
Recommended by doctors
Cons
None
This was our list of the top-rated antibacterial soaps. If you are wondering why to switch to these soaps, scroll down.
Benefits Of Using Antibacterial Soap Over Normal Soap
There are several benefits of using an antibacterial soap over any other normal soap bar. These are:
It Helps Prevent Bacterial Infection
Antibacterial soaps contain ingredients that are meant to prevent bacterial growth. This helps to prevent skin issues caused by disease-causing bacteria. Also, when you clean your hands with antibacterial soap, it prevents the transfer of germs and bacteria to your mouth. It also prevents/controls acne and pimples by killing bacterial growth.
It Prevents Excessive Dryness
Antibacterial ingredients can be drying. However, to counter that, antibacterial soaps often contain hydrating ingredients, such as oils, that keep your skin soft.
It Won't Clog Your Skin Pores
This is because most of the antibacterial soaps contain medical-grade and non-comedogenic ingredients that keep the skin pores clean and prevent clogging.
If you are wondering why some soaps are antibacterial while others are not, the answer is quite simple. The ingredients in antibacterial soaps are different from those in any other commercially available soap. These ingredients or chemicals are claimed to prevent the growth of bacteria.
However, the US Food And Drug Administration (FDA) states that any soap is good to keep the germs and bacteria away from your skin (1). Some antibacterial soaps are meant for specific skin conditions, such as acne. Hence, in such cases, using antibacterial soaps often helps you deal with the skin issue.
However, if it is just about keeping your skin clean, any regular soap is good enough. Whether you are using regular soap or antibacterial soap, as long as you maintain personal hygiene, you have no cause for worry.
Why Trust StyleCraze?
Shiboli Chakraborti, the author of this article, is a certified skin care coach who loves to try out various skin care products. She researched many products thoroughly and read several user reviews online to collate this list of the best antibacterial soaps. These soaps are the best way to protect your skin from bacterial infections and moisturize the skin. They also cleanse the skin effectively and keep you smelling fresh all day long.
Frequently Asked Questions
Is antibacterial soap good for acne?
Yes, there are antibacterial soaps available for acne that can help heal them fast.
Is it OK to use antibacterial soap on your face?
Yes, only if it is recommended for the face and the body.
When and why should you use antibacterial soap?
If your doctor has recommended it for a specific skin condition or if you need an antibacterial soap for any specific skin issue, you can use it.