The 11 Best Antibacterial Soaps Of 2023 To Buy Right Now
Keep your skin healthy and infection-free with these effective cleansing bars!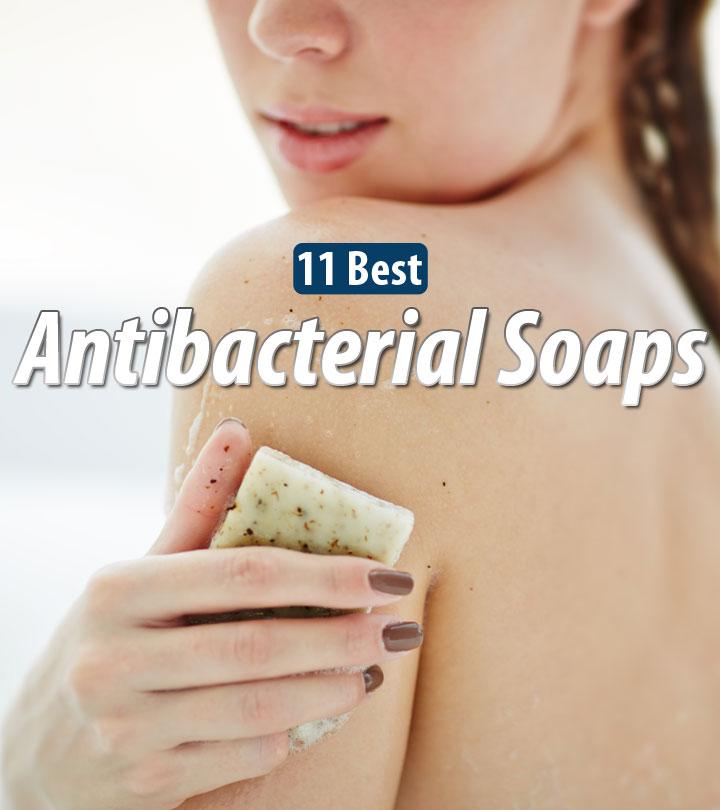 Having the best antibacterial soap in your bathroom is essential to your skin health. These soaps get rid of body odor, remove soil, oil, and dirt, and most importantly, protect your body from bacteria. The perfect antibacterial soaps retain the moisture in your skin, stopping it from drying out quickly like regular soaps. If you haven't bought one, it's time you do so! Check out our list of antibacterial soaps to keep your skin healthy and germ-free. Scroll down to take a look at what they are!
The 11 Best Antibacterial Soaps Of 2023
This soap contains natural tea tree oil and eucalyptus oil and can wash away bacteria and germs effectively. It does not harm the natural barrier of your skin. It clears dead skin cells, sebum, and oil build-up and is great for those who have rashes and itchy skin.
Dr. Schwarzburg, a leading authority in the field of minimally invasive cosmetic and laser medicine in New York City, suggests, "Always look out for the types of essential oils in your products. While they may seem natural and healthy, some may cause skin irritation on people with sensitive skin."
Note: Avoid this soap if you are allergic to tea tree oil or essential oils.
Pros
Clinically proven
Hypoallergenic
Safe scents
Fragrance-free
Dye-free
Petrochemical-free
SLS-free
Alcohol-free
Cons
Tea tree oil may cause dryness.
Price at the time of publication: $29.99
The Provon Antimicrobial Lotion Soap is an antimicrobial lotion soap with a good cleansing performance. It is designed to produce a creamy, moisture-rich lather that cleanses the skin without drying it out. The hydrating composition is perfect for keeping your skin clean and hydrated at the same time. It's designed with antibacterial deodorant protection technology, which removes odor-causing germs during every wash. It has a pleasant fragrance that keeps you feeling clean and fresh for a long time.
Pros
Vegan
Paraben-free
Cruelty-free
Kills bacteria
Kills odor
Pleasant fragrance
Affordable
Cons
None
Price at the time of publication: $9.23
The Derma Nu's Anti-Fungal Therapeutic Soap And Body Wash fights those annoying germs. An active lifestyle, whether at the gym, at work, or just going about your daily business, may lead to unpleasant body odor and irritate the skin, feet, and nails. This antimicrobial soap & body wash helps you get healthy skin while leaving you smelling great, thanks to its unique combination of essential oils. The proprietary combination of essential oils have been clinically shown to reduce itching, scratching, dryness, and inflammation of the skin. These oils include tea tree, peppermint, menthol, wintergreen, eucalyptus, and spearmint that work together and offer a soothing experience. The blend of tea tree oil and mint helps wash away bacteria. The soap has a relaxing scent and is good for all skin types.
Pros
Soothes dry, itchy skin
Safe for sensitive skin
Dye-free
Petrochemical-free
SLS-free
Paraben-free
Cruelty-free
Cons
None
Price at the time of publication: $17.87
This is an antibacterial liquid soap that claims to clear skin irritation and infections caused by bacteria and germs. It protects your skin and is extremely gentle. It is very effective for hand washing and skin cleansing.
Dr. Schwarzburg, a leading authority in the field of minimally invasive cosmetic and laser medicine in New York City, says, "If you see ingredients that you don't recognize, it is best to either consult with your dermatologist or look up the ingredient to make sure that it won't irritate your skin."
Note: Consult a doctor before using this soap as it contains chlorhexidine that might cause allergic reactions.
Pros
Recommended by pharmacists
Kill germs in 24 hours
Kills 99% germs
Dermatologically testedBest Dermatologist-Tested Formula:
Works for acne and fungal infections
Cons
Price at the time of publication: $14.5
Cetaphil is one of the most popular skin care brands. This soap is specially made for those with dry and sensitive skin. It has a non-soap formula and is milder than any other antibacterial soap. It cleans your skin and keeps it hydrated. It is suitable for all skin types and can also be used on rosacea and eczema-prone skin. Click here to check out this YouTuber's unbiased review.
Pros
Non-comedogenic
Detergent-free
Soap-free
Mild
Pleasant fragrance
Affordable
Cons
The fragrance can be an issue for some.
Price at the time of publication: $18.48
The Dial Gold Antibacterial Liquid Hand Soap eliminates 99.9% of germs that you get on your hands from public places. Every time you wash, it delivers a broad range of antibacterial action. Plus, it contains skin conditioning agents that keep your hands soft and smooth. It is light on the skin and efficient against gram-positive bacteria, gram-negative bacteria, fungi, and mold. It is designed for regular hand washing and comes in biodegradable and recyclable packaging.
Pros
Dermatologist-tested
Non-drying
Kills germs instantly
Biodegradable
Cons
None
Price at the time of publication: $19.59
This antibacterial soap kills odor-causing bacteria to keep you smelling fresh all day long. The relaxing fragrance of lavender and the mood-boosting fragrance of twilight jasmine provide an indulging experience every time you use the soap. Dr. Schwarzburg, a leading authority in the field of minimally invasive cosmetic and laser medicine in New York City, suggests, "An antiperspirant after you use this product will help keep your smelling fresh even once the product wears off." Here's a personal review video to help you get a better understanding of the product.
Pros
Contains benzalkonium chloride
All-day odor-control
Cons
Price at the time of publication: $15.19
This soap is infused with the power of five essential oils like lemongrass, eucalyptus, sweet orange, lime, and tea tree that effectively cleans your skin while keeping it healthy. Its potent antimicrobial property washes away bacteria and fungus to protect the skin against common concerns like ringworm, athlete's foot, facial acne, itchy feet, etc. In addition, it has vegetable glycerin that provides intense moisturization to your skin.
Dr. Schwarzburg, a leading authority in the field of minimally invasive cosmetic and laser medicine in New York City, says, "If you do have fungus, you should see a dermatologist or podiatrist to make sure that it is effectively removed, as fungus has the tendency to spread."
Pros
Non-drying
Paraben-free
Sulfate-free
Triclosan-free
Fragrance-free
Value for money
Cons
None
Price at the time of publication: $14.99
This is an extra-strength no-residue soap that claims to keep germs and bacteria away from your skin. It contains honeysuckle and lemon peel extracts and essential oils that keep your skin clean without irritating it.
Pros
Organic ingredients
No synthetic fragrance
No colorants
No preservatives
Cons
None
Price at the time of publication: $17.9
This antibacterial soap is designed to keep germs away from your skin. It is suitable for all skin types and can be used by people of all ages. It contains aloe vera extracts and has skin conditioning effects. It does not make your skin excessively dry.
Pros
Paraben-free
Sulfate-free
Cons
None
Price at the time of publication: $40.4
The Dettol Anti-Bacterial Bar Soap is an anti-bacterial bar soap that provides protection against germs also while nourishing your skin simultaneously. This soap is formulated with the trusted Dettol anti-bacterial protection to help you stay safe from a range of germs, including E. coli, salmonella, and staphylococcus. This soap is made of 80% naturally derived plant-based ingredients and glycerine that helps to add moisture and keeps your skin healthy.
Pros
Affordable
Dermatologically tested
Plant-based ingredients
Suitable for all skin types
Lightly scented
Cons
None
A great variety of antibacterial soaps are available in the market with different formulas. To get the best result, you have to make a clear choice among the antibacterial soaps offered by various brands. These soaps can cause dryness and irritation on the skin if used excessively. So, we provide a brief buying guide to help you select the best antibacterial soaps for your body.
Points To Consider Before Buying Antibacterial Soap
You can look out for organic ingredients in antibacterial soaps such as natural tea tree oil, eucalyptus oil, olive oil, benzalkonium chloride, lime, and glycerin. These ingredients help in killing bad bacteria and offer intense moisturization to your skin.
The most harmful ingredients that must be avoided are parabens, sulfates, triclosan, and any synthetic fragrance. You should also avoid drying soaps as they can affect your skin badly. If you are allergic to essential oils, then you should also avoid soaps with essential oils like rose, grapefruit, and lavender.
Antibacterial soaps contain antibacterial properties with natural ingredients for the purpose of killing bacteria in your skin. So, it would be a smart choice to choose dermatologically-tested antibacterial soaps that can protect you from commonly transmitted bacteria and help prevent illnesses.
People with skin conditions should consult their dermatologist before committing to a particular antibacterial soap.
Consider your skin type before choosing the ideal antibacterial soap. Choosing the wrong soap can clog your skin pores and have negative effects on your skin. If your skin is normal, go for soaps with ingredients like avocado oil, chamomile oil, or cocoa butter. For oily skin, unless you are allergic, you can go for soaps that include salicylic acid, benzoyl peroxide, oatmeal, sea salt, tea tree oil, and aloe vera.
If you have dry skin, go with the soaps that include glycerin, cocoa butter, coconut oil, olive oil, jojoba oil, and aloe vera. For sensitive skin, you must avoid soaps with artificial fragrances, alcohol, and sulfates. It is advised to choose soaps formulated with toxin-free ingredients for sensitive skin.
This was our list of the top-rated antibacterial soaps. If you are wondering why to switch to these soaps, scroll down.
Benefits Of Using Antibacterial Soap Over Normal Soap
There are several benefits of using an antibacterial soap over any other normal soap bar. These are:
It Helps Prevent Bacterial Infection
Antibacterial soaps contain ingredients that are meant to prevent bacterial growth. This helps to prevent skin issues caused by disease-causing bacteria. Also, when you clean your hands with antibacterial soap, it prevents the transfer of germs and bacteria to your mouth. It also prevents/controls acne and pimples by killing bacterial growth.
It Prevents Excessive Dryness
Antibacterial ingredients can be drying. However, to counter that, antibacterial soaps often contain hydrating ingredients, such as oils, that keep your skin soft.
It Won't Clog Your Skin Pores
This is because most of the antibacterial soaps contain medical-grade and non-comedogenic ingredients that keep the skin pores clean and prevent clogging.
If you are wondering why some soaps are antibacterial while others are not, the answer is quite simple. The ingredients in antibacterial soaps are different from those in any other commercially available soap. These ingredients or chemicals are claimed to prevent the growth of bacteria.
However, the US Food And Drug Administration (FDA) states that any soap is good to keep the germs and bacteria away from your skin (1). Some antibacterial soaps are meant for specific skin conditions, such as acne. Hence, in such cases, using antibacterial soaps often helps you deal with the skin issue.
However, if it is just about keeping your skin clean, any regular soap is good enough. Whether you are using regular soap or antibacterial soap, as long as you maintain personal hygiene, you have no cause for worry.
Why Trust StyleCraze?
Shiboli Chakraborti, the author of this article, is a certified skin care coach who loves to try out various skin care products. She researched many products thoroughly and read several user reviews online to collate this list of the best antibacterial soaps. These soaps are the best way to protect your skin from bacterial infections and moisturize the skin. They also cleanse the skin effectively and keep you smelling fresh all day long.
Frequently Asked Questions
Is antibacterial soap good for acne?
Yes, there are antibacterial soaps available for acne that can help heal them fast.
Is it OK to use antibacterial soap on your face?
Yes, only if it is recommended for the face and the body.
When and why should you use antibacterial soap?
If your doctor has recommended it for a specific skin condition or if you need an antibacterial soap for any specific skin issue, you can use it.
What is the difference between soap and antibacterial soap?
Antibacterial soaps usually kill disease-causing germs better than regular soaps. They are also more beneficial in treating sensitive skin conditions like dermatitis and rosacea. Antibacterial soaps mostly contain ingredients that are not included in regular soaps, such as benzalkonium chloride, benzethonium chloride, and chloroxylenol.
How long should I use antibacterial soap?
Antibacterial soaps with safe and mostly organic ingredients can be used daily. However, antibacterial soaps with chemical formulas are preferable only during times of higher risk. Regular soaps can work well for daily washing.
Is antibacterial soap safe during pregnancy?
No. It is recommended to avoid antibacterial soaps if you are expecting. Some of these soaps contain benzalkonium chloride, benzethonium chloride, and chloroxylenol which are not suitable for pregnant people.
Can antibacterial soap treat and cure an infection?
Yes, antibacterial soap can effectively treat and cure an infection. While there is not enough evidence claiming antibacterial soaps can work more efficiently than regular soaps in treating infections, they can prevent infections and illness better with judicious use.
Is using an antibacterial soap okay on tattoos?
Yes, it is highly recommended to use an antibacterial soap on your tattoos. Tattoos can be extremely vulnerable to stubborn bacteria and infections as they are open wounds. Keeping your tattoos clean with antibacterial soaps is a protective measure that keeps your skin healthy.
What is the best unscented antibacterial soap?
The best unscented antibacterial soap is the Solpri Shield Antifungal Soap Bar which is enriched with essential oils that help eliminate unwanted bacteria and fungal deposits.