13 Best Antibacterial Hand Soaps To Kill Germs In 2021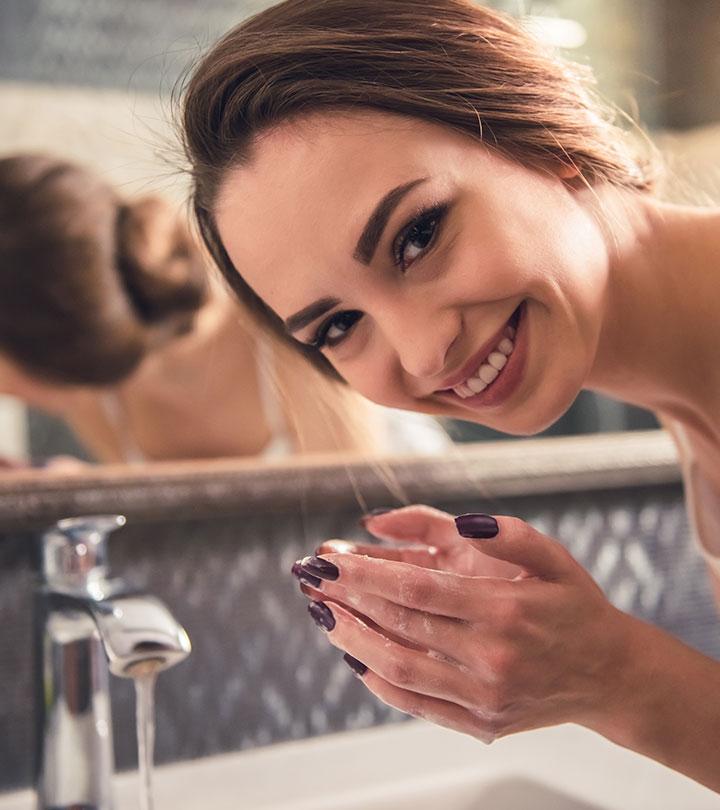 Washing hands is much more than just a regular thing that we do. It has a great role to play in our lives with respect to health and hygiene. And especially with 2020, we all have realized the importance of washing hands, cleaning ourselves, maintaining hygiene, and staying fit. Hand soaps are an integral part of our lives now. And so choosing the best antibacterial hand soap to kill germs in 2021 is a major task. Antibacterial soaps are quite different from regular soaps. These are effective at killing almost 99.99% disease causing germs and reduce the risk of health concerns  like flu, COVID-19 or any other bacterial/ viral infection. The merit list can go quite far and so we have brought to you the list of best antibacterial hand soaps here.
The merits and traits of each of these renowned brands are given in this list. You can choose one for yourself and embrace hygiene forever. The process becomes simpler as and when you explore these products.
13 Best Antibacterial Hand Soaps Reviews & Buying Guide 2021
Softsoap antibacterial liquid hand soap is an unique hand soap formula  that is clinically proven to reduce 99.9% of bacteria. Along with its intense cleaning properties, also comes the super moisturizing effect that it provides. The formula smells citrusy and leaves skin feeling soft. You can use it as your daily hand soap as it washes away dirt, impurities and harmful bacteria effectively and gently. You can trust the quality as it is dermatologically tested and safe to use.
Pros
Paraben-free
Retains skin's moisture
No phthalates
pH balanced
Cons
When looking for a mild hand soap that is gentle on your skin and moisturizing, choose this hand soap from the Dial store. The formula is effective at keeping your hands clean. It protects your hands from bacteria and conditions them altogether. Use it just like any regular hand wash. Just pump some product into your hands and lather for around 20 seconds. Rinse clean with water. The scent of the hand soap is really fresh and awakens your senses.
Pros
Contains glycerine
Makes skin soft
No silicones
No paraben
Cons
Not very good quality pump
Solimo liquid hand soap is one of the most favorite hand soaps among people. It is extremely moisturizing and keeps germs at bay. The formula is very gentle and helps relieve dryness. It is a clear, mild liquid that is great for regular use. If you hate too much hard lather, this is your product. With a fresh floral fragrance, this hand soap freshnes you up every time you wash your hands.
Pros
Triclosan-free
Generates soft lather
Efficient design
Standard hand soap dispenser
Cons
This is a powerful hand soap that not just cleans or nourishes skin but gives you relief from many skin irritations. The formula contains tea tree oil, menthol, wintergreen, spearmint, eucalyptus and mint that clean away fungus or germs causing skin issues like jock itch, ringworm, psoriasis, yeast, etc. You can also get rid of the foot and body odor that people usually suffer from. People who sweat a lot can opt for this product and feel fresh whenever needed.
Pros
Natural ingredients
Makes skin brighter
Soothing formula
Does the job of a hand soap and body wash
Cons
This soap from Maple Holistics is a reliable choice. It is formulated with peppermint and tea tree oil that make this hand soap highly effective at clearing bacteria and germs. This vegan antibacterial hand soap smells great and calms down your nerves every time you wash your hands. Use it like your regular daily hand soap and clean, disinfect, moisturize your hands all at the same time. Made with natural ingredients, this hand soap keeps your hands free from any type of smell.
Pros
Cruelty-free
Natural hand soap
Convenient packaging
Also works as an antimicrobial soap
Cons
DermaKleen is an antimicrobial hand wash that has the perfect formula. It contains vitamin E that nourishes the skin and helps in stopping the spread of viruses and bacteria. The formula is gentle and is safe on all skin types. It is quite versatile and can be used in homes, nursing homes and hospitals. This liquid hand soap cleanses and moisturizes hands effectively. You can kill germs up to 99% and stay healthy with its constant use.
Pros
Alcohol-free
Lotion form
Triclosan-free
Safe for kids
Cons
Slightly strong fragrance
Safeguard Antibacterial Soap comes in a bar form and works great for cleansing as it has triclocarban in it, an antibacterial compound. It eliminates bacteria, odor and dirt from your hands effectively. Induced with glycerine, this soap unlike regular hand soaps is not harsh and helps retain skin's natural moisture. It is one of the best moisturizing antibacterial  hand soaps and leaves skin feeling clean and fresh. If you are worried about dryness, this hand soap lets you enjoy soft skin without any dryness.
Pros
Easy to carry
Smells wonderful
Great design that dries it fast
Powerful antibacterial ingredients
Cons
Rejuvenate and clean your dry hands with a unique blend of spearmint,  olive, jojoba, pomegranate oil, coconut, and shea butter. This natural antibacterial hand soap hydrates and nourishes the hands deeply. The herbal ingredients prevent any sort of dryness and skin irritations by enhancing moisturizing levels. Composed with tea tree mint extract oil, it contains antibacterial and antiviral properties that cleanse and soothe skin.
Pros
Cruelty-free
Paraben-free
No harsh chemicals
Refreshing fragrance
Cons
This antibacterial formula from the brand Dial helps in tackling bacteria and germs. It kills 99.99% germs effectively and makes the cleaning experience simple. This scented hand soap gives a refreshing feel. If you wish to cleanse and moisturise your hands in one go, this has to be your top choice. With mere 20 seconds of massaging, the hand soap lathers well and cleans skin.
Pros
Delightfully scented
No paraben
No silicones
No phthalates
Cons
This unique hand soap with multiple organic ingredients lets your skin feel fresh and radiant. It serves the purpose of more than just a good antibacterial hand soap. You can use it for your body as well. Infused with tea tree, cajeput, peppermint oil and sunflower oil, this soap helps improve skin's appearance, fights fungal issues, bad odor, and cleans skin effectively. You can even tackle any type of rashes and dry skin conditions. It has powerful anti-inflammatory properties and produces a rich lather.
Pros
Cruelty-free
GMO-free
No alcohol
No synthetic dyes
Cons
Feeling squeaky clean is no more a task with this Cleanze hand soap.This antibacterial hand wash easily eliminates germs and dirt and is gentle yet effective. It comes with a calming lavender scent that leaves your hands feeling great. Since the formula is anti-bacterial, it easily eliminates germs, bacteria that cause illness. Just apply it on wet hands, rub for a few seconds and rinse thoroughly for fresh and clean hands.
Pros
Mild action
Tough on germs
Easy-to-use
Prevents drying out hands
Cons
Made with a subtle blend of olive tree and coriander extracts, this hand soap Fruits & Passion Cucina is extremely nourishing for skin. It prevents drying of skin and still cleans hands effectively. This luxury antibacterial hand soap has herbal ingredients that make it immensely safe for use. The formula is quite rare but is great for cleaning hands and killing germs in a gentle manner. Pour some amount on your hands, rub for a few seconds, wash and you are good to go.
Pros
Smells great
Biodegradable formula
Cruelty-free
Refill available
Cons
Calming your senses and cleaning hands is possible altogether with this antibacterial soap. It has a mild fragrance that spreads quickly from your hands to your surroundings. With benzalkonium chloride, an antibacterial compound as its active ingredient, the hand soap stands out as one of the best antibacterial hand soaps. It is effective and kills almost 99% germs and bacteria. The liquid formula is easy to use as it spreads well and cleans your hands quickly.
Pros
Free From Parabens
Contains no sulfates
No mineral oil
Gluten-free
Cons
So, these are the 13 best hand soap options to kill germs in 2021. You must check out the points given below to make a better choice.
How To Choose Antibacterial Hand Soap?
Consider the following points before choosing a hand soap.
Look for ingredients that are both safe to use and powerful enough to kill germs. Do not settle for less. Soaps with antibacterial compounds blended together with herbal ingredients are the best.
Fragrance lasts quite a while after washing hands. Thus, pay attention to it before investing in a hand soap. Fragrance must be pleasing and strong enough to last but mild enough to be not overwhelming.
You are investing in a product that is required every day. Thus, it needs to be something in your price range. Do not buy fancy products that cost a lot and leave your pockets drained.
This was all about the best antibacterial hand soaps to kill germs in 2021. The options listed here are simply outstanding. You can get into the details and then decide your best pick. After the world has seen a pandemic, cleaning hands is a priority. Nothing beats hygiene nowadays and hands soaps play an important role in it. Hand soaps are actually an easy way to keep yourself and your surroundings clean. Washing hands time and again is actually a good habit and one must invest in a decent hand soap to develop this habit. Hope these options give you freedom from germs, dryness, and other skin problems.
Frequently Asked Questions
Is Antibacterial Soap Safe?
Yes, antibacterial soaps are safe. However, people with allergies, or skin issues should consult a dermatologist before using such products.
Is Antimicrobial Soap Better Than Antibacterial?
Yes, antimicrobial soap is better than antibacterial. Antimicrobial soaps fight against all types of microorganisms whereas antibacterial soaps fight only against bacteria.
Is Softsoap Antibacterial?
Yes, Softsoap is antibacterial.
How Long Does Antibacterial Hand Soap Last?
The longevity of an antibacterial hand soap depends on the size of the product. The general size is 4 or 8 ounces and it lasts 1 and 2 months respectively.
Is Meyers Hand Soap Antibacterial?
No, Meyer's hand soap is not antibacterial. It has simple aromatic ingredients.