10 Best Foaming Hand Soaps That Keep Your Skin Soft – 2023
Say goodbye to germs and keep your hands fresh, clean, and soft.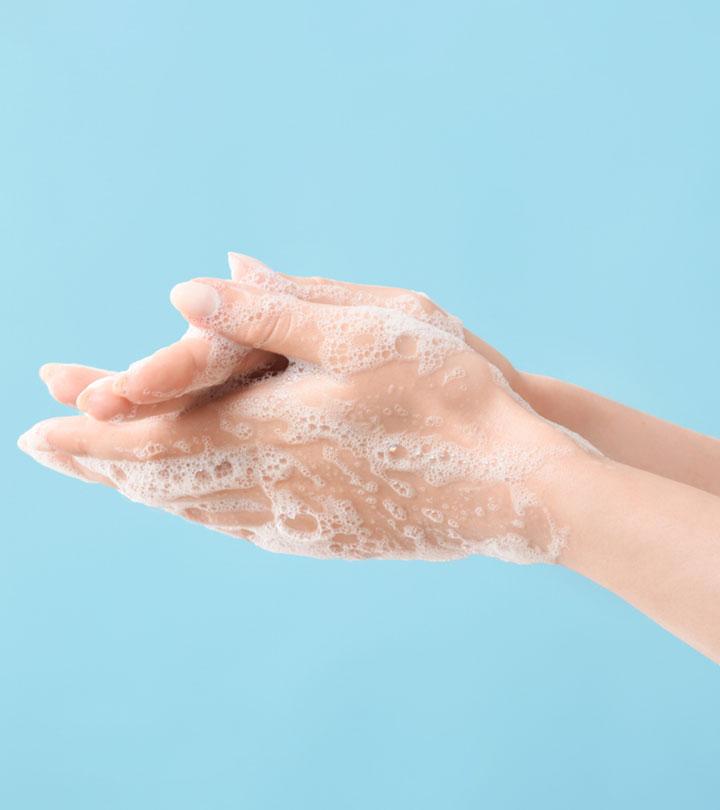 Keeping hands clean is important to avoid getting sick. Unlike other hand washes, foaming soaps will give you a satisfactory feeling for many reasons. So, add one best foaming hand soaps to get germ-free and clean hands. The foaming hand soaps develop a rich lather, keep your hands clean and decrease the risk of getting sick. In the olden days, hand soaps used to contain harsh surfactants that led to dryness when you used them for long periods. However, today, several manufacturers use organic ingredients in their formulations or opt for gentle surfactants in the foaming hand soaps, which are safe to use. In this article, we have listed the 10 best foaming hand soaps that will banish all germs from your hand. Scroll down and check them out.
Top 10 Best Foaming Hand Soaps For Happy Hands!
Pros
Premium scent
Plant-based formula
Value for money
Leave no residue
Prevents hands from drying out
Cons
None
Price at the time of publication: $20.49
Pros
Phthalate-free
Silicone-free
Paraben-free
Dermatologist-recommended
Cons
Frequent use may leave hands slightly dry
Price at the time of publication: $2.47
Feel the vibes of the seashore, the crisp and serene breeze of the ocean, and sand in this liquid foaming hand soap. Luxuriously foamy as it lathers up instantly, this elegantly packed bottle has more than just cleansing benefits. Infused with shea butter and aloe vera to moisturize and soften the hands, it also has captivating marine notes along with watermelon, amber, and bergamot to add a tropical and beachy vibe to the experience.
Pros
Gentle
Refreshing
Rich lather
Cons
Mild scent
May be slightly drying
Price at the time of publication: $14.99
Refreshingly zesty and with the hint of spiciness, this essential oil-infused hand wash will secretly pamper your skin with every wash. How? The blend contains a combination of clove, rosemary oil, eucalyptus, cinnamon bark, and lemon, which is also a fantastic cleansing agent. And you don't have to wait for this soap to lather! It foams instantly and leaves the skin soft, moisturized, and squeaky clean within seconds. The blend also contains vitamin E, orange essential oil, Ginkgo Biloba, and tea leaf extract for skin protection and anti-inflammatory benefits. All-natural and safe for your family, do not skip this ultra-refreshing and gentle foaming hand soap. To find out more about this product, check this video review out.
Pros
Synthetic-free
Non-toxic
All-natural
Conditioning
Rich lather
Cons
Price at the time of publication: $56.99
Pros
Rich lather
Cruelty-free
Eco-friendly
Refreshing
Cons
May not rinse off greasiness
Contains sulfates
Pros
GMO-free
No synthetic fragrance
Phthalates-free
Sulfate-free
Paraben-free
Cruelty-free
Littles goes a long way
Cons
Slightly challenging to use dispenser
Price at the time of publication: $7.22
Pros
Soft skin
Hydrating
Child-safe
Rich lather
Cruelty-free
Soothes dry skin
Cons
May be overpowering for sensitive noses
Price at the time of publication: $19.98
Pros
Nature-inspired
Paraben-free
Triclosan-free
Cruelty-free
Plant-based ingredients
Cons
Not suitable for very dry skin
Price at the time of publication: $12.17
Pros
Easy and fun to use
Paraben-free
Vegan
Cruelty-free
Mineral oil-free
Dye-free
Rich foam
Cons
May not suit sensitive skin
Price at the time of publication: $20.49
Pros
Dermatologically tested
GMO-free
Soothing fragrance
Environment-friendly
Infused with shea butter
Cons
None
Price at the time of publication: $19.95
No more germs, only foam, and fun to look forward to with these foaming hand soaps on our list! And if you are still wondering how to choose the best foaming hand soap, we have some tips for you in our buying guide below.
How To Choose The Best Foaming Hand Soap?
Look out for the following features in the product before buying:
Now that people are conscious of what's harmful and not for the skin, there are more organic and natural ingredients than harmful surfactants in foaming hand soaps. So, look out for ingredients such as aloe vera, hyaluronic acid, and essential oils in the hand soap for a nourishing and non-drying experience. For extra care, opt for soaps with shea butter or vitamin E to protect and deeply moisturize the skin with every use.
Scents are so underrated when it comes to hand soaps. The citrusy ones will add a zesty zing to your bathroom or kitchen sink instantly. And brands that are nature and garden inspired offer scents of the seashore, waterfall, and garden fruits to lift your spirits with every wash. Want something sweeter? You can find honey, marshmallow, and even pumpkin latte on our list too!
Not all foaming soaps may produce rich and luxe suds. Foaming hand soaps are available in mild and luxe concentrations, whereas some may take a while to lather, and others may lather up instantly. So, inspect before buying for the best experience.
Frequent hand washing will dry your skin (especially sensitive skin) regardless of how clean the ingredients are in the hand soap. However, you can minimize the damage by choosing a product free from toxic chemicals such as sulfates, parabens, phthalates, mineral oils, and more, which can be harmful.
How To Use A Foaming Hand Soap?
For germ-free and squeaky-clean feeling, washing hands for 20 seconds is the universal rule. Do you have kids at home? If yes, singing "Twinkle Twinkle Little Star" or "Happy Birthday song" twice can make the 20-second hand wash fun for them.
Here are few steps that you can follow:
Take a pearl-size amount on wet hands and gently rub all the areas.
Start with fingers, gaps between the fingers, the backside of the hands followed by palm and wrists.
Then, rinse off the foam and continue rinsing until your hands feel clean and non-soapy.
Why Trust StyleCraze?
The author, Kirtana Divakar, is a skin care enthusiast and loves reviewing skin and personal care products for her readers. For this article, she has researched a wide range of foaming hand soaps and scrolled through numerous pages of user reviews to come up with this comprehensive list of products. These soothing and refreshing foaming hand soaps contain organic ingredients and gentle surfactants.
Frequently Asked Questions
Does foaming hand soap kill germs?
Yes, there are foaming hand soaps that kill germs. Dial Spring Water Antibacterial Foaming Hand Soap kills 99.99% of germs. However, all hand soaps effectively kill germs if you wash your hands for 20 seconds.
Is foaming hand soap more drying?
Foaming hand soaps can be drying if used frequently. However, there are foamy hand soaps without surfactants that clean without drying hands.
Is foaming hand soap better than regular soap?
When it comes to killing germs, foaming hand soaps may not be as effective as regular soaps unless you wash your hands for a good 20 seconds to kill germs and bacteria.
Does foaming hand soap need a special dispenser?
Yes, foaming hand soaps have a special kind of valve that dispenses foam instead of the liquid, so the user doesn't have to rub vigorously to lather up the foam.
Can you use foaming hand soap as a body wash?
Yes, you can use foaming hand soap as a body wash. However, remember that it is an antibacterial formulation and may leave your body dry.
How long is foaming soap good for?
Regular usage will make a foaming soap last for only a couple of months. It will be effective for washing hands till it produces a lather.
What is the difference between liquid soap and foaming hand wash?
Foaming hand wash features a mechanical pump to turn soap into lather whereas liquid soap is just liquified soap.
Recommended Articles: