The 10 Best Hand Sanitizers That Are Safe And Effective – 2023
Keep all those evil microbes off your hands with only a few drops and stay fit.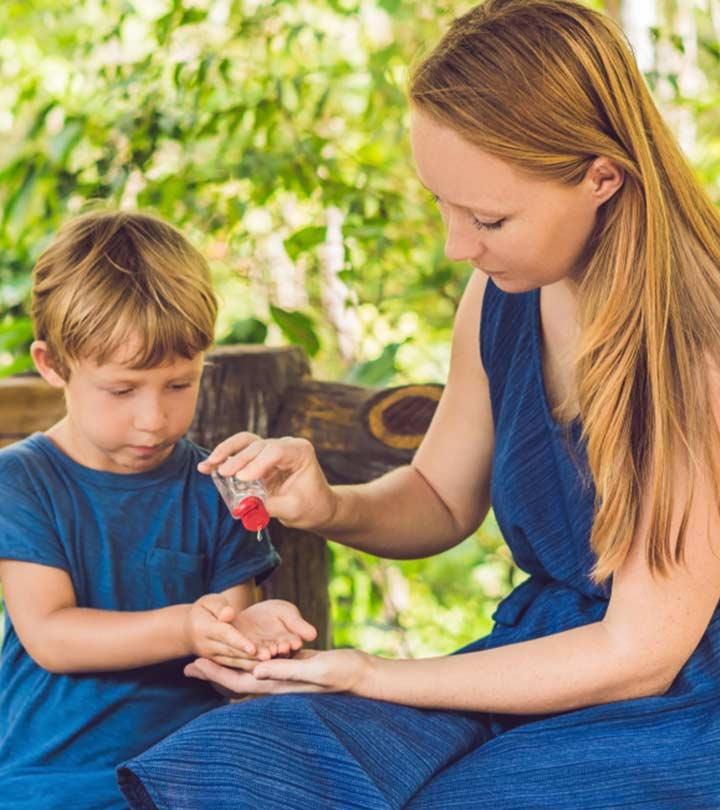 Soap alone is not enough to wash your hands entirely and kill all bacteria. Using hand sanitizer makes the washing more effective (1). With the ever-mutating coronavirus, washing your hands and belongings as frequently as possible is one of the best ways of staying protected. The WHO also recommends using hand sanitizers to keep the COVID virus at bay (2). The CDC, in their guidelines, has suggested that hand sanitizer with 60% or more alcohol concentration is best for protection from the virus (3). Here is our list of the best hand sanitizer that you can use.
What Is Hand Sanitizer?
Hand sanitizer is a gel or liquid formula that helps decrease the number of infectious microorganisms on the hands. It may or may not contain alcohol. Hand sanitizers are effective in killing or deactivating harmful and contagious microbes that cause diseases.
The WHO, CDC, and FDA recommend using hand sanitizers with 60% or more alcohol content. However, in case you cannot get your hands on a hand sanitizer that contains alcohol, you may also opt for a non-alcoholic hand sanitizer. Here's a list of sanitizers that you can buy right now.
10 Best Hand Sanitizers To Keep Germs Away 
The Dr. Bronner's Peppermint Organic Hand Sanitizer is formulated with organic ethyl alcohol that kills bacteria and germs while keeping your hands free of toxins. It also contains organic glycerin that moisturizes your hands, while the peppermint oil rejuvenates your mind and reduces stress. The refreshing scent adds a pleasant touch to the multipurpose sanitizer. You can also use this sanitizer as a deodorizer or room freshener.
Pros
USDA-certified organic ingredients
Kills 99.9% of germs
Pleasant fragrance
Travel-friendly packaging
Cruelty-free
Vegan
Non-GMO
Ethanol-free
No petrochemical thickeners
Cons
Stylecraze Says
Always keep a hand cream handy to moisturize your hands if you use sanitizer multiple times daily.
Mountain Falls is a cruelty-free and moisturizing hand-sanitizing formula. It comes in a handy bottle with a pump. It is a must-have for maintaining hygienic hands, with its transparent formula providing effective germ control. You get 8 fl oz (236 ml) product per bottle, and it is made in the USA. 
Pros
70% ethyl alcohol
Kills 99.9% germs
Cruelty-free
Gluten-free
Paraben-free
Leaves your hands feeling soft
Pleasant fragrance
Easy pump dispenser
Cons
Flammable
May cause skin irritation
May discolor fabrics
Not good for wood and plastic
May irritate skin that has cuts
The Amazon Basics Moisturizing Hand Sanitizer contains 62% ethyl alcohol. It kills more than 99.99% of harmful germs in 15 seconds. The quick-acting formula is infused with vitamin E that keeps your hands moisturized and soft while protecting them against free radicals. Its rinse-free formula allows for convenient and quick use, ensuring all-day protection against illness-causing germs. The soothing citrusy scent revitalizes your mind and keeps your hands feeling fresh.
Pros
Kills 99.99% of germs
Pleasant fragrance
Non-drying
Value for money
Cons
None
Price at the time of publication: $19.1
Solimo is an Amazon brand. There are four different varieties of this hand sanitizer, and all of them contain soothing aloe vera. This non-greasy and pH-balanced formula is safe for frequent use. The color and feel of the bottle is semi-luxurious. You get 32 fl oz (946 ml) of product per bottle. This video will give you a better insight into the product.  
Pros
70% ethyl alcohol
Kills 99.99% germs
Contains aloe vera
Contains vitamin E
Dries quickly
Easy pump dispenser
Great value for money
Cons 
Strong fragrance
Flammable
May cause skin irritation
The Hempz Moisturizing Herbal Hand Sanitizer contains triple moisture serum that nourishes and hydrates the skin. It is enriched with coconut oil, apple extract, avocado, mango seed butter, and vitamin C that have strong medicinal properties and kill about 99% of germs. This hand sanitizer contains 100% pure hemp seed oil that treats itchiness, reduces dryness, and soothes red skin. This non-sticky formula housed in convenient packaging can be easily carried wherever you go. Watch this video for a thorough understanding of the product.
Pros
Kills 99% of germs
Soothes redness and itchiness
Vegan
Paraben-free
Gluten-free
THC-free
Cons
Price at the time of publication: $15.95
The safeHands Hand Sanitizer helps protect your skin from pet germs, bacterial infection, and environmental contact. It is infused with benzalkonium chloride, a doctor-approved antiseptic that effectively kills 99.99% of germs without any dryness. As a trusted brand, it is FDA-approved and non-irritating, ensuring the safety and comfort of your skin. Click here to check out a detailed personal review of this product.
Pros
Alcohol-free
Gentle formula
Kills 99.99% of germs
Safe for sensitive skin
Fragrance-free
Non-toxic
Non-flammable
Dye-free
Cons
None
Price at the time of publication: $17.99
The Pura D'or Hand Sanitizer Gel has a 70% alcohol-based formula. It also contains organic aloe vera gel and vitamin E to keep your hands soft and prevent dryness. The essential oils of tea tree, peppermint, and lemongrass deep cleanse your hands, offer therapeutic protection, and impart a soothing fragrance. This family-friendly hygienic solution prevents the spread of illness efficiently.
Pros
Convenient pump dispenser
Non-drying
Pleasant fragrance
Non-toxic
Cruelty-free
Cons
Price at the time of publication: $28.99
The EO Hand Sanitizer is a gel-based formula that contains 62% organic alcohol. It keeps your hands free of germs and toxic irritants. It is infused with soothing lavender essential oil that revitalizes your senses and moisture-rich jojoba oil that keeps your hands soft. Vegetable glycerin keeps your hands hydrated and restores their youthful radiance. This hand sanitizer is also enriched with a refreshing blend of eucalyptus and lemon that calms your senses. It is hypoallergenic and is safe for children.
Pros
EWG-verified
Gentle formula
Non-drying
Sulfate-free
Gluten-free
Cruelty-free
Recyclable packaging
Cons
Price at the time of publication: $12.32
Babyganics is an alcohol-free foaming hand sanitizer. It does not dry out the skin. This hand sanitizer comes in a cute pale green and white bottle with a pump. The small portable bottle design is travel-friendly. You get 8.45 fl oz (250 ml) of the product per bottle.
Pros
Alcohol-free
Kid-friendly
Paraben-, sulfate-, and phthalate-free
Kills 99.99% germs
Does not contain artificial dyes or fragrances
Foaming and moisturizing formula
Non-allergenic
Suitable for people with sensitive and dry skin
Easy pump dispenser
Cons
Does not contain certified organic ingredients as claimed by the company
May cause skin irritation
Price at the time of publication: $19.69
This alcohol-based Suave Hand Sanitizer Spray is specially formulated to kill germs and bacteria effectively. It reduces bacteria on the hands, and you can use this in place of soap and water. Do not rinse your palms after using this gel formula spray. The sanitizer is available in 2, 8, 10, and 12 ounces.
Pros
No artificial fragrance
Easy to use
Kills 99.9% germs
Cons
Price at the time of publication: $27.76
These are the 10 best hand sanitizers to buy in 2023. If these are not available now, you may also consider buying the following hand sanitizers.
Other Suggested Hand Sanitizers
The CDC has provided specific instructions on how to use a hand sanitizer for maximum germ removal (4). Scroll down for the step-by-step guide.
How To Use Hand Sanitizer To Reduce Germs?
Step 1: Use soap and water to wash your hands thoroughly.
Do it every time you touch any surface, cough, sneeze, before and after cooking, after touching someone who is sick, before and after treating a cut, after throwing away garbage, before touching a newborn baby, after changing diapers, and after cleaning animal waste.
Step 2: Apply some hand sanitizer, rub your hands quickly, and let it dry.
Do it if you have visited someone at the hospital, if soap and water are not available (if your hands are visibly dirty, you need to use soap and water), after touching any surface, and after using the washroom.
Apart from this two-step hand sanitizing process, the CDC has issued special instructions to follow during the COVID-19 pandemic (5). Take a look.
Hand Hygiene And Other Preventive Measures
Take utmost care to not touch your eyes, face, nose, or mouth after touching a surface.
Wash your hands with soap and water and use a hand sanitizer.
Use an EPA-registered cleaner to clean the most touched surfaces like doorknobs, tables, handles, tap faucets, sinks, and light switches.
Avoid placing your mobile phones on surfaces that are not disinfected.
Wear gloves and a face mask while cleaning surfaces.
Maintain distance from any person showing possible symptoms.
Use a separate bathroom from that of a person showing flu symptoms.
If there is no separate bathroom, wash and disinfect the bathroom each time after the person with flu symptoms uses it.
Disinfect all surfaces at home using bleach. Dilute the bleach before using it.
Wash dirty clothes, curtains, and carpets with warm water. Avoid shaking dirty clothes.
Avoid going to crowded places like gyms, pubs, movie theaters, malls, etc.
Avoid close contact with any person showing flu symptoms.
Get yourself checked immediately if you experience the symptoms of COVID-19.
Before we come to a close, here's a list of precautions to take before using hand sanitizers. Check them out below. 
Precautions While Using Hand Sanitizer

Keep alcohol-based hand sanitizers in cooler temperatures.
Do not use drying hand sanitizers if you have dry or sensitive skin.
Keep hand sanitizers out of children's reach.
Do not touch your eyes right after using hand sanitizer.
Use hand sanitizers only for external application.
If your skin gets inflamed, seek medical help immediately.
If you drink hand sanitizer accidentally, rush to the nearest hospital.
The Bottom Line
Frequently Asked Questions
Which is better – soap or hand sanitizer?
To remove dirt and germs from our hands, soap and water work better than hand sanitizer. Hand sanitizers are for a quick de-germing when your hands are more or less clean.
How long does it take for hand sanitizer to kill germs?
Hand sanitizer kills 99.9% of germs in just a few seconds.
How many times can I use alcohol-based hand rubs?
You can use alcohol-based hand rubs many times throughout the day. However, do note that they are not an alternative to hand washing.
How long do the effects of hand sanitizer last once applied?
Hand sanitizer last for 1-2 minutes once applied. And then germs start accumulating on your hands again.
Is it OK to apply sanitizer on the face?
No, it is not safe to use hand sanitizer on the face because the ingredients in the sanitizer can be harsh for the gentle facial skin.
Can you touch your eyes after using hand sanitizer?
No, you should not touch your eyes immediately after using hand sanitizer because the alcohol in the sanitizer may cause a burning sensation in your eyes.
Recommended Articles
Hand Creams For Sensitive Skin That Really Work