11 Best Drugstore Cocoa Butter Lotions For Soft, Smooth Skin
Smell like sweet cocoa all day as your skin enjoy the boost of moisture and nutrition.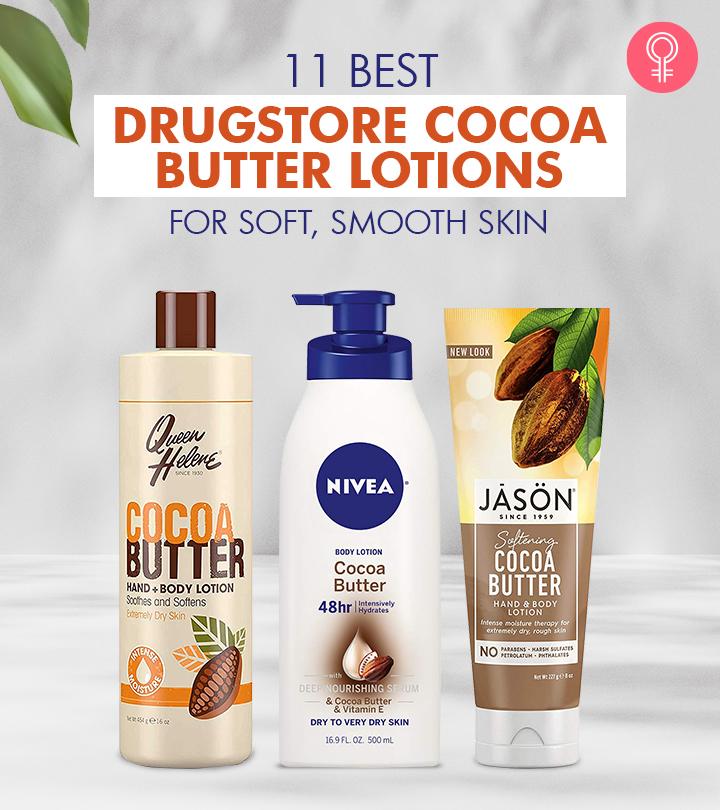 If you think getting moisturized and glowing skin is expensive, let us introduce you to the best drugstore cocoa butter lotions. Pure cocoa butter is a rich and natural moisturizer that is safe for the skin. It deeply nourishes and moisturizes dull and dehydrated skin. It has anti-inflammatory properties and antioxidants that do wonders for the skin. If you are looking for luxurious cocoa-butter lotions to enrich your skin, go through the list of the 11 best cocoa butter lotions below. Use cocoa butter lotion regularly and see your skin turn healthy in no time.
11 Best Drugstore Cocoa Butter Lotions
The cocoa butter lotion from Queen Helene has a hydrating formula crafted to soothe and soften cracked, damaged skin. This special cocoa butter body lotion forms a protective barrier over your body, shielding it from extremely dry weather conditions. The lotion works as an anti-aging face cream as well. It helps fade fine lines, wrinkles, blemishes, dark spots, and other skin imperfections. Take a look at this video to get more information on the product and the tester's experience.
Andrea Hall, an advanced beauty and esthetic practitioner, says, "Before applying the lotion, you may also take a small amount of raw cocoa butter and soak it in a warm bathwater. Take a bath with the cocoa butter-infused water and moisturize your skin, making it softer and plumper."
Pros
Formulated by dermatologists
Deeply penetrating
Non-greasy texture
Value for money
Cons
Contains fragrance
Stains clothes
The Personal Care Cocoa Butter lotion effectively soothes and heals extra dry skin with its rich cocoa butter and vitamin E-infused formula. This lotion goes deep into the layers of the skin, transforming dull, lifeless complexion into the skin that is healthy and always glowing. You can use this healing lotion after tanning for sun damage prevention and lessening of skin peeling. With daily use, the unique blend tones, smoothens, and softens skin, as noted by reviewers.
Pros
Vegan
Cruelty-free
Dermatologically tested
Soothing fragrance
Cons
This cocoa butter lotion by Jason is intense moisture therapy for your extremely dry, sensitive, rough, damaged, cracked, or sunburnt skin. The brand taps into nature's bountiful nutrients to boost everyday skin wellness. Besides cocoa butter, this lotion contains sunflower oil and chamomile extract. While sunflower oil is rich in vitamins A and E and stimulates skin health, chamomile prevents skin breakouts. According to the reviews, this lotion can be applied and massaged over the hands, palms, face, and body for intense hydration.
Pros
Long-lasting hydration
Paraben-free
Sulfate-free
Phthalate-free
Petroleum-free
Cruelty-free
Cons
Nivea Cocoa Butter Body Lotion is a deeply nourishing moisturizer enriched with cocoa butter and vitamin E.  It offers intense 48-hour moisturization and keeps the skin healthy and happy for optimal skin rejuvenation. The effects of this unique lotion can be seen within the first application itself. It soothes away irritated skin and reduces skin dullness and the appearance of wrinkles. The pump design makes it convenient to use and travel-friendly, as attested by the reviewers.
Pros
Dermatologically tested
Soothing fragrance
Cons
This body lotion from Himalaya has a mild and gentle formula that gives your skin the wholesome goodness of cocoa butter and wheat germ that helps promote healthy skin. Its rich nourishing formula, infused with vitamin E, is perfect for dry skin and sensitive skin-friendly ingredients. This lotion replenishes skin's lost moisture and gives it a healthy and younger appearance with every application. The brand combines Ayurveda and science for radiant skin and a renewed look.
Pros
Rich in antioxidants
Non-greasy texture
Boosts skin elasticity
Cruelty-free
Cons
The Vaseline Intensive Care CocoaGlow lotion contains pure cocoa butter that deeply moisturizes and nourishes dry skin. The lightweight formula of this lotion absorbs quickly, hydrates the skin, and brings out its natural glow on dull skin. The Vaseline jelly micro-droplets in the formula seal skin moisture and keep your skin refreshed throughout the day. This lightweight texture of the product is tested to be suitable for all age groups and ideal for dry skin relief.
Pros
Fast-absorbing formula
Non-greasy texture
Lightweight
Suits all age groups
Cons
Clogs pores
Causes breakouts
This moisturizing body lotion from Dermasil Labs is perfect for dry/extremely dry skin. The rich formula of this lotion is enriched with nourishing ingredients like cocoa butter, sunflower seed oil, sweet almond oil, sandalwood oil, and fruit extracts. These active ingredients and moisturizing properties help soothe your skin and keep it hydrated the entire day.
Pros
Tested to be suitable for daily use
Reduces signs of aging
Visibly reduces stretch marks
May relieve rashes
Cons
The Alba Botanica Hawaiian Hand And Body Lotion offers deep conditioning of the skin and restores its moisture balance. Its organic ingredients like cocoa butter, jojoba, macadamia, flaxseed, and sunflower oils deeply nourish dry skin. The coconut milk is calming and soothing to the skin. Its natural emollients have a lightweight texture that nourishes dry skin.
Pros
Hypoallergenic
Gentle on skin
Cruelty-free
100% vegetarian
Paraben-free
Phthalate-free
Sulfate-free
Artificial color-free
Cons
The rich, creamy Cocoa Beautiful Cocoa Butter Lotion is infused with moisturizing ingredients such as vitamin E and pure cocoa butter and soothes and tones the skin. It helps eliminate flaky, dry, and ashy skin in no time. The formula spreads evenly over the skin surface. It helps reduce the appearance of blemishes, marks, scars, fine lines, wrinkles, and acne. A must-add to your daily skincare regime for hydrated skin!
Pros
Natural ingredients
Soft and supple skin
Creamy texture
Safe and mild
Cruelty-free
Cons
The Now Solutions Cocoa Butter Lotion has a rich and creamy texture that protects the skin against environmental aggressors. This natural cocoa butter lotion moisturizes your chapped skin, gradually repairing and restoring it to its original beauty and imparting an unwavering glow and smooth texture to your skin. The almond oil, aloe vera, and allantoin trap the moisture all day long and soothe skin irritation, rashes, redness, and the appearance of wrinkles.
Pros
GMP-quality assured
Laboratory-tested
Synthetic fragrance-free
Paraben-free
Cons
The Gold Bond Ultimate Hydrating Lotion effectively fights skin infections and related skin concerns such as dryness and parched skin. It is infused with coconut oil, cocoa butter, and African shea butter – a nourishing trio that heals dry and itchy skin. The radiance renewal technology makes your lifeless skin glow. This clinically tested product also exfoliates and nourishes visibly dry skin. If you have eczema, you may use this on your skin for long-lasting moisture.
Pros
Dermatologist-tested
Contains gentle exfoliants
Non-greasy
24-hour moisturization
Triple-blended
Cons
Consistency could be too thick
*The prices provided in this article are based on the latest available information. However, they may vary due to changes in pricing by the seller and/or promotional offers.
Why Trust Stylecraze?
Shiboli Chakraborti is a seasoned product writer and certified skincare coach who enjoys finding the best products to help her readers look and feel their best. In this post, she highlights the best drugstore cocoa butter lotions that will leave your skin feeling soft and supple each day. Her review process involves comprehensive research into the features and benefits of every option so that you can have a seamless shopping experience.
Frequently Asked Questions
Can I put drugstore cocoa butter lotion on my face?
No. Do not use a drugstore cocoa butter lotion to prevent your face from looking extremely greasy. It can clog your facial pores and develop pimples. But certain lotions like the Jason Softening Cocoa Butter Hand And Body Lotion are lightweight formulas suitable for facial use. They protect your facial skin from harsh environmental aggressors.
Does cocoa butter lotion lighten skin?
Yes. Professional-grade Cocoa butter lotions moisturize dry skin and slough off dead skin cells that darken your skin. In addition, it combats free radical damage, treats sun spots, and evens your skin tone.
Does cocoa butter lotion help stop breakouts?
No. Cocoa butter is comedogenic. It can clog your pores. But certain lotions like the Cocoa Beautiful Cocoa Butter Lotion with Vitamin E treat acne.
Can you use cocoa butter lotion if you have a nut allergy?
Yes. You can use cocoa butter lotion if it is free from the contamination of nuts. Check the ingredients list and make your purchase accordingly.
Does cocoa butter lotion fade stretch marks?
No. Cocoa butter lotion does not fade stretch marks. But an expert-recommended lotion enriched with hyaluronic acid which is effective in fading stretch marks.
Is drugstore cocoa butter lotion good for all skin?
No. Although cocoa butter lotion hydrates and softens almost all skin types, the lotion can aggravate acne and cause breakouts in acne-prone skin. It is not suitable for acne-prone skin.
Recommended Articles