12 Best Makeup Removers For Oily Skin – Top Picks Of 2023
Top selection of makeup removers that do not leave a trace of oil or makeup behind. If you have makeup products that suit your oily skin right but it's a pain getting it off at the end of the day, then it's time for you to pick the best makeup remover for oily skin. Choosing a skin-sensitive, healthy makeup remover is just as important as choosing the right makeup product. The best one for your skin will remove all makeup deposits from the pores and crevices of the skin without any fuss. Makeup removers for oily skin types remove excess oil, leaving the skin feeling smooth, non-greasy, and healthy. Finding the right one for oily skin can be difficult as most long-lasting makeup sticks to the face and can be difficult to remove. Hence, we have listed some of the best oil-free makeup removers for you to use without having to worry about clogging your pores.
Top 12 Makeup Remover For Oily Skin Available Online
Looks, feels and smells great— the keyword for this product is just great. CeraVe Facial Cleanser is formulated with three kinds of ceramide— 1, 3, and 6-II that clean the skin without removing the protective barrier. Just wet your face with some warm water and witness the gel formula's foaming lather work smoothly on your skin without making it too dry or tight. It leaves the skin clean and residue-free. This synthetic-free makeup remover is highly versatile and works on all types of skin be it oily, dry, or combination. Before buying, have a look at this video for more details.
Pros
A gel-textured cleanser
Suits all skin types
Formulated with 3 kinds of ceramides
Hyaluronic acid and niacinamide infused
Free from fragrance and irritation
Non-comedogenic and non-drying
Dermatologist-recommended
Cons
The formulation may be too thick
Price at the time of publication: $20.77
Garnier's SkinActive Micellar Cleansing Water was specifically designed for your skin to look fresh and healthy. The micellar technology works like a magnet on the skin and sucks out all the dirt and chemicals without any need for harsh rubbing or cleansing. The makeup remover serves two purposes— as a face wash on bare skin and a remover over makeup. The gentle yet powerful face cleanser, this works beautifully on oily skin by soothing, moisturizing, making it shine-free, and giving it a clean feeling. Watch this video to know more about the product.
Pros
A 2-in-1 mattifying formula
Micellar water for oily skin
Purifies pores
Sensitive skin-safe
Dermatologist-tested
Winner of 29 beauty awards
Cons
Price at the time of publication: $7.97
Is your skin acne-prone? The solution to oily, acne-prone skin is Bioderma Sebium H2O Micellar Water. This makeup remover boasts of deep cleansing the skin without drying it or leaving it with any lipids. More than just a regular face cleanser, Bioderma's dermatological solution has micelles that clean every pore. Take a few drops of the makeup remover for oily, sensitive skin on a cotton pad and wipe out all the dirt, oil, and makeup away. It is the best make up remover for acne-prone skin.
Pros
For combination to oily skin
Verified by dermatologists
Ginkgo Biloba for the mattifying effect
Oil, soap, paraben, alcohol, colorant-free
Formulated with zinc sulfate, zinc gluconate, and copper-sulfate
Cons
Packaging may not be up to the mark and could cause difficulty while using the product
Price at the time of publication: $16.99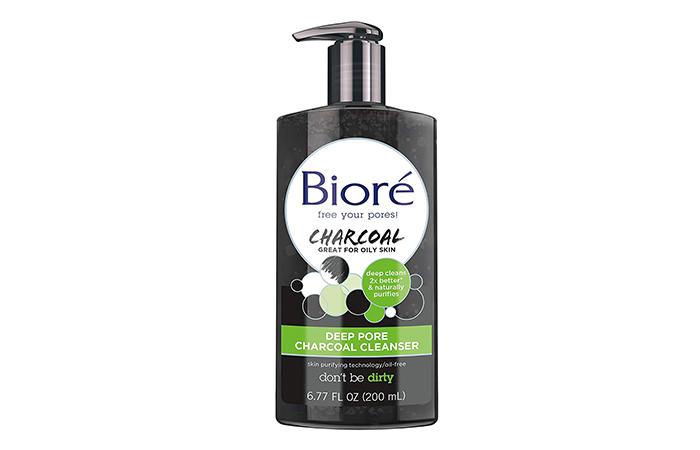 A Japanese skin purifying technology of using charcoal to decongest the pores is what this skin cleanser does. Charcoal, with its oil-trapping property, clears off all the makeup debris, extra oil, dirt, and sweat 2 times better than most other cleansers. Made from all things organic, this clarifying product is sensitive skin-friendly and protects it from breakouts. One of the best oil-free makeup removers, use this daily either on bare skin or over waterproof products and witness the change in your skin quality within days. This video will give you more insights into the product.
Pros
Oil-free
Cleans 2X better
Removes up to 3X oil
Made of natural charcoal
Non-comedogenic
Dermatologist-tested
Cons
Packaging not travel-friendly
Slight tingly feeling on application
Price at the time of publication: $6.87
So what's the logic behind using a cleansing oil to remove oil and impurities from oily skin? Well, Organys' Cleansing Oil helps in dissolving the residue and excess oil produced by the skin and eventually removes them. Once the pores open up, the skin gets enough space to breathe and hydrate itself. This olive oil-based oily makeup remover is one of the best makeup remover oils there is and is not just the face but can be applied on the neck, back, and hands as well. 
Pros
Removes waterproof makeup
Reduces blackheads
Free of sulfates and any other elements
Cruelty-free
Paraben-free
Vegan
Cons
May not work well on sensitive or acne-prone skin
Price at the time of publication: $45.0
Who does not want a travel-friendly face cleanser that can be carried for cook-outs, picnics, barbeques, and many more? Burt's Bees Facial Cleansers are nothing but towelettes that gently removes all the sweat, oil, and dirt from the skin, without too much fuss. The wet wipe is formulated with grapefruit extracts that are refreshing and helps soothe muscles. The lightweight face wipes for oily skin are so easy to carry everywhere that you can just throw it into your handbag and carry it along even for the daily-use.
Pros
Face wipes infused with grapefruit extracts
Dermatologist and ophthalmologist-tested
Removes pore-clogging sediments
Phthalates and petroleum-free
Travel-friendly
Paraben-free
1% natural
Cons
The scent is too overpowering for some
Price at the time of publication: $16.41
Just like the brand name, this wipe is used to completely clean and clear an oily face full of impurities. The wipe lifts the dust off the skin in just one easy step. The makeup wipes are oil-free and allergy-tested so that you can use it on sensitive areas like eyes, nose, and ears. The best part is that the wipes are big enough to cover the entire face which makes the wipe strips last longer.
Pros
Large in size to wipe the entire face
Very convenient to wipe
Safe around the sensitive eye area
Ophthalmologist-tested
Allergy-tested
Easy-to-use
Cons
Contains sodium hydroxide in a small quantity
Price at the time of publication: $18.0
Tested on oily and sensitive skin, this no-rinse cleanser is recommended by dermatologists worldwide because of its gentle properties. The micellar technology is effective on oily skin as it gently wipes out the dirt without too much rubbing. The gentle formula contains glycerin and zinc that hydrates the skin and eliminates excess oil. The product also has poloxamer, which is gentle on the eyes and is used in the contact lens solution. Nyssa Green, an Emmy award-winning makeup artist, says, "This is an excellent remover not only for oily skin but all skin types!"
Pros
No-rinse facial cleanser
Contains purified zinc to remove oil
Cleanses from deep within
Soap and alcohol-free
Oil and paraben-free
Non-comedogenic
Dermatologist and ophthalmologist-tested
Cons
May not suit other skin types
Price at the time of publication: $15.19
Using a water-based makeup remover is the best way to remove makeup, dirt and excess oil off the skin. And what better way to do that than the L'OReal Skin Expert's Micellar Water? As the name suggests, the product is infused with micelles that are considered as the best ingredient for oily skin. It surrounds the impurities and pulls it out of the skin leaving it fresh and invigorated. Suitable for not just oily, but dry and combination skin as well, the cleansing water rejuvenates the skin, reduces the redness, and soaks into the skin to hydrate it.
Pros
Removes impurities without harsh rubbing or rinsing
Dermatologist and ophthalmologist-tested
A waterproof makeup remover
Suitable for all skin types
Non-comedogenic
Fragrance-free
Coconut-free
Cons
Leaves some residue if not wiped properly
Price at the time of publication: $16
According to a customer survey, Julep's Hydrating Cleansing Oil was reported to be softer by 91% customers and 94% claimed for it to leave behind no oily residue. Numbers don't lie, so this is a winner. Made with all-natural ingredients and age-defying components, the cleansing oil hydrates the skin and repairs it by wiping out all the dead cells. Infused with organic and natural ingredients like rosehip seed oil, grape seed oil, pink grape peel oil, and olive oil. Pump an almond-sized amount over your fingers and gently massage it all over your face.
Pros
Lightweight
Travel-friendly
Infused with natural oils
SLS and paraben-free
Cruelty-free
Cons
Does not quite suit a dry skin tone
Price at the time of publication: $14.95
This one does not fail to remove the stubborn, long-lasting waterproof mascaras. With 270 years of caring for the skin, the brand Avene is rooted in dermatology and hydrotherapy. That's why Eau Thermale Avene Gentle Eye Makeup Remover is one of the best makeup removers for the sensitive eye area. The cream and oil-based eye makeup remover lotion is designed to remove all signs of makeup and restore the skin's pH levels, leaving it looking fresh and healthy. It is the best waterproof makeup remover for oily skin.
Pros
Oil-free
Aqueous gel formulated
Hydrates sensitive eye area
Hypoallergenic
Non-comedogenic
Cons
Price at the time of publication: $21.61
NxN's foaming formula cleans away all the dirt, oil, and makeup sediments without washing away its natural glow. The product is infused with natural ingredients like Amazonian cacay nut oil, grape seed oil, to name a few and uses no harmful chemicals during formulation. Ingredients like cinnamon bark cleanse the pores bringing a healthy-looking glow and ginger soothes the skin with its anti-inflammatory properties. Take a few drops of it on a cotton pad and wipe the entire face off the impurities with just one easy step.
Pros
Instant foaming formula
Smells like a juicy pomelo
Infused with cinnamon bark extracts
Free of gluten and paraben
Does not contain any harmful chemicals
Cons
Has some fragrance infused
Price at the time of publication: $9.95
Some of the highlighting features that turn a makeup remover for oily skin in the best makeup remover for oily skin are listed below.
Features To Look For While Choosing A Makeup Remover For Oily Skin
The ingredients used in the makeup remover tells us a lot about how suitable it is for any skin type. A makeup remover infused with too many natural oils would increase the sebum on the surface of the skin leaving it as oily as ever. Go for ingredients like micelles that have magnet-like power to pull out all the sediments and oil from within the skin. 
Various types of removers like wipes, towelettes, water-based, cream-based, or oil-based are available in the market. Choose the one that suits your skin the best. A few rounds of trial and error can happen initially, but once you find the one that is suitable for your skin then stick to it for best results. 
The products used must be safety-tested to keep the skin away from any risks. Check for the details of the skin to know if it is recommended by the dermatologists or ophthalmologists before use.
After discussing the feature of oil-based makeup removers let's delve into how a makeup remover must be used for getting the best results.
How To Use The Makeup Remover?
Firstly, let's look into how a few types of good makeup removers for oily skin must be used:
Wipes and towelettes are the easiest to use as all you have to do is take a strip of the wipes and rub it evenly all over the face. The dirt-removing ingredients infused upon the wipes sit on the skin on rubbing and cleanses off all the sediments and impurities.  
Water or oil-based cleanser is applied evenly on the skin and allowed for it to soak. They do not form any foam or lather that has to be washed off later while washing all the dirt. Water-based or oil-based products blend with the already produced sebum and reduce its intensity turning the skin light and refreshed.  
A pea-sized drop of a foaming cleanser must be taken and rubbed all over the face for lather. The lather enters into the pores and makes all the dust particles so slippery that it washes off with the splash of water.
Infographic: Dos And Don'ts Of Using Makeup Removers For Oily Skin
Why Trust StyleCraze?
Srijita De, the author of this article, is a makeup enthusiast and provides the lowdown on the makeup removers you should use for oily skin. She compiled a comprehensive and detailed list of the top products after carefully checking the most popular options. Makeup removers for oily skin remove excessive oil and leave the skin feeling healthy, soft, and supple. She checked the brand websites and evaluated online user reviews and feedback to shortlist the products.
Frequently Asked Questions
Is makeup remover good for oily skin?
Makeup removers that consist of micellar and cleansing water are free of oil. These are considered best for oily skin as they clean the face without creating a greasy or oily cover.
Is micellar water good for oily skin?
Micellar water is full of micelles that work like a magnet in sucking out all the oil and impurities from the pores. It is the perfect ingredient for cleaning oily skin as it controls sebum production in the skin without causing any irritation.
What should I do after using makeup remover?
After using a makeup remover, cleanse your face with a moisturizing face wash. Use a toner to remove any residue and clean and tone your pores. Then, at last, apply a nourishing serum to get soothing skin.
Can we use makeup remover every day?
Yes, you can use it daily to remove makeup from your face.
How can I remove makeup without damaging my skin?
Use a gentle makeup remover like the Garnier SkinActive Micellar Cleansing Water to gently remove all makeup. It doesn't damage your skin and, instead, moisturizes it.
Recommended Articles