The 10 Best Ballet Shoes That Are Comfy + Buying Guide (2023)
These durable footwear will give your feet that comfort and support they always needed.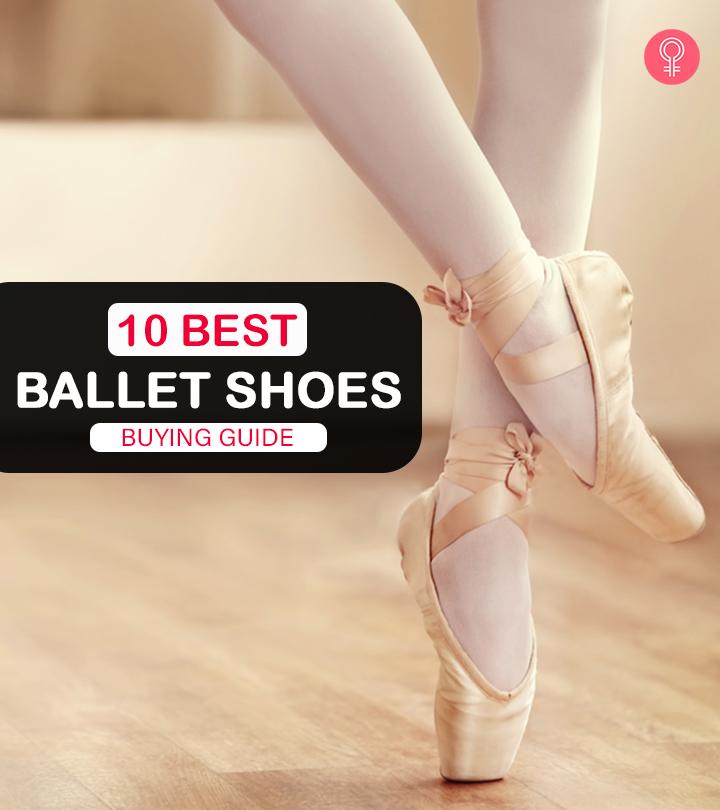 Choosing the best ballet shoes for your needs is pretty easy nowadays. Ballet shoes are lightweight, thin, and allow free and flexible movement while ensuring the dancers' safety. However, with so many bestselling options available, the choice isn't as simple as 'just a pair of ballet shoes.' With the advancements in technology, dance shoes have also evolved, and now they provide greater comfort, support, and durability. However, one should remember these shoes don't provide sufficient support to your ankles and feet for everyday use.
You will notice that female ballet dancers mostly wear tan-colored or pink ones while male dancers wear black or white ballet shoes. But, these shoes are available in various colors. To help you get the best pair for yourself, we have listed the 10 best ballet shoes from trusted brands. Keep reading to know more!
The 10 Best Ballet Shoes
The Bloch Performa Ballet Shoe comes from one of the most prestigious shoemakers of the world – Jacob Bloch. The shoe has a super comfortable, lightweight, stretch-canvas split sole. The toe shape is designed specifically for ultimate balance. It is super soft that perfectly hugs the ballet dancer's foot. This pair of ballet shoes contains shock-absorbing cushions to keep your feet away from any harm. It also contains pre-sewn crossed elastics,and generous front and rear leather split sole pads.
Features
Material:Canvas
Color:Cocoa, sand, pink, and white
Pros
Super soft and comfortable
Lightweight
Good ankle support
Sole durability
Contains shock-absorbing cushion
Cons
The Stelle Girls Practice Shoes have a leather sole and breathable PU upper. They are lightweight and make you feel flexible and comfortable while dancing. Numerous reviews approve of these shoes as they have soles that are waterproof, wear-resistant, and skid-resistant. The comfortable ballet flats are perfect for dancing, gymnastics, parties, and weddings.
Features
Material:PU leather
Color:Pink, beige, and black
Pros
Lightweight and comfortable
Soft
Enhanced flexibility
Anti-skid sole
Water-resistant
Wear-resistant
Good arch support
Easy to clean
Easy to take off
Cons
The Wendy Wu Dance Shoes use satin material and are available for both kids and adults. The sole is made from thick German paper, which is flexible and wear-resistant. The tried-and-tested ballet shoes have a pure, high-quality ribbon and are perfect for regular practice. They provide enough support for both beginners and professional dancers. These beginner-friendly shoes are perfect as birthday or Christmas gifts.
Features
Material:Satin
Color:Pink, red, and black
Pros
Durable
Flexible
Water-resistant
Provides support for beginners and professionals
Cons
May have fitting issues.
Cannot be washed or cleaned.
The Capezio Women's Daisy Ballet Shoe is a soft ballet slipper made from soft leather and tanned suede leather outsole for durability. The top of the shoes has a lustrous finish, adding an elegant touch. This also makes the shoe comfortable and does not squeeze or pinch your toes. The shoe comes with a bar-tacked elastic drawstring that hugs the foot for a perfect fit and provides a touch of elegance. These comfortable flats are practical and perfect to wear for dancers of any age. They have a classic design and a unique daisy print on the hung cotton lining.
Features
Material:Leather
Color:Pink, black and white
Pros
Durable
Comfortable
Full suede sole
Adjustable drawstring for extra hold
Ideal for dancers of all ages
Cons
The TXJ Sports Ballet Shoes are satin pointe shoes. They have silica gel toe pads to keep your toes comfortable while dancing. The shoes are made of satin and have a hard leather non-slip bottom that protects you from slipping while on the dance floor. The flat shoes come with a pair of ribbons and toe pads.
Features
Material:Leather
Color:Pink
Pros
Ideal for dancers of every age
Provides toe protection
Silica gel toe pads
Non-slip bottom
Stable platform
Cons
The Nexete Professional Ballet Shoes are perfect for those who are still working on their pointe technique. The shoes have a satin upper and a wide-strength box, offering entire foot coverage which makes them comfortable to wear. The strong elastic shank prevents dancers from slipping. Based on a tester's experience, these shoes are suitable for square toes and are great to be used with toe pads. This pair of ballet flats comes with toe pads, ribbons, and a canvas bag for easy storage.
Features
Material:Satin
Color:Pink, red, and black
Pros
Made of high-quality leather
Durable
Versatile
Lightweight
Wide width
Comfortable
Cons
None

The Danzcue Ballet Shoes are high-quality suede sole ballet slippers. These shoes are comfortable to wear and durable. They have a classic round head design,double pre-sewn crisscross straps, and adjustable elastic cords. The shoes feature drawstring cords that can be adjusted as per your comfort. They are fully lined with sweat absorbing fabric, and the soles are wear- and slip-resistant.
Features
Material: Canvas
Color: Pink, black, and white
Pros
High-quality lining
Adjustable elastic cords
Wear- and slip-resistant Easy to clean
Cons
None
The Dynadans Soft Leather Ballet Shoes are made from high-quality faux leather. They are highly comfortable, durable, and easy to wear. The flats have adjustable elastic straps, and their sole is made of lightweight leather. Its frontal area has designer splits that help to maintain grip and support. Multiple reviewers haved vouched that these suit children and adults alike and come with a focus on stability and safety. The shoe fabric is washable, quick drying, and a moisture absorbing material to make your walks and workouts pleasant. These nude ballet flats can be matched with different outfits.
Features
Material: Faux leather and rubber
Color: Black, Nude, Pink
Pros
High-quality material
Comfortable and durable
Easy to wear
Moisture-wicking
Lightweight sole
Washable
Quick-drying
Breathable fabric
Sweat absorbing
Multiple color options
Budget-friendly
Adjustable elasticized straps
Cons
The Bezioner Ballet Pointe shoes are specially designed for professional dancers. They have a split leather sole with a high-quality ribbon that makes them soft, breathable, and durable. The classic ballet shoes come with a pair of silicone toe pads to keep your toes more comfortable. They are elegant, and the cross over straps offer free movement while practicing.
Features
Material:Satin
Color:Pink
Pros
Includes silicone pads
Made from high-quality satin
Comfortable
Stylish appearance
Durable
Anti-slip soles
Cons
None
The Ijonda Adult Pointe Shoes are suitable for ballet, dancing, gymnastics, performance, and general training. The upper part of the shoes is made from silk satin that is breathable and comfortable. The bottom of these comfortable shoes is made from hard leather. The bottom of the shoes are wear-resistant and anti-skid for safe traction and prevents slipping. The classic shoes come with elastic bands that can be adjusted to your preference.
Features
Material: Satin
Color: Red and pink
Pros
Wear-resistant and anti-skid
Suitable for all seasons
Ideal for both beginners and experts
Double-stitched
Durable
Cons
None
*The prices provided in this article are based on the latest available information. However, they may vary due to changes in pricing by the seller and/or promotional offers.
Mentioned below are a few points one should keep in mind while shopping for ballet shoes. 
How To Choose Ballet Shoes –Buying Guide
Material: The professional ballet pointe dance shoes are usually made of satin, canvas,or leather. Satin may look pretty, but leather is the most durable. A good middle ground is opting for canvas shoes, which are generally cheaper than leather but more durable than satin. The leather ones are thick and durable and often used by children. Experienced and actual ballet dancers prefer canvas shoes as they adhere to the shape of the feet.
Sole: The soles of the shoes are the most important. They provide protection to your feet and prevent slipping. Look for shoes with an ergonomic design and anti-skid or anti-slip features. This will ensure your safety on the dance floor.
Toe Pads: While shopping for ballet shoes, go for the ones that include toe pads. They will keep your toes comfortable through any dance routine.
Let's take a look at the various types of shoes available on the market.
Types Of Ballet Shoes
Split Sole Shoes: A split sole shoe has a hard pad on the bottom. However, the pad does not spread over the entire sole length. It is present only on the ball of the foot, toes, and heel. This is done purposefully to allow the ballerina a better range of motion in her foot. The split sole shoes interfere less with pointing and flexing the foot.
Full Sole Shoes: The full sole shoes have the sole on the entire bottom of the shoe. These shoes are usually preferred by newer dancers as they provide added support.
Pointe Shoes: The pointe shoes are designed to support the feet and ankles. These shoes are used by experienced ballerinas.
Why Trust StyleCraze?
Shiboli Chakraborti, the author of this article, is a fashion enthusiast who keeps herself updated about the latest trends and styles. She also believes that fashion and comfort factors should go hand in hand, and her list of the best ballet shoes proves the same. She has browsed various online platforms to filter out the best ballet shoes for her readers. These shoes provide greater support, comfort, and durability.
Frequently Asked Questions
What do you wear under ballet shoes?
It is advised to wear socks under ballet shoes. However, if you are a beginner, you can start practicing bare feet to prevent slipping.
What kind of ballet shoes should I get for a beginner?
Ballet slippers are recommended for beginners.
Are leather or canvas ballet shoes better?
Both shoes are great for ballet. Leather shoes are thick and durable, whereas canvas shoes are flexible to fit the shape of the feet.
Should you buy ballet shoes a size bigger?
Yes, it is recommended to purchase ballet shoes a size bigger than your original feet size. These shoes are supposed to fit snugly, and not tight-fitting.
Are canvas ballet shoes washable?
Yes, canvas ballet shoes are machine-washable. Wash them on a gentle cycle with a soft detergent to keep its color intact.
Do ballet shoes stretch?
Yes, if worn frequently, leather ballet shoes can stretch. Since ballet shoes are supposed to have a snug fit, stretching them helps in making sure that they are not too tight or uncomfortable.
Recommended Articles