The 10 Best Ballet Shoes That Are Comfy + Buying Guide (2023)
These durable footwear will give your feet that comfort and support they always needed.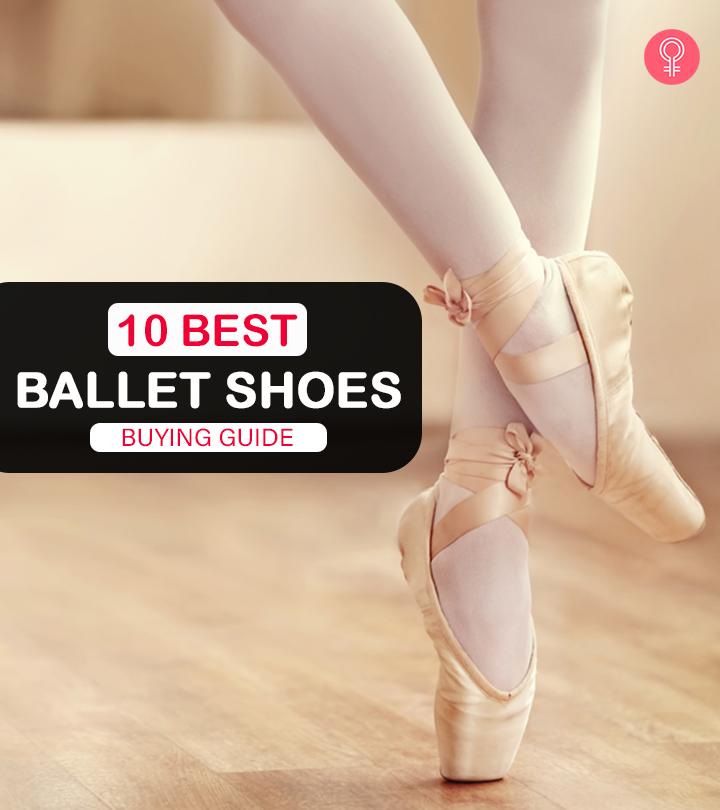 Choosing the best ballet shoes for your needs is pretty easy nowadays. Ballet shoes are lightweight, thin, and allow free and flexible movement while ensuring the dancers' safety. However, with so many options available, the choice isn't as simple as 'just a ballet shoe.' With the advancements in technology, dance shoes have also evolved, and now they provide greater comfort, support, and durability. However, one should remember these shoes don't provide sufficient support to your ankles and feet for everyday use.
You will notice that female ballet dancers mostly wear tan-colored or pink ones while male dancers wear black or white ballet shoes. But, these shoes are available in various colors. To assist you in deciding the best pair for yourself, we have listed the 10 best ballet shoes. Keep reading to know more!
The 10 Best Ballet Shoes
Pros
Super soft and comfortable
Lightweight
Adheres to the arch beautifully
Contains shock-absorbing cushion
Cons
Price at the time of publication: $19.08
Pros
Lightweight and comfortable
Soft
Anti-skid sole
Water-resistant
Wear-resistant
Easy to clean
Easy to take off
Cons
Price at the time of publication: $12.49
The Wendy Wu Dance Shoes use satin material and are available for both kids and adults. The sole is made from thick German paper, which is flexible and wear-resistant. The ballet shoes havea pure,high-quality ribbon and are perfect for regular practice. They provide enough support for both beginners and professional dancers. These are perfect as birthday or Christmas gifts.
Features
Material:Satin
Color:Pink, red, and black
Pros
Durable
Flexible
Water-resistant
Provides support for beginners and professionals
Cons
May have fitting issues.
Cannot be washed or cleaned.
Price at the time of publication: $35.0
Pros
Durable
Comfortable
Full suede sole
Drawstring for extra hold
Ideal for dancers of all ages
Cons
Price at the time of publication: $21.69
Pros
Ideal for dancers of every age
Silica gel toe pads
Non-slip bottom
Cons
Price at the time of publication: $19.99
Pros
Made of high-quality leather
Durable
Lightweight
Comfortable
Strong elastic shank
Cons
None

Price at the time of publication: $29.97
The Danzcue Ballet Shoes are high-quality suede sole ballet slippers. These shoes are comfortable to wear and durable. They have a classic round head design,double pre-sewn crisscross straps, and adjustable elastic cords. The shoes feature drawstring cords that can be adjusted as per your comfort. They are fully lined with sweat absorbing fabric, and the soles are wear- and slip-resistant.
Features
Material: Canvas
Color: Pink, black, and white
Pros
High-quality lining
Adjustable elastic cords
Wear- and slip-resistant Easy to clean
Cons
None
Price at the time of publication: $12.5
Pros
Premium material
Comfortable and durable
Easy to wear
Lightweight sole
Washable
Quick-drying
Breathable fabric
Sweat absorbing
Multiple color options
Budget-friendly
Adjustable elastic straps
Cons
Price at the time of publication: $9.59
Pros
Includes silicone pads
Made from high-quality satin
Comfortable
Durable
Anti-slip soles
Cons
None
Price at the time of publication: $26.99
The Ijonda Adult Pointe Shoes are suitable for ballet, dancing, gymnastics, performance, and general training. The upper part of the shoes is made from silk satin that is breathable and comfortable, while The bottom is made from hard leather. The bottom of the shoes are wear-resistant and anti-skid for safe traction and prevents slipping. The shoes come with elastic bands that can be adjusted to your preference.
Features
Material: Satin
Color: Red and pink
Pros
Wear-resistant and anti-skid
Suitable for all seasons
Ideal for both beginners and experts
Double-stitched
Durable
Cons
None
Price at the time of publication: $27.78
Mentioned below are a few points one should keep in mind while shopping for ballet shoes. 
How To Choose Ballet Shoes –Buying Guide
Material: Ballet shoes are usually made of satin, canvas,or leather. Satin may look pretty, but leather is the most durable. A good middle ground is opting for canvas shoes, which are generally cheaper than leather but more durable than satin. The leather ones are thick and durable and often used by children. Experienced and more seasoned dancers prefer canvas shoes as they adhere to the shape of the feet.
Sole: The soles of the shoes are the most important. They provide protection to your feet and prevent slipping. Look for shoes with anti-skid or anti-slip features. This will ensure your safety on the dance floor.
Toe Pads: While shopping for ballet shoes, go for the ones that include toe pads. They will keep your toes comfortable through any dance routine.
Let's take a look at the various types of shoes available on the market.
Types Of Ballet Shoes
Split Sole Shoes: A split sole shoe has a hard pad on the bottom. However, the pad does not spread over the entire sole length. It is present only on the ball of the foot, toes, and heel. This is done purposefully to allow the ballerina a better range of motion in her foot. The split sole shoes interfere less with pointing and flexing the foot.
Full Sole Shoes: The full sole shoes have the sole on the entire bottom of the shoe. These shoes are usually preferred by newer dancers as they provide added support.
Pointe Shoes: The pointe shoes are designed to support the feet and ankles. These shoes are used by experienced ballerinas.
Whether you have just started learning ballet or are a prima ballerina, the perfect ballet shoe can make all the difference to your moves. We hope that this list of the best ballet shoes has helped you find that perfect pair of shoes to ace your jetés and relevés. 
Why Trust StyleCraze?
Shiboli Chakraborti, the author of this article, is a fashion enthusiast who keeps herself updated about the latest trends and styles. She also believes that fashion and comfort factors should go hand in hand, and her list of the best ballet shoes proves the same. She has browsed various online platforms to filter out the best ballet shoes for her readers. These shoes provide greater support, comfort, and durability.
Frequently Asked Questions
What do you wear under ballet shoes?
It is advised to wear socks under ballet shoes. However, if you are a beginner, you can start practicing bare feet to prevent slipping.
What kind of ballet shoes should I get for a beginner?
Ballet slippers are recommended for beginners.
Are leather or canvas ballet shoes better?
Both shoes are great for ballet. Leather shoes are thick and durable, whereas canvas shoes are flexible to fit the shape of the feet.
Should you buy ballet shoes a size bigger?
Yes, it is recommended to purchase ballet shoes a size bigger than your original feet size. These shoes are supposed to fit snugly, and not tight-fitting.
Are canvas ballet shoes washable?
Yes, canvas ballet shoes are machine-washable. Wash them on a gentle cycle with a soft detergent to keep its color intact.
Do ballet shoes stretch?
Yes, if worn frequently, leather ballet shoes can stretch. Since ballet shoes are supposed to have a snug fit, stretching them helps in making sure that they are not too tight or uncomfortable.