11 Best Walking Shoes For Seniors To Keep Them Active
Help your loved ones get more confident on their feet and also relieve orthopedic pain.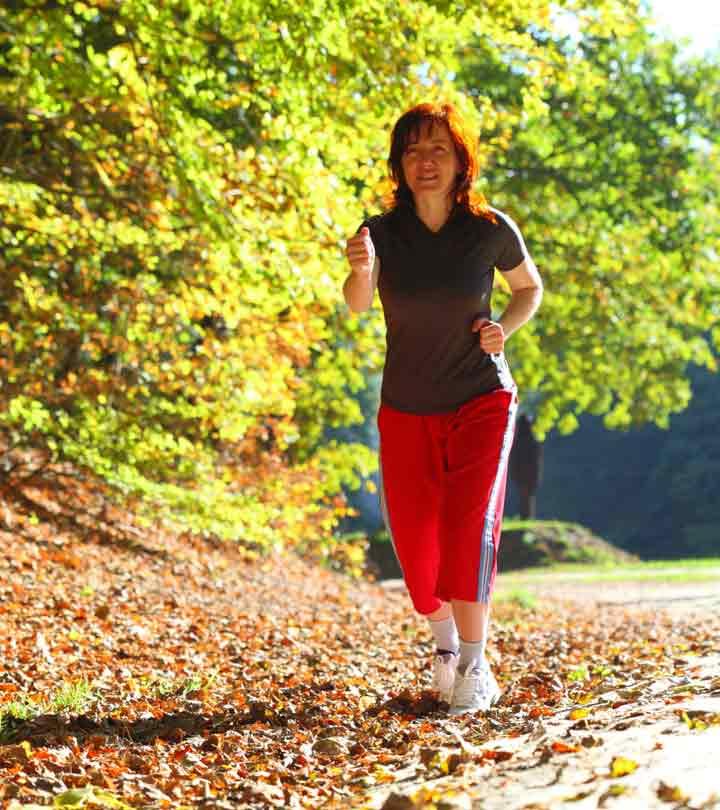 The process of aging brings with it some unwelcomed experiences that make us worried and wary of our own bodies. As we become older, our feet lose mobility and make it difficult for us to walk frequently, and may even reduce our urge to walk at all. With the help of the best walking shoes for seniors, we can, however, make it easier for elders to walk in order to maintain good health. In fact, no matter what your age is, a few moments of brisk walking or short hiking on a regular basis can help you maintain good health and can keep your heart pumping. While you can use your favorite pair of running shoes for walks in the park, you should be aware that the finest walking shoes for the elderly are not the same as regular sneakers.
Bunions, achy joints, plantar fasciitis, and other foot disorders are common in older people. They put a lot of strain on your feet, which can be mitigated by adding elements like suitable cushioning, stability, and comfort to your footwear. Check out these finest walking shoes for seniors that would keep your feet safe and healthy if you want to get rid of your unpleasant shoes and add a spring to your stride.
Stride With Pride With The 11 Best Walking Shoes For Seniors
In search of shoes for everyday wear that can remain intact in the long run? These ultra-soft, high-comfort New Balance walking shoes for seniors are lightweight and come with much more cushion support than regular sneakers. Made with durable fabric and comprising a leather toe vamp, these are meant to provide you with ultimate breathability while the mesh material keeps your feet cool and comfortable. The senior walking shoes also feature a soft lining and padded insoles for the extra support you need to perform any activity. The outsoles are constructed with high-quality rubber to provide comfort throughout the day and maintain stability on hard floors.
Pros
 Ideal for long walks
 Lightweight and durable
 Extra cushioned support
 Breathable mesh material
Cons
 The strings are slightly thin.
Price at the time of publication: $64.99
This pain-free shoe from Orthofeet is crafted to make sure of one thing — that you stay on your toes for as long as you wish without feeling fatigued. Built with stretchable knitted fabric uppers and anatomical arch support, the pair not only gives support but also reduces pressure at the heel and ball of your foot. With an innovative ortho-cushion system, the ergonomic sole softens any impact and makes walking on hard surfaces easier. A soft foam-padded inner lining helps in relieving pressure points while eliminating friction with the skin.
Pros
 Removable insoles
 Anatomical arch support
 Unique ortho-cushion system
 Moisture-wicking materials
 Spacious toe-box for swollen feet
 Foam padding for protection
Cons
 Might take some time to break in
Price at the time of publication: $142.95
The Ultraboost 20 shoes from Adidas are charged with acrobatic features that will ease your movements. Their Primeknit fiber on the upper is designed with body-mapped support zones to be able to stretch at its best, while the Boost midsole offers a spring-like feel in every step. The pair's durable rubber outsole features Adidas' Stretchweb and Continental technology for superior grip in all conditions. However, what makes this fancy pair of shoes a top-notch choice is that the soft and flexible upper portion of the shoes is made of plastic gathered from beaches and coastlines! So, not only are they snug and comfortable, but also a way to reduce and recycle plastic waste.
Pros
 Responsive midsole
 Environment-friendly
 Lightweight and supportive
 Primeknit fiber for extra stretch
Cons
 The insole may move a bit while wearing or removing.
Price at the time of publication: $104.08
If you want a sneaker that can be worn for long walks and casual days out on the town, these shoes from Belilent are an easy choice to make. Crafted with an ethylene-vinyl acetate sole, these slip-on walking shoes for seniors come with a no-tie shoelace for quick slide-ins and bring you all the cloud-cushion comfort that you need. The soft, well-knit upper mesh promises better breathability without weighing you down. An impressive feature about these shoes is that they're vegan and packed in reusable ziplock bags for recurring use, making them good for your health as well as the planet's!
Pros
 Cruelty-free construction
 Featherlight at 0.8lbs
 Casual shoes for everyday wear
 Perforated upper for breathability
 Easy slip-on and no-tie shoelace
Cons
 Might be slightly less supportive
Price at the time of publication: $19.99
Tired of slip-on shoes that simply grow out in size and fail to hold on to your ankle? Well, you might be in luck with these Tiosebon knitted walking shoes. The soft, lightweight, and durable pair is made from a premium knit upper that is incredibly comfy and breathable. The interiors of the lightweight walking shoes for seniors feature classic leather memory insoles along with a latex arch insert for increased support. Their outsoles are meant to be non-skid and have great traction while securing your feet. Apart from the tactile aspect of these shoes, Tiosebon also aims to protect the environment as every pair uses 7 plastic bottles that will no longer add to the global waste.
Pros
 Non-skid and eco-friendly
 Slip-on shoe without laces
 Latex arch insert for extra support
 Padded with memory foam insoles
Cons
 Might be slightly narrow for wider feet
Price at the time of publication: $33.14
If you like the look of shoelaces on your sneakers but absolutely dread tying them up every time you head out, these Lancrop walking shoes are the ones for you. The old people walking shoes are easy to slip on and come with a faux lace-up at the front. A lightweight shoe that matches up to your level of comfort and pace with its arch support, its easy on-off feature allows this shoe to be your favorite travel buddy. The added bonus is that it's super-stretchy and fits like a sock.
Pros
 Smart design for casual activities
 Comfortable and lightweight material
 Non-skid and ideal for high arches
 Soft knit mesh fabric upper
 Available in 23 colors
Cons
Price at the time of publication: $23.99
Walking shoes don't always have to be small and flat. If you're into something that has a little more cushion with a wedged heel, the Leader Show walking shoes are an excellent option. These supportive walking shoes for seniors have a spacious toe room that allows you to adjust the fit. They're designed with a fluorescent strip to guide you through nightly strolls and enhance your visibility at the same time. The soft padded heel does not cause any friction, and the smooth lining creates enough room for your feet to breathe well. Instead of lace-ups, they come with a velcro strap on the top to secure your foot and make slipping into the shoes a breeze.
Pros
 Unique velcro closure
 Incredible traction
 Soft and weightless
 Decreases sweating
 Fluorescent straps
 Available in 7 colors
Cons
 The arch might be slightly low for some.
Price at the time of publication: $36.93
Another hook-and-loop recommendation that ranks consistently high among walkers, these shoes by Propét are designed with a mesh upper that has a brushed nylon lining and a padded tongue. They do have a bit of height, which is secured with cushioned ridges, and a PU insole gel heel. The footbed can be removed to accommodate your needs, while the arch-supporting EVA midsole with a rubber outsole has been infused to endure extended wear and give you as much traction as you need to stay stable on slippery surfaces.
Pros
 Adjustable strap closure
 Extra-cushioned insole
 Slip-resistant soles
 Cushioned collar and tongue
 Soft brushed nylon padding
 Available in 3 color options
Cons
 The back heel might be slightly short for some.
Price at the time of publication: $80.6
A stretchy, flexible shoe is exactly what the doctor ordered for those who like to leave a bit of room for their toes or have any medical condition. In addition to space, these walking shoes for the elderly from Orthoshoes offer an adjustable velcro strap that eliminates the need for you to fuss with laces. Ideal for all seasons, don't let the featherlight body of the shoes deceive you as they come heavily cushioned with a removable padded insole to fulfill all of your comfort needs. These shoes are a stellar choice if you are battling health conditions like diabetes or feet-related issues like bunions, plantar fasciitis, osteoarthritis, etc.
Pros
 Lightweight and soft
 Heel-to-toe padding
 Roomy in the toe area
 Hook-and-loop strap closure
 Available in 6 neutral colors
Cons
 The toe-box might be more suitable for wide feet.
Price at the time of publication: $59.99
Planning a short hike up the friendly neighborhood forest but don't have reliable hiking shoes? We've got just the thing for you. Designed to withstand any weather with their waterproof fiber, these shoes come with a Cradle Guide technology to give you a smooth, stable ride. You can wear these chunky statement sneakers anywhere from treks and walks to more adventurous expeditions, as the shoes feature PU-coated leather and a textile mesh to resist abrasion. The sole is made from the brand's best-in-class Vibram material, which offers extra-sturdy footing on wet and dry land, making them one of the best walking shoes for older women on the go.
Pros
 Waterproof hiking shoes
 Durable PU-coated leather
 Vibram insole for stability
 Long-lasting on various trails
 Available in 3 designs
Cons
Price at the time of publication: $129.99
You will be more than happy at the thought of going the extra mile with these Dr. Comfort Victory shoes. Constructed with premium leather, a mesh upper, and a firm heel counter, the pair is sure to give you the support you need without bogging you down with too much weight. It has a roomy and protective toe-box to prevent any forms of irritation and avoid toe-stubbing shocks. The design is a mix of lace-up and strap closure that lets you skip fumbling with laces. For the ultimate win-win, you can remove the footbed of these Victory old person walking shoes and replace it with special orthotics that will make every trip, from the local supermarket to nearby hiking spots, feel like a walk in the park.
Pros
 Firm heel counter
 Removable insoles
 Ventilated mesh uppers
 Convenient strap closure
 Lightweight and breathable shoe
Cons
 The gel inserts take some effort to slide into the shoes.
Price at the time of publication: $127.89
If there's one thing we hate more than walk-induced leg pain, it is to get blisters or other regrets that come along with the wrong pair of shoes. Here are a few key points to note while selecting the right walking shoes for seniors.
Things To Know About Aging Feet
Since our feet are the base of support, keeping them well-protected by wearing the right footwear is essential. As we age, the condition of our feet tends to deteriorate. This calls for more attention in order to keep them functioning properly. Here are some factors that have an impact on aging feet:
With age, we tend to store extra weight that causes strain on our feet and joints, which further results in pain and discomfort during any activity.
The fat padding under the feet diminishes with age or if you lose weight. The reduction of the fat padding results in less shock absorbency, which could result in pain and other health conditions.
Health issues like diabetes or other conditions that are neuropathic in nature can cause poor circulation among aging individuals. This can make the feet swell up.
Calluses, corns, bunions, hammertoes, etc. are more prominent with age and require extra care. Comfortable shoes that do not trigger or cause more pain to the feet are one way to keep the problem from getting worse.
How To Choose The Best Walking Shoes For Seniors
1. Pick comfort over style
Walking shoes are items you need to invest in for the sake of your own comfort, more so when you grow older. The ones with better padding at the base, arch support, spacious toe room, and comfortable closures should be what you look for when buying a pair of walking shoes.
2. Choose a lightweight shoe
You'd definitely not want to be held down by the shoes you wear. Therefore, always opt for a lightweight pair of shoes that help in making better movements without straining or adding weight on your legs. Heavy shoes may end up pushing your calf muscles to put more pressure on your legs, resulting in post-activity foot pain.
3. Ensure a perfect fit
A good walking shoe comes with a bit of toe room and a wider fit in general. This allows you to be comfortable when you go on your daily strolls. A spacious toe-box is suitable for flat feet and wide enough to not cause a hint of discomfort.
4. Check for extra cushioning and support
A good walking shoe should have a generous amount of padding and arch support at the base as well as near the ankles. A cushiony upper also matters because it ensures proper support to the bridge of your foot.
Why Trust StyleCraze?
Priyam Gupta is a fashion enthusiast who enjoys compiling relevant information and thoroughly reviewing products. She understands that most seniors want to live a happy and active lifestyle, and with a good pair of walking shoes, they will walk for longer and won't need much help. She checked thousands of online reviews and feedback on different platforms to pick the best products for seniors that will help them stay active and be confident.
Frequently Asked Questions
Are Hoka shoes good for seniors?
Hoka is a brand that makes comfortable, high-quality shoes for anyone and everyone. If you're into chunky designs, you should give them a shot. Though they have enough cushioning in the heel, it is safe to assume that they are made for runners and aren't inherently walking shoes.
Are flip-flops bad for seniors?
Yes, especially if you are planning to use them for long walks. They are not too stable and lack the kind of support you need. They are also prone to slippage, toe blisters, and exacerbating joint pain if worn for extended periods.
Are Skechers' senior walking shoes good for the elderly?
As long as they provide enough cushioning, better traction, and support like any ordinary walking shoe, you can opt for a pair of Skechers walking shoes.
What is the most comfortable walking shoe for seniors?
The Lancrop and Adidas Ultraboost 20 Shoes are the best comfortable walking shoe for seniors as the shoes are flexible and have a soft lining and padded insoles for extra support and grip.
Recommended Articles