11 Best Sandals For People With Diabetes – Trendy And Comfortable
Forget diabetic foot pains with these comfortable and stylish sandals.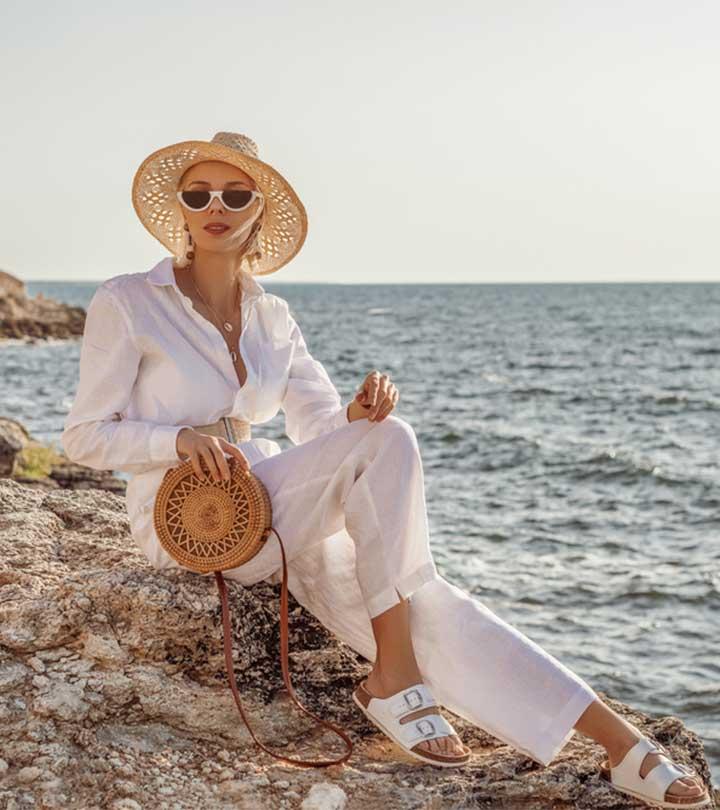 Many brands claim to produce the best sandals for diabetics, but it's scarce that your swollen feet, plantar fasciitis, or hammertoes get the treatment they deserve. It would help if you had a pair that is specially designed by orthopedics to ensure comfort and support are given priority. Michelle Wagman, a fashion industry entrepreneur says, "Orthopedic shoes have medically beneficial features and functions that separate them from everyday footwear". This avoids the unfortunate situation where your aches are aggravated instead of soothed. Sandals are a preferred option for many with this ailment as they are airy and relaxing while being supremely fashionable. Besides this, they provide good acupressure and ease your joints by applying enough pressure to calm down the stress. You can also have the luxury of owning a mini massager, as these pairs ensure that your blood circulation is stimulated! To help you get your hands (and feet) on the best ones, we've carefully curated a list of the top shoes for diabetic women that will make all your footwear aspirations come true!
11 Best Sandals For Diabetics To Relieve Stress And Pain While Walking
Are you still compromising on comfort for the right size? If yes, try these sandals with 3 adjustable straps instead! Irrespective of your foot's shape or size, these sandals guarantee long-lasting comfort and durability. It's made of 100% full-grain leather and has a slightly arched synthetic insole for optimal support. It has a foam-padded footbed with a microfiber sock lining and polyethylene outsole for shock absorption and unparalleled comfort. Need we say more?
Pros
Durable
Long-wear
Maximum traction
Available in 11 colors
Cons
Slightly expensive
Might be slightly uncomfortable for flat feet
Price at the time of publication: $64.01
Your long walks just got super comfortable! Whether it is plantar fasciitis, heel ache, feet pain, neuropathy, arthritis, or diabetes, this pair boasts an ergonomic design to comfort feet optimally. These sandals have an ultra-light and orthotic insole with multiple cushion layers to add ease to your natural strides. The sole also has an anatomical arch for enhanced comfort and to control overpronation. Do you often end up with blisters due to straps? Not with these! The sandals are made with smooth, soft, and adjustable straps for sensitive feet and roomy toe areas for bunions and hammertoes. And if you sweat a lot, the DryPlex fabric is moisture-wicking and quick-drying too! Vacation sandals, anyone?
Pros
Therapeutic sandals
Anti-odor fabric
Extra foam padding
Lower back to feet comfort
Cons
Slightly expensive
Limited color options
Price at the time of publication: $114.95
If exposed toes are not your thing you can swap your shoes with these closed-toe sandals. Break free from stuffy shoes to enjoy enhanced ventilation, maximum comfort, and stress-free walks with these ultra-light sandals. A fantastic choice for sensitive feet, diabetes, arthritis, and more, this pair has smooth, soft, and adjustable straps and an anatomical arch for flat feet too. And do you have hammertoes, bunions, or wide feet? These sandals are super roomy to allow free movement and will enhance circulation too.
Pros
Extra wide sandals
High stability
Ultra-stretchy
Enhanced traction
Doctor-recommended
Suitable for long walks
Cons
Price at the time of publication: $104.95
Just the sandals you need to complete your beach look, stay comfortable, and flaunt your expensive pedicures! Ultra-light and designed to provide the "almost barefoot" feeling, these diabetic sandals have an integrated post and shank, dual-density midsole, and a highly-cushioned footbed for superior comfort. What about its durability? Well, it's 100% high-quality leather. So, all you have to do is slip your feet into these and get going on your ache-free walks this season.
Pros
Non-chafing
Anti-slip traction
Enhanced stability
Available in 4 colors
Helps regulate foot temperature
Cons
May be slightly stiff initially for wide feet
Price at the time of publication: $54.06
Combining the comfort of shoes and the breathability of flip-flops, these sandals are great for adventure lovers! A fantastic pair to swap your regular sandals with, they have adjustable Velcro closures made of mesh fabric to keep your feet comfortable and fresh. The sandals also have spacious heel areas that won't squeeze your feet, and the soft rubber outsole is anti-slip and shock-absorbent. Wear them on your long walks, beach trips, or around pool areas; they guarantee stability and protection, especially for those with diabetes, swollen ankles/feet, hypertension, hammertoe, and other foot ailments.
Pros
High stability
Anti-slip outsole
Breathable material
Lightweight
Wear-resistant
Machine washable
Cons
Limited color options
The insole may be slightly firm for some.
Price at the time of publication: $41.99
Are you skipping long walks to avoid foot cramps and aches? If yes, this summer orthopedic footwear needs your attention! Besides looking trendy, they'll maintain your natural gait without triggering feet aches. It has a built-in arch support for plantar fasciitis and flat feet, a deep heel cup for a cradling effect, and elastic and padded straps for maximum comfort. And the best part is, the pair is super roomy, and the footbed is cushiony to relieve pressure on the feet, ankles, and lower back. Highly durable and flexible, these sandals also have a light EVA midsole and anti-slip rubber outsole for stability and protection.

Pros
Pain relief
Water-resistant
Ergonomic design
Shock-absorbing
Available in 5 trendy patterns
Suitable for bunions, joint ache, swelling, and other foot ailments
Cons
May be slightly loose for narrow feet
Price at the time of publication: $39.99
How about something sporty for your daily walks, pool, and beach getaways? These sandals by Adidas packs comfort, stability, and protection in one. They have a Velcro strap design for a custom fit, and the footbed is arched to support flat feet. A minimalist design to go with your swimwear, athleisure, and daily OOTDs effortlessly, it also has a rubber outsole that is non-slip and water-resistant.
Pros
Roomy
Durable
Supportive footbed
Lightweight
Maximum comfort
Cons
Some may find the fit too snug initially
Price at the time of publication: $44.05
If you are a trendsetter, try these mules and clogs by TBBY! A trendy pair to complement your daily and vacay OOTDs, they are super comfortable too. It has an adjustable closure, a wide toe box, and stretchy hollow coverage for maximum comfort and traction. Besides this, the soles are air-cushioned to absorb shock, relieve stress from the feet, ankle, knees, and lower back. Just the pair you need to prevent foot fatigue and look chic, they are also a fantastic choice to wear at work. Try them!
Pros
Durable adjustable sandals
All-day wear
Lightweight
Enhanced stability
Available in multiple colors
Cons
Feet may get slightly sweaty in summer
May be slightly narrow for swollen feet
Price at the time of publication: $34.59
Here are ultra-comfortable sandals your nana will thank you for! Not only are they easy to wear and take off, the design provides the utmost comfort to weak feet or those with foot ailments. It has adjustable Velcro straps for a custom fit, plus the wedged heel is soft, and the insole is cushioned with foam to prevent stress while walking. And the best takeaways, the 100% polyester material is spill-resistant, and the footbed is anti-slip, making this diabetic-conforming pair great for all indoors and outdoors activities.
Pros
Durable extra cushioning
Breathable
High stability
Roomy toe area
Available in 3 colors
Cons
Price at the time of publication: $52.4
Unlike regular sandals, you can wrap these sandals around your feet! A fantastic choice for diabetic and swollen feet, there will never be a stiff or stuffy moment with this one. High on comfort, traction, and adjustability, they are incredible for those with wide feet, edema, pressure sores, sensitive skin, and more too. The Velcro straps and uppers are soft and padded to cradle your feet, bunions, and hammertoes effortlessly while walking. So, if you are looking for something that is easy-to-wear, take-off, and ultra-light, these sandals won't disappoint.
Pros
Durable
Breathable
Anti-odor
Anti-skid sole
Ergonomic design
Machine washable
Cons
Some may find the footbed slightly firm
Price at the time of publication: $44.99
Here's another pair with the comfort of shoes and the feel of floaters! And why must you try them? They are biomechanically designed with unique comfort and protective features to ease stress and pressure while walking. Ideal for diabetics, swollen feet, hammertoes, plantar fasciitis, and several other foot ailments, they have robust Velcro straps that won't come undone and will provide the ideal non-binding fit for your feet. And for optimal comfort, it is padded generously from heel to toe for shock absorption and cushioning effect. Wear it indoors or outdoors, or take it on vacation with you; its rubber soles are tried and tested for an anti-skid experience and to improve mobility.
Pros
Durable
Ultra-light
Non-binding design
Machine washable
Maximum comfort
Suitable for wide and extra-wide feet
Cons
Feet may get sweaty in summer
Price at the time of publication: $19.99
Feet aches, be gone! There you go, those are the 11 best sandals for diabetics in 2023 to fall in love with. If you still need assistance while shopping for them, we have some tips for you in our buying guide below.
Things To Keep In Mind While Buying The Best Sandals For Diabetics
Since having the right size is imperative to enjoy maximum comfort and benefits, check the brand's size chart before buying the sandals. Not doing so and ending with the wrong size can increase the risk of injury or worsen your ailment too.
For diabetic or swollen feet, adjustable straps are crucial for a custom fit. It's best to choose sandals that have Velcro-based toe and heel straps for a custom fit. You should also check if the sandals are meant for wide feet if you are picking a strapless pair.
Comfort should be the prime USP of your footwear. The sandals should be lightweight, flexible, and breathable with skin-friendly and soft uppers. Look out for extra-depth sandals as they are incredibly roomy and deep toe boxes, so your toes have enough room for movement and boosting blood circulation during walks. And to ease stress and pressure, choose sandals with cushioned insoles to improve mobility and shock absorption. For best results, invest in medical-grade footwear.
Choose a pair that ensures effortless wearing and taking off for all ages. Whether buying one for yourself or the elderly, ensure the footwear design requires minimal effort, so they don't have to bend or reach out for assistance to wear their sandals.
One of the most crucial features that you mustn't miss! Irrespective of where you are planning to wear them, choose sandals with an anti-skid sole to reduce the risk of falling or slipping.
Why Trust StyleCraze?
Priyam Gupta is a fashion enthusiast and has a passion for keeping up with innovations in the healthcare industry that can enrich her readers' lives while solving a core problem. This article is intended for those with diabetes who have special footwear needs or are looking for better comfort. Priyam conducted thorough research to pick the best sandals for people with diabetes. Other safety and quality parameters were also considered before recommending the products.
Frequently Asked Questions
Can diabetics wear sandals?
Ideally, people with diabetes should not wear flip-flops, strappy sandals, or open-toe shoes. The reason being, the risk of slipping, blisters, or other hazardous injuries is high with these types of footwear.
Are Crocs good for diabetics?
Yes, Crocs are a fantastic choice for diabetics, and so are sandals from brands such as Adidas, Secret slippers, Silverts, and more. These sandals are designed with unique comfort features and coverage to reduce the risk of injury and improve blood circulation while walking.
Why do diabetics need special sandals?
People with high blood sugar levels for a long time have weak blood circulation in their feet. Diabetes tends to affect nerves and vessels, especially those that travel to the feet, thus resulting in swelling and frequent cramps. However, having the right pair of sandals designed for swollen feet or diabetes can reduce the chance of swelling and improve blood circulation too.
What kind of shoes should people with diabetes wear?
People with diabetes should wear shoes that give comfort as well as protection. These shoes should feature a thick shock-absorbing sole to minimize pressure on the bottom of your foot and broad and deep toe boxes to prevent friction and rubbing.
What are 3 things you should never do to the feet of someone with diabetes?
• Avoid soaking your feet for too long because this might cause dry skin.
• Dry your feet carefully, paying specific attention to the spaces between your toes.
• Use lotion or petroleum jelly to moisturize your feet and ankles. Avoid putting oils or creams between your toes since the excess moisture can cause infection.
Why can't people with diabetes go barefoot?
Diabetes can result in nerve damage, known as peripheral neuropathy, which causes you to lose feeling in your feet. As a result, you may not notice a little injury on your foot, which could develop into a dangerous infection.
What is the difference between a regular shoe and a diabetic shoe?
Diabetic footwear is specifically developed to improve blood flow to the feet. It also protects the foot from injuries to the toes and the bottom of the foot and provides arch and heel support. In contrast, regular shoes do not protect against sores and cause pressure in the midsole area or the back of the shoe because they are often built from solid materials and in a way that may irritate foot pain, the toes, or the back of the heel.
Can people with diabetes wear regular shoes?
No, regular shoes don't prevent sores and exert pressure on the midsole or the shoe's bottom.
Recommended Articles
Best Diabetic Foot Creams
Best Walking Shoes For Seniors To Stay Active Confidently
Best Shoes For Neuropathy That Offer Enhanced Protection