11 Best Shoes For Pregnancy That Are Stylish And Offer Arch Support
Wear these ankle-support, comfy shoes and ensure your fetus' safety at all times.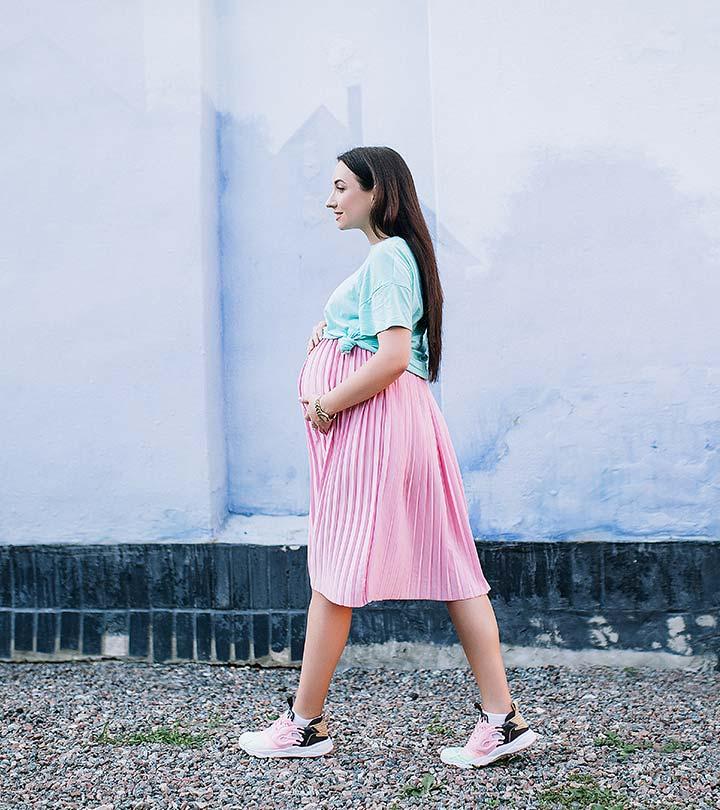 Pregnancy is a magical time, but we cannot deny the dreaded side effects of constant nausea, body ache, hormonal changes, and of course, swollen or aching feet. To ensure you stay comfortable and relaxed during this intensive period, it is an absolute must that you invest in the best shoes for pregnancy. These shoes are essential as they not only provide the comfort and ankle support that cushions your feet but help you look fashionable and edgy without giving off dorky vibes. Besides this, some of them also come with unique features like lined mesh for breathability, broad toe room for inflamed feet, and sufficient bouncy to ensure comfort cushioning so your ankles and calves don't get strained. They pass the cool mom aesthetic check and make for a good investment even post-pregnancy.
If you can't wait to get your hands on the perfect pair, read on! We've listed the best shoes for pregnancy that will make your journey to motherhood bearable and a lot more comfortable!
Do I Need Different Shoes For Pregnancy?
One of the most common effects of pregnancy is a change in the size of your feet. Because of your uterus expanding to accommodate the growing fetus, there's a lot more pressure on the lower body, which results in an increase in fluid levels and causes swollen feet. Normal shoes aren't built to make room for changes in size. They are less flexible and don't offer as much give as necessary in the late stages of pregnancy. So, getting a pair of shoes explicitly designed for this purpose can make you feel more supported and reduce the pressure on other parts of your body.
11 Best Shoes For Pregnancy To Take Care Of Swollen Feet
With a near-perfect rating and more than 30 colors to pick from, these comfortable shoes by Adidas make for a chic and super-comfy pregnancy companion. The Cloudfoam memory sockliner intuitively molds to your natural foot shape and takes the pain out of the break-in process, while the rubber sole provides generous traction that prevents you from slipping on smooth surfaces. Making them extra-breathable is the stretchy mesh upper on each shoe that allows air to flow in and out seamlessly. Originally designed for runners, pregnant women love the pair for so many reasons, not the least of which is keeping you blister-free. No wonder, these sturdy shoes have received 73,555 global reviews on Amazon for being well-fitting and easy to wear.
Pros
Slip-on shoes
Wide and stretchable
Breathable mesh design
Soft, Cloudfoam midsole
Sock-like fit and construction
Available in 30+ colors
Cons
The arch support might not be sufficient for some.
Thanks to the clean and unique slip-on design, light-as-air fabric, and beautiful color options, this loafer is a cult-favorite among shoe-aficionados and pregnant women alike. They're especially ideal for wider feet owing to how flexible the material is. They come with removable insoles, which lets you customize the fitting as well as wash more frequently. The canvas-style construction has a ton of space to offer, so you'll have all the room you need to accommodate the changes in size. Affordably priced and available in more than 30 color options, this product has gained 15,894 reviews on Amazon for being true to size, super comfortable, and providing great arch support. Buying a couple of these will sort you out for all kinds of casual occasions.
Pros
100% canvas
Grippy rubber sole
Lightweight fabric
Removable insoles
Available in 30+ colors
Cons
The cushioning might not be thick enough.
In addition to the sleek profile and highly elastic outsole that provides the perfect amount of give, this pair stands out because of the extremely supportive arch insert. The topline fabric is tender and doesn't irritate the skin, keeping you blister-free during long walks, while the pigskin latex insole gives you a cloud-level comfort without adding any weight to the shoe. Even the outsole is cushioned to absorb shocks like a pro and bounce back from bends and stretches. If there were ever a shoe that made you light and nimble while being breathable and travel-friendly, this one's it. This product has received 29,306 rave reviews on Amazon for being lightweight, true to size, and offering great ankle support.
Pros
Wide toe box
Wash-resistant
Cushioned insole and outsole
Superior shock absorption
Breathable lining
Super-lightweight
Available in 30+ colors
Cons
Slightly difficult to slip into
These minimalistic slip-on sneakers from Dr. Scholl's have become a go-to among expecting mothers for so many reasons — the super-soft lining that remains gentle on your skin, the microsuede fabric known to be lightweight and stain-proof, and the ergonomic cushioning that feels like it was crafted with your feet in mind. There's a padded collar that protects the thin, vulnerable areas around your ankles against blisters and calluses. Whether you're in the middle of your pregnancy or just gave birth, these slip-on shoes make for an excellent purchase when your priorities are flexibility and superior arch support. This product has received more than 17,000 global ratings on Amazon and customers have mostly praised it for being comfortable and easy to wear.
Pros
Microsuede material
Lightweight and durable
Easy to break in
Sustainable construction
Available in 20 colors
Cons
The design might be too plain for some.
Skechers has taken athleisure to a whole new level, so much so that their shoes are a favorite even among pregnant women because they are so comfortable. Designed to maintain their form and endure wear and tear, this pair might end up lasting you throughout and beyond your pregnancy days. The high-quality mesh uppers are great for promoting airflow and letting your feet breathe, while the raised heel panel does exactly what it should: keep your skin safe and blister-free. With an easy-to-wear slip-on style and bungee lacing that offers the right amount of compression to help them stay put, these shoes are definitely worth a try. With more than 13,000 reviews on Amazon, these shoes have been greatly appreciated by customers for being comfortable and offering a relaxed fit.
Pros
Air-cooled memory foam insoles
Smooth and breathable
Spring-like walkability
Stitched toe seams for durability
Available in a wide variety of colors
Cons
The wide tread underneath is susceptible to dirt.
Shoes aren't the only footwear option for pregnant ladies who just want to be relaxed and comfortable. A butter-soft pair of slippers that takes zero effort to slip into becomes all-too-necessary in those last weeks of pregnancy when your skin needs to breathe. This one from Vionic is so snuggly and comfy that you'll end up wearing them both indoors and out. The rubber outsole offers the right amount of traction to keep your feet stable on slippery floors and the microfiber footbed is a dream to walk on. In case you are wondering about reliability, the APMA seal of approval guarantees their safety and effectiveness. You can wear them even for other foot-related issues like plantar fasciitis or when you're required to keep your feet aligned with your spine.
Pros
Great arch support
Soft and lightweight
APMA-approved
Effortless slip-on
Available in 10 colors
Cons
If you are searching for solid and supportive shoes that let you keep up with mild workouts through the latter months of your pregnancy, look no further than this orthotic pair. Confident in their ability to rid your feet of pain, they offer a lot of relief to those dealing with plantar fasciitis, bunions, arthritis, and of course, excessive swelling. The extra-wide surface enhances balance and stability, making long walks a whole lot easier, and the non-binding fit on the upper part adds to the overall breathability. Never will you have to worry about biting or pinching shoes again, thanks to the roomy toe box and flexible material that moves with you.
Pros
Seam-free protective interior
Extra foam padding in the heel
Anatomical arch support
Stretchy, breathable fabric
Contoured footbed for better fit
Anti-odor and moisture-wicking
Cons
Make take some time to break into
If fuzzy slippers with an excellent grip aren't the ideal choice of footwear for pregnant women, we don't know what is. This pair from LongBay features a wool-like knit on the upper part that keeps the feet snug and comfy, along with a bunny fur lining that barely rubs against the skin. You'll have all the stability and support you need courtesy of a non-slip rubber sole, making them ideal for indoor use. Constructed with a high-density 80D memory foam footbed, every step you take is cushioned and feels like walking on flat pillows.
Pros
Adjustable hook and loop closure
Ergonomic and versatile
Supportive insoles
Machine washable
Available in 4 colors
Cons
Made for high-impact training that lasts hours on end every day, these shoes are all but guaranteed to give you the level of comfort and support you've been looking for. Boasting a Flexweave® knit that's durable, breathable, and ultra-flexible, the pair is designed to mimic your movements and absorb the shock of each tread. Its Floatride Energy foam is the definition of adding a spring to your step, thanks to the unique and incredible cushioning along the forefoot. They've got a breathable fabric that makes them wearable on hot days, along with a rubber sole that increases traction and provides a soft landing.
Pros
Soft, durable upper
Breathable mesh design
Stabilizing foot support
Sleek and stylish
Remarkable cushioning
Available in 17 colors
Cons
The size might run a little big.
This basic walking shoe is only basic in appearance. Once you put them on, you can count on them fitting you well instead of subjecting you to a break-in period. They come with a breathable mesh upper that will let your feet feel less constricted than in a regular shoe, while the flexible sole has the stretch and bounce of a spring. With the wide body and synthetic sole, you don't have to worry about discomfort or cleaning difficulties. You can easily wear them for hours on end and not feel fatigued while walking or after taking them off. The bungee fastening cord makes them adjustable, so you can tighten or loosen according to the changes in your foot size.
Pros
Thick inner cushion
Adjustable bungee lace
100% breathable mesh
Wide and flexible
Available in 5 colors
Cons
The toe box could be roomier.
When you want the comfort of a running shoe with a little extra stretch and style, turn to these Chelsea boots by FLY. Soft on the inside and on the outside, these stylish booties will keep things super simple by slipping on, wiping clean, and stabilizing you at every step. The spacious toe box and flexible ankle also make them a suitable shoe for pregnant women. Not only will you be in cushion-heaven the whole time you have them on, but you'll also receive a ton of compliments on how sleek they look. Pair them with cute, ankle-length maternity dresses or figure-hugging leggings to complete your look.
Pros
Non-skid sole
Waterproof leather
Easy to wear and clean
Sleek and stylish
Available in 6 colors
Cons
Arch support is slightly low
It's time to accommodate the needs of your changing feet by treating them with the comfiest footwear you can find. If you are wondering how to make sure you get the right pair of shoes during pregnancy, here are a few points you can keep in mind while shopping.
How To Choose The Best Shoes For Pregnancy
Considering that your feet are likely to swell up during your pregnancy, it's hard to tell the shoe size that will fit you perfectly. As a precaution, it's best to invest in shoes that are half or 1 size bigger and have the space to accommodate the average range of fluctuations. Bigger shoes will bite less and keep you relaxed.
Since the purpose of maternity footwear is to reduce the amount of pain and discomfort your body has to endure towards the third trimester, opt for shoes that promise (and deliver) the highest degree of support in the arches and ankles. This will distribute your body weight evenly along your legs and minimize the pain in your back, neck, and joints.
No matter how much you love your heels, it's better to ditch them for 9 months and settle into comfortable sneakers and boots that are flat. One of the many inevitable consequences of carrying a baby is weight gain, which changes your body's center of gravity and destabilizes the muscles and joints. Heels make you vulnerable to losing balance, so avoid them completely and take the opportunity to give your feet some much-needed rest.
During the third trimester, bending can become a literal pain in the rear. Why not make things easier and spring for a pair or two of convenient slip-ons that don't require bending to lace up? You can slide in and out of them without putting yourself through any discomfort or dreading the idea of shoes altogether.
Why Trust StyleCraze?
The author of this article, Priyam Gupta, is a fashion enthusiast who loves trying out different products. She has curated a list of the best shoes for pregnancy after carefully researching and browsing online reviews. According to her, staying comfortable and relaxed during this period is an absolute must, which is why investing in the perfect pair of shoes is always a good choice. The products listed are extra-breathable, lightweight, easy to wear, and clean.
Frequently Asked Questions
Is it okay to wear tight shoes when pregnant?
No, wearing tight shoes can restrict your blood flow and lead to many foot problems like ingrown nails or calluses. The better course of action is to wear maternity shoes that are half or 1 size bigger because your feet might swell up towards the third trimester, needing more room to stay comfortable.
Will my feet get bigger during pregnancy?
It's normal for feet to grow during pregnancy. The exact increase in size varies from person to person, but on average, the growth is less than half an inch. In a lot of women, the size stays bigger even after giving birth.
How can I relieve sore feet during pregnancy?
There are several techniques for relieving soreness caused by pregnancy. Exercising and walking regularly, drinking plenty of water throughout the day, and elevating your feet with a pillow from time to time help in decreasing pressure and inflammation. Also, wearing the right shoes that are soft and supportive can go a long way in keeping your feet comfortable. Stretch your legs often, avoid walking barefoot, and finally, wear seamless socks to facilitate better circulation.
How does pregnancy affect your feet?
Pregnancy creates a lot of fluctuations in your hormones, which leads to the loosening of the ligaments in your lower body, particularly the feet. This is what causes swelling and overpronation, where the feet roll inwards while walking and your arches become flatter. You can also expect a marginal growth in foot size that renders your regular shoe too tight.
What are maternity shoes?
Maternity shoes are specially designed for women to wear during their pregnancy. These shoes feature breathable material and offer greater comfort and foot stability. In addition, they are flexible enough to hold any size changes occurring due to swelling.
What shoes are the best to wear for swollen pregnant feet?
The Orthofeet Orthopedic Walking Shoes are the best to wear for swollen pregnant feet. It features an extra-wide ground surface area and breathable non-binding upper material. Thus, it helps treat and improve swollen feet while offering the best comfort.
Is Rothys good for pregnancy?
Yes. Rothys makes comfortable and stable shoes ideal for women during pregnancy. For example, Rothys' The Chelsae comes in an easy slip-on design and is adequately cushioned. In addition, the shoe has soft and cushiony side panels that grip the feet and provide adequate balance.
When should I stop wearing heels during pregnancy?
Stop wearing heels during your second trimester. The slight fluctuation in progesterone levels weakens your ligaments and joints. Therefore, opt for flat base, cushiony shoes.
Recommended Articles