13 Best Finishes For Wood Kitchen Tables – Top Picks Of 2023
Retain your furniture's charm and restore its beauty with these easy-to-use products.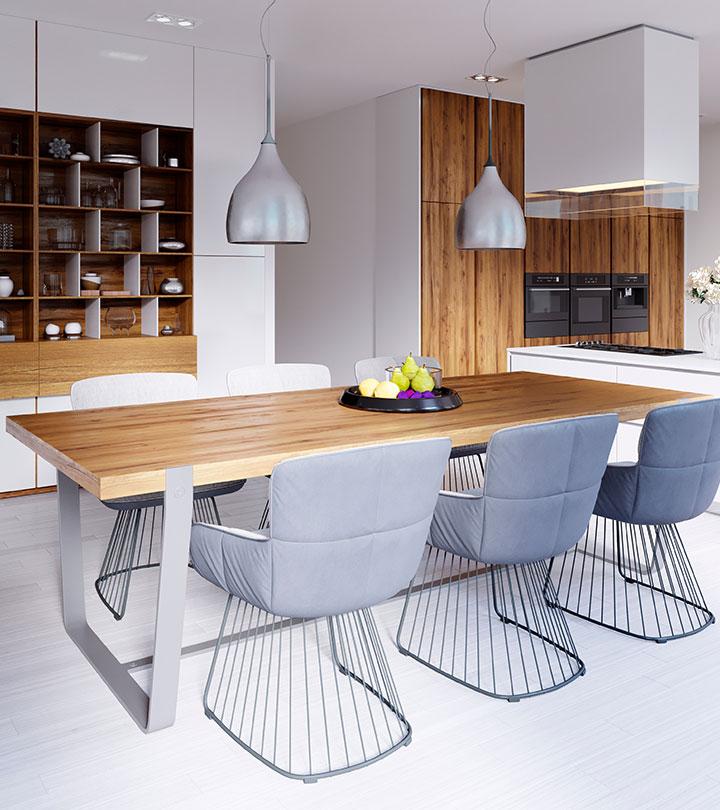 We spend a lot of time in our kitchens. Therefore, investing in the best finish for wood kitchen tables makes sense. The tables are used for multiple purposes such as chopping, eating, doing homework, and practicing arts and crafts. In addition, the kitchen table is regularly exposed to water, grime, and whatnot! Hence, your kitchen table should be durable enough and well-protected to withstand all these things.
To help your wooden kitchen table retain its beauty, you need the best wooden finish. Whether you're restoring an antique kitchen table or making a new one, the best finish will make the table long-lasting and won't cause any damage. We have curated a list of the best finishes for a wood kitchen table in this article. Check them out!
Top 13 Best Finish For Wood Kitchen Table Reviews And Buying guide 2023
The Minwax Fast Drying Polyurethane Clear Satin is an ideal finish to use on any wooden surface like furniture, doors, floors, and cabinets. This is a durable coating which is perfect for wood surfaces that are indoors, and provides them with long-lasting protection and beauty. Great for refinishing dining room tables this oil-based finish makes sure that you can use your wooden kitchen table freely and wipe it with a cloth, sponge and any cleaning material without being too cautious. The final finish that you get is of wood that was weathered and cured to stand regular use and overuse.
Pros
Can be used on unfinished wood as well as finished surfaces
Polyurethane finish
The finish dries up quickly, giving you fast results.
Can be applied using a flat brush.
Cons
The smell from the finish may last a few weeks after application.
Price at the time of publication: $13.97
The Walrus Oil Furniture Finish is composed of polymerized safflower oil, hemp seed oil, and tung oil. It smells fresh like lime. On drying, it leaves a gorgeous matte finish and brings out the natural color of your furniture. It is made from 100% plant-based material and contains no toxic additives. This biodegradable furniture finish can completely transform the look of your kitchen! It can even be used on dressers, photo frames, and wooden chairs.
Pros
Matte finish
Lightly scented
FDA-approved food-safe ingredients
Biodegradable
Cons
May require multiple coats for total coverage
Price at the time of publication: $15.99
In comparison to generic finishes, the Odie's Oil gives 20 times more coverage! The non-toxic formula leaves a lustrous, smooth finish on wooden items in a single coat. this waterproof finish can even be applied to hard-to-paint items such as concrete, plastic, leather, vinyl, and metal. With its non-toxic chemicals and food-safe properties, it's perfect for kitchen tables. Plus, it's easy to apply and does not require frequent touch-ups. The finish has a distinct, honey-like consistency and leaves behind a pleasant smell after drying.
Pros
Excellent coverage
Durable finish
Toxic-free
Waterproof
Safe for humans and pets
Cons
None
Price at the time of publication: $44.73
The Rust-Oleum Varathane Ultimate Polyurethane Water Based Clear Wood Varnish in clear gloss is a water-based finish and a great option for refinishing table tops. This dining table finish is formulated in a way that it can be easily used on painted or bare wooden surfaces, protecting it from scratches and damage. This water-based finish is absolutely clear, free of any odor and can be easily cleaned even using water. So if the table gets a little too soiled after a meal you can freely wash it down or wipe it down, and it will go back to how it was before.
Pros
Suitable for finishing doors, furniture, trims, and cabinets
If dried at 70° to 80° F, drying time is about 30 minutes for touching, 2 hours for a recoat and 24 hours for beginning light use.
Protects furniture against scratches, stain and abrasion
Cons
The product may not work well on fiber-made doors that look like wood.
Price at the time of publication: $24.48
The STAR BRITE Premium Golden Teak Oil is ideal for fine wood and teak furniture. It is easy to use and fast-drying and penetrates deep into the surface to give ultimate UV protection. This long-lasting formula leaves an incredible, warm golden hue that looks natural, sweet, and relaxing like a warm hug. The ultra-refined formula is not just suitable for painting wooden furniture but also boats, pools, etc.
Pros
Easy to use
Fast drying
Long-lasting
Natural finish
Safe for use
Cons
Might require multiple coats
Price at the time of publication: $30.58
The fast-drying formula, Furniture Clinic Wood Stain, is great for homeowners who want to refurbish their kitchen table. It gives superb coverage and adds a natural, matte finish to old furniture pieces. This non-toxic paint can be used both on indoor and outdoor wood surfaces. It's not just easy to apply but easy to clean too! Plus, it has a low odor and comes in 9 trendy light and dark shades. It is water-based and offers even color penetration, so it's the perfect choice for a quick kitchen update!
Pros
Fast drying
Even color penetration
Non-toxic
Good coverage
Easy to clean
A little goes a long way
Cons
The colors may not be true to the shade in the pictures
Price at the time of publication: $14.95
The Rust-Oleum Ultimate Polyurethane offers a matte finish on your kitchen wooden table. Ideal for interior use, this poly finish protects wooden surfaces like doors, trims, cabinets, and furniture. The formula is water-based acrylic and can be touched within 1 hour of drying. However, if you need to recoat it, you must wait at least 2 hours. It is best to apply this finish to the kitchen table in a well-ventilated area. The result after application is a kitchen table that is ready to be used roughly for years to come.
Pros
Protects furniture from long-lasting marks created by fingerprints as well as smudges.
Results in smooth and stain-resistant surface.
Dries within 1 hour of application.
Cons
It may slightly darken unfinished wood.
Price at the time of publication: $33.58
The Grizzly Industrial Emmet's Good Stuff Wood Finish for Maple Tops is a great finish for wood kitchen tables. The finish is safe even if it comes in contact with some food, and does not include any poisonous substance. This finish is fast-drying compared to other wood finishes for tables. The finish is also resistant to alcohol and water, which means even if your clumsy friends come over you do not need to huff and puff. This table top finish is most ideal for maple furniture and will leave it with a very natural-looking stain.
Pros
Made using non-toxic urethane
It offers a low sheen finish so that your furniture doesn't look like plastic or cheap
Needs only about 30 minutes between two coats
Cons
Brush marks may be visible if brushed on too many times.
Price at the time of publication: $48.0
The Tried And True Wood Finish Varnish Oil penetrates right into the furniture to provide strength and protection from rough use. The formula of this varnish oil is from the 19th century and is 100% free from solids and solvent. The finish from this varnish is so unique that you can even chop and cut on the surface without worrying about permanent marks. This varnish oil is safe even if food comes in contact with it, letting your family be healthy and hearty. The linseed oil in this finish is polymerized and fortified with natural resin varnish. The result is a semi-gloss finish which is abrasive and scratch-resistant, making the kitchen table look highly polished.
Pros
Includes resin in high content and gives a semi-gloss sheen.
Buildable durability, each coat makes it stronger and glossier
Becomes more durable and harder with time
Cons
It may need to be applied by someone who is skilled in hand-rubbed polish.
Price at the time of publication: $39.99
Amp up your kitchen indoors with a layer of the Howard Products Restor-A-Finish on your kitchen table to give it a brand new look! It skillfully conceals minor scratches, abrasions, and blemishes. It comes in 9 stunning colors to match any wood finish! This finish helps to remove white heat rings, sun fade, oxidation, and water stains to give your furniture a new lease of life!
Pros
Several color options
Adds luster
Finishing-penetrating formula
Remove watermarks
Eliminates scratches and minor surface blemishes
Cons
It might slightly alter the color or darken unfinished wood
Price at the time of publication: $9.98
The Rust-oleum Varathane Ultimate Polyurethane Oil Based Satin Finish protects wood surfaces like trims, doors, furniture, cabinets, and much more. The formula is oil-based and provides a high level of durability and a very even finish to your refinished table top. You can start recoating the table again after 4 hours by when the first coat dries up giving you a smooth surface to work on again. The satin finish of the oil-based product gives a very natural and classic look to the wood kitchen table and protects it from stains and scratches at the same time.
Pros
Can be applied using a simple plain brush.
Table top polyurethane finish can be achieved
The polyurethane formula provides 2 times more durability as compared to other traditional finishes for tables.
The formula is self-leveling and eliminates brush strokes giving a very clean look
Cons
The finish may take a long time to dry and may have a strong odor.
Price at the time of publication: $27.19
Add a contemporary look to your kitchen by using the SamaN Interior Water-Based Wood Stain on your kitchen table. It's odorless and gives a supreme finish in just one coat! It does not leave behind any overlapping marks or require any conditioner. This non-toxic, water-based product is safe for humans and pets and the environment as well. It is an ideal choice if you are looking for a fuss-free kitchen refurb.
Pros
Non-toxic
Pet-friendly
Environment-friendly
Easy to clean
Durable stain
Cons
Might require more coats to cover dark marks
Price at the time of publication: $17.49
The Old Masters Gel Polyurethane Clear Satin Finish is just what you need for a quick yet long-lasting effect on a refinished dining table. This gel varnish creates an almost clear, hand-rubbed and protective finish that makes it look like it was worked on by a craftsman. This can be used on old family furniture that has been with you for decades and can also be used on newly built pieces, giving them a beautiful finish. The finish from this varnish could range from semi-gloss to satin, depending on the number of coats you apply.
Pros
Results start showing in 2 coats itself which saves you time as well as money.
Very easy to apply
Used by professionals for commercial purpose too
Cons
The drying time between two coats may be as high as 6 hours.
Price at the time of publication: $45.7
Here is a guideline that outlines important factors that help to decide the right wood finish for your kitchen table.
Best Finish For Wood Kitchen Table – A Buyer's Guide
You may still feel a little lost and have questions about how to refinish a wood table or if you can manage to apply the product yourself. Follow this buying guide to know everything about refinishing tables tops.
How Easy It Is To Apply The Product
When working with the right finish, applying finishing products is fairly easy. When choosing the final finish for your kitchen table, if you are not very experienced with DIY projects, it is best to opt for a finish that can simply be wiped on. This way there is no scope for mistakes, and your kids can also join in the fun of application!
However, if you are confident about your skills and have worked with wood before, you can try using finishes that need to be brushed on or sprayed on. These options definitely need extra skill and hence are not recommended for beginners. No matter what finish you finalize to use, read the instructions by the manufacturer so that you are doing exactly what needs to be done to get the right impact.
Types Of Wood Finishes
There are multiple options available when it comes to kitchen table finishes, each option with its advantages as well as disadvantages. Here are a few common wood finishes that are easily available:
Oil finishes: Oil-finishes do a great job of adding depth as well as color to a wooden table that is unfinished, making the table suitable for use in the kitchen.
Water-based finishes: Water-based finishes are very quick to dry, which makes them a preferred option when you want to complete your project in a rush. The result is a slick and glossy look.
Varnish: Varnish as a finish is clear, but takes a long time to dry and requires skilled labor for application. Varnish works best when used along with a dye.
Shellac: Shellac is made using solvents along with wax. While it is very easy to apply, it is not good enough for heavy duty use on a kitchen table.
The Durability Of Wood Finishes
The kitchen table top is subjected to a lot of heavy duty work, that too, on a daily basis. It is obvious that in order to finish wood table top, the material used should be durable with long lasting effect. The refinished dining room table is where you eat and work every day, which means it will also be cleaned multiple times in a day, and you should not feel the need to think twice before wiping it down with a damp cloth when required. Let's not forget the spilling down of wine or your little ones dropping milk and water even though they think it is a game.
In order to tackle all of these issues, the finish must be absolutely durable, should be able to tolerate high and low temperatures and not let scratches mark the table permanently. Poly finishes that are oil-based and varnishes turn out to be the best when durability is concerned. Linseed oil and Tung oil are slightly less durable than the above and shellac should never be used. While lacquer is also a good idea when it comes to toughness, it may become yellow over time.
Why Trust StyleCraze?
Shreya Viswanathan, the author of this article, has a great eye for high-quality, durable, and safe products for home use. Her list is backed by well-researched reviews and feedback from several online user forums to help you select the best finish for the wooden kitchen table. The products listed above provide a clean finish, dry up quickly, and are durable and budget-friendly.
Frequently Asked Questions
Must I have my wood kitchen table finished?
Yes you must. Not only will a finish make the table more durable but a unique finish may also add extra beauty and charm to your kitchen table.
What are the steps to sealing a wood table?
Simply apply a very thin coat to the top of your kitchen table with a brush or a spray gun and let it dry. Sand the table surface with 120-grit sandpaper and add one more coat of lacquer. The two coats are good enough to seal the table, but if you wish to have more depth you can add two more coats.
Can I apply polyurethane over paint?
Yes you can. Applying polyurethane over a painted surface is always a good idea as the paint is protected. Oil-based polyurethane lends a very smooth finish, but it takes time to dry.
Can I paint over varnished wood?
Yes you can. The best paint to use is water-based acrylic resin or paint. However if you need to use oil-based paint then you must prep the surface only with oil-based primer first.
What is the best finish for a wood table?
Oil-based poly finishes and varnish are the best finishes for a wood kitchen table. Linseed oil and tung oil too are a food option but are slightly less durable.
Can I use oil or wax to finish a wood table?
Yes you can use oil or wax to finish a table as they penetrate into the wood and make it stronger.
What is the most durable clear coat for wood?
Table top polyurethane finish is the best and most durable clear coat for wooden kitchen tables.
Is it safe to use polyurethane on the kitchen table?
Yes, polyurethane is approved by the FDA as a food safe coating for wood tables.
Which is better oil-based or water-based polyurethane?
Water-based polyurethane is better because the finish remains the same for many years to come without making any changes to how the wood kitchen table looks.
Is tung oil good for the kitchen table?
Tung oil is one of the oldest oils used for finishing wood on kitchen tables. Tung oil can be additionally finished with a resin varnish for additional protection.
Recommended Articles