10 Best Portable Manicure Tables In 2023
Dazzle up your pretty nails promptly with arts and colors any time, anywhere.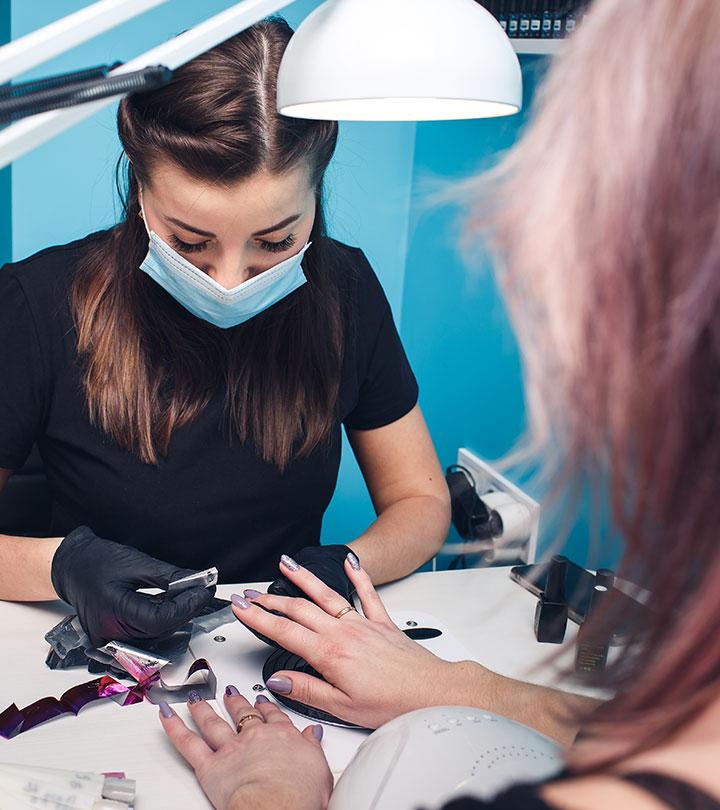 Well-manicured nails are a must for everyone who cares about looking presentable and tidy. But we also understand that going to a parlor to get your nail fixed every week is not easy, and no one has that time and patience anymore! So the next best alternative to look for is portable manicure tables. They are made from high-quality materials and are sturdy and strong, so you are never disappointed with the results. Also, they are available in sleek and modern designs. Impactful and accessible, these pieces of furniture allow you to get perfect nails no matter where you are. They honestly are a godsend and can be taken for travels without a sweat. They even come with storage, a lamp, and a cushion. What more could we ask for? Just browse through our travel-friendly list of manicure tables below and find the perfect one for yourself.
10 Best Portable Manicure Tables For An Unforgettable Nail Experience
Yaheetech's portable nail table features high-quality iron, plastic, and MDF in its construction, which keeps it sturdy. The professional-looking table is supplemented with 4 lockable wheels for ease of movement and a plastic drawer for your nail polish rack integration. As the package comes with an instruction manual, it won't be a hassle to set it up on your own. A removable and comfortable wrist cushion sits atop to reduce stress while working and the folding legs help save space. With the waterproof zippered bag, you can pack up all your accessories and be on the move in no time! Available in black and white, this foldable manicure nail table by Yaheetech will definitely add a flair to your salon's interior.
Pros
Sturdy construction
4 lockable wheels for ease of movement
Plastic drawer for storage
Removable wrist cushion
Folding legs to save space
Easy to install and clean
Cons
The wheels might not roll very smoothly
Price at the time of publication: $78.99
LEIBOU's portable manicure table with dust collector is all you need to upgrade your salon equipment. The round corners ensure safety while the soft wrist pad keeps you comfortable as you work. When you want to save some space or travel, you can easily fold up the metal legs. When opened, the 4 wheels can be locked to keep the table in place or unlocked for portability. The rolling manicure nail table top is ventilated with a fan and allows you to keep the table mess-free as the waste collects in the nail dust collector. To prevent scratches, a protective plastic film is applied which can be removed before use.
Pros
Soft wrist pad
Foldable metal legs
Lockable wheels
Ventilated table top with dust collector
Anti-scratch protective plastic film
Rounded corners
Cons
The dust collector might not stay in place
Price at the time of publication: $116.27
Topleads brings to you a dream portable manicure station that is strong owing to the high-quality materials used in its construction. The removable and padded armrest cushion prevents unnecessary stress to your wrists while working and is also easy to clean. You can fold the metal legs for easy storage and the zippered carry bag allows you to easily transport all your equipment. As a triangle rule bracket is used between the table and the leg, you won't have to worry about the table being wobbly.
Pros
Removable cushion with thick foam padding
Sturdy construction
4 360° swivel wheels
Large-capacity drawer
Stable structure
Foldable metal legs
Cons
Some may find it to be a little heavy
Price at the time of publication: $149.99
LCL's classic portable nail station features an acetone-proof formica finish,which makes clean-up as easy as pie. An extra-deep slide-out drawer allows for convenient organization of all your tools and polishes. To give you optimum comfort during a session, the thick padding helps keep wrists stress-free and you can also fold the table for compact storage. To aid your stationary or mobile nail spa, the LCL Folding Manicure Table can be carried in the ballistic nylon bag with an adjustable strap.
Pros
Acetone-proof formica finish for easy cleaning
Extra-deep slide-out drawer
Thickly padded cushion
Foldable legs
Lockable wheels
Waterproof zippered carry bag included
Cons
The table might be too high for some
Available in 3 colors, Kalolary's portable nail salon table features a sturdy top protected with a plastic film. With rounded edges, the portable MDF manicure table remains free from damage that may be caused due to collisions and the foldable metal legs provide easy mobility owing to the 4 lockable wheels. The collapsible table is constructed with a MDF panel that enables it to carry weight and the waterproof medium-density fiberboard is easy to clean. A sliding drawer for organization and a carry-on bag for portability will definitely make your manicure experience less stressful.
Pros
Waterproof table top
Easy to clean and assemble
4 lockable wheels
Rounded edges
Sliding drawer
Comfortable wrist cushion
Cons
The height might be too low for some
Price at the time of publication: $99.99
To keep your workstation mess-free, LUXEUP's portable manicure table with vent features an in-built dust collector. A bendable LED lamp propped up on the tabletop is made of strong steel and protects your eyes. While you work, an ergonomic armrest pad relieves tension in your wrists. When you need to be on the move, fold up the metal legs, which also provide easy mobility with the lockable wheels. The patterned black surface adds a chic look to your spa's interiors and is pleasing to the eyes.
Pros
Built-in dust collector
Bendable LED lamp
Ergonomic armrest
Foldable metal legs
Lockable wheels
Waterproof carrying bag included
Cons
Some may find the tabletop to be too narrow
Price at the time of publication: $139.97
Paddie's portable nail table with storage is made with a wear-resistant shaving board and the edges contain a PVC electroplated steel frame. Built to last, the table top has a smooth surface that can be cleaned by wiping lightly. With 4 drawers and a 2-layer cabinet that feature metal handles, your nail tool collection can be stowed away neatly. A removable armrest with padding gives comfort to both you and your client while the 360° rotating wheels help with easy mobility. It offers multiple built-in storage compartments to organize and store all your tools and valuables.
Pros
360° rotating wheels
4 drawers and a 2-layer cabinet
Wear-resistant
Smooth surface
Removable padded armrest
Cons
Some may find it difficult to assemble
Price at the time of publication: $189.99
A sleek addition to your nail salon would be the XYZ Beauty portable nail desk. With its acetone-proof formica finish, cleaning up spills is hassle-free. To keep your nail polish kits and tools out of sight, you can make use of the extra-deep drawer attached below. A thickly-padded wrist cushion allows you to rest your wrists without any added tension. For on-the-go needs, simply fold the legs of this high-tech nail desk and use the ballistic nylon case with an adjustable strap.
Pros
Easy to clean table with chemical-proof surface
Extra-deep drawer
Wrist cushion with thick padding
Foldable legs
Carrying case included
4 lockable rolling wheels for easy movement
Cons
Wheel locks might be a bit flimsy
Price at the time of publication: $79.88
For a well-rounded manicure experience, this portable nail technician table by Proljs definitely takes the cake. Built with MDF material and finished with an acetone-proof lamination, the surface is smooth and easy to maintain. The desk lamp with a magnifying glass enables a clearer view and helps prevent mistakes during your session. With an electric downdraft vent, all the dust is collected in the dust collector at a switch of a button and without any extra effort from you. As the table folds flatly, you can save some storage space while the heavy-duty carrying case allows for easy transportation. 4 rotating wheels made of PVC can be locked for security and make the table mobile when needed. This space-saving table can be an excellent fit for small studios and frequent travel.
Pros
Acetone-proof lamination
Desk lamp with magnifying glass
Dust collector attached
Foldable legs
Portable nail table with extractor fan
4 rotating wheels
Cons
Some may find the height to be uncomfortable
Price at the time of publication: $145.99
With 3 dust bags and a dust collector attachment, VIVOHOME's portable nail table with lamp is easy to maintain. An armrest with a sponge filling offers a pleasant manicure experience for you and your client. If you happen to suffer from insufficient lighting, just switch on the bendable LED lamp, which can be connected with a USB. The table is sturdy and the waterproof medium-density fiberboard top can be wiped down. As the legs are foldable and attached with 4 lockable wheels, set up in your studio or home is super convenient.
Pros
Dust collector with 3 dust bags
Sponge-filled armrest
Bendable LED lamp
Foldable legs
4 lockable wheels
Waterproof carry bag included
Cons
Some may find the height to be too low
Price at the time of publication: $159.99
Now that we've looked at some of the choicest portable manicure tables on the market, it's time to learn how you can choose the best one from a wide range of mobile manicure workstations.
Things To Consider When Buying A Portable Manicure Table
Manicure tables come in all sizes but if you're a mobile manicurist or looking to set up a station in your own home, settle for something lightweight. This would mean a smaller table that can be folded to save space or stored away easily. Ideally, the table top shouldn't be so small that it either hinders your work or causes discomfort to your client. Standard manicure tables are around 46 cm wide, 120 cm long, and 76 cm tall. Adjustable height for optimal positioning with sturdy locking mechanisms is also an important feature to look out for.
This category includes all that is required for a comfortable manicure experience.
As a manicure requires multiple tools and bottles of nail polish, look for drawers that can house all your necessities. To keep the table surface neat,  one or multiple drawer attachments allow for easy organization that keeps your accessories out of sight.
Detachable wrist pads are a great feature that can be removed whenever needed. They are filled with foam or sponge and allow you or your client to use them as armrests. As a long manicure session can put stress on your wrists and hands, this cushion helps you rest.
When there is a sudden power outage or you happen to be working in poor lighting, bendable LED lamps can be attached to the manicure table. They not only give you a clear view of your work, but also protect your eyes.
Workstations with built-in power outlets to provide UV light compatibility for gel manicures can also be an added bonus for ensuring long-lasting salon results.
As manicures can result in some mess with dust or waste, look for a table that features an in-built dust collector. It is situated under the surface of the table along with the vent. When switched on, the fan vacuums up both odor and dust which can then be emptied later. This makes clean-up super easy and keeps the table mess-free.
Manicure tables are also laminated with an acetone-free finish which is helpful against spills. This film is waterproof and easy to clean, protecting the table's surface from damage.
If you're big on aesthetics, style is an important factor to consider. For something modern, an all-white table is suitable but it might be difficult to clean. A sleeker look can be achieved with an all-black table but if you want something funky, opt for a table with a wallpaper or print. All in all, choose a table that is pleasing to the eye and complements the rest of your decor.
Frequently Asked Questions
What is the use of a manicure table?
A manicure table helps a nail technician give a manicure easily by allowing ample space for work. It also comes with lamps, cushions, and drawers for storage, comfort, and ease.
How wide should a manicure table be?
A standard manicure table is around 45-46 cm wide.
Recommended Articles