10 Best Anti-Dandruff Shampoos For African Hair
Treat dandruff with these shampoos designed especially for coarse and coily 4C hair.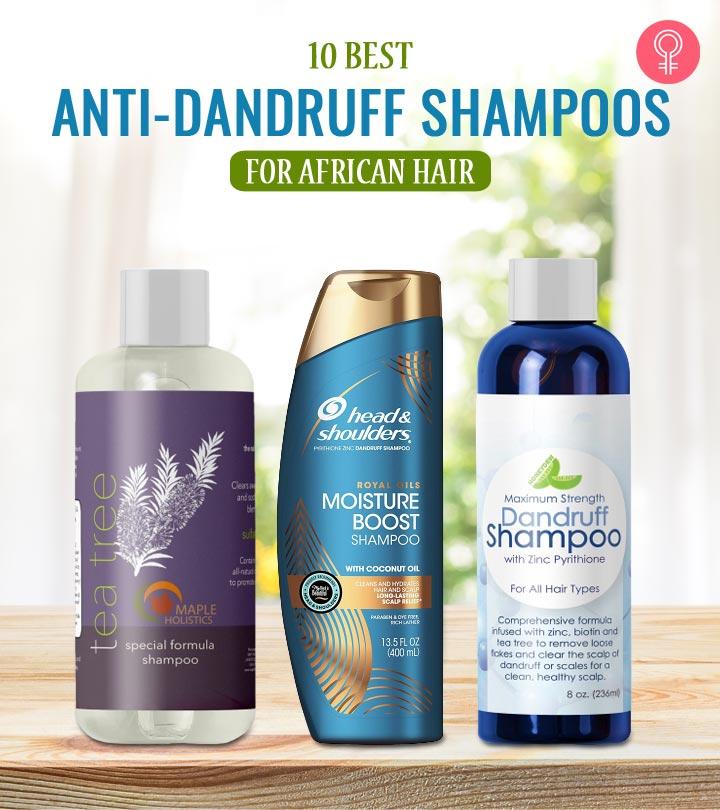 Although the market is crowded with a ton of options to cure dandruff, many might not be suitable for African hair. Since this hair type is dry at the ends but has excess sebum at the roots, the hair becomes fragile. To this end, we have created a list of the 10 best dandruff shampoos for African hair. These shampoos are exclusively designed for coarse, coiled, and thick African hair. What is more, they not only treat your dandruff but also manage your curls. So go ahead and check the list out!
10 Best Anti Dandruff Shampoos For African Hair
The Nizoral A-D Anti-Dandruff Shampoo contains 1% ketoconazole, which binds to the hair's natural protein to get rid of dandruff. The thick lather of the shampoo ensures that your scalp is flake-free, and hair is manageable and shiny. It helps control itching and flaking caused due to dandruff. The luxurious formula prevents hair loss due to dandruff and is safe for color-treated and chemically processed hair. It cleanses your scalp and leaves your hair soft and smelling fresh.
Pros
Reduces itchiness
Controls flaking and scaling
Keeps the scalp clean
Stimulates hair growth
Controls hair loss
Safe for color-treated and chemically processed hair
Cons
May cause allergic reactions.
[ Read More – Best Anti-Dandruff Shampoos ]
The Head & Shoulders Royal Oils Moisture Boost Shampoo balances and restores scalp health with regular use. It cleanses and hydrates the scalp and hair and relieves the dryness and itching caused by dandruff. It is designed specifically for kinky and coily hair and produces a rich and creamy lather to remove buildup. It also provides lightweight and long-lasting hydration to the scalp and hair. The balanced and moisturizing formula relieves itching and helps your hair retain moisture with regular use. This shampoo has a fresh coconut scent and offers long-lasting odor protection.
Pros
Soothes itchy scalp
Removes buildup from the scalp and hair
Lightweight
Reduces scaling
Paraben-free
Dye-free
Cons
Contains sulfates
May dry bleached hair.
Does not work for severe dandruff.
The Maple Holistics Tea Tree Shampoo nourishes dry and itchy scalps caused due to dandruff. The skin healing properties reduce itchiness, flaking, and dryness and promote shiny and strong hair. The tea tree, rosemary, and lavender oils keep the scalp clean, unclog hair follicles, and balance the natural oils of the hair and scalp. The argan and jojoba oils prevent frizz, split ends, and breakage and make your hair soft. This revitalizing shampoo cleanses and nourishes your scalp and hair. Check out this video to better understand the Maple Holistics Tea Tree Special Formula Shampoo. This video will help you understand the product better.
Pros
Cleanses and balances the hair and scalp
Boosts circulation
Unclogs hair follicles
Paraben-free
Sulfate-free
Silicone-free
Cruelty-free
Safe for color-treated hair
Safe for sensitive scalp
Cons
Does not relieve itching.
May dry out the hair.
The CLn Healthy Scalp Shampoo is formulated to be used for normal to oily scalp and hair. The shampoo thoroughly cleanses dandruff, flakes, and itchy scalp. It is fortified with salicylic acid and sodium hypochlorite, removing unwanted dead cells, oils, and dulling residue. It makes the scalp and hair rejuvenated, refreshed, and healthy. You can also use this shampoo for your beard. The gentle formula shampoo does not make your kinky and coily hair dry.
Pros
Dermatologist-tested
Fragrance-free
Keeps scalp free of folliculitis
Hypoallergenic
Cons
The Virgin Hair Fertilizer shampoo cleanses and conditions dry, brittle, and over-processed hair. It also reduces dandruff and its symptoms like scaling, itching, dryness, and flaking. It promotes healthy hair growth and is a popular black hair care product. The shampoo contains jojoba seed oil, honey extract, aloe vera extract, tea tree oil to rejuvenate thinning and damaged hair. It helps enhance the manageability, body, shine, and strength of hair from root to tip.
Pros
Reduces itchiness
Reduces flakes and dryness
Soft and smooth hair
Clean scalp
Voluminous hair
Cons
Thin consistency
May leave the hair tangled.
The Laurel Essentials Organic African Black Soap Hair Cleanser is formulated with natural ingredients that help to remove dandruff, visible flakes, and stimulate the scalp for hair growth. The powerful formula of African black soap, glycerin, jojoba oil, and Haitian black castor oil targets rashes, eczema, psoriasis, etc., while keeping the natural scalp oils intact. It regulates sebum production to make your roots grease-free while keeping your coily hair ends nourished.
Pros
Suitable for all hair types
Pleasant scent
Cruelty-free
Vegan
Paraben-free
Sulfate-free
Cons
None
The Mizani True Textures Moisture Replenish Shampoo helps cleanse and moisturize the scalp and hair. It smoothens, conditions, and hydrates hair. It is rich in antioxidants and keeps your curls moisturized and defined. It helps retain your natural curl pattern and removes grit and residue. This shampoo rejuvenates damaged and color-treated hair, making it shiny and voluminous. Check out the honest review of the MIZANI True Textures Moisture Replenish Shampoo in this YouTube video.
Pros
Smooths, conditions, and hydrates hair
Helps retain natural curl pattern
Defines and moisturizes curls
Paraben-free
Sulfate-free
Silicone-free
Cons
The Matrix Biolage Scalp Sync Antidandruff Shampoo is specially formulated with pyrithione zinc to remove dandruff effectively. This shampoo relieves scalp irritation and minimizes the appearance of flakes. Additionally, it also leaves your curly strands hydrated and nourished.  You can also safely use this shampoo for color-treated hair.
Pros
Reduces visible flakes
Travel-friendly
Pleasant scent
Cons
Contain SLS
Contains Paraben
The ArtNaturals Black Castor Oil Shampoo is specially formulated to strengthen, hydrate, and revitalize dry, damaged, color-treated hair. The shampoo removes excess product buildup, balances pH levels, and stimulates blood circulation in the scalp. It also instantly moisturizes and smoothens hair texture. Black castor oil helps relieve dryness and fight dandruff. It also hydrates the hair shafts and scalp and promotes healthy growth. This shampoo is especially recommended for curly hair as it smoothes and soothes naturally dry hair.
Pros
Balances scalp pH
Promotes shine
Stimulates scalp circulation
Smoothes hair
Safe for color-treated hair
Sulfate-free
Paraben-free
Cons
May make the hair extremely dry.
Not suitable for fine hair.
The Maple Holistics Tea Tree Shampoo is for oily hair and flaky, itchy scalps. This anti-dandruff shampoo promotes volume and boosts hair texture. It contains jojoba oil and argan oil, which condition hair and reduce signs of early aging. The tea tree and rosemary oils promote hair growth, and lavender oil soothes the scalp. It also contains keratin and melaleuca oil, which strengthen curly hair and balance an oily scalp. The aloe vera and Moroccan argan oil moisturize, repair, and rejuvenate hair. The gentle formula is suitable for color-treated hair and sensitive scalps. Look at this video for an honest review of the Maple Holistics Tea Tree Shampoo.
Pros
Reduces dryness
Soothes itchiness
Moisturizes the hair and scalp
Imparts shine
Paraben-free
Sulfate-free
Cruelty-free
Safe for color-treated hair
Cons
May leave some hair types rough.
May make hair sticky.
African hair is difficult to maintain. And with issues like dandruff, you can't buy just any shampoo. You need to pick one that not only helps reduce flakes but also prevents dryness and breakage. Take your pick from the top10 anti-dandruff shampoos to combat dandruff and make your curly locks healthy and manageable.
Why Trust Stylecraze
Shiboli Chakraborti, the author of this article, is a certified skin care coach. She also has a keen interest in hair care. Her deep understanding of hair care products and detailed research enables her to bring the best of products. This list of the best anti-dandruff shampoos for African hair was put together after thoroughly exploring and reading many customer reviews. These shampoos are perfect for keeping dandruff at bay and maintaining tight curls. In addition, they also help manage hair loss and frizz effectively.
Frequently Asked Questions
What causes dandruff in African-American hair?
Excess scalp oil, dirt, product residue, and the naturally occurring microbe Malassezia cause dandruff in African-American hair.
Does sleeping with wet hair cause dandruff on natural hair?
Yes, damp hair might promote microbe multiplication and cause dandruff and infections.
Does brushing my hair make dandruff worse?
No, brushing your hair regularly helps control dandruff by evenly distributing your scalp oil all over the head.
Is Head & Shoulders good for Afro hair dandruff?
Yes, the Head & Shoulders Royal Oils Moisture Boost Shampoo is good for dandruff in Afro hair.
Can I use coconut oil for dandruff?
Yes. Coconut oil is lightweight and exhibits hydrating and conditioning properties that help reduce dry scalp, dandruff, and flakiness.
Recommended Articles