9 Best Travel-friendly Curling Irons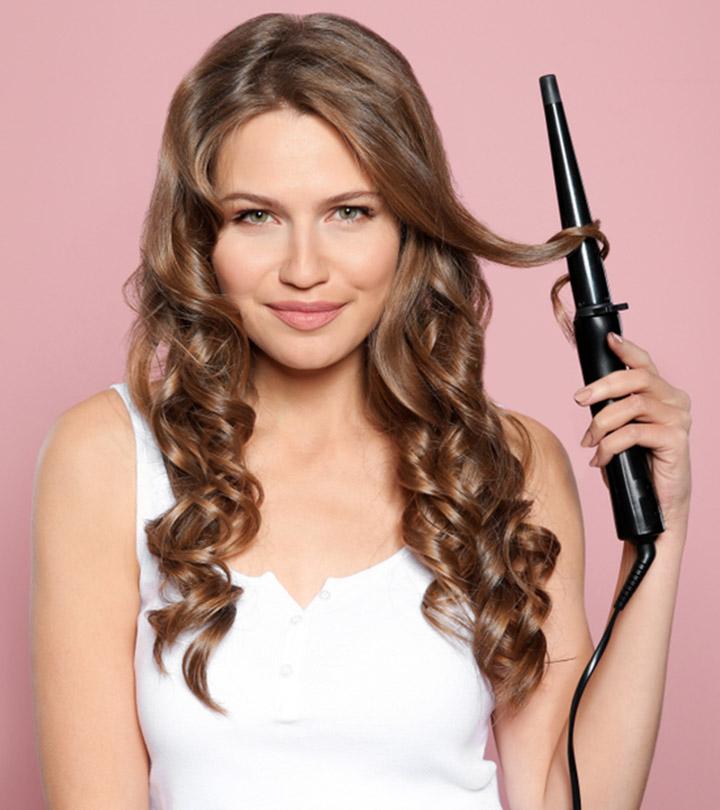 Believe it or not, our hair plays an important role in how we present ourselves to the world. And if you've got high-maintenance hair that needs a bit of managing with some extra tools, then traveling can be a bit of a pickle. If you are planning to pack light whether it is for a short trip, international travel, or even to a wedding, it is important to have a mini curling iron that doesn't come in the way of your travel plans. In our post, we bring you 9 of the best travel curling irons that will suit your every need without having to compromise your luggage space.
9 Best Travel Curling Irons
This compact curling iron is every traveler's dream styling tool. The 11-inch hair curler works both as a mini flat iron and hair curler. All you need is a plug adapter of the country to which you are traveling, and it gets the job done in a simple push-button. With no hassle of multiple temperature settings, it heats up easily to 374°F, causing minimum heat damage. The hair curler also comes with a stylish case that you can pop into your luggage or handbag. Plus, the mini curling iron can handle voltages anywhere between 110 to 240V.
Pros
One heat setting
Heat resistant case
2-in-1 flat iron/curling iron
Easy to use
Comes in 2 different colors
Cons
Need to purchase a separate plug adaptor
Looking for the best hair curler in the market? This 2-in-1 mini curling iron can be used for curling or straightening your locks with ease. It is a great tool to style the nape section as well as for bangs and face-framing. The hair curler helps you achieve super sleek hair or gorgeous curls with the push of a button. The titanium barrel instantly and evenly heats up saving you precious time and protecting your hair from heat damage. The 360° swivel cord makes it easy to twist and turn the device to create the desired curls or waves. The dual voltage (100-240 AC) travel curling iron requires a plug adapter and comes in a beautiful carry bag.
Pros
360° swivel cord
Great packaging
Useful for keratin treatments
Instant heating
Cons
Plug adaptor not included
No auto shut-off feature
Finding the best hair curler doesn't have to be a mind-boggling task. This ceramic mini curling iron is the perfect hair curler to have in your bag for quick touch-ups on the go. The curling iron features a sleek stylish design with a 356° F and dual voltage settings. The curling iron is ideal for fine hair and long thick hair as well. It reaches a stabilized heating temperature within 30 seconds and is compact making it an ideal choice everywhere you go. The travel curling iron would easily fit into your bag or purse, taking up very little space.
Pros
Tiny
Heats up within 30 seconds
356°F temperature setting
Ideal for all hair types
Cons
Next on our list of the best hair curlers is the oval-shaped curling wand from Xtava. The travel curling iron comes in an oval shape with a tapered tip that helps you achieve any look you desire. The ceramic wand quickly heats up to 410°F. It offers 22 temperature settings from 200-410°F with LCD display for precise control. The dual voltage design automatically adapts to the right voltage when used with a proper adapter.
Pros
Multiple temperature control
LCD display
The tapered tip offers better styling options
Comes with a heat resistant glove
Cons
Slightly long when compared to other models
If you need to straighten or curl your hair while on the go, this 2-in-1 hair styling tool is one of the best hair curlers out there in the market. The ceramic barrels offer fast heating so that you can get the job done without exposing your hair to too much heat. The curling iron also comes with a front cover that makes it really easy to carry out in your bag. It features an auto shut off system and a 360° swivel cord. It is one of the best curling irons for fine hair and thick hair.
Pros
360° swivel cord for easy styling
Protective handle to avoid burns and injury
Magic rotate switch
Auto shut off feature
Cons
Need a plug adapter for countries other than the US
If you are looking for an extremely affordable option for a curling iron, then this mini hair curler from Berta is all you need! The mini curling iron is the perfect size for travel and features a ceramic glaze-coated barrel. It offers fast and even heating with negative ions that control frizz for a super sleek look. The hair curler is ideal for all hair types and offers great results without snagging. It has a high, low, and off switch and features an LED indicator.
Pros
LED indicator
Controls frizz
Affordable
360° swivel cord
Offers great grip
Cons
What features should the best hair curler come with? If you are looking for a cordless hair styling tool, then this cordless curling iron is the perfect pick for you. With the MaikcQ Cordless Curling Iron, you will never have to worry about finding the right adapter or even a plug point. It comes with a built-in rechargeable battery that requires just two and a half hours to charge up. The hair curler offers frizz-free and smooth hair in seconds and also doubles up as a power bank for your smartphone. The cordless curling iron is ideal for both wet and dry hair and features an anti-skid handle to prevent burns.
Pros
Works as a power bank for mobile phones
Cordless
Ideal for wet and dry hair
Anti-skid handle
Cons
This mini curling iron takes up very little room and offers naturally shiny hair in seconds. It is a perfect pick for adults and kids with short, thin hair. The negative ceramic ions minimize hair damage and give it a more healthy look. This dual voltage hair styling tool makes it convenient to use worldwide and the PTC technology provides instant and even heating. It also comes with a 360° swivel cord to give you a tangle-free experience.
Pros
Suitable for adults and kids
360° tangle-free power cord
Ideal for short and fine hair
Reduces heat damage
Cons
The highest temperature is 180°C
Next on our list of the best hair curlers is the folding portable curling iron from Duomishu. The travel curling iron features ceramic coating barrel, indicator light, and a power cord that can be rotated to 360°. The ceramic tourmaline ionic technology protects hair and reduces damage. The hair curler comes with an anti-scalding glove to prevent burns and injuries. This dual voltage styling tool automatically adapts to different voltages and works at a maximum temperature of 392°F.
Pros
Can be rotated to 360°
Foldable and portable design
Ceramic tourmaline ionic technology
Dual-voltage device
Indicator light
Includes anti-scalding glove
Cons
With our list of the 9 best hair curlers, you will never have to deal with dreadful hair while on vacation. These travel curling irons are not just easy on the pocket, but also space-saving on your luggage as well. Be sure to pick one based on your travel needs and feel free to let us know how it turns out. Which of these can you not wait to get your hands on? Do let us know in the comments below!