17 Best Korean Face Creams Available Right Now
Venture into the world of beauty care magic from Korea with these fabulous products.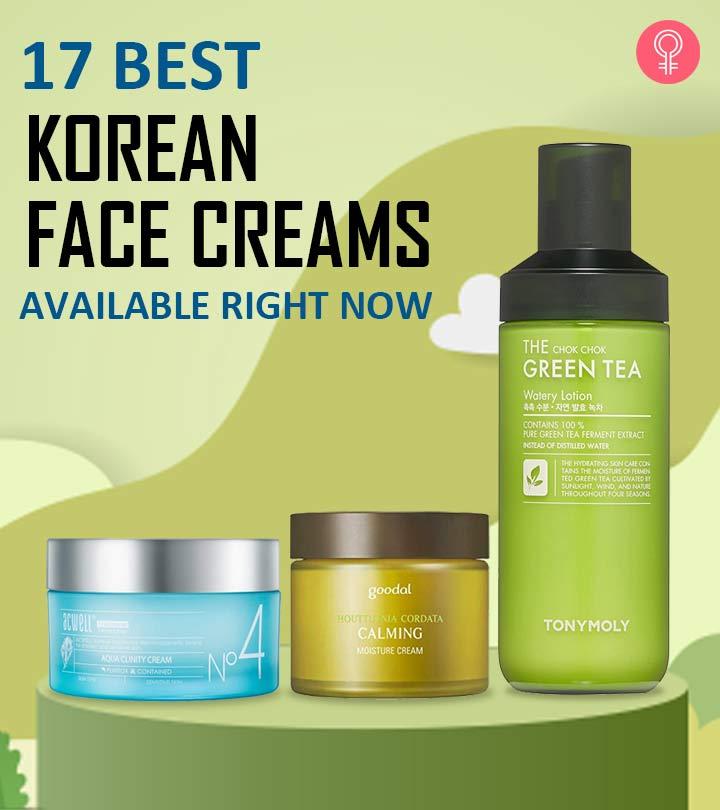 Korean makeup products have changed the game for the beauty industry and how! If you haven't ventured into the Korean beauty sorcery yet, get your hands on the best Korean face cream to get started at the earliest! The K-beauty face creams are enriched with natural ingredients and backed by advanced scientific formulations to give you that spotless glass skin look! To help you delve deeper into their magical realms, we have shortlisted the 17 best Korean face creams for you to choose from!
17 Best Korean Face Creams
This Goodal Houttuynia cream is a herbal product that restores your damaged skin. This cream is fortified with 60% Jeju Houttuynia cordata extract that is rich in antioxidants that protect your skin from harmful UV rays. It also has anti-inflammatory properties that reduce irritation. Its hydrating properties soothe the skin and heal it till the inner layers. Madecassoside, one of its active ingredients, reduces the redness of the skin and helps in repairing damaged skin cells.  All the natural ingredients are extracted through the cold press method to retain their maximum benefits. Its gel consistency provides a cooling finish to the skin. Moreover, it can also be used as a night cream as its lightweight formula acts as a sleeping mask.
Pros
Reduces skin irritation
Anti-inflammatory
Treats UV damage
Cooling finish
Gel-based formula
Non-irritating
Lightweight
Dermatologically tested
Mild formula
Moisturizes the skin
Cons
Price at the time of publication: $24
This product from IsNtree is a day and night face cream with five types of hyaluronic acid that provide intense hydration. It has apricot oil, argan oil, and safflower oil to provide nourishment to flaky skin, making it radiant. The baobab seed extracts regenerate skin cells and help treat acne scars and other blemishes. It soothes and forms a protective barrier on sensitive skin with ingredients like Camellia sinensis leaf water, fructooligosaccharides, and Eclipta prostrate leaf extract.
Pros
Organic
Ethanol-free
Suitable for dry and normal skin
Smoothens bumpy skin texture
Cons
Price at the time of publication: $24.1
Neogen has collaborated with the popular Korean beauty influencer Joan Kim to give us this revolutionary product. This cream seamlessly functions as a day and night cream. This cream moisturizes and brightens your skin with the help of green tea extract and vitamin C. At night, it repairs and calms the skin with the soothing lavender and vitamin E. These ingredients also help to strengthen the skin structure and protect it from pollutants and stress while evening out your skin tone. Check out this video to better understand the functions of this product.
Pros
No artificial color and fragrance
Paraben-free
Contains natural ingredients
Brightens the skin
Soothes the skin
Cruelty-free
Dermatologist tested
Cons
Price at the time of publication: $28.0
Dr. Althea Resveratrol is an intensive repair cream designed for nourishing sensitive and damaged skin. This product has a thick consistency and can be used as a spot treatment for acne-prone skin. Its main ingredient is Resveratrol that slows down the process of photoaging by protecting the cells against UV damage and effects of free radicals. "Resveratrol is a good anti-aging product that promotes the growth of connective tissue cells, thereby increasing the collagen production of the skin. It helps reduce freckles and tightens the skin," adds Dr. Patricia Gaile Espinosa, MD, Philippine Dermatological Society. It contains glycerin, algae extract, and Centella asiatica that help in enhancing skin vitality and collagen synthesis. It also balances the skin's pH level.
Pros
Suitable for acne-prone skin
Brightens the skin
Soothes inflamed skin
Treats freckles and acne scars
Reduces fine lines and wrinkles
Cons
This is a soothing moisturizer for highly sensitive skin.  It consists of three types of ceramides that help in regenerating the cells to heal the broken skin barrier. It contains a highly concentrated extract of Centella asiatica and its leaf water that is known to repair and calm damaged skin. They also help to reduce wrinkles and improve skin elasticity. Its balm-like texture is ideal for dry and oily skin types. The video offers a deeper insight into the functions and effects of the product discussed.
Pros
Long-lasting
Makes the skin healthy and plump
Strengthens the natural barrier of your skin
Replenishes dry skin
No artificial fragrance
Cruelty-free
Paraben-free
Hypoallergenic
Dermatologist tested
Sulfate-free
Phthalate-free
Cons
Sticky
Not suitable for oily, acne-prone skin.
Price at the time of publication: $25.0
This is a watery lotion that soothes and hydrates your skin. The lotion is fortified with 85% green tea extract that is fermented over 365 days using traditional methods. This process maximizes the moisture-retaining qualities of the green tea, resulting in intense hydration of your skin. Being high in antioxidants, green tea also prevents skin cell damage. It is also infused with lemon seed and rosewood oil. The antifungal properties of lemon seed oil help in protecting your skin, while rosewood oil gives it a refreshed look.
Pros
Soothes the skin
Suitable for all seasons
Rich in antioxidants
Exhibits anti-fungal properties
Antibacterial formula
Cruelty-free
Suitable for all skin types
Cons
None
Price at the time of publication: $21
This is a soothing and rejuvenating moisturizing product with more than 92% hydrating ingredients. It contains Panthensoside and Madecassoside that protect the skin barrier and soothe irritated skin. The low pH formula of this product helps in protecting your sensitive skin and preventing dryness. This cream is certified hypoallergenic to suit all types of skin. Watch this YouTuber's honest review to get a better idea about the product and its functions.
Pros
Soothes the skin
Fragrance-free
Cruelty-free
Paraben-free
Hypoallergenic
Non-irritating
Cons
Price at the time of publication: $19.56
This emollient cream from Mediheal is an ideal pick for dry and dull skin.  Its hydrating formula contains hyaluronic acid, vitamin E, hydrolyzed collagen, adenosine, fatty acids, and lipids. They form a protective film over your skin against environmental pollutants and known stressors. This cream offers a cooling effect to your skin, keeps it soft, and also provides regenerative capabilities. It is formulated with naturally derived ingredients that are gentle on your skin and impart anti-aging benefits as well. The cream is enhanced with sugar maple (an exfoliant) and snow mushroom (an intense humectant), making it a magic potion for dry skin.
Pros
Makes the skin soft and supple
Long-lasting
Evens out skin tone
Chemical-free
Cons
May cause a burning sensation
Price at the time of publication: $13.99
This product from Acwell has a cream-based formula to maintain the moisture balance of your skin throughout the day. It has the goodness of plant-based extracts of Pueraria lobata and Actaea heracleifolia that soothe your skin and protect it from environmental damage. Extracts of licorice and Paeonia lactiflora in the formula help in brightening your skin. It also has extracts of Puritox jin, witch hazel, and bergamot fruit oil that deeply condition your skin and improve its texture.
Pros
Lasts for 24 hours
Dermatologically tested
Quick relief to skin irritation
Does not leave a sticky residue
Cons
None
Price at the time of publication: $32.99
This product from Dear Klairs soothes and strengthens your skin barrier. Its main function is to calm your skin that has been stressed due to excess sebum, heat, and laser procedures. It keeps your skin protected from the harmful effects of the environment. This blue calming cream contains Guaiazulene, a plant-based component extracted from chamomile oil. The natural violet color of the extract blends with the cream to produce a light blue color. It also assists in skin cell regeneration as it has extracts of Centella asiatica.
Pros
Soothes the skin
Calms redness
Vegan
Strengthens the natural barrier of your skin
Promotes regeneration
Prevents scarring
Cons
Price at the time of publication: $21.9
Cosrx's moisturizing cream-based formula is filled with moisture-retention ingredients that add suppleness to flaky skin. The Hippophae rhamnoides water and hyaluronic acid moisturize your skin by developing a hydrating barrier. Hyaluronic acid is known to deeply hydrate the skin by holding onto the moisture particles. Hence, it is also an excellent anti-wrinkle product. This cream also helps to calm down stressed skin. Moreover, a layer of it works as a sleeping mask at night so that you wake up with feathery-soft skin.
Pros
Long-lasting nourishment
Non-oily
Makes the skin smooth and supple
Safe for all skin types
Imparts a plump and dreamy radiance
Hypoallergenic
Dermatologist tested
Cons
None
Price at the time of publication: $19
This ultra-light moisturizer from Dr. Oracle has been formulated for oily and sensitive skin. Its advanced formula regulates sebum and protects the skin from external damage. It is fortified with Celtic water that is abundant in skin-friendly minerals to keep your skin hydrated. It also contains bamboo water,  a traditional Korean medicinal element that is full of amino acids to relax and hydrate your skin. It also contains Maca peptide, a powerful herb, to treat skin blockages and rejuvenate your skin, making it youthful. The extracts of green tea, sage, and grape seed oil further soothe and replenish your skin.
Pros
Lightweight formula
Works like magic for oily skin
Long-lasting effect
Hypoallergenic
Non-greasy
Dermatologist tested
Cons
May leave your skin feeling tight or dry
Price at the time of publication: $18.95
This Dewytree face cream deeply moisturizes and rejuvenates the skin for a brighter complexion. It contains snail secretion filtrate along with betaine (a humectant) that hydrates your skin for a smooth and supple look. Adenosine has anti-aging benefits that help in removing fine lines and wrinkles to give you younger-looking skin. The rich formula of this cream protects your skin from environmental damage. Apart from anti-aging ingredients, it also has some deeply nourishing elements such as shea butter, aloe leaf extract, and macadamia seed oil.
Pros
Cruelty-free
Paraben-free
Rejuvenates and softens the skin
Prevents dryness
Non-irritating formula
Suitable for sensitive skin
Cons
None
Price at the time of publication: $24.99
This is a deeply moisturizing cream with a natural pH level of 5.5 to protect your skin from dryness. It is formulated with only 12 powerful ingredients, most of which are plant-based. Squalene and glycerin moisturize your skin and keep it hydrated. Raspberry extract enhances the firmness of your skin and prevents discoloration. Bergamot and sage oil help in cleansing your skin and keeping it calm. This soft-textured cream is suitable for all skin types.
Pros
Reduces redness
Suitable for dry and sensitive skin
Hypoallergenic
Vegan
Controls acne
Cons
Price at the time of publication: $29.99
This intensive facial cream from Etude House is a skin barrier protective cream that is suitable for acne-prone and sensitive skin. With the goodness of shea butter and oil complexes, it infuses your skin with protein and keeps it hydrated.  It has ingredients such as Panthenol and Madecassoside that prevent damage to the skin. The slightly acidic pH formula is close enough to the normal pH level of the skin to prevent dryness and protect your sensitive skin. This product is dermatologically tested, which makes it safe to be applied on your skin.
Pros
Strengthens the skin's barrier
Contains natural ingredients
Fragrance-free
Paraben-free
Soothes the skin
Dermatologically tested
Hypoallergenic
Cons
May cause irritation to sensitive, dry skin
Price at the time of publication: $17.0
The Madecera Cream from Skinrx Lab is a multitasking product! It is formulated with niacinamide and adenosine that brighten the skin and delivers anti-aging benefits respectively. Ceramides help in improving the skin barrier of your skin and make it look plump and hydrated. It also contains Madecassoside, a compound that helps fight inflammation and gives your skin a smooth and supple look. It is free of harsh chemicals, thereby helping to calm irritated skin.
Pros
Offers anti-aging properties
Hypoallergenic
Mild formula
Pore minimizing
Strengthens the skin's barrier
Reduces redness and acne
Reduces the appearance of fine lines and wrinkles
Cons
This renewal cream from Sur. Medic improves the skin barrier with five essential ceramides. The five-layer formula protects, strengthens, and tightens the skin barrier while also retaining and locking in moisture. The ceramides combined with hyaluronic acid develop a hydrating barrier on your skin by wrapping it up in moisture! It is formulated with extracts of Centella Asiatica and Camellia sinensis that help to soothe stressed skin. The Artemisia vulgaris extracts in the formula soothe sensitive skin by balancing the water and oil levels, while BIFIDA ferment lysate protects against external stressors.
Pros
Improves skin tone
Reduces the appearance of fine lines and wrinkles
Provides ultra-hydration
Contains natural ingredients
Makes the skin look glowy and energized
Cons
None
Price at the time of publication: $33
Why Trust Stylecraze?
The author, Shiboli Chakraborti, is a certified skin care coach with love for exploring, researching, and sharing products that transform your skin for the better. An avid fan of Korean products herself, in this article, she discusses the best Korean face creams to use based on their skin-enriching ingredients, skin care benefits, and advanced scientific formulations. To curate this list, she spent many hours researching and studying every product and its reviews on multiple forums.
Frequently Asked Questions
Which Korean face cream is the best?
The Goodal Houttuynia is the best Korean face cream that soothes and heals the inner layers of the skin. Madecassoside, one of its active ingredients, reduces redness and helps repair damaged skin cells.
Is Korean skincare safe?
Most of the ingredients used in Korean skin care products are safe. Moreover, many Korean skin care brands are cruelty-free and vegan-friendly. Hence it has gained immense popularity in recent years.
What face cream do K-pop idols use?
The Shiseido SenkapPerfect whip cleansing foam is a favorite of BTS's Suga, Kang Daniel, TWICE's Nayeon, and other kpop idols.
Recommended Articles