10 Best Safe Hair Styling Gels For Kids – 2022
Try these chemical-free, kid-friendly hair styling gels for their delicate hair.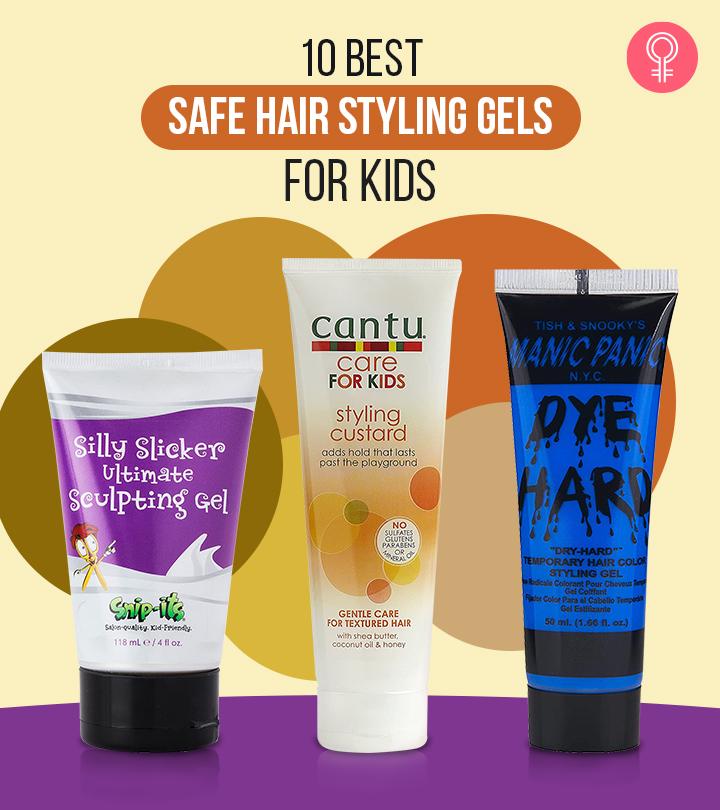 If you have children at home, you will probably know why we dedicated an article to the best hair gel for kids. Kids are no more of the middle parting with coconut oil dripping category. They'd sure love to copy the celebs they like. While you would hesitate to hand over cosmetics to them, you know they'll have it their way with tantrums. The best way to make it a win-win is to ensure the products they use are kid-friendly. Here is our list of 10 kid-friendly hair gels that will keep you stress-free while your little star makes all the spikes out of his hair as he wants!
10 Best Safe Hair Styling Gels For Kids – 2022
The Hip Peas Hair Styling Balm is one of the safest hair gels that provide hold to your little one's locks. It is free of all toxic chemicals and synthetics and is a kid-friendly formula. This lightweight gel styles the curls and tames unruly strands without feeling sticky. It can be safely used on almost all toddler hair types and can be washed off easily. What's more – it smells fantastic – thanks to the all-natural formula with aloe leaf juice, blueberry fruit extract, comfrey root extract, and nourishing olive oil.
Key Ingredients: Aloe leaf juice, Lavender extract, Olive oil, Vitamins C and B5
Pros
Suitable for everyday use
No scalp flaking
SLS-free
Synthetic dye-free
Phthalate-free
Paraben-free
Petrochemical-free
Cons
Price at the time of publication: $12.95
If you are looking for an alcohol-free hair gel for your kids, the Fresh Monster Natural Hair Gel is the answer. You can apply as much product as needed to fix flyaways, tame a ponytail, or hold styled hair in place. This vegan gel can be used on dry and damp hair and doesn't make your munchkin's hair crusty or crunchy. It is dermatologically tested to suit sensitive skin and is formulated without any toxins and fragrances.
Key Ingredients: Panthenol and Dimethicone
Pros
Lightweight
Alcohol-free
Paraben-free
Sulfate-free
Phthalate-free
Cruelty-free
Dye-free
Fragrance-free
Gluten-free
Soy-free
BPA-free
Cons
Price at the time of publication: $13.98
Lane& Co. Hair Paste is a 100% plant-based, chemical-free hair gel for kids. Its allergen-free formula lightly holds and tames baby hair without irritating the skin and scalp. With a blend of organic shea butter, coconut oil, and cocoa butter, this versatile styling product can be used on infants and toddlers. Since it is easy to work with, just a little dollop would go a long way. It sets the hair without making it stiff, messy, and crunchy – thanks to the nourishing plant oils and butter.
Key Ingredients: Organic shea butter, Coconut oil, Cocoa butter, Sunflower seed wax, and Tapioca starch
Pros
Vegan
Lightweight
Hypoallergenic
Non-greasy
Paraben-free
Phthalate-free
Soy-free
Non-GMO
Cruelty-free
Sulfate-free
Gluten-free
Nut-free
Dairy-free
Synthetic dye-free
Cons
Price at the time of publication: $16.95
The CurlyKids® Curly Gel is developed especially for multi-textured baby hair types. It defines and controls curls and keeps dry and dull hair moisturized. This gentle formula prevents hair from getting crunchy and stiff as it is free of heavy oils and synthetic waxes. This non-sticky gel lightly holds the hair in place without making the scalp flaky. You can apply it to dry or damp hair. Check this video to learn more about the product.
Key Ingredients: Glycerin, Aloe leaf extract, and Hydrolyzed Wheat gluten
Pros
Non-greasy
Little goes a long way
Paraben-free
Sulfate-free
Fragrance-free
Petrolatum-free
Artificial color-free
Cons
The Silly Slicker Ultimate Sculpting Gel is a gentle formula crafted to provide a day-long hold to kids' hair. It reactivates with water and helps keep your munchkin's hairstyle intact. This gel comes with a no-flake formula that keeps hair from feeling crunchy or stiff.  This toxin-free blend comes with a subtle natural fragrance making it ideal for baby hair. It is enriched with ethically sourced ingredients, and loves both your child and our planet!
Key Ingredients: Aloe leaf extract, Panthenol, and Hydrogenated castor oil
Pros
Pleasant smell
Lightweight
Hypoallergenic
100% cruelty-free
Cons
Needs frequent reapplication
Price at the time of publication: $14.95
The Fairy Tales Curly-Q Styling Spray Gel is an extremely lightweight formula that doesn't weigh your hair down. The spray gel is formulated with quinoa, murumuru butter, and aloe vera. The quinoa works to create a defensive layer over your hair shafts and keep them hydrated, lustrous, and elastic. The murumuru butter controls frizz, detangles mess, creates beautiful curls, and enhances your style. The aloe vera provides the additional moisture that your hair and scalp might need. For lively, bouncy curls, include this incredible formula to your kid's hair care routine!
Key ingredients: Quinoa, Murumuru Butter, Aloe Vera
Pros
Sulfate-free
Paraben-free
Phthalate-free
Gluten-free
Nut-free
Soy-free
Dairy-free
Cruelty-free
Non-GMO
Daily use by kids
Cons
None
Price at the time of publication: $9.95
The Cantu Care For Kids Styling Custard holds poofs and ponytails in place while reducing frizz. It contains pure shea butter, coconut oil, and honey, with no harsh ingredients or chemicals. This styling custard is specifically formulated to nurture and nourish textured baby hair like fragile coils, curls, and waves. It is gentle and mildly-scented and suits all infant and toddler hair types. Just what your kids need a messy play date!
Key Ingredients: Coconut oil, Honey extract, Shea butter, Panthenol, and Modified Corn starch
Pros
Mineral oil-free
Sulfate-free
Paraben-free
Phthalate-free
Silicone-free
Paraffin-free
Propylene-free
Gluten-free
Cons
Price at the time of publication: $3.79
The Hot Tot Styling Gel is a medium-hold gel that adds shine and volume to fine to medium hair. Organic shea butter, sweet almond extract, and aloe leaf juice make this styling formula nourishing and moisturizing. It contains Japanese green tea for UV-ray protection and vitamin B5 for hydration. Apply this gel generously to wavy, damp, or dry hair for an increased hold. For more information about the product, click this video.
Key Ingredients: Shea butter, Sweet Almond extract, Aloe leaf juice, Japanese green tea, and Vitamin B5
Pros
Vegan
Dermatologist-tested
pH-balanced
Non-GMO
Cruelty-free
Soy-free
Gluten-free
Nut-free
Dairy-free
Phthalate-free
Cons
None
Price at the time of publication: $16.5
The Smoothing & Styling Gel from Africa's Best Kids Organic is a clean, alcohol-free formula fortified with virgin olive oil. It is a conditioning gel that holds styled hair in place without making it stiff and crunchy or weighing it down. This styling gel adds shine and moisture to nourish curls that are left loose or are worn in ponytails or braids.
Key Ingredients: Olive oil, Aloe leaf juice, Shea butter, Hydrolyzed Soy protein, Tea tree oil, Rosemary leaf oil, and Vitamin E
Pros
Long-lasting hold
Ideal for textured baby hair
Pleasant smell
Vegan
Paraben-free
Cons
Price at the time of publication: $9.53
The Manic Panic Dye Hard Styling Gel in Electric Blue color is a temporary hair color-cum-styling gel. It is formulated without ammonia or toxins and suits kids.It also gets washed out easily with shampoo. This vegan formula is crafted with natural ingredients and colors that do not irritate a child's delicate skin/scalp. All you need to do is apply thick layers of this gel on desired parts of the scalp and hair and brush it out. It also provides an extra-firm hold on hair styled as mohawks, spikes, or braids.
Key Ingredients: Castor seed oil, and Vegan lactic acid
Pros
Leaves no residue
Washes easily
Great coverage
Dries quickly
Cruelty-free
Ammonia-free
PPD-free
Paraben-free
Gluten-free
Resorcinol-free
Phthalate-free
Cons
Too sticky
May make the hair crunchy
Price at the time of publication: $12.01
Now that you know about the best hair styling gels available on the market, here a few points you need to consider before buying one.
What To Consider While Buying A Hair Styling Gel For Kids?
If a product should go on baby skin or scalp, it needs to be free of all chemical additives. The gentler it is, the safer for kids' skin/scalp. Pick a product that is free of parabens, sulfates, phthalates, silicones, artificial colors, paraffin, mineral oil, etc.
If you are looking to style your baby's hair into a mohawk, spikes, or poof, strong-hold hair gels are best. If your child wears his/her curls in braids, ponytails, or pigtails, you might want to work with a hair paste or plant butter.
Hair gels can help parents style their kids' hair effortlessly. But cheap ones can mess up kids' hair texture and scalp health. Some may leave residue after washing, while some may make the scalp flaky. So, choose organic, vegan, and clean hair gels to protect your child's delicate hair and scalp.
Why Trust Stylecraze?
The author, Shiboli Chakraborti, has a keen interest in hair care. She has done thorough research and read many customer reviews on trusted forums to compile the list of best hair gels for kids. These hair gels are the best way to style your little ones' hair, as they are lightweight, chemical-free, and skin-friendly.
Frequently Asked Questions
Can hair gel be used for kids every day?
No. Regular use of hair gels is hazardous for kids. These gels block your follicles, and make the hair frizzy.
At what age can I use hair gel for kids?
There is no age bar for using hair gels on kids' hair. However, make sure to use a product free of any harmful chemicals to avoid irritating their delicate scalp.
Does hair gel damage your kid's hair?
No, but certain hair gels contain alcohol and other toxic chemicals that mess up the moisture level of your kids' hair and cause breakage. Therefore, opt for products that are safe and specially formulated for kids.
What hair products are safe for babies?
Hypoallergenic and organic hair products are safe for babies. They have a delicate scalp, and excessive use of chemical-based products ultimately irritates and damages their hair health.
Recommended Articles
Best Baby Hair Gels
Best Recommended Natural Hair Products For Kids
Best Natural Hair Gels Along With Buying Guide
Best Organic Curly Hair Products
Stylish Hairstyles For Your Little Girl – Styling Tips