15 Best Baby Hair Gels To Buy In 2022
Tame your baby's sensitive hair and provide proper nourishment to the scalp.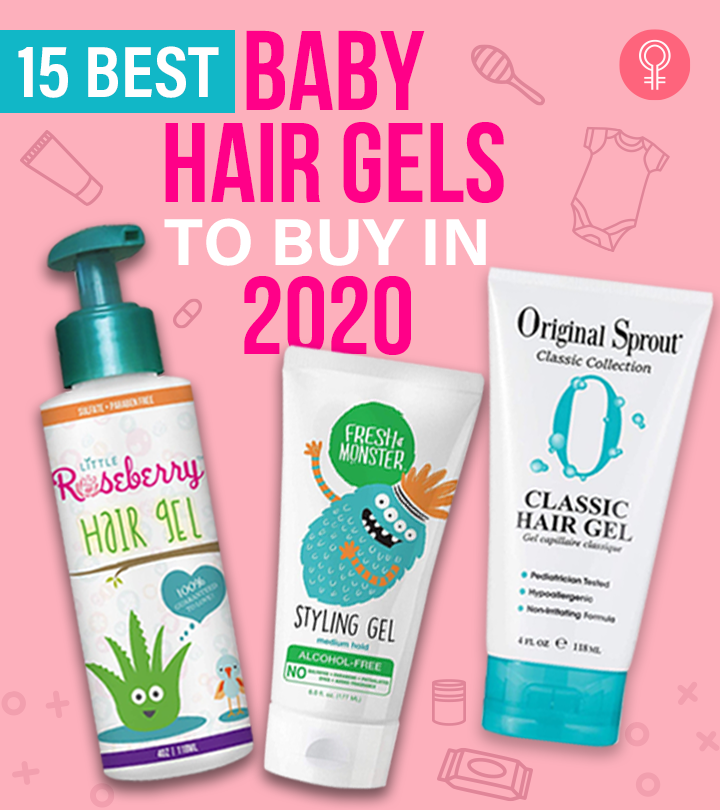 This article lists the 15 best baby hair gels that you must take into consideration if you want to keep your baby's unruly hair in the right place. Yes, they are safe and totally convenient when it comes to taming your baby's hair. You can also use them to style your little one's hair the way you want to. So, what are you waiting for now? Come on! Without further delay, let us go ahead and check the list out.
When Is It Safe To Use Baby Hair Gel?
While there is no age limit for using hair products on children, experts usually do not recommend using skin care products on infants. It is because their skin is extremely sensitive and vulnerable to allergic reactions. To be safe, avoid products with chemicals, and conduct a patch test 24 hours before using the product.
Things To Consider When Buying A Baby Hair Gel
There are two primary factors to be noted when buying a hair gel for your child.
Stick to products with natural ingredients, such as aloe vera, chamomile, jojoba, and witch hazel. Avoid products that may contain toxins and chemicals, such as parabens, sulfates, alcohol, etc. Usually, kids' hair care products are free of these ingredients but check the label to be sure.
Think about how you plan to use the hair gel. Organic and natural hair gels are free of chemicals and do not deliver on performance. If you want something with a strong hold to keep a mohawk in place all day, you might have to opt for a more potent formula. Gentle hair gels are quite competent at taming frizz and keeping flyaways in place.
With that sorted, let us now take a look at the 15 best baby hair gels of 2022.
Top 15 Baby Hair Gels Of 2022
The Little Roseberry Hair Gel contains witch hazel and organic aloe vera juice that nourish your kid's hair. The natural ingredients in this hair gel prevent hair fall and help provide balance to the scalp. The formula is gentle, non-toxic, and enriched with vitamins that fortify delicate hair. This baby hair gel is suitable for kids of all ages and offers light hold for styling their hair.
Pros
Gentle formula
No greasy buildup
Offers light hold for styling
Cruelty-free
Paraben-free
Sulfate-free
Fragrance-free
Cons
The effects do not last long.
The Original Sprout Classic Hair Gel provides medium to light hold and is effective at keeping flyaways in place and frizz in check. It gives you a clean feeling without any greasy residue. The hair gel is made from natural ingredients that nourish your hair, leaving it softer and stronger. This formula prevents hair breakage and is free of soy, gluten, peanut, dairy ingredients, and hormone disruptors that might cause allergic reactions. This video will help you make an informed decision about your purchase.
Pros
Safe for all ages
Gentle pH
No sticky residue
Pediatrician-tested
Hypoallergenic
Non-irritating formula
Biodegradable
Vegan
Cons
None
The Fresh Monster Styling Gel provides a medium flexible hold for keeping your little one's hair in place. It neither leaves behind a sticky or crunchy residue nor does it weigh the hair down. The hair gel can be used to style your child's hair in several ways – spike it up, slick it back, or use it for taming frizz and flyaways.
Pros
Suitable for all hair types
Dermatologist-tested
Hypoallergenic
No synthetic fragrance
Toxin-free
Cruelty-free
Sulfate-free
Phthalate-free
Paraben-free
BPA-free
Cons
The Hot Tot Styling Gel helps add a beautiful sheen to your child's hair. It offers a medium hold and delivers texture and volume during styling. It is perfect for fine to medium hair. The formula is enriched with Japanese green tea that provides UV protection, and vitamin B5 that keeps hair hydrated and shiny. Watch this video to get a detailed review of the product.
Pros
Provides medium hold
Protects from UV damage
Lightweight formula
Rich in antioxidants
Hypoallergenic
Dermatologist-tested
Pediatrician-approved
Cruelty-free
GMO-free
Soy-free
Gluten-free
Cons
Expensive
Unpleasant smell
Not long-lasting
The Snip-its Funky Spiker Super Hold Styling Gel has a no-flake formula that does not leave the hair with a stiff or crunchy texture. It is a perfect hair gel for babies too. This natural styling gel provides an extreme hold that lasts all day and gives you the freedom to be creative with your kid's hairstyle. The formula is made using natural ingredients and is free of allergens and irritants.
Pros
Provides extreme hold
Plant-derived ingredients
Pleasant fragrance
No greasy residue
No harsh chemicals
Cruelty-free
Cons
The SoCozy Kids Sensitive Styling Foam is a dermatologist-tested baby hair gel that you can use for styling your kid's hair effortlessly. It provides a natural hold that makes their hair soft and adds bounce and shine. You do not have to worry about any residue buildup that can irritate their sensitive skin or make it dry and flaky. The nourishing ingredients include soy protein, rosemary extract, and keratin. Here's a video to help you know more about this product.
Pros
Lightweight formula
No flaky residue
Gluten-free
Phthalate-free
Paraben-free
Sulfate-free
Formaldehyde-free
No synthetic colors
Cons
The Manzanilla Ricitos de Oro Hair Gel is enriched with chamomile extracts that nourish your baby's hair and make it strong. It leaves their hair smooth and shiny. The lightweight formula is easy to handle and free of alcohol, so it does not irritate your child's sensitive skin or dry out their delicate hair.
Pros
Safe for daily use
Strengthens hair
Adds shine
Alcohol-free
Non-greasy
Non-sticky
Non-drying
Cons
The Fairy Tales Lice Prevention Rosemary Repel Styling Gel lets you style your kid's hair the way you want while keeping it protected against lice. This clinically tested formula is gentle enough to be used daily. This baby hair gel contains nourishing ingredients like extracts of jojoba, aloevera, and chamomile, along with several minerals and vitamins that keep the hair hydrated, detangled, and lice-free.
Pros
Made from natural ingredients
Safe for daily use
Phthalate-free
No harmful toxins
Gluten-free
Soy-free
Dairy-free
Nut-free
Sulfate-free
Paraben-free
Cons
Does not provide extreme hold.
The Snip-its Silly Slicker Ultimate Sculpting Gel provides medium-strong hold for kids' hair and makes them look fabulous in a jiffy. It has a no flaking formula that does not leave the hair crunchy or stiff. It smells good and is easy to work with, letting you style hair with a natural hold that lasts long. As this is a kids' hair care product, the formula is gentle and free of harsh chemicals to suit their skin.
Pros
No flaky residue
Pleasant fragrance
No harsh chemicals
Cruelty-free
Allergen-free
Uses natural, renewable, and plant-based ingredients
Cons
The California Baby Calming Jelly Mousse Hair Gel is a nourishing formula made of calendula, safflower, and pure essential oils. It is gentle on the hair and scalp and provides a soft-medium hold to help you style your baby's hair. This hair mousse is infused with essential oils of clary sage and French lavender that create a fresh and calming scent.
Pros
No flaky residue
No harsh chemicals
No synthetic fragrances
Alcohol-free
Soy-free
Gluten-free
Cruelty-free
Cons
The California Baby Overtired and Cranky Jelly Mousse provides a soft-medium hold that is perfect for babies. It has a natural formula that helps tame frizz and style unruly hair according to your toddler's style. This gentle hair gel has a natural tapioca starch base that does not irritate sensitive skin. The fragrance is an uplifting blend of tangerine and chamomile that relaxes and refreshes your kids before outings.
Pros
Gentle on sensitive skin
Non-sticky
No harsh chemicals
No synthetic fragrances
Alcohol-free
Cruelty-free
Lightweight
Non-flaky
Gluten-free
Soy-free
Cons
May not work on thick hair
Expensive
The Original Sprout Natural Hair Gel provides medium hold for babies and toddlers. It helps you keep their frizzy hair and flyaways under control. The hair feels clean without any greasy residue. The formula contains a nourishing blend of natural ingredients that leave the hair soft and healthy. There are no allergen ingredients like gluten, soy, dairy, or nuts that may cause unwanted reactions.
Pros
Lightweight formula
Pleasant fragrance
Vegan
Gluten-free
No harsh chemicals
Cons
The Bonsai Kids Power Hair Gel comes in a unique green color that implies growth and harmony. It delivers a strong hold that keeps your kid's hair in place all day long. The baby hair gel is flexible for styling, whether you use it to spike up your boy's hair or tame flyaways in your girl's braids. It can be used on both wet and dry hair.
Pros
Gentle formula for sensitive skin
Alcohol-free
No flaky residue
Hairstylist-tested
Can be used on wet and dry hair
Cons
The Honey Baby Naturals Hold It Honey Styling Gel offers great hold that helps your toddler's hair retain its style all day long. It adds shine and keeps the hair hydrated. The formula is enriched with flaxseed that encourages hair growth and fortifies overall scalp health. You can apply it to your little girl's clean and damp hair and use it to add definition to her beautiful waves and curls.
Pros
Paraben-free
Phthalate-free
Mineral oil-free
Alcohol-free
Cons
Strong fragrance
Not enough hold
The Little Innoscents Organic Hair Fudge is ideal if you want something organic to keep your little one's hair in place. This formula claims to provide excellent control for all hair types. It is made with all-natural ingredients and is entirely free of harmful chemicals. The nourishing ingredients include beeswax, aloe vera, jojoba, and sunflower oils.
Pros
Suitable for all hair types
Safe for all ages
All-natural ingredients
Certified 100% organic
Cruelty-free
Eco-friendly
Cons
Leaves white residue
Not enough hold
Why Trust StyleCraze?
Sakshi Bahal is a hair care enthusiast who loves checking out different hair styling products. She vouches for the best baby hair gels for getting your little one photoshoot ready! She believes they are a must-have for parents who never use a product until they know it is absolutely baby-safe. She has researched the products thoroughly and checked online reviews before shortlisting them. These gels are made with natural ingredients that tame the hair without causing skin allergies.
Frequently Asked Questions
Is baby gel good for hair?
Yes. Baby gels moisturize your hair, detangle the knots, and tame unruly tresses.
Can I use baby hair gel every day?
No. Regular usage of baby hair gel causes product buildup and turns the hair greasy. Therefore, do not use baby hair gel daily.
Is hair gel harmful to hair?
No. Hair gels are not harmful to the hair unless applied inappropriately. Using an excessive amount of hair gel dries the hair and leads to breakage. So, use them according to the instructions given by the manufacturer.
What is the best way to use hair gel on my baby?
•  Wet their hair slightly.
•  Comb their hair just the way you want it to look.
•  Take out a little amount of the hair gel on your palms.
•  Rub the product between your palms to warm it up a little.
•  Apply the product evenly on the set hair.
•  Run the brush once again through the hair to secure the style.
How long does hair gel last in hair?
Hair gel lasts a couple of days in hair. It stays up to three to five days on unwashed hair.
Recommended Articles