8 Best Vegan Hair Brush Reviews Of 2023
Give your locks some extra volume and bounce with these fantastic hair care tools.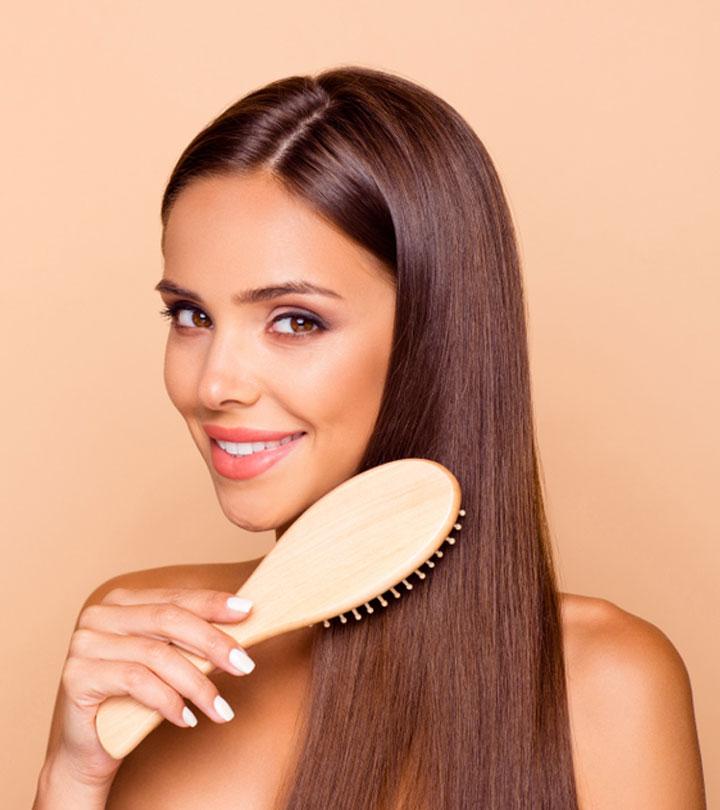 The most thoughtful gift to present your hair is the best vegan hairbrush. As true animal lovers, we understand your hesitation and discomfort while picking a bore bristle brush. You might not be a full-time vegan, but when it comes to using hair products, it is always a little bit more ethical to go for the one made cruelty-free. Small changes like switching to a vegan hairbrush can make a significant change in your outlook on the world. You can take a step towards eco- and animal-friendliness without compromising on quality. The vegan brushes, the alternatives are made from cactus, nylon, Tampico, coconut fiber, and bamboo, giving you the same or better results. If you are sold on going pro-nature, here are some of the best vegan hair brushes that will help you manage your hair perfectly without any guilt! Scroll down now!
8 Best Vegan Hair Brush Reviews & Guide Of 2023
This combo set offers Softmild Hair Brush along with a detangler tail comb. The wooden paddle hair brush is a great choice when you want to invest in a good vegan hair brush. It can be used by the entire family including the kids. The brush is made of biodegradable bamboo. Not just the handle, even the bristles are made of good quality wood. Another attractive feature of this hair brush is its texture which is really great to touch and handle. The hair brush is 3.35 inches wide and 9.57 inches long. The versatile tail comb that comes in this set, can be used to detangle and style hair along with cleaning the hair brush with its tail.
Pros
Eco-friendly design
Anti-slip handle
Made of natural bamboo
Works for all hair types
Cons
Bristles do not massage the scalp
Price at the time of publication: $11.99
The search for a natural vegan hair brush comes down to this bamboo paddle hair brush from BFWood. The size is apt with the dimensions 9.06 x 2.76 inches. This brush has bamboo bristles which easily detangle your hair and stimulate your scalp. An air hole is also situated in the center of the brush for comfortable massages. The size suits curly, thick, and thin hair. You can even use this vegan bristle hair brush to comb your wet hair instead of a wide-tooth comb. The price is also quite affordable which means you can enjoy vegan hair care easily. You can use this vegan soft bristle hair brush for your daily use. You can also check this video out for a brief review of the product.
Pros
Cruelty-free
Premium quality
Good for styling hair
Travel-friendly
Makes hair smooth
Cons
Bristles might be too sparse for some
Price at the time of publication: $9.98
Known for gentle detangling, this brush set from Nipoo has rounded bristles made with 100% bamboo. This bamboo hairbrush set contains one wooden paddle hairbrush and one mini compact brush, making it a travel-friendly option. It is suitable for all hair lengths and types. It stimulates blood flow and massages the scalp, boosting hair growth, keeping hair moisturized and healthy. This lightweight brush has wide gaps and creates less static while combing. It conditions hair and distributes hair oils evenly, leaving the hair soft, smooth, and silky. It is suitable for both adults and kids.
Pros
Perfect for loose and long curls
High-quality brush
Travel-friendly
Lightweight
Cons
High pressure might break some bristles
Price at the time of publication: $10.3
The brand name EcoTools itself says it all about its products. The brand deals with eco-friendly and vegan brushes. In fact, this one has a unique design and great cushion paddle. This eco-friendly vegan hair brush serves the purpose of a detangler hair brush and works even for knotted or curly hair.  In fact, it is also one of the most suited vegan hair brushes for fine hair. Weighing 0.25 pounds, the hair brush is crafted with renewable bamboo and recycled aluminum. Also, it is well-ventilated and comfortable to hold. Altogether, it surely stands out among the list of the best vegan hair brushes. If you want a detailed review of the product, make sure to take a look at this video.
Pros
Made of aluminum
Cushioned paddle
Suits all hair types
Cruelty-free
Cons
Price at the time of publication: $10.78
The Green Hair Brush from the Bass brushes is made of natural and sustainable bamboo. Both the pins and handle are made of bamboo, thus serving completely as a vegan hair brush. The pins are of high quality and there is no risk of heating while blow-drying or styling hair. Primarily designed to detangle and style hair, this Green Hair Brush gives satisfactory results. The comb is quite durable and totally eco-friendly. With a weight of 55 grams, this vegan wooden hair brush is totally travel-friendly as well. The oval shape of the brush makes it very easy to glide through thick hair. It is a cruelty-free hair brush for people who do not like boar bristle brushes. If you need more convincing, feel free to take a look at this YouTuber's video on the merits and demerits of the product.
Pros
100% vegan
High-quality spa tools
Plant-based plastic
Aerodynamic design
Cons
Price at the time of publication: $13.66
This hair brush from Redecker is largely preferred for its unique quality and it is one of the top vegan hair brushes in the market today. The color of the brush is brown and it weighs around 0.11 pounds. Made for daily use, this vegan hair brush is handcrafted from all-natural oiled beechwood which is hard to damage. The cruelty-free bristles are made of all-natural tampico fiber which are perfect for brushing hair and withstanding heat while blow-drying. You can easily clean the brush with warm water and air dry the bristles facing them down. It is quite sturdy and can be used as your regular hair brush.
Pros
Great design
Extra strong bristles
Great for daily brushing
Heat-resistant bristles
Cons
Might be a little long to carry
Price at the time of publication: $20.99
Composed of natural bamboo and recyclable aluminum, this Sleek And Shine Finisher Hair Brush is simply the best. It is ultra-lightweight and is great for comforting and smoothing your hair while you comb. The bristles are made of bamboo but resemble boar bristles and penetrate down to the scalp easily. The wooden paddle brush is not meant for wet hair and must be used only on dry hair. It even massages the scalp and stimulates the hair follicles. This vegan hair brush works great with dry shampoos and gives you clean, naturally-conditioned tresses. For hair that is dull and lacks shine, this hair brush is perfect. It nurtures hair and adds lustre to it naturally.
Pros
Cruelty-free
Sleek design
Made of recycled material
Static-fighting design
Cons
Not for detangling purposes
Price at the time of publication: $9.99
Giorgio Natural Hair Brushes are sourced from FSC-certified, sustainably-cut forests to have minimum effect on the earth. This vegan hair brush has wooden bristles which unlike nylon or boar bristles are hypoallergenic in nature. You can also expect it to produce no ionic static charge and keep your hair shiny and smooth. The silicone cushioned base makes brushing hair comfortable, stimulates scalp, encourages better hair growth and good hair health. Bonus points go to the biodegradable linen bag that comes along with this vegan hair brush. Suitable for long and thick hair, this hair brush grasps the scalp's natural oils and distributes them evenly throughout the hair.
Pros
Air-cushioned paddle
Environment-friendly
Recyclable brush
Easy-to-carry
Cons
Price at the time of publication: $28.0
Types Of Bristles That Are Vegan
There are a few types of bristles that are not associated with animals and are totally vegan.
1. Coconut fiber
Usually such bristles are made of jute plant derivatives. Not just hair brush bristles, this material is used for creating vegan bags, hats, etc.
2. Nylon
Nylon bristles are vegan in nature and are largely preferred by individuals. The brush is usually wooden and the bristles are made of nylon. These brushes are easy-to-clean and suit all hair types.
3. Bamboo
Bamboo bristles are made of bamboo sticks and are completely natural. These bristles are often used for detangling hair.
4. Sisal
This is a special fiber derived from the leaf of the cactus plant called agave.
5. Tampico
This is another fiber derived from wild cactus. It has the ability to hold water which is the reason behind its use as hair brush bristles.
How To Choose Vegan Hair Brushes?
Consider the following questions before choosing a good vegan hair brush.
What is the purpose for your hair brush? Is it detangling, styling, or creating volume?
In case you want a detangling brush, choose a bamboo paddle brush or brush with nylon tips. You can always rely on a sculpting brush, generally used by professionals, for styling your hair. The narrow brushes with a tail also known as teasing brushes are great for fluffing your hair and adding volume.
What is the material that you wish to use? Is it plastic or wood?
Both plastic and wooden brushes are good for brushing hair. You can choose either of them.
Which hair brush might suit your hair type?
This refers to the size and length of the hair brush and the bristles. For example, cushioned brushes are good for brushing long hair without any pulling or tugging. Round brushes are great for styling short hair. Double bristle hair brushes are suitable for thick and curly hair.
Only after knowing the answers of the questions given above, you should look for options. Note the following points while choosing a vegan hair brush.
It is always great to opt for a comfortable and ergonomic design.
Also, a vegan hair brush must be light which also makes it travel-friendly.
Decide the shape and size of the brush depending on your hair thickness. A classic paddle brush suits almost all hair types.
Do not forget to consider the price before investing in a vegan hair brush.
Lastly, check out the cruelty-free standards of the brand manufacturing the vegan hair brushes.
Why Trust StyleCraze?
Vaishnavi Kothuri, a skin and hair care enthusiast, is passionate about researching the best products for her readers. She has compiled this list of the best vegan hairbrushes made from natural alternatives such as coconut fiber and bamboo. These products have been carefully chosen after researching their manufacturing procedure, safety, durability, and user reviews. She has also included a buying guide to help you make the right decision.
Frequently Asked Questions
Are Nylon Bristles Bad For Hair?
Nylon bristles are not bad for hair. Though pure nylon bristles might be too harsh on hair.
Why Should You Choose A Vegan hair brush?
A vegan hair brush has many benefits over non-vegan hair brushes.
A vegan hair brush is all natural for hair. Since it has no use of harmful artificial substances, it is considered good for the scalp. Wooden or nylon hair brushes usually stimulate hair scalp causing better hair growth.
The prices are usually cheaper than the others. The production cost of vegan hair brushes is lesser than the brushes with boar-bristles.
Vegan hair brushes are eco-friendly. There is no use of animal-derivatives, thus causing no harm to the ecosystem.
Is Vegan hair brush Good For Curly Hair?
Yes, a vegan hair brush is good for curly hair. The bristles of vegan hair brushes are usually very long and straight that they reach the scalp and detangles even curly hair.
Is A Boar Bristle Brush Vegan?
No, a boar bristle brush is not vegan as it contains boar hair which is an animal-derived ingredient. Anything that is vegan has no traces of animal derivatives.
Is a vegan hairbrush better than a regular hairbrush?
Yes. A vegan hairbrush is made ethically and is safer for your hair health as compared to a regular hairbrush. The natural bristles are gentle on the scalp and improve blood circulation. In addition, the brush reduces hair fall and maintains the natural hair texture.
Does brushing your hair make it thinner?
No. Brushing the hair gently with a good quality vegan comb does not cause hair fall. Instead, it boosts blood circulation and helps the scalp sebum spread evenly on your strands. However, excessive brushing with harsh movements weakens the hair follicles and makes your hair look thin.
Recommended Articles