11 Best Brushes For Frizzy Hair Reviews (2023)
Brush your frizz goodbye and bid hello to smooth, silky, and manageable tresses.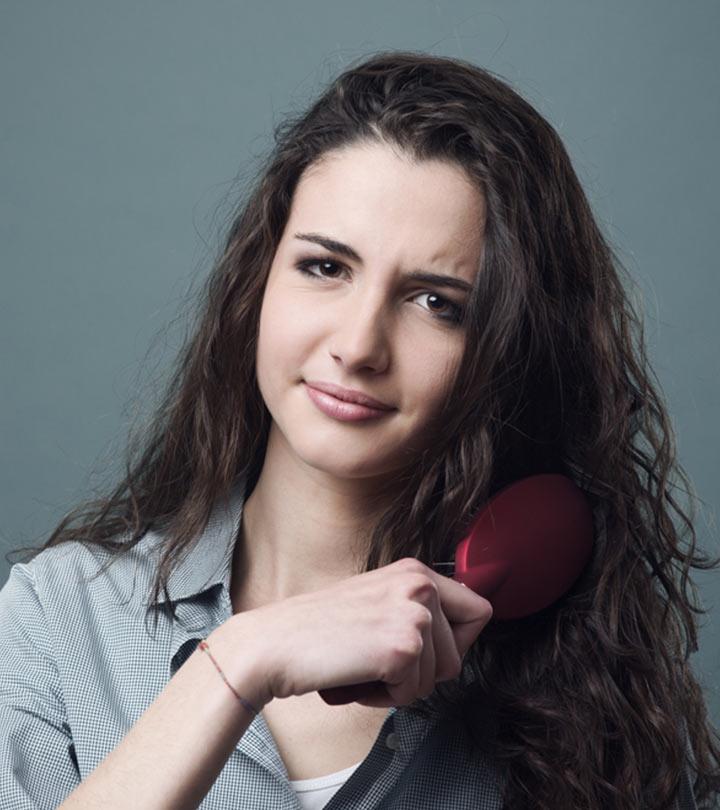 If you ever felt annoyed trying to tame and style your frizzy hair, it's time to get your hands on the best brush for frizzy hair. It not only helps tame the frizz but also detangles your hair hassle-free. Frizzy hair tends to become worse with heat and moisture. Styling it with a blowdryer or hairstyling iron becomes a challenge. That's when the right brush meant for handling the frizz can make all the difference. And if you are someone with dense, curly hair, it becomes all the more necessary. The best brush for frizzy hair would effectively be lightweight and one that suits all hair types. If you don't know which one would work the best for you, have a look at the top 11 hairbrushes for frizzy hair listed below, to help you get started.
Top 11 Best Brushes For Frizzy Hair Control
This is a classic design soft brush from the brand Denman. It has seven precise rows of round-ended nylon pins that can easily make way through dense, thick hair. The product is designed in a particular manner to increase movement and define curls in wet hair. Other than styling the hair, this brush can be used to reduce frizz, untangle hair, add shine, and volume too. Plus, if you have a sensitive scalp, you can avoid the harshness of regular combs by using this brush. Denman classic styling brush is made of high-quality material and it is considered one of the best brushes for frizzy hair as it works well for all hair types be it fine, curly, or straight. Check out this detailed review to know more about the product.
Pros
Sturdy Brush
Eco-friendly
Light-weight
Travel-friendly
Cons
Price at the time of publication: $18.83
Handling frizzy hair without a regular brush is now easy. This Tangle Teezer brush comes in a unique design which is totally dedicated to the use of detangling frizzy hair. It is a small, ergonomic palm-shaped comb that fits completely in your palm giving you a better grip while brushing your frizzy hair. This detangling brush for frizzy hair brush comes in beautiful colors and contains both short and long teeth. The long teeth detangles hair while the short ones smoothens the hair cuticle. This cute little brush minimizes hassle, reduces hair breakage, and makes hair shinier. This video will give you a better insight about the product.
Pros
Handy design
For regular hair types
No fuss involved
Easy-to-carry
Cons
Price at the time of publication: $10.99
The Kiss Ionic Smoothing Brush eliminates static and delivers sleek and shiny hair. The brush releases millions of ions that soften your hair. These negative ionic particles reduce static, tame flyaways, and smoothen the cuticles while making your hair shine. It is designed with seamless bristle technology to prevent hair breakage and protect cuticles. This battery-operated brush comes with a detachable cushion pad, allowing you to clean it easily.
Pros
Lightweight
Battery operated
Smart one-touch button
Travel-friendly
Easy to clean
Cons
None
Price at the time of publication: $7.97
Bsisme Hairbrush has a wooden handle, and nylon and boar bristles planted in a padded rubber base. The brush is not just for frizzy hair but for all types of hair. It glides easily inside even very thick hair and helps you get rid of locks. The boar bristles evenly distribute the scalp oil and prevent breakage and frizz. Cleaning this brush is super easy and does not involve any type of fuss. The grip and comfort associated with this brush is quite strong and you can enjoy painless detangling of hair. Its great structure and suitability makes it one of the best hair brushes for dry and frizzy hair.
Pros
Good quality
Long nylon pins
Comfortable Grip
Suitable for curly hair
Cons
Might be too large for some
Price at the time of publication: $12.99
Care Me Blowout Round Hairbrush with 1.7" medium barrel is apt for shoulder-length hair. It is made of vented ceramic barrel that allows a considerable flow of air during the blow-dry process. The pure boar bristles of this brush help distribute the natural hair oils evenly on the scalp while the nylon tips make the brushing of hair soft and painless. When looking for the best brush for blow-drying, you can always give this one a try. Other than blow-drying, the brush eases the process of straightening, adding curls or even simply taming frizzy hair. Getting salon ready at home is now simple with this round hairbrush.
Pros
Available in 3 sizes
Versatile product
Works with all hair types
Assists in easy styling
Cons
Might not work for short hair
Price at the time of publication: $13.99
This is undoubtedly a good hair brush for frizzy hair and it works for your entire family. It is made of natural boar bristles and nylon pins that are even great for kids. While detangling locks is a painful process, this brush from Osensia is made with a purpose to ease this process. The brush is said to be made of 17 rare elements that make hair beautiful with every brush stroke. The head of the brush is flexible and gives you a soothing scalp. To tame your unruly hair, this is one of the best brush choices.
Pros
Quick to use
Lightweight
Gentle for hair
Leaves hair soft
Cons
Not fit enough for blow-drying
Price at the time of publication: $13.99
When looking for natural, cruelty-free brush options, your stop has to be at this one. This boar bristle hairbrush from the brand Belula is one of a kind. The handle is made of bamboo while the bristles are completely made of cruelty-free boar hair. The brush can be used by both men and women. You can stop hair breakage with the use of this brush as the brush bristles are of high quality. This boar brush helps you regulate the sebum content on your scalp and coating your hair strands with sebum and reducing frizz. The brush is suitable for all hair types including curly, fine, and thick hair.
Pros
Ergonomic design
Handcrafted
Cruelty-free
Has real boar bristles
Cons
Might not be durable enough
Price at the time of publication: $16.95
This professional styling boar brush is available in two sizes— large and medium. The key feature of this boar bristle brush is its ability of distributing the oils evenly onto the hair. Not only does this improve hair shine but it also results in less breakage. This paddle brush for frizzy hair comes with a 3-year warranty which is surely a plus point. You can expect faster hair growth and better luscious hair with the regular use of this hairbrush.
Pros
Professional quality
Has nylon pins without tips
Good for head massage
Budget-friendly
Cons
Price at the time of publication: $37.77
The Beurer Electric Detangling Brush is designed with an optional ion function, generating negative ions that eliminate static charge from your hair and reveal smooth tresses. This battery-operated brush features soft acrylic bristles that run smoothly through your strands without causing any pain on your scalp. It has an operating status indicator and a soft touch surface, enabling easy usage. This brush is suitable for all hair types – fine, medium, and thick.
Pros
Suitable for all hair types
Lightweight
Portable
Soft bristles
Painless
Features an operating status indicator
Soft touch surface
Cons
None
Price at the time of publication: $25.99
Fiora Naturals Detangler Hairbrush is the choice of all those who love smooth detangling of hair. Designed in a vented contoured manner, this hairbrush helps your hair dry faster with the help of proper channeling of air from dryer to your hair. If you have kids who just don't like to brush their hair because of the pain involved, then you can switch to this brush and let them experience easy, painless detangling of hair. Made of earth-friendly material, the brush is flexible along with nylon bristles. Since the bristles are anti-static, the brush helps distribute the scalp's oils and gives you shinier, healthy looking locks. The brush is indeed one of the best hair brushes for frizzy hair owing to its painless brushing feature.
Pros
For all hair types
Stylish design
Thin, flexible bristles
Works on both wet and dry hair
Cons
May not be of the best quality
Price at the time of publication: $8.47
The Wet Brush Original Detangler Brush is ideal for fine or thinning hair as it reduces hair breakage by 45%. It features ultra-soft, uniquely dispersed intelliFlex®bristles that impose less stress on your scalp and gently brush through the hair knots without pulling or snagging. It minimizes scalp pain and eliminates split ends. This brush can be used on dry and wet hair to style it efficiently. It also has a comfortable handle, making it easy to maneuver while combing.
Pros
Suitable for all hair types
Comfortable handle
Soft bristles
Lightweight
Cons
Price at the time of publication: $8.98
A brush for your frizzy hair can do wonders for your mane. Since there are many brushes available that tame frizz and unruly locks, it is important to choose the right one after thoroughly researching the best brands and the features you should look out for while shopping for the brushes. Here is a list of things you should keep in mind.
Points To Keep In Mind Before Buying A Brush For Frizzy Hair
Material
Go for a brush made with nylon or carbon fiber that will minimize static charges, as these charges can cause hair damage over time. Also, static charges increase frizz, so avoid them at all costs. If you tend to brush your hair when wet, go for durable brushes especially created to prevent hair pulling or breakage. If you are someone who admires all-things natural, go for a brush with organic boar bristles. They spread out your scalp oil evenly through your hair and offer your tresses unmatched shine! If you get sweaty hands, opt for a brush that provides a good grip. A wooden brush with an anti-slip handle would be perfect for you.
Size
It is a common misconception that if you have a voluminous mane, you should use a large brush. Large brushes tend to be heavier; and may take longer time to detangle your tresses. If the brush is heavy, your hands may start hurting as well. So, always opt for a mid-sized to small-sized brush if you have thick and voluminous tresses.
Usage
If you travel frequently, purchase a decent brush especially created for your needs. Carrying around a bulky brush isn't practical at all!
If you tend to get headaches or opt for tight hairstyles that tug at your scalp, invest in a brush that has a rubber massage cushion. It will not only provide a massage to your scalp but also improve your blood flow.
Those who prefer heat styling regularly may need a lightweight brush that is easier to work with. Since one of your hands will be engaged in holding the styling device, opt for a small sized, heavy-bristled brush.
Cleanliness
Hygiene is very important when it comes to hair care. Dirty brushes can cause scalp infections, dandruff and hair loss. Purchase a brush that would be easier to wash and disinfect. Clean your hair brushes every week!
How Do You Brush Your Hair Without It Getting Frizzy?
While a brush can make your hair less frizzy, brushing your hair correctly is really important. Given below are certain tips that can help you in brushing your hair without making it frizzy.
Apply a leave-in-conditioner on your hair before brushing your hair.
Apply a styling cream to avoid frizzy hair.
Use a deep conditioning mask for at least once a week to brush your hair in a better way.
Avoid over washing your hair and try using a tooth combed hair to brush your wet hair.
Put a serum on hair ends before brushing.
Use a boar bristle brush to prevent frizziness
Why Trust StyleCraze?
The author, Sneha Manandar, is a hair care enthusiast. She is always on the lookout for tools that make hairstyling more convenient and stress-free. She has come up with this specially curated list of the best brushes for frizzy hair. After going through hundreds of reviews and customer feedback in popular beauty forums, she recommends nothing but the best for you here. Other than taming the frizz, these brushes help detangle your hair gently.
Frequently Asked Questions
Are Boar Bristle Brushes Good For Frizzy Hair?
Yes, boar bristle brushes are good for frizzy hair.
Does Brushing Make Hair Less Frizzy?
Yes, brushing makes hair less frizzy if you use the right kind of hairbrush.
Is A Comb Or Brush Better For Frizzy Hair
A brush is better for frizzy hair
How do I stop my hair from going frizzy?
Follow these steps to prevent frizz and achieve the smooth, shiny hair of your dreams.
• Use an anti-frizz, moisturizing shampoo and conditioner.
• Avoid using hot water for washing your hair.
• Use a deep mask enriched with hydrating ingredients like butters and essential oils.
• Use a soft hair towel, and do not rub your strands harshly.
• Apply a lightweight leave-in conditioner on fine hair and a thick conditioner if your hair is curly.
• Use a lightweight hairspray that adds shine to your hair.
• Use a silk pillowcase to keep your hair cuticles intact.
What is the best brush for long hair that is fine, frizzy, wavy, and air-dried?
The Denham Classic Styling Brush works well for wavy hair to prevent frizz, while the BESTOOL bamboo handle hairbrush is suitable for other hair types.
How often should you brush frizzy hair?
Brushing fine, frizzy hair once or twice a day in a dry state is ideal for distributing the natural oils of the scalp. For curly, frizzy hair, comb your hair only on wash days after applying a moisturizing conditioner or detangler.
Recommended Articles
Best Brushes And Combs For Curly Hair
Best Smoothing Hair Brushes
Best Travel Hair Brushes
Best Elegant Hair Brushes For Women