15 Best Smelling Body Washes For A Sensational Shower Experience
Save money on premium perfumes by using these enticingly scented body washes instead!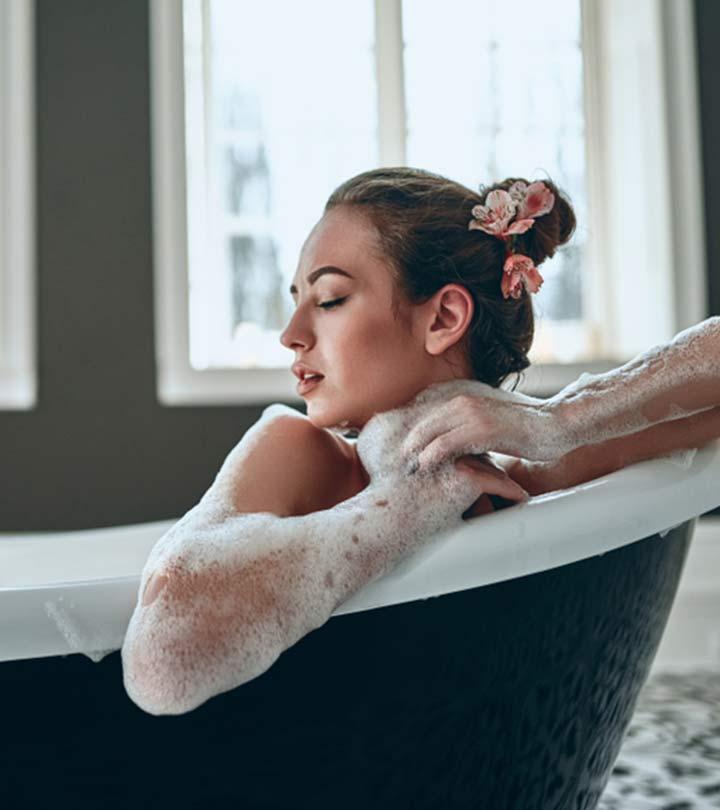 To smell good without having to use a deodorant or perfume is a dream that most of us think is far-fetched. We mean, imagine being complimented or asked, "what scent are you wearing?" when you aren't wearing one at all! Though this might sound far-fetched, it is not if you indulge in the best body washes that smell good all day! Yes, it is time you started your mornings or the end of your days on a calm and refreshing note with some best smelling body washes that last a long time. But don't worry. We've got you covered here. We have put together a list of the 15 most amazing options in this article that are totally worth trying. This list will make your search mission a lot easier, too, since the market is filled with options in abundance. Then what are you waiting for? Without further ado, let us go ahead and check out the list because these fragranced body washes are a must-have to let your body have an aroma of its own.
The 15 Best Women's Body Washes That Smell Good All Day – 2023's Picks
Fungus problem? Or are you dealing with itchy and dry skin? Try this women's body wash that smells good all day. It is a blend of tea tree and other essential oils that will soothe and cleanse at once. Turning every bath into an aromatic therapy, its 100% essential oils and powerful formula is ideal for those with ringworm, nail fungus, tinea versicolor, athlete's foot, and flaky skin too. Also, parents, this product is highly-reviewed as a must-try if your child is dealing with a lice problem. Get rid of the sweat and odor with this anti-fungal wash for your foot and body.
Pros
Soothes itchy scalp
Eliminates body acne
Exfoliates clogged pores gently
Ideal for gym rats and athletes
Infused with authentic essential oil fragrances
Suitable for psoriasis, eczema, and sensitive skin
Cons
Not suitable if you prefer rich lather
Minty, icy, and relaxing, this body wash with peppermint oil will ensure all your baths are truly refreshing! Banish the sweat, body, and foot odor with this best smelling body wash for women! Its powerful formula is ultra-nourishing for your skin. And besides cleansing away the dirt and oil buildup, it helps combat several skin woes like body acne, itchy skin, rashes, jock itch, ringworm, cracked skin, dryness, and more. Claiming to deodorize and nourish intensely, the formula also contains vitamin E, C, tea tree oil, aloe vera, omega (3, 6, 7 &, 9), eucalyptus oil, and several other enriching essential oils. Yep, get this super cool cleanser ASAP. Check out this YouTuber's unbiased review to understand more about the reviewer's experience and product functionality.
Pros
Moisturizes intensely
Improves complexion
Ideal for all skin types
Ultra-soothing and healing formula
Suitable body wash for acne, eczema, candida, and nail fungus
Free from petroleum, parabens, sulfate, silicone, and more
Cons
Not ideal for daily use if you have ultra-sensitive skin
Do you enjoy herbal spas? If yes, then you'll love this herbs-infused and floral body wash by Jason. Bringing the ultimate TLC to your shower, this moisturizing body wash relaxes your mind, body, and soul in the therapeutic cleansing process. Formulated with sage, vitamin E, pro-vitamin B5, passionflower extract, avocado oil, and clover extracts, this gentle body wash feels nothing less than an invigorating spa for your body. It's one of the best body washes for women available on the market, go try it! Watch this YouTube video for an in-depth review and to learn more about the usage and practicality of this quality body wash.
Pros
Gel-like texture
Nurtures and refreshes
Gentle and hydrates intensely
Parabens-free, sulfate-free, petroleum-free, phthalate-free
Cons
Not suitable for sensitive skin
For people who are always on their toes, sweat and odor can be an absolute nuisance. However, not if you have this therapeutic body wash in your skincare. Yep, this peppermint, spearmint, menthol, eucalyptus, wintergreen, and tea tree oil blend will fight the fungus and awaken your soul with its refreshing fragrance. Just what you need after working out or running, this all-natural formula will also combat nail fungus, psoriasis, athlete's foot, ringworm, acne, and other skin woes. According to customer reviews, gym rats and athletes should not miss this one!
Pros
Antibacterial body wash
Suitable for all skin types
Eliminates germs, dirt, and oil buildups
Paraben-free, no synthetic dyes, and fragrances
Prevents and soothes dry, itchy, and flaky skin
Cons
Is it a deodorant or a body wash? We'd say both! This aromatic, cult-favorite body wash cleanses, refreshes, and moisturizes your skin instantly. Banishing the odor instantly, its all-season formula is infused with notes of cedar, cypress, and lemon peel for a delightful experience with every use. Also, the richness of each note evolves as you bask in its refreshing experience. Yep, not too powerful to trigger your sensitive nose, yet intense enough to pique other's interest, this tried-and-tested captivating body wash can be a great ice breaker as well. Indulge, already!
Pros
Lightweight formula
Ensures a rich lather
Eliminates and prevents odor
Guarantees no waxy or heavy feeling
Cons
The scent may not last all day.
Peach lovers, where y'all at? Enjoy the delectable fragrance of fruit and ginger in this ultra-nourishing and refreshing body wash. Most positive reviews suggest that this creamy formula can leave your skin moisturized and relax your senses all at once, it's a great option to kick start or end your day on. Plus, it is gentle enough for daily use and ensures to keep you smelling like peaches for hours too. Add this body cleanser to your must-buy list, and do not miss the holistic bliss.
Pros
Lightly-scented
Creamy texture
Provides healthy skin barrier
Packed with antioxidants
Ensures soft and smooth skin
Dermatologist-recommended and sweet-smelling body wash
Cons
Slightly greasy for oily skin
Is dry skin making you give up fragranced cleansers? Then you haven't tried this creamy, herbal body wash! Ensuring the benefits of triple moisture, this result-driven formula claims to keep your skin hydrated for up to 24 hours. Formulated with non-drying yangu oil, this gentle body wash also contains apple fruit extract, hemp seed oil, cogon grass extract, fatty acids, antioxidants and many more hydrating oils to keep your skin moisturized always. And as for the odor, consider it banished with the amazing smell of herbal essences. Learn more about the product from the honest feedback and review given in this YouTube video.
Pros
Gel-like texture
Combats aging signs
Protects and tightens skin
Relieves dryness and itching
Gentle and conditioning
Ideal for men and women
Vegan, paraben-free, THC-free, sulfate-free, and gluten-free
Cons
Not ideal if you prefer rich lather
From the ocean, into this body wash— your bathing experience can't get more refreshing than this coconut-scented body wash! Beach lovers; enjoy the freshness of this minty, eucalyptus body cleanser, which also packs ultra-nourishing benefits for your skin. The formula contains bladderwrack seed that is widely known for its detoxifying, moisturizing, and nourishing effects. Plus, the infused neem oil protects and soothes cracked and dry skin too. Besides this, it also contains potent ingredients like kukui oil, argan oil, hyaluronic acid, coconut oil, and shea butter. Still, want to miss it?
Pros
Hydrates intensely
Cleanses away the impurities
Softens the skin with aloe
Vegan and cruelty-free
Parabens-free, sulfate-free, and gluten-free
Cons
Slightly drying for sensitive skin
Like summer packed in a bottle! This scented body wash with notes of mandarin, neroli, and musk will make you want to stay in the shower forever. Smelling every bit like oranges, its aromatic fragrance is too sweet to be missed even after hours of showering. Cleansing your body intensely and adding a zesty vibe to your aura, watch heads turn, and compliments follow with this bergamot signature scent!
Pros
Gel texture
Long-lasting fragrance
Ensures a radiant glow
Cruelty-free and paraben-free
Cons
If you like fruity fragrances, then this Mango smelling shower gel will tickle your fancy instantly. Tempting your appetite while it cleanses your body, don't blame us if you crave the fruit after every use. And also, the yummy yet refreshing scent is not the only benefit it has to offer! Made of mango seed oil, it will moisturize your skin and leave it ultra-soft and smooth as well. Too sweet to be missed, we think.
Pros
Refreshing formula
Soap-free and lather-rich
Silicone-free, paraben-free, and gluten-free
Cons
Dispenser may be a hassle
How about this tropical and luxurious body wash? For all those missing their island getaways, you can now add some beachy vibes to your bath with this creamy and coconut-y cleanser. Claiming to be a skin-quenching formula that moisturizes after some intense cleansing, its creamy-rich lather will make you want to indulge in, even more. The formula exudes a clean scent and contains vitamin E, pure coconut extract, and scents of pineapple and vanilla. Basically, a tropical bliss that you cannot escape!
Pros
Hydrates intensely
Leaves your skin soft and clear
Suitable vanilla smelling body wash for all skin types
Cons
Are you looking for a trusted brand for your sensitive skin? Quit and try this citrus body wash as it is dermatologist-tested. Enjoy the glow on your skin with this citrusy blend that'll give you the Hawaiian feel right away. Made with 100% natural extracts that are mandarin orange and pink lemon, it detoxifies the skin gently to remove impurities, dead skin cells, and oil buildups, and offers intensive care. And that's not all; it soothes the dryness and fights dullness too. Try it for a radiating glow!
Pros
Zesty formula
Ensures a cleansed and clear skin
Free from animal-derived ingredients and paraben
Suitable for dry and sensitive skin
Cons
That squeaky-clean feeling after a shower is a must for many. But what if we tell you that this antifungal body cleanser with 5% pure Australian tea tree oil will clean intensely as well as awaken your senses with its soothing and minty scent. A combo to die for, enjoy multiple benefits with one of the best smelling cleansers as it claims to eliminate bacterial build-ups, provide deep hydration, and fight body and foot odor like a pro. Besides this, it is ideal for treating ringworm, jock itch, eczema, nail fungus, and other skin woes too. Due to its proven efficacy, this natural wash is recommended by athletes. Do not skip it!
Pros
Gentle formula
Hydrates intensely
Protects from everyday damages
Suitable for all skin types
Ideal for daily use, foot, and nail wash
Cruelty-free, antibacterial, and sulfate-free
Free from artificial ingredients, additives, and parabens
Cons
Gentle on skin, tough on impurities, this unique yet powerful clinically backed skin care formula will make you look forward to your bath. With no toxic ingredients whatsoever, only organic oils, and soul-awakening fragrances of citrus and lavender, get ready to freshen up in the aroma of spring with this lavender-infused body wash. Packed with ylang-ylang, citrus, and lavender oils, this bath gel is gentle enough for all and safe for children too. Just what you need to start and end the day on a sweet note, give this exotic body wash a try ASAP.
Pros
Luxurious formula
Cruelty-free body wash
Sulfate-free, phthalate-free, paraben-free, and more
Suitable organic body wash for sensitive, normal, and dry skin
Cons
Not ideal if you prefer a lathering wash
Saving the "hot pick" for the last— this sensual body wash, crafted in collaboration with sustainability experts, features scents of vanilla beans, rosemary, cinnamon, clove, orange, spicy ginger, and whiskey is the soul-awakener you need to fresh up instantly. Adding a tinge of spiciness and sassiness to your bath, it lathers up richly and is delightfully bubbly too. So, if you are bored with your good ol' cleanser, try this zesty and cologne smelling body wash that'll keep you and those around you in good spirits always. Do not miss it!
Pros
Vegan
Cruelty-free
Recyclable product
Ensures a rich lather in a dime-sized quantity
Cons
The fragrance may not last all day.
*The prices provided in this article are based on the latest available information. However, they may vary due to changes in pricing by the seller and/or promotional offers.
Go on, smell good, and feel good with 15 best smelling body washes of 2023 that are guaranteed to give you an amazing shower experience. Making your baths worthwhile, those are some of the body washes you must try this season. However, if you still need assistance with choosing the best smelling body wash, you can read our tips in the buying guide below.
Buying Guide
How To Choose The Best Smelling Body Wash?
To pick the best smelling body wash, look out for the following features in the product: 
Ingredients: Know what's in your cleanser before you apply it to your skin. Check the ingredients and if they are suitable for your skin type before buying it. Oftentimes scented body wash contains alcohol, which can dry out the skin. In addition, there may be a variety of artificial scents within the wash made up of chemicals that may not be good for your skin. Instead, look for emollients such as glycerin that helps to lock moisture into the skin and makes it soft and supple.
Cleansing formula: Let not those enticing fragrances shift your focus from picking a good cleansing body wash. After all, the squeaky-clean feeling a must, no matter how good the scent is. 
Fragrances & notes: Inspect the added fragrances in the formula and also if it suits your preferences. Mostly, fragranced body washes are intense with evolving notes that may not suit someone who prefers a light-scented body wash. Look for dermatologically tested products if you have sensitive skin.  
Non-toxic cleanser: No room for toxic ingredients, please! Make sure the formula is non-toxic, so you and your skin can enjoy the shower without worrying about side effects. 
Long-lasting effect: Lastly, pick a fragrance, based on customer reviews and experience, that is effective enough to travel with you rather than vanishing within minutes after showering.
Need Tips To Smell Good All Day?
Here's what you can try:
Pick a suitable fragranced shampoo and cleanser
Include body mist, body lotion, deodorant, or roll-ons in your post-shower routine
Spray perfume on your wrists, under-chin area, and behind the ears
Hair smelling bad? Spritz some gentle mist on your hair brush before brushing
Layout some aromatic sachets in your closet
Invest in a good shoe spray
However, remember not to step out soaked in perfume or fragrances, as strong scents can be a mood and conversation killer too. There you go, those are some of the easy tips for you.
Why Trust StyleCraze?
Krati Darak is a skin care enthusiast passionate about fragrances and loves to use body care products with fragrances, especially body washes. She has curated this list of the best-smelling body washes after in-depth research and reviewing multiple user reviews on trusted online forums and websites. The selected products make you smell like heaven and have a skin-friendly formulation.
Frequently Asked Questions
Is fragrance in body wash bad for the skin?
Artificial fragrances are harmful, but natural ones are not. Hence, pick a cleanser with organic ingredients and natural essence, as they are not harmful to your skin.
How long does the smell of the body wash last?
It depends on how strong the infused fragrance is. Those with perfume notes are relatively stronger than regular fragranced cleansers and may last longer than a few hours.
Is it ok to use smelling body wash every day?
Yes. Smelling body washes made from organic ingredients can be used daily without worrying about damaging your skin. Organic body washes derive their fragrance from natural ingredients that do not irritate your skin.
What is the strongest smelling body wash?
The Suave Essentials Tropical Coconut body wash has the most intense fragrance that uplifts your mood. It is made of pure coconut extracts and emits a soothing but strong smell of vanilla and pineapple that lingers throughout the day.
Why should I use body wash instead of a bar of soap?
Yes. Soap bars have strong chemical ingredients that can be harsh on your skin and strip the natural moisture to make your skin squeaky clean. On the other hand, body wash usually consists of nourishing ingredients which gently cleanse your body while restoring the lost moisture. So, you must switch to body washes to retain your skin health.
Recommended Articles