12 Best Feminine Wipes To Keep You Feeling Fresh (2023) – Reviews
Maintain the hygiene of your intimate area by wiping away any discharge with gentle wipes. If you need something to clean your vagina after a workout session or don't have time to shower on a busy day, use the best feminine wipes in the market. They contain ingredients that soothe your vulva and don't irritate it further. While your vagina cleans itself, you can use these wipes to keep your personal hygiene at its best. Check out our reviews of the top feminine wipes you can use regularly. Scroll down for more information.
12 Best Feminine Wipes You May Try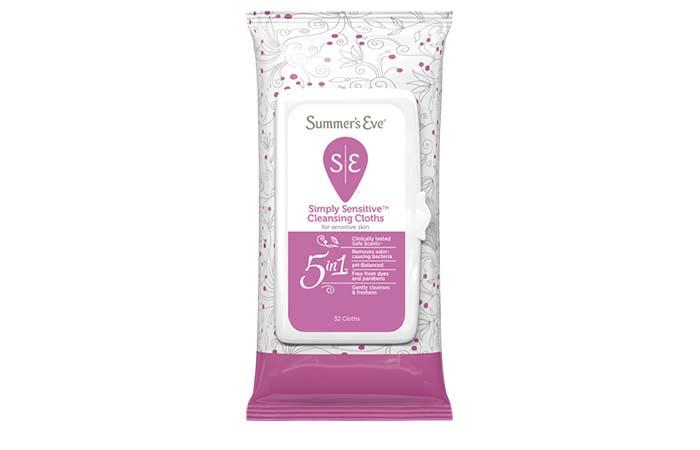 Product Claims
You do not need to wait until you shower if you are not feeling fresh down there. These gynecologically tested feminine wipes are for the in-between time when you need a quick refresher to wipe out that not-so-fresh feeling. They are gynecologically tested for sensitive skin and safe for everyday use. If you are an absolute beginner, this video review might be useful.
Pros
Clinically tested safe scents
pH-balanced
Paraben-free
Dye-free
Dermatologist-tested
Gynecologist-tested
Hypoallergenic
Cons
None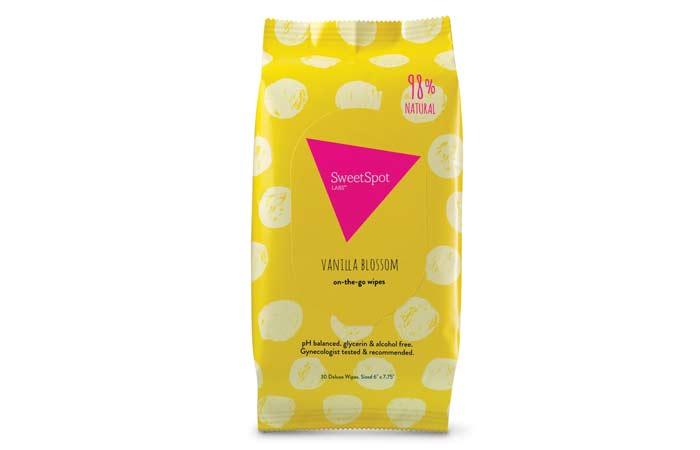 Product Claims
SweetSpot wipes are specially formulated clinically backed skincare for taking care of your sweet spot as well as your entire body. They are tested and approved by gynecologists. The pack is easy to carry, and the wipes come in multiple refreshing fragrances. They are made of 98% natural ingredients and keep you feeling fresh all day long. The clinically proven results claim that the wipes offer immediate freshness without skin irritation while gently cleansing the intimate area.
Pros
Biodegradable
Clinically-proven
pH balanced
FSC certified
Compostable
Sulfate-free
Paraben-free
Phthalate-free
Gluten-free
No soy or dairy ingredients
Cons
None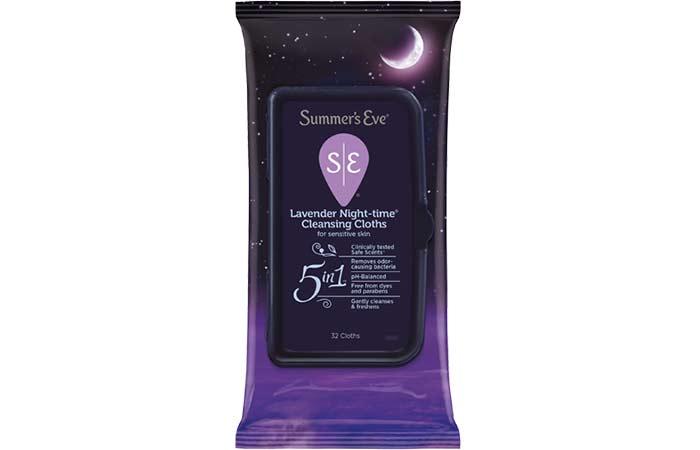 Product Claims
Want to feel fresh even at night? These night-time cleansing wipes are perfect for a quick clean-up before you hit the bed. They are antibacterial and can remove odor-causing bacteria instantly and keep you feeling fresh for the entire night.
Pros
Clinically tested for safe scents
pH-balanced
Dye-free
Paraben-free
Hypoallergenic
Gynecologist-tested
Dermatologist-tested
Cons
None

Product Claims 
These ultra-gentle cleansing wipes contain chamomile, aloe vera, cucumber extracts, and Vitamin E. They not only cleanse your private parts but also keep the area moisturized. These are doctor-recommended and made by women. They are extra soft and easy to carry.
Pros
Gynecologist recommended
pH-balanced
Paraben-free
No glycol
Fragrance-free
Non-irritating
Cons
None
Price at the time of publication: $5.99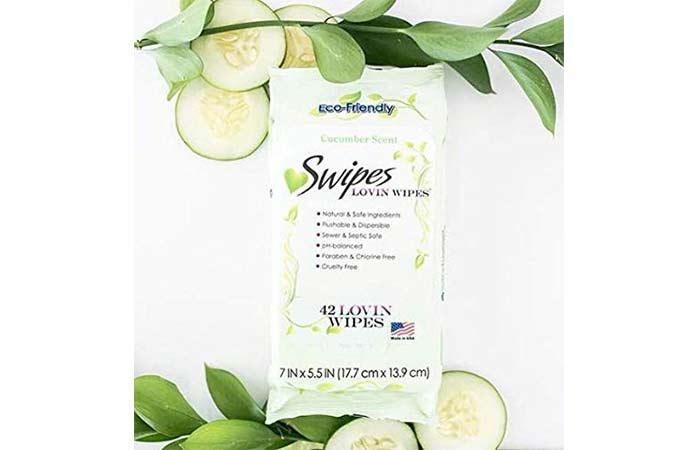 Product Claims
These are eco-friendly wipes and exceptionally soft. They are made of all-natural ingredients, such as aloe vera, vitamin E, and pure water. These feel cool and refreshing on your private parts without any scent or fragrance.
Pros
Cruelty-free (Leaping Bunny certified)
All-natural
Eco-friendly
Alcohol-free
Chlorine-free
Dye-free
Biodegradable
Flushable
Disposable
Sewer and septic safe
Cons
None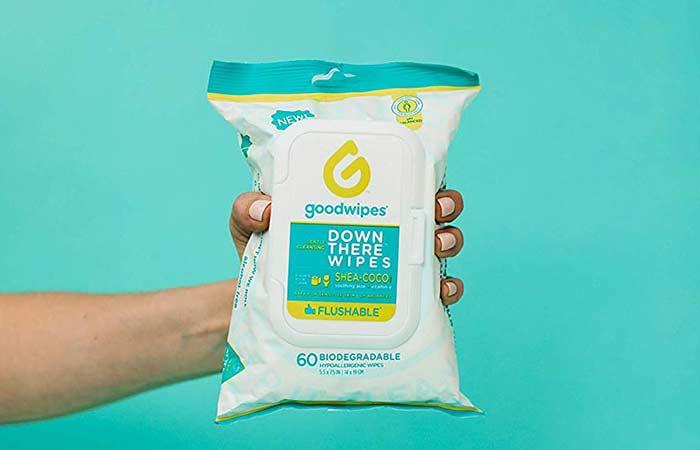 Product Claims
Down There Wipes are perfect for women who are looking for wipes to keep them feeling fresh down there in between their busy schedules. They prevent any unpleasant odor. They can also be used during your periods and pre/post-intimacy to keep the skin down there fresh and clean. Check out this review for a detailed understanding about the product.
Pros
Hypoallergenic
100% flushable
Cruelty-free
Biodegradable
Pleasant shea-coco fragrance
pH-balanced
Alcohol-free
Paraben-free
Dye-free
Cons
None
Price at the time of publication: $12.99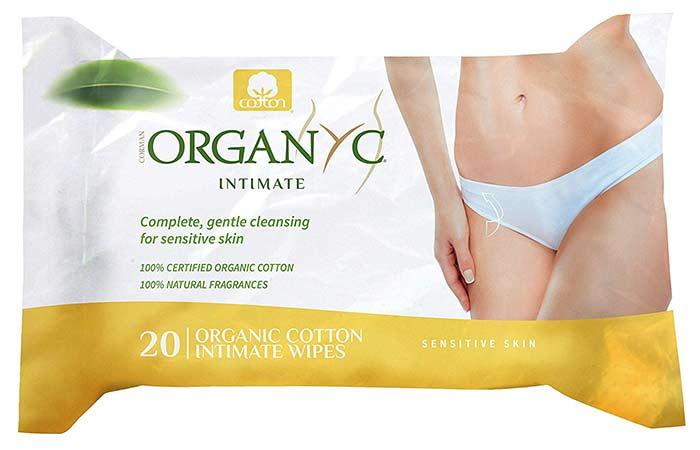 Product Claims
These dermatologically tested wipes are made with 100% cotton and feel soft on the skin. Organyc Intimate Hygiene Wet Wipes are from a clinically-proven brand meant for sensitive skin and contain organic extracts, such as calendula and chamomile. They have a moisturizing and calming effect on your delicate skin.
Pros
Dermatologist-tested
Alcohol-free
Chlorine-free
SLS-free
Paraben-free
Vegan
ICEA certified
Cons
None
Price at the time of publication: $3.99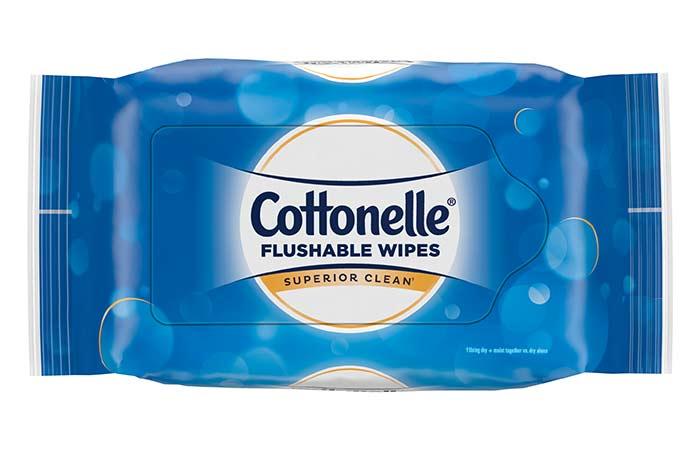 Product Claims
These flushable wipes are designed with CleaningRipples Texture that feels soft on your skin. If you want to take an extra step to stay clean and fresh, use these booty wipes for women. These wipes are flushable, so you can use them in public restrooms as a quick refresher to stay clean and fresh. They are gentle, hypoallergenic, and effective and contain the cleansing power of water that helps you feel fresh and clean all day long.
Pros
Plastic-free
100% biodegradable
Tested with sewer
Septic-safe
Cons
None
Price at the time of publication: $0.04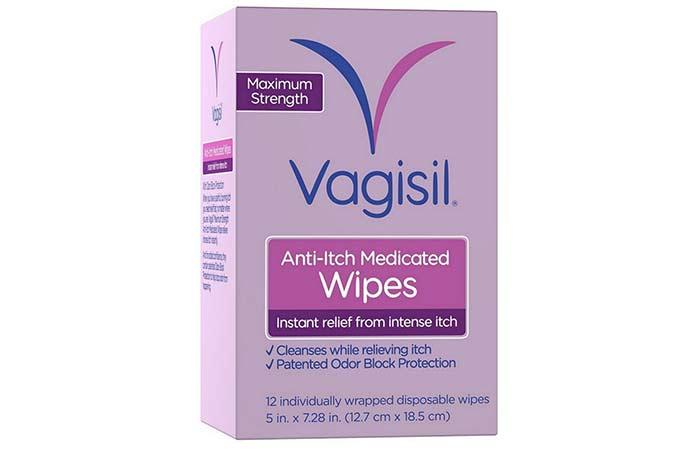 Product Claims
Constant itching down there can be uncomfortable. Do not let the awkward sensation linger for long. Use these wipes for instant relief. These are medicated wipes with odor control technology that keeps you feeling comfortable down there.
Pros
Clinically tested
Contains skin-soothing ingredients
Contains vitamins E and A
Easy to carry
Cons
None

Price at the time of publication: $4.47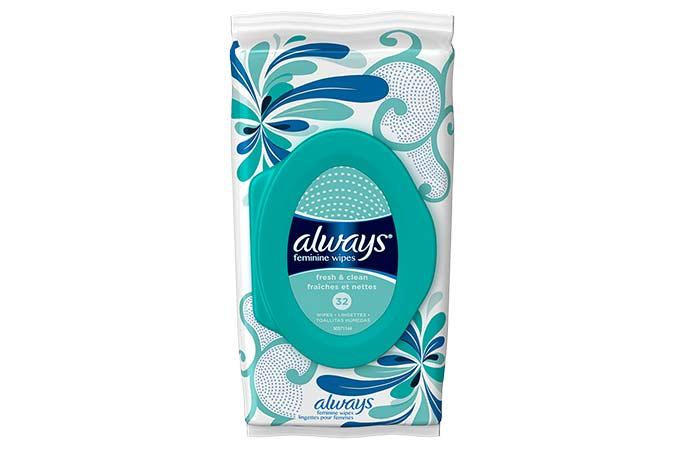 Product Claims
Be it during your periods or after your workout – the feminine wipes by Always are perfect for quickly cleaning your private part and keep it feeling fresh. These are lightly scented and have a resealable packaging.
Pros
Alcohol-free
Easy to carry
pH-balanced
Cons
None
Price at the time of publication: $32.03
Product Claims
These wipes are specially developed for those who have sensitive skin. They contain botanical extracts that maintain the balance of your skin down there. They do not strip the protective barrier of your skin and keep it comfortable.
Pros
100% biodegradable
Cruelty-free (Leaping Bunny certified)
Botanical extracts
No toxic chemicals
Cons
None
Price at the time of publication: $21.99
Product Claims
The Woo More Play Freshies Intimate Wipes are specifically designed for pre/post-intimacy and after-gym use. They contain natural ingredients like vanilla water, aloe vera extract, organic strawberries, and coconut water that help clean, soothe, and hydrate the skin. Each biodegradable wipe comes in an individual package, making it convenient and easy to use on a daily basis. You can easily fit the entire pack inside your handbag or randomly throw in a few as they are travel-friendly.
Pros
Vegan
Cruelty-free
Paraben-free
Petroleum-free
Silicone-free
Synthetic fragrance-free
Cons
Price at the time of publication: $13
Feminine wipes can prove to be quite useful for your intimate health. However, with the overwhelming number of options present at your disposal, it can be challenging to choose the right one. Here, we list some important factors that you must look at before buying a feminine wipe.
How To Choose The Best Feminine Wipes For Women
1. Ingredients To Use
The best way to avoid any potential irritation or allergic reactions is to choose a natural formula. A good feminine wipe helps soothe your vulva with gentle and effective ingredients. Select feminine wipes with plant-based ingredients, such as, vitamin E, chamomile, and calendula. Also, look for antimicrobial and antifungal botanical ingredients like witch hazel and aloe vera. These help fight against yeast and harmful bacteria, while relieving discomfort or burning.
2. Ingredients To Avoid
Several wipes contain harsh ingredients, which cause allergic reactions and inflammation in the vulva. Avoid ingredients like parabens, oils, synthetic fragrances, alcohol, and talc. In addition, even though glycerin is a known hydrating ingredient, it may not be the best for your vulva. Glycerin is a sugar-based ingredient that may feed the yeast, leading to recurrent yeast infections. So, it is best to avoid a formula with glycerin in it.
3. Formula
The term 'ph-balanced,' essentially refers to a formula that is designed to complement and support the natural acidic pH of your vulva. This value generally ranges from 3.8 to 4.5 on a pH scale. Check the product label to ensure that the formula is 'pH-balanced' and hypoallergenic.
4. Material
The material or tissue of an intimate wipe is just as significant as its cleansing formula. Many brands use synthetic blends made with a mix of cotton and plastic. Try to avoid these materials, as they may feel abrasive on sensitive skin. Instead, look for gentle and soft tissues made with 100% cotton.
Why Trust StyleCraze?
The author, Shiboli Chakraborti, is a certified skin care coach. She has conducted thorough research to help you pick the best feminine wipes to try. She advocates the importance of personal hygiene, and the list includes some of her top picks like Summer's Eve Simply Sensitive Cleansing Cloths and Sweetspot On-The-Go Feminine Wipes (Vanilla Blossom). And these products are made with ingredients that prevent irritation.
Frequently Asked Questions
What are feminine wipes used for?
Feminine wipes are used to clean the external vaginal area to reduce infections.
Is it good to use feminine wipes?
Yes, they are safe to use, and a quick way to clean your intimate area for a fresh feeling.
Can feminine wipes cause yeast infections?
No. But some feminine wipes modify the microbiome of the vaginal area and may decrease the microbes required to battle yeast growth.
Do feminine wipes mess up your pH?
Yes, some feminine wipes may change the pH of the vagina.
Are feminine wipes better than toilet paper?
Feminine wipes are better as they are more hygienic and suitable for cleaning the intimate area.
Can feminine wipes cause itching?
Yes, sometimes excessive wiping with these can cause rashes and skin irritation.
Can you use baby wipes as feminine wipes?
Baby wipes won't serve the same purpose as feminine wipes do. However, you can use them to clean your external genital area.
Should you use feminine wash every day?
If you exercise regularly and have sweaty intimate area, using it daily will help prevent sweating, odor, and bacterial growth; otherwise, you can use them occasionally.
Recommended Articles