15 Best Bath Bombs To Pamper Your Skin
Bath bombs – I'm sure you've heard of them. Did you know that there has been a sudden surge in the demand for bath bombs? Yes, there has been a whopping 123% spike in bath bomb sales in the last few years. Because there's nothing a bath bomb cannot fix.
Imagine jumping (not literally) into a tub filled with exploding fragrances and unwinding after a long day just by popping in a melting bath bomb. The idea of a fizzing plop to calm you down has completely transformed the concept of bubble baths, thanks to Lush who first came up with the idea 20 years ago. But soon, other brands jumped onto the bandwagon, and now, there are tons of options out there. We've rounded up a list of the best bath bombs for you. Check them out!
10 Best Bath Bombs To Pamper Your Skin
1. LUSH Guardian Of The Forest
This beautiful bubble bath bomb from Two Sisters Spa is the perfect recipe for unwinding after a long and tiring day. Just drop it into your tub while it fills and enjoy a pink and bubbly, fizzy, skin-nourishing bubble bath. The soothing fragrance and moisturizing oils give you an unmatched spa experience right at home.
Pros
Gentle on sensitive skin
Doesn't leave behind stains
Cruelty-free
Eco-friendly
Amazing fragrance 
Cons
None 
2. Da Bomb Bath Fizzers Galaxy Bomb
Draw some cosmic vibes from the universe into your bathtub and feel out of the world with this Galaxy Bomb. This delightful fizz ball also holds a little special something for you – it could be a figurine, a keychain, or something that matches the theme of the bomb. A vegan bath bomb made for both kids and adults.
Pros
Vegan
Paraben-, sulfate-, and gluten-free
Smells great
Cons
Can make your tub a little slippery, so be watchful around kids.
[ Read: 10 Best Vegan Skin Care Brands ]
3. April's Organic Bath Bombs
April's Organic Bath Bombs come in a beautifully wrapped set of 6 scents, such as rose, milk, lavender, green tea, osmanthus, and pot marigold. Every bath bomb in the box contains dried flower petals, so you can enjoy a soothing spa right at home whenever you want.
Pros
Handmade
Organic
Non-staining
Contains moisturizing ingredients 
Cons
None 
4. Pure Scentum Luxury Organic Bath Bombs
Pure Scentum Luxury Organic Bath Bombs will instantly transport you to a chic Parisian spa with the elegant packaging and indulgent fragrances. Take your pick from 6 flavors with fancy names such as Shoot the Breeze, Coco Bombe, Shea Bliss, The Big Easy, Oceans 11, and Drama Queen. The shea butter infused bath bombs leave your skin feeling nourished and moisturized.
Pros
Handmade
Paraben-free
Phthalate-free
SLS-free 
Cons
None 
[ Read: DIY Bath Bombs ]
5. Earth Vibes Bath Bombs
Earth Vibes Bath Bombs are infused with natural ingredients, such as sunflower seed oil, shea butter, and vitamins A and E, all of which promote natural healing. They also contain essential fatty acids like omega-6, which boost cell regeneration and cure skin infections. Each box has a variety of flavors for you to choose from, including lavender, peppermint, aloe, shea butter, rose, and mango.
Pros
Extremely moisturizing
Pleasant fragrance
Paraben-free
Cruelty-free 
Cons
6. Da Bomb Bath Fizzers F Bomb
"A lavender bath fizzer with a calming message inside." That's how Da Bomb Bath Fizzers F Bomb describes itself on the packaging. Say goodbye to stress and anger with this purple beauty in your bubble bath. As the bomb dissolves, it reveals a positive message inside.
Pros
Gentle on sensitive skin
Non-staining
Vegan
Pleasant fragrance 
Cons
7. Jane Inc. Effervescent Cube Energy Bath
A hand-crafted cube of energy for when you need something that rejuvenates your mind, body, and soul. Jane Inc. focuses on making products for mothers, adults, and working women who need little ways to unwind and de-stress. With ingredients like peppermint, lavender, sage, spirulina, and green tea, this bath fizz is one of the best bath bombs out there.
Pros
Hand-crafted
Unwinds you fully and helps you fall asleep
Cons
A little pricey for a bath bomb
8. Rudy's Lemongrass Showerbomb
Rudy's Barbershop is an iconic brand most of us already know of. And just like all their other products, their shower products are huge hits as well. This invigorating lemongrass bath bomb creates an effervescent fizz and aroma in your bathtub. Lemongrass relieves general fatigue, body pains, and headaches, and cosmetic clay gently scrapes off dead skin and impurities.
Pros
Clears your skin
Feels and smells great
Value for money
Cons
None
[ Read: 9 Amazing Benefits Of Lemongrass Soap ]
9. Hugo Naturals Lavender and Vanilla Bath Bomb
Your skin needs a lot more moisturizing than you give it, so indulging in lavender bath bombs that leave it hydrated and moisturized will go a long way. With an ultra-rich blend of shea butter that moisturizes your skin to the core and the goodness of jojoba and vitamin E oils that smoothen your skin while protecting you from the damage it undergoes, this bath bomb is truly a treat for your skin. We all need something like this once in a while.
Pros
Vegan
Soy-, paraben-, sulfate, and chemical-free
Made from all natural ingredients
Cons
Does not fizz as much as other bath bombs
10. Vitanass Handmade Bath Bombs
Vitanass Handmade Bath Bombs contain baking soda, mineral salts, along with shea and cocoa butter. Pamper yourself with a calming bubble bath that leaves your body relaxed and your skin moisturized. Choose from tempting flavors like rose, mint, lavender, lemon, vanilla, ocean, milk, and eucalyptus.
Pros
No artificial dyes
Organic
Handmade 
Cons
11. Soap & Glory FIZZ-A-BALL Sugar Crush
Soap & Glory offers bath bombs with exciting flavors that smell sweet and bubble beautifully in the tub. The Fizz-A-Ball Sugar Crush comes in three variants with a combination of flavors, depending on your preference. Go for rose and bergamot if you are in a mood to pamper yourself, pick the sweet lime one if you want to add a little bit of zest and zing to your bubble bath, or choose the vanilla musk bomb if you want to relax. Either way, you are in for a treat.
Pros
Reasonably priced
Cute packaging
Cons
Overpowering smell at the beginning that fades away quickly
12. Citrus & Wheat All Natural Bath Bombs
Citrus & Wheat All Natural Bath Bombs infuse your bubble bath with several benefits and are an irresistible bath accessory. They remove impurities from your skin, reduce itchiness, improve elasticity, and moisturize your skin, leaving it buttery soft for the rest of the day. Each box has 6 bombs in heady fragrances like chamomile, lavender, and jasmine.
Pros
Organic
Moisturizing
Pleasant fragrance 
Cons
13. Dark Magic Charcoal Bath Bomb
Give in to the charcoal frenzy with this activated charcoal bath bomb. It will teleport you to another world. The magical ingredient detoxes your body and relaxes you completely. There is a CZ silver ring hidden inside each bath bomb that pops out once it has completely dissolved.
[ Read: 10 Amazing Benefits Of Charcoal Soap ]
Pros
Vegan
A natural bath bomb
Soft on the skin
Cons
14. Indie Lee Jasmine Ylang Ylang Bath Soak
The Indie Lee Jasmine Ylang Ylang Bath Soak brings together pink salt and salts from the Dead Sea, Atlantic Sea, and Pacific Sea that soothe and relax you completely. It also contains jasmine and ylang-ylang essential oils that improve blood circulation, act like a detox for your skin, relieve body pains and leave your skin feeling supple and soft.
Pros
Can use it multiple times because it's a bath soak
Fully relaxes you
Smells great
Cons
You need a little more product than specified for each use.
15. Pink Petal Roses Solar Salt Mineral Bath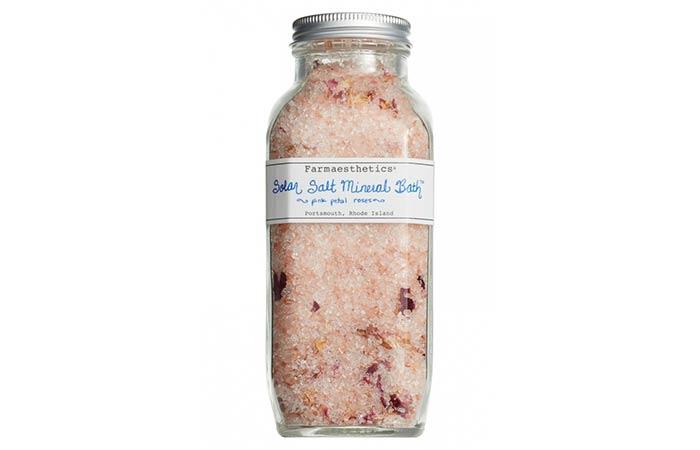 Soak, drench, and pamper yourself in a bath filled with this handmade mineral salt blend. The sweet smell of roses will refresh you while the salt relaxes you. Throw in at least a handful of this in warm water, and soak in it for a while. It opens your pores, flushes out toxins, and leaves your skin feeling smooth and great.
[ Read: How To Use Bath Salts? ]
Pros
Smells great
One bottle lasts a long time.
Cons
Bath bombs more or less look and feel and are made the same way, but the quality and potency of the ingredients are what matters. Since you are going to soak in it completely and use it for healing, it is best that you do your research and use something that is soothing on the skin and does not cause irritation. So, resist the temptation of buying a random bath bomb just because of its low price point. Have you tried one of these yet? All of the above brands use skin-safe essential oils for bath bombs. Try out these cool bath bombs and let us know about your experience in the comments section below.
Recommended:
The following two tabs change content below.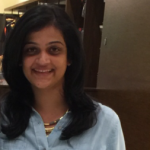 Latest posts by Pratima Ati (see all)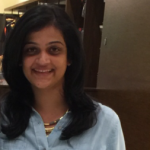 Pratima Ati
After working in Marketing and Business Development for a few years, Pratima Ati jumped ship to pursue two things she loved – fashion and writing. She's now a full-time Fashion & Lifestyle writer and has never looked back ever since. She sleeps early, reads often, and when she can't, she finally gives a closure to all the characters living in her drafts. Sometimes, they pass off as poetry too! That, and her training in Indian classical music and playing (learning) the veena keep her sane, civil, and bearable.