8 Best Japanese Bath Salts, According To A Licensed Esthetician – 2023
Soothe and heal your body, refresh your senses, and wash away the stress as you soak.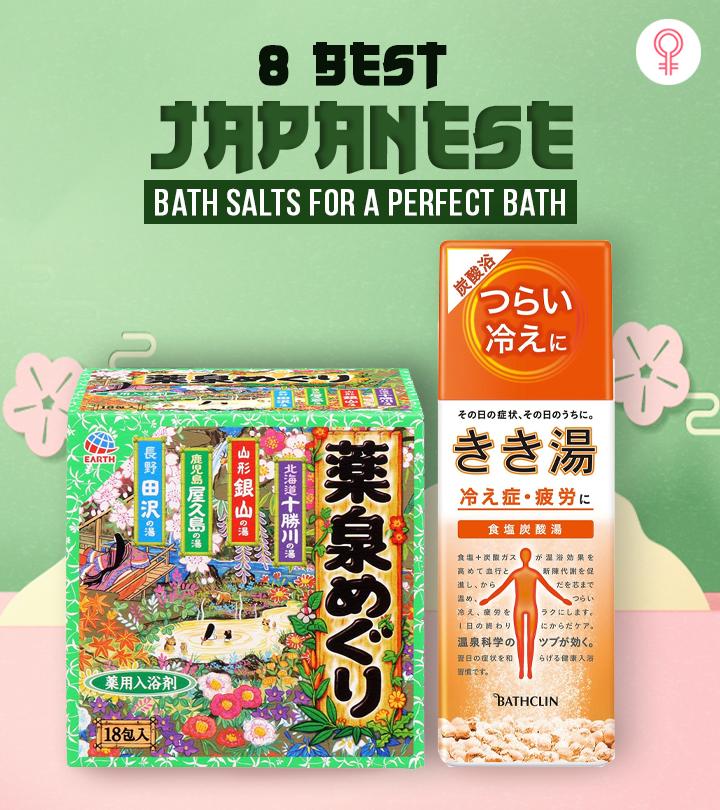 There is no going back once you use the best Japanese bath salt for a relaxing bath. Imagine coming home after a long day and slipping into a warm bathtub with the most rejuvenating bath salts. They will not only take away your tiredness but also relax your muscles and mind and let you sleep well for the night after your bathing time.
These Japanese bath products help de-stress your body and calm your senses – you can experience the comfort of a spa at your home. These salts, packed with active ingredients, essential oils, detoxify your skin and soothe sore joints to provide you the relaxation you have been waiting for. Here are the 8 highest-rated bath salts for the most heavenly bath time experience ever. Scroll down.
8 Best Japanese Bath Salts For A Perfect Bath
If you want a milky hot spring bathing experience, the TabinoYado Hot Springs Japanese Bath Salt Assortment Pack is the one for you. It is infused with minerals that stimulate blood circulation and provide warmth to your body. This popular bath salt that comes as a set of four boxes – Kirishima, Shirahone, Towada, Okuhida – are named after different Japanese provinces. There are 13 individual packets of bath salts infused with herbs and minerals native to those places. These mineral bath salts help stimulate blood circulation and relieve fatigue. It has garnered amazing reviews on e-commerce platforms, making it our top choice on the list.
Pros
Softens the skin
Non-drying
Non-staining
Value for money
Cons
The Yumeguri Japanese Hot Spring Bath Powder is another popular Japanese bath salt. It comes in four different scents – Tokachi, Ginzan, Yakushima, and Tazawa – representing Japan's different hot spring regions. There are a total of 18 packets available in floral and woody notes. Each variety of bath salts contains essential minerals known to relieve muscle stress and promote recovery from fatigue.
Pros
Refreshing
Gentle
Value for money
Softens the skin
Cons
The famous Japanese hot spring of the Nyuto area is now available in the comfort of your home with Bathclin Nihon No Meito Bath Salt. These bath salts come in a pack of 16, and each type of bath salt is packed neatly in an aesthetic box full of Japanese motifs. They can help relieve fatigue, cold, nerve pain, and several skin conditions.
Pros
Refreshing fragrance
Has healing effects
Softens the skin
Value for money
Cons
None

When you want to indulge in a relaxing bath ritual after a hard day at work, these bath salts are a must-try. They are infused with Japanese cypress that relaxes the senses and detoxes the body. When mixed with water, this salt turns it into a milky orange hue and has a softening effect on the skin. They are gentle and great for people with sensitive, breakout-prone skin types.
Pros
Softens the skin
Refreshing fragrance
Moisturizing
Cons
Contains colors
Some may find the fragrance too strong
These bath salts are infused with Yuzu, rich in minerals and nutrients that promote blood circulation and moisturize the skin. The bath salts products also contain essential oils that promote blood circulation and relax the body.
Pros
Moisturizing
Refreshing scent
Cons
Can trigger allergies.
Can cause irritation.
The BATHCLIN Kikiyu Bath Salts provide the detoxifying benefits of hot spring bathing. Ingredients like alum, sodium chloride, malic acid, and sodium hydrogen carbonate stimulate blood circulation, remove dead skin cells, and deeply cleanse the body. The minerals and magnesium help relieve shoulder and body aches. The earthy fragrance of these bath salts can be very relaxing and exfoliating.
Pros
Promotes sleep
Pleasant scent
Lifts your mood
Free from artificial color
Cons
Does not dissolve completely
Hakugen Earth Japanese contains 4 warming bath powders. These bath powders have a wonderful fragrance. They dissolve slowly in the water to create a large number of bubbles. The baths using these powders keep the body warm, eliminate fatigue, ease muscle pains, reduce body shivering, provide shoulder pain relief, relax the body, and improve blood circulation.
Pros
Soothing and relaxing
Pain relief
Large number of bubbles
Cons
None
These aromatic bath salts are very popular in Japanese bathing culture. They come in the form of tablets, which turn the water green on exposure. The warming ingredients help with muscle relaxation. It calms down sore muscles and has a soothing and uplifting effect on your skin. This set consists of assorted fragrances based on trees in the Japanese forest – hinoki (Japanese cypress), nadeshiko (dianthus), green bamboo, and camphor.
Pros
Pleasant fragrance
Softens the skin
Stain-free
Cons
None

*The prices provided in this article are based on the latest available information. However, they may vary due to changes in pricing by the seller and/or promotional offers.
Why Trust StyleCraze?
The author of this article, Shiboli Chakraborti, is a certified skin care coach and loves reviewing skin and hair care products for her readers. She curated this list of the best Japanese bath salts after thoroughly researching multiple products across brands and sifting numerous user reviews online. The shortlisted bath salts provide you with a luxury bathing experience with their nourishing and soothing formulation.
Frequently Asked Questions
How many times can you use bath salt?
Use bath salts thrice a week for the best results.
How long should you stay in a bath with salt?
Soak in a bath with salt for 20-30 minutes to get the best results.
Are bath salts good for your skin?
Yes, the minerals in bath salts get absorbed through the skin pores and cleanse your skin on a molecular level and detoxify it. These salts can also offer anti-aging skin benefits and offer a radiant glow. They are also used to get rid of stress and fatigue.
Do bath salts expire?
Bath salts do not expire but the essential oils in them can go bad if not stored properly. So, always look for the instructions on the packaging.
Will too much salt in my bath do me any harm?
Bath salts contain minerals such as magnesium which can lead to heart issues, low blood pressure, and seizures when used in a large amounts at once.
Recommended Articles