8 Best Japanese Bath Salts For A Perfect Bath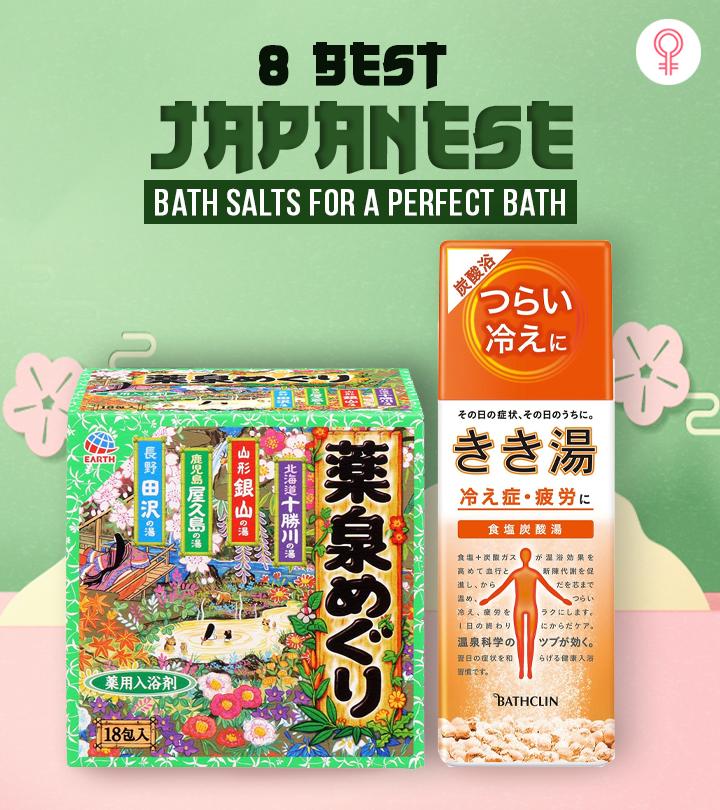 When we talk about spending a leisurely day at home, nothing can beat taking a long, hot, and relaxing bubble bath. Just add rejuvenating bath salts to the mix to take your at-home spa day up a notch. Sounds tempting? We recommend Japanese bath salts for the experience.
Not only do these salts de-stress your body, but many also come with naturally soothing essential oils that boost your overall mental peace. Apart from relaxing the body and mind, these salts detoxify your skin, reduce dryness, and relieve sore muscles. We have curated a list of the 8 best Japanese bath salts that will take your ordinary bath time to a luxurious spa level in no time. Scroll down to check them out!
8 Best Japanese Bath Salts
If you want a milky hot spring bathing experience, the TabinoYado Hot Springs Japanese Bath Salt Assortment Pack is the one for you. It is infused with minerals that stimulate blood circulation and provide warmth to your body. The set of four boxes – Kirishima, Shirahone, Towada, Okuhida – are named after different Japanese provinces. There are 13 individual packets of bath salts infused with herbs and minerals native to those places. These mineral bath salts help stimulate blood circulation and relieve fatigue.
Pros
Softens the skin
Non-drying
Non-staining
Value for money
Cons
The Yumeguri Japanese Hot Spring Bath Powder is another popular Japanese bath salt. It comes in four different scents – Tokachi, Ginzan, Yakushima, and Tazawa – representing Japan's different hot spring regions. There is a total of 18 packets available in floral and woody notes. These bath salts contain essential minerals known to relieve muscle stress and promote metabolism.
Pros 
Refreshing
Gentle
Value for money
Softens the skin
Cons
The famous Japanese hot spring of the Nyuto area is now available in the comfort of your home with Bathclin Nihon No Meito Bath Salt. These bath salts come in a pack of 16, packed neatly in an aesthetic box full of Japanese motifs. They can help relieve fatigue, cold, nerve pain, and several skin issues.
Pros
Refreshing fragrance
Has healing effects
Softens the skin
Value for money
Cons
None
When you want to indulge in a relaxing bath ritual after a hard day at work, these bath salts are a must-try. They are infused with Japanese cypress that relaxes the senses and detoxes the body. When mixed with water, this salt turns water into milky orange. They are gentle on the skin and great for people with sensitive, breakout-prone skin types.
Pros
Softens the skin
Mild fragrance
Moisturizing
Cons
Contains colors
Overpowering fragrance
These bath salts are infused with Yuzu, rich in minerals and nutrients that promote blood circulation and moisturize the skin. They also contain essential oils that promote blood circulation and relax the body.
Pros
Moisturizing
Refreshing scent
Cons
Can trigger allergies.
Can cause irritation.
The BATHCLIN Kikiyu Bath Salts provide the detoxifying benefits of hot spring bathing. Ingredients like alum, sodium chloride, malic acid, and sodium hydrogen carbonate stimulate blood circulation and deeply cleanse the body. The minerals and magnesium help relieve shoulder and body aches. The earthy fragrance of these bath salts can be very relaxing.
Pros
Promotes sleep
Pleasant scent
Lifts your mood
Free from artificial color
Cons
Does not dissolve completely
Hakugen Earth Japanese Hot Spring Bath Salts contain 4 warming bath powders. These bath powders have a wonderful fragrance. It dissolves slowly in the water to create a large number of bubbles. The powders keep the body warm, eliminate fatigue, ease muscle soreness, reduce body shivering, provide shoulder pain relief, relax the body, and improve blood circulation.
Pros
Soothing and relaxing
Pain relief
Large number of bubbles
Cons
None
These bath salts are very popular among the Japanese. They come in the form of tablets, which turn the water green on exposure. The warming ingredients calm down sore muscles and have a soothing effect on your skin. This set consists of assorted fragrances based on trees in the Japanese forest –  hinoki (Japanese cypress), nadeshiko (dianthus), green bamboo, and camphor.
Pros
Pleasant fragrance
Softens the skin
Stain-free
Cons
None
Enjoying a bath time ritual with Japanese bath salts can be more than just relaxing. These salts can help manage and relieve stress and body aches and lift your mood. Find your ideal pick from the above list and take your regular bath time to an entirely different level.
Recommended Articles