10 Best Non-Comedogenic Makeup Products That Won't Clog Your Skin
Never fear breakouts with water-based makeup products that let your pores breathe.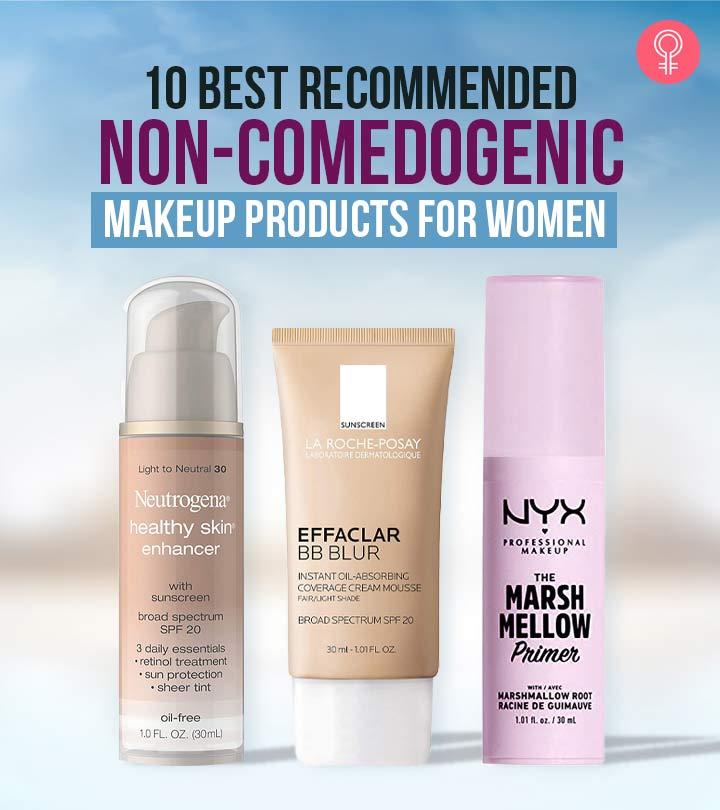 The best non-comedogenic makeup products are ideal for people who love makeup but have skin prone to flare-ups and breakouts. These products are usually oil-free, thus preventing the pores from getting clogged due to excess oil formation. Non-comedogenic makeup has a water-based formula and features ingredients like shea butter, aloe vera, and salicylic acid that take care of your skin and make it smooth. Check out our list of the top non-comedogenic makeup products that can restore the skin's natural balance.
What Is Non-Comedogenic Makeup? Who Should Use Non-Comedogenic Makeup?
Non-comedogenic makeup has a water-based formula that is light and allows your skin to breathe. It prevents excessive oil production and helps balance the sebum produced by the skin. Non-comedogenic makeup products avoid the use of petroleum and silicone-based ingredients and heavy oils like avocado and coconut oils to prevent pore-clogging. People with oily or acne-prone skin types should use non-comedogenic makeup.
Let's now take a look at the best non-comedogenic makeup products for women available online.
10 Best Non-Comedogenic Makeup Products For Women
This anti-aging eye cream from ALGENIST improves the appearance of fine lines around the delicate eye area. The formula is infused with alguronic acid, which enhances the smoothness of the skin and boosts the benefits of other active ingredients.The cream also contains microalgae oil that helps revive the moisture and luminosity of the skin around the eyes. It also includes plant-based collagen that hydrates and conditions the skin and Persian silk tree extract to firm and lift the upper eyelids. The skin-revitalizing formula is dermatologist-tested and claims to show visible signs of improvement within 10 days, including the reduction of dark circles.
Pros
Vegan
Minimize the appearance of fine lines
Hypoallergenic
Imparts radiance
Makes the skin firm
Cons
This lightweight multi-use foundation from DERMABLEND is formulated with high-performance pigments that give you a flawless look and provides coverage to conceal dry patches. This expertly crafted formula is made with only 10 ingredients, is highly pigmented, and offers buildable, natural-looking coverage to ensure a radiant look. This non-comedogenic foundation does not contain any water or oil and can be mixed with other skincare products to cover skin imperfections and even out uneven skin tone. This non-comedogenic beauty product is suitable for acne-prone and sensitive skin types. Check out this video detailing a tester's experience of using this foundation for a detailed idea about it.
Pros
Dermatologist-tested
Full coverage
Lightweight
Natural finish
Buildable formula
Water-free
Oil-free
Fragrance-free
Anti-inflammatory
Allergy-tested
Vegan
Suitable for light and neutral undertones
Cons
The LA ROCHE-POSAY BB Blur Cream reduces the appearance of wrinkles and fine lines. The lightweight texture of the cream visibly blurs blemishes and pores and is free from any pore-clogging ingredients. It is formulated with perlite that absorbs humidity and sweat to keep your skin refreshed. This fast-absorbing cream gives you an all-day matte finish and even skin tone with medium coverage. The pore-minimizing cream also contains mineral sunscreen SPF 20 to protect the skin against harmful UV rays. It is tested to be safe for oily, acne-prone skin and is even suitable for sensitive skin. Watch this video that features a reviewer's experience with this mineral-based makeup product for more information.
Pros
SPF 20
No artificial fragrance
Paraben-free
Lightweight
Matte finish
Dermatologist-tested
Suitable for sensitive skin
Prevents breakouts
Cons
This blendable and lightweight blush powder from the celebrity-endorsed brand is fortified with the Happy Boost blend, which features natural plant extracts like Happy Skin and Euphoryl. These ingredients protect your skin from environmental stressors and promote a feeling of happiness. The multi-reflective pearls highlight your cheeks and enhance your look. The non-allergenic blush is infused with the sweet scent of violet that reduces stress and leaves you in a good mood while providing relief to irritated skin. The package includes a mirror and a brush for comfortable use making it an ideal companion in your makeup routine. Go through this video review for a detailed understanding of the product.
Pros
Plant-based formula
Blendable
Pleasant fragrance
Dermatologically tested
Paraben-free
Cons
The Marshmellow Primer from NYX is a smoothing formula that keeps your makeup fresh for up to 16 hours. It is infused with marshmallow root extract that soothes and hydrates the skin. This dermatologist-tested primer helps minimize the appearance of fine lines and evens out your skin tone. Many reviewers agree that this primer has a soft whipped texture that blends into the skin to soften and smoothen it and provide an even canvas for makeup application and a flawless finish.
Pros
Vegan
Hydrates the skin
Evens out the skin tone
Suitable for all skin types
Cruelty-free
Silicon-free
Reduces appearance of fine lines and wrinkles
Cons
Neutrogena's SkinClearing Blemish Concealer treats blemishes, reduces breakouts, and also targets dark circles for an even skin tone. The non-acne-triggering liquid-based formula contains salicylic acid that helps reduce acne and eliminates the appearance of fine lines. This product from an expert-recommended brand is available in four shades to suit various skin tones. It is formulated with MicroClear Technology that makes your skin look clearer, without any acne-causing ingredients.
Pros
Oil-free
Full coverage
Prevents breakout
Does not feel heavy
Available in 4 shades
Long-lasting
Cons
The Healthy Skin Enhancer from Neutrogena is a vitamin-rich moisturizer that minimizes the sign of aging and visibly smoothens fine lines. The multipurpose formula is fortified with retinol that fights wrinkles and protects against radical damage. It has broad-spectrum SPF 20 to protect your skin from environmental damage and harmful UV rays. The product provides a sheer natural tint, prevents clogging of pores, and is suitable for a medium complexion. The pore-friendly makeup product is available in six shades to suit various skin tones.
Pros
SPF 20
Oil-free
Sheer finish
Lightweight
Suitable for light and neutral skin tones
Visibly smoothens fine lines
Nourishes the skin
Cons
The Aveeno cleansing wipes are smooth makeup removers that help eliminate dirt, oil, and bacteria from the skin. They are specially formulated to soothe and balance irritated and dry skin. The skin-balancing wipes are infused with the goodness of feverfew extracts that soothe and calm the skin and minimize redness.
Pros
Oil-free
Soothes the skin
Suitable for sensitive skin
Gentle formula
Nourishes the skin
Dermatologist-tested
Ophthalmologist-tested
Suitable for daily use
Cons
The protect+glow Sunscreen Gel is formulated with SPF 30 to protect your skin from harmful sun rays and environmental damage. Its replenishing formula infused with probiotic extracts that lock in hydration and strengthen the skin barrier and wild butterfly ginger root to protect your skin against blue light. It also contains papaya and pineapple that brighten your skin tone and offer a luminous finish. This non-greasy sunscreen imparts a dewy glow without leaving a white cast and is a must-have in your skincare routine.
Pros
SPF 30
Non-greasy
Dewy finish
No white cast
Protects from pollution
Offers anti-aging benefits
Cons
The CeraVe Hydrating Facial Cleanser removes makeup, grime, dead skin cells, and excessive oil from your skin without stripping its natural moisture. It is fortified with the skin care ingredient hyaluronic acid which keeps your skin moisturized, thereby tackling dehydrated skin. The ceramides and glycerin in the formula keep your skin hydrated and strengthen its natural barrier. The sebum-balancing and rejuvenating formula is dermatologist-tested and suits oily and acne-prone skin.
Pros
Fragrance-free
Paraben-free
Gentle formula
Non-drying
Works great for dry skin
Cons
*The prices provided in this article are based on the latest available information. However, they may vary due to changes in pricing by the seller and/or promotional offers.
If you are planning to switch to non-comedogenic and breathable makeup products, you are already a step ahead in the game. However, not all non-comedogenic products are created the same. It is crucial you look at these pointers and determine for yourself if a product is going to work for you.
What To Look For In A Non-Comedogenic Makeup Product
Any makeup containing parabens, phthalates, and sulfates is a complete no-no. You don't need any skin-harming compounds in your beauty products. Choose clog-free makeup products that contain ingredients like aloe vera, hyaluronic acid, vitamin C, benzoyl peroxide, and salicylic acid. Also, if you are using an eye product, make sure it's ophthalmologist-tested. Similarly, choosing non-irritating makeup products for your skin that are dermatologist-tested increase their dependability.
There is a common misconception that non-comedogenic products are just for those with oily, acne prone skin. The basic job of such a product is not to clog the pores, so it is a good choice for just everyone. Though, it's true that those with acne-prone skin must use non-comedogenic products.
Those with dry skin should stick to creamy formulations that deeply moisturize, and people with oily skin should go for water-based formulations. Those with sensitive skin should stick to hypoallergenic products.
Women with mature skin can opt for products that diminish the appearance of fine lines and wrinkles. Any product that would firm up the skin would be a good buy.
If you plan to wear the product outdoors in the sun through the day, better get one that provides an SPF of at least 15. Be ready to reapply if required.
Also, there are products that protect your skin from pollution. They will be a great addition to your acne-prone skin-friendly makeup arsenal if you happen to spend a lot of time outdoors.
Anything with added artificial scent is not something you should be considering. However, if you absolutely can't stand the smell of fragrance-free products, opt for one with a mild, natural scent.
Professional makeup artist Lorrie Pearson says, "My best advice when working with clients prone to breakouts is to wash your face morning and night without forgetting. Also, don't touch or lean on your face, drink plenty of water, watch your diet, and use minimal makeup. You should use makeup that is fragrance-free, and oil-free."
Why Trust StyleCraze?
The author of this article, Baishali Bhattacharya, is a certified in makeup techniques and image consultant. She is passionate about trying new makeup products and also checked many reviews to shortlist the best non-comedogenic makeup products for women. Additionally, she has conducted thorough research on the ingredients used in the formula and compiled this list of products for her readers. These non-pore-blocking makeup products can make your skin smooth and restore your skin's natural balance.
Frequently Asked Questions
Can non-comedogenic products cause breakouts?
No, non-comedogenic products do not clog your pores or suffocate your skin. They do not cause breakouts and acne.
Is aloe vera gel non-comedogenic?
Yes, aloe vera gel is used in most makeup products for being non-comedogenic. It is lightweight and seals skin moisture without clogging pores.
What is the difference between non-comedogenic and comedogenic?
The major difference between non-comedogenic and comedogenic is that products branded as non-comedogenic do not clog pores and are ideal for oily skin. In contrast, comedogenic products block pores with excess oil and dirt and are not suitable for combination, sensitive, acne-prone, and combination skin types.
What type of makeup is considered to be non-comedogenic?
Oil-free and pore-friendly makeup products are considered non-comedogenic. These products do not cause comedones or clogged pores.
Is non-comedogenic makeup good for sensitive skin?
Yes, non-comedogenic makeup is good for sensitive skin. It keeps your pores clear while allowing your skin to breathe.
Recommended Articles