10 Best Anti-Blister Socks Of 2023
Treat your happy feet with long walks that are comfortable and pain-free.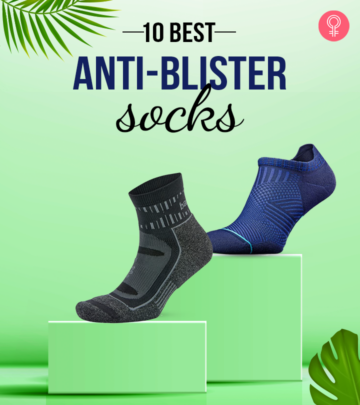 Blisters are skin bubbles filled with pus, water, or blood. These are common in athletes, especially those who walk or run a lot. To prevent such blisters, you can use the best anti-blister socks.
Intense workouts or new shoes, or sometimes any outdoor sports, may also lead to blisters. Blisters may also occur due to the friction between your skin and shoes or socks. Athletes and walkers use creams and sports tapes to prevent blisters. Instead, use anti-blister socks to keep yourself comfortable and blister-free. These socks help keep your feet cool, dry, sweat-free and treat hot spots that turn into blisters.
Switch to these socks by picking a few pairs from the list of the 10 best anti-blister socks below! Keep scrolling to check them out!
Top Picks
How Do Anti-Blister Socks Work?
The secret behind the anti-blister sock is the material used to design it. Cotton fabrics often stick to your feet while they absorb sweat, increasing friction that leads to blisters. But polyester, spandex, and silicone socks give your feet a smooth and sweat-free space to prevent any blisters. Most of the best anti-blister socks are coated with a silicone polymer that absorbs friction to keep your feet from getting painful blisters.
Anti-blister socks are of three types. Keep scrolling to know more about them.
Types Of Blister Prevention Socks
Moisture wicking socks are a must for athletes or hikers who wear shoes for long stretches of time. They not only keep your feet dry and fresh but also prevent odor or sweat by keeping your feet ventilated and moisture-free. Moisture wicking socks are designed such that sweat evaporates instead of being absorbed by the fabric.
As the name suggests, double layer socks feature two layers of fabric. The first layer is generally made from undyed, hydrophobic yarn. This acts as your second skin or rather a protective barrier that is designed to keep moisture at bay. The second layer interacts with the inner layer to eliminate friction. The result of this is that the inner layer eliminates blisters, excessive moisture, and heat.
Usually, toe socks are perfect for those who often find themselves prone to developing toe blisters. The layer of socks between the toes eliminates friction and rubbing of the skin that lead to soreness and blisters. The separated toe is saved from any possibility of blisters.
Now, let's take a look at the 10 best anti-blister socks available on the market.
10 Best Anti-Blister Socks Of 2023
Pros
Great for long runs or workouts
Anatomical fit
Comfortable
Blister-free
Targeted arch support
Cons
None

Price at the time of publication: $17.95
Pros
Breathable
High-quality material
Machine washable
Comfortable for long wear
Ideal for men and women
Ideal for everyday use
Cons
None
Price at the time of publication: $19.99
Pros
Machine washable
Lightweight
Non-slip
Breathable
Ergonomic design
High-quality
Comfortable for long wear
Cons
None

Price at the time of publication: $19.99
Pros
Quick-dry
Soft
Good grip
Machine washable
Unisex
Cons
May be too tight for some
Price at the time of publication: $16
Pros
Versatile
Ergonomic design
Ideal for men, women, and kids
Recommended for water sports
Petroleum-free
Cons
Price at the time of publication: $29.95
Pros
Available in 30 options
Multi-purpose
Versatile
Anti-slip
Good support
Cons
The colors may vary from the picture.
Price at the time of publication: $14.89
Pros
Machine and hand wash compatible
Non-slipping
Durable
Comfortable
Breathable
Moisture-wicking
Cons
Price at the time of publication: $14.44
Pros
Machine washable
Breathable
Ergonomic design
Wear and tear-resistant
Comfortable for long wear
Ideal for everyday use
Cons
May be tight around the ankles
Price at the time of publication: $16.99
Pros
Lightweight
Breathable
Ergonomic design
Moisture-wicking
Seamless toe
Reinforced toe closure
Cons
Price at the time of publication: $14.44
Pros
Anti-slip cuff
Breathable
Seamless toe
Anti-odor technology
Cons
None
Price at the time of publication: $14.97
There are various factors to consider when it comes to buying a pair of the best anti-blister socks. Here's what you need to look for.
What To Look For In Anti-Blister Socks
The material is one of the most first things to consider. Cotton is the worst option if you often experience blisters or are majorly into sports activities. The safest materials to prevent blisters are nylon, polyester, spandex, elastane, acrylic, and rayon. For those looking for natural fiber, you can opt for socks that contain merino wool, which is soft and keeps your body temperature regulated and sweat at bay. All these materials are highly stretchable, moisture wicking, and highly comfortable. They also keep your feet sweat-free, odor-free, and fresh all day long.
While preventing blisters is a major concern, the comfort you get while you run, trek, or perform other sports activities is a factor to consider. Most of the best anti-blister socks have low to medium cushioning for support and comfort. The best are those in which cushioning is provided at the foot and the heel. This gives you extra support and offers shock absorption while hiking or running.
Go through the sizing guide before you buy a pair of blister resistant socks. Buying your socks too small or too large can easily lead to discomfort, friction, and blisters. If they are too small, they will keep slipping down the back of your heels. This may put the seams and compression in the wrong places. And if they are too big, you will find them bunching here and there, which may cause friction.
It is a misconception that the length of the socks does not matter. But if you are experiencing any friction from your shoes on your ankles, exploring other lengths may be a good option. There are various options – like no show, mid-calf length, crew, ankle, or knee-length socks.
Why Trust StyleCraze?
The writer of this post, Aditi Naskar, has a diploma in health and wellness. She has compiled this list of the best anti-blister socks after conducting thorough market research. In addition, she has gone through numerous user reviews and product listings to ensure the products are durable and effective. This article also explains the types of blister prevention socks and offers the pros and cons of each product to help you make the right choice.
Frequently Asked Questions
What is better for blisters – thick or thin socks?
Thin socks are better to prevent blisters as they dry off easily and prevent sweat and moisture.
Do sock liners prevent blisters?
Yes, sock liners help in preventing blisters as they are made from thin polyester or lightweight wool, which keep sweat away from your feet.
Do anti-blister socks work?
Yes, definitely. Anti-blister socks keep blisters away by avoiding friction between your skin and the sock's fabric. They also help in keeping your feet dry and comfortable with their moisture-wicking properties.
What are the best anti-blister running socks?
The Paplus Ankle Compression Sock, Bering Women's Performance Athletic Ankle Running Socks, or Balega Blister Resist Quarter Socks are some of the best anti-blister socks that are moisture-free and sweat-proof.
Does wearing extra socks prevent blisters?
Yes, wearing extra socks can prevent friction and reduce blisters. However, wearing a pair of anti-blister socks can do the same, but better. They can also effectively wick moisture and keep your feet dry.