11 Best Liquid Bandages Of 2023 That Are Skin-Friendly
Care for your scars and cuts with products that prevent bleeding and infections.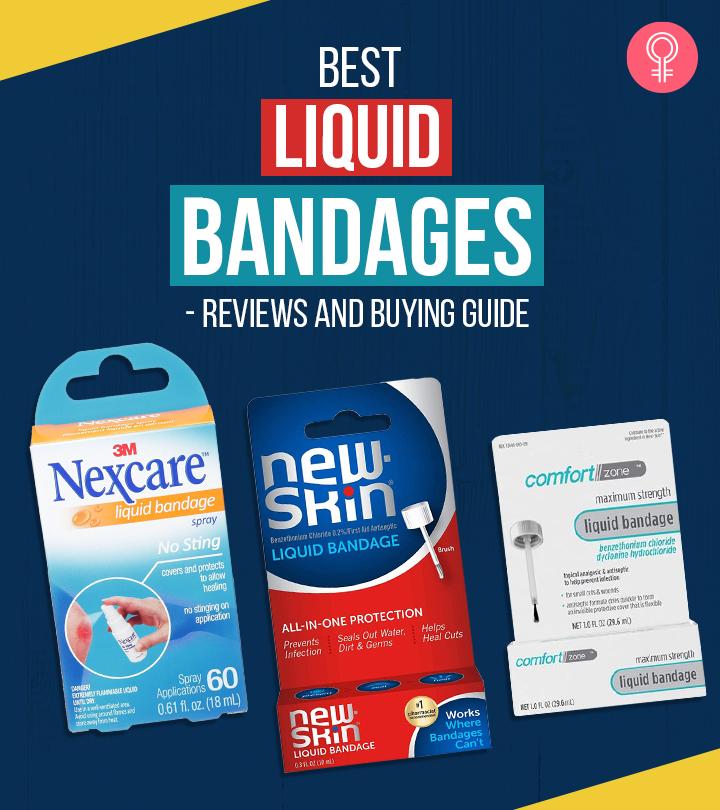 Accidents are unavoidable, even for the most careful person on Earth. So, we keep some bandages in our kits for such mishaps. But, for small cuts and scratches, have you tried the best liquid bandages available on the market? Liquid bandages or liquid adhesives are very effective in stopping bleeds and sealing small wounds.
The waterproof liquid bandages are easy to apply and last for roughly a week before coming off on their own. These are good for those hard-to-cover areas that do not stay covered with plastic or cloth bandages.
In this article, we have listed some of the best liquid bandages that are skin-friendly and prevent skin infections too. So, go ahead and check them out for your first aid kit.
11 Best Liquid Bandages Of 2023
The New Skin Liquid Bandage is an all-in-one product that effectively treats cuts, wounds, calluses, scrapes, dry and cracked skin. It is made with 0.2% benzethonium chloride that has antiseptic properties to heal minor cuts. Its other ingredients include amyl acetate, camphor, ethyl acetate, ethyl alcohol, n-butyl acetate, and nitrocellulose. The New-Skin Liquid Bandage dries rapidly on application. It also forms a waterproof layer to kill 99.9% of germs and prevent any skin infection. Check out the video given below to gain a detailed understanding of the product.
Pros
Flexible to use
Prevents and protects blisters
Prevents callus formation
Cons
Adhesive might not stick well

Quick Tip

Take some of the liquid on a brush or plastic applicator and apply it across the wound for even distribution.

Price at the time of publication: $6.39
The Medique Liquid Bandage is a sting-free liquid bandage that forms a breathable, protective layer when applied to your skin. It promotes healing and helps prevent infection by reducing exposure to dirt and germs. It is a 100% waterproof bandage that stays on all the hard-to-cover areas of your skin.
Pros
Cons
Price at the time of publication: $41.91
Keep your wounds and skin fully protected from germs with the ElaSkin Liquid Bandage. It offers a waterproof, flexible, and protective barrier that can be used on cuts, cracks, blisters, scrapes, insect bites, closed incisions, and other minor skin ailments. It is a durable, elastic liquid bandage that stays on your skin for days.
Pros
Microbial barrier
Durable
Elastic
Breathable
Quick-drying
Cons
Price at the time of publication: $8.95
Save your cracked heels with the Heal-Seal Liquid Skin Protectant. It has a long-lasting waterproof formula to protect and repair your skin. It protects against all dirt and germs and works great on calluses, blisters, and scrapes. It comes in compact packaging for easy storage, and the brush-on applicator makes the application smooth and convenient. It also protects your skin from calluses and blisters.
Pros
Long-lasting
Compact packaging
Non-toxic
FDA-approved
Cons
None
Price at the time of publication: $13.95
The Nexcare No Sting Liquid Bandage Spray is an ideal first-aid solution for wounds in hard-to-cover areas. Whether you have small nicks or large abrasions, this Liquid bandage Spray will come to your rescue. It dries quickly and lasts long enough. The breathable, waterproof protection prevents dirt and germs from causing any infection. In addition, it covers and protects to allow complete healing. The Nexcare Liquid Bandage is alcohol-free and contains no fragrance or preservatives. It is the perfect addition to your first aid kit.
Pros
Sting-free
Waterproof
Long-lasting
Breathable
Quick-drying
Alcohol-free
Fragrance-free
Preservative-free
Cons
None

Caution

Avoid using liquid bandages on deep cuts, puncture wounds, or burns.

Price at the time of publication: $11.99
The Comfort Zone Liquid Bandage is the best solution for times when conventional bandages are not effective. It keeps your wound clean and prevents infection. It contains benzethonium chloride and dyclonine hydrochloride. Be it a small cut or wound, this antiseptic formula dries quickly and forms a protective layer.
Pros
Quick-drying
Easy to apply
Offers flexible protection
Maximum strength formula
Cons
None
Price at the time of publication: $5.99
The Better Bandage by LiquidSkin is a better alternative to traditional bandages. It is a flexible adhesive that provides a secure and transparent cover for small cuts or abrasions. It also keeps out germs and bacteria, protects your skin from injuries, and enables your skin to breathe. It forms a waterproof and flexible barrier suitable for high flex areas like knuckles, knees, and elbows. In addition, you can use it to treat blisters and painful skin cracks due to cold weather. Instead of an applicator brush, each LiquidSkin application comes in a convenient pipette. The non-burning and the non-stinging formula is easy to apply, and you need to apply this once every three to five days for best results.
Pros
Non-burning
Sting-free
Quick-drying
Flexible
Breathable
Cons
Price at the time of publication: $8.99
The Giant Skin Patch by Master Industries is a protective liquid bandage suitable for sportspersons and bowlers. It is a waterproof, fast-drying, and transparent bandage that comes in a small bottle along with an applicator brush, cotton, and patches.
Pros
Cons
None
Price at the time of publication: $12.59
The Kobayashi Sakamukea Liquid Bandage comes in a liquid form and can be applied directly to your scars and chapped skin with a handy brush applicator. It works like a film covering the surface of the skin and repelling the water. It also protects the scars from bacteria or other harmful elements. The product is clear, colorless, and sterilized. It doesn't cause any skin irritation. It is ideal for cuts, abrasions, scratches, and hangnails.
Pros
Low-allergenic
Breathable
Sterilized
Cons
Price at the time of publication: $15.99
The Farnam Purishield Liquid Bandage Plus is an easy-to-use liquid spray that cleanses your skin and offers fast, long-lasting relief to the affected areas of your skin. It is safe and effective and can be used for cuts, burns, wounds, post-surgical sites, sores, abrasions, skin irritation, scratches, and bites. It may also be used for horses, dogs, cats, and livestock. This breathable and flexible bandage lasts up to 24 hours.
Pros
Non-irritating
Sting-free
Stain-free
Non-toxic
Steroid-free
Antibiotic-free
Chlorine-free
Alcohol-free
Cons
None
Price at the time of publication: $26.99
The HelsRx Liquid Skin Protectant is an effective liquid bandage meant for your entire body, not just your feet, heels, or fingers. This liquid skin protectant is easy-to-use, non-toxic, and works great on calluses, blisters, and scrapes. The adhesive stays in place and keeps your wound safe from any germs and bacteria. Another useful feature of the HelsRX Liquid Skin Protectant is that it seals moisture to prevent further cracking. It seals your skin in seconds upon application and offers instant relief. In addition, the easy-to-use brush-on applicator makes the application easy.
Pros
Ideal for the entire body
Non-toxic
Quick-drying
Seals moisture to prevent cracking
Cons
Price at the time of publication: $14.99
Accidents are inevitable, and when they happen, you want to be sure that you're prepared with an arsenal of supplies. One of those supplies is a good liquid bandage. Liquid bandages give gauze dressings the ability to absorb blood and provide a protective barrier. With so many options available, use this guide to navigate through what you are buying.
What To Consider When Buying Liquid Bandages – Buying Guide
The most effective liquid bandage is one with long-lasting results. Liquid bandages are known for sealing the injury after only 1 application. There won't be any infection after that. A suitable bandage lasts a few days without breakage. Also, look for a waterproof bandage to use while bathing or washing.
Make sure you choose a breathable bandage. A liquid bandage that is too tight may restrict blood flow which results in a slow healing process. If you want your wound to heal faster, pick a breathable bandage.
You will notice two types of bandages when you're out there to get a liquid bandage. Skin protectants are liquid bandages on minor wounds like small cuts, abrasions, or sores. For more severe skin lacerations, it's best to choose suture replacements. They are more effective on bleeding wounds. Both offer quality treatment but differ in the intensity of the wound. Know what type of wound you have and opt for either one.
Choose a liquid bandage that dries quickly. If you have to put a lot of effort into getting the bandage dry, it's not a good one to use. For better efficiency, get a fast-drying bandage you can rely on to get the job done. This will also save you time and will prevent secondary infection.
Liquid bandage prices vary as much as the brands available in the market. Know how much a liquid bandage costs and choose one within your budget. Get value for money when buying one.
These were the 11 best liquid bandages available on the market. These bandages are usually available in various types on the market. Let us explore them in the next section.
Types Of Liquid Bandages
Liquid bandages can be categorized into two major types. The first category comprises skin protectants, which are over-the-counter (OTC) gels and sprays. These can shield everything from superficial scrapes to large, chronic bedsores. The second category comprises suture replacements or tissue adhesives. Professional healthcare providers most commonly use suture replacements to join together more serious skin lacerations. These materials are also used by doctors and veterinarians to repair some cuts to internal organs or to close surgical incisions.
Suture replacements are less traumatic for patients than staples or stitches because they do not require anesthesia or a return trip to the hospital for removal. A major difference between the two categories of liquid bandages is that suture replacements can be used on a bleeding wound. In contrast, skin protectants (OTC) don't successfully cover cuts that are actively oozing.
Applying liquid bandages can become clumsy if proper care is not taken. To make the process easy for you, we have provided the step-by-step guide in the next section. Read on.
How To Apply A Liquid Bandage?
Wash the cut and the surrounding area thoroughly with soap and cold water. Make sure the injured area is completely dry.
Create a seal by gently bringing the cut together with your fingers.
Apply the liquid bandage on top of the cut. Slowly spread it from one end of the cut to another and ensure the area is completely covered.
Hold the cut together for at least a few seconds or a minute to give the adhesive enough time to dry.
Note:
A liquid bandage should not be placed inside the wound. Instead, it should be placed on top of the skin where the cut comes together.
Do not use a liquid bandage on certain body areas, especially around the eyes, in the ears, nose, or mouth. Seek medical help if the bandage gets into any of these areas.
Liquid bandages have important benefits. We have covered them in the next section.
Benefits Of A Liquid Bandage
A liquid bandage can be applied to almost any area of the body. It is a glue-based polymer dissolved in a solvent that leaves a thin layer to protect the wound.
A single application of a liquid bandage is cheaper than a band-aid.
A liquid bandage is effective in treating wounds, and it can save you money compared to band-aids.
You can use only the required amount of liquid bandage to cover the wound. Hence, there is no product wastage.
The dizzying selection of gauze, medical tapes, and the myriad colors, shapes, and materials of adhesive bandages can be confusing. Therefore, the best option could be liquid bandages. Looking forward to buying one? Scroll through the list and choose your product now.
Why Trust StyleCraze?
Oyendrila Kanjilal, the author of this article, is a certified skin care coach. She conducted in-depth online research and read hundreds of reviews to provide you with the best liquid bandages. These bandages form a breathable layer on the skin and promote the healing process of the wound. The bandages recommended by Oyendrila are flexible and ideal to be used for cuts, bruises, scrapes, and calluses.
Frequently Asked Questions
What are the side effects of liquid bandages?
The side effects of liquid bandages might be allergic reactions, breathing difficulties, swelling of your face, lips, tongue, or throat. Some common side effects may also include burning or stinging sensations. However, these side effects are based on anecdotal evidence.
How long does a cut take to heal?
A minor cut usually takes 3 to 7 days to heal. A larger or deeper cut may take 1 to 2 weeks to heal completely.
Can you use a liquid bandage on an open wound?
No, do not liquid bandages on open wounds. Use them on surface layer cuts only.
Does liquid bandage heal faster?
A liquid bandage prevents bacteria and debris from entering the wound surface and promotes rapid healing.
Is liquid bandage safe for toddlers?
Liquid bandages are safe for toddlers. They are waterproof, do not wear off quickly, and stay intact with skin for five to ten days.
Do liquid bandages have antibacterial properties?
Liquid Bandage contains water, alcohol, antiseptic, and local anesthesia to kill 99.9% of germs and prevent skin infections.
Does a liquid bandage stop the bleeding?
The liquid bandage can stop bleeding in case of minor cuts and wounds.
How often should you change a liquid bandage?
Minor cuts heal within 5 to 10 days with one application of the liquid bandage. As soon as the wound heals, the liquid bandage drops off by itself. There's no need to change it.
How to remove a liquid bandage?
Applying nail polish remover containing acetone to the liquid bandage will soften the bandage, making it easier to remove the bandage.
What is the active ingredient in a liquid bandage?
Benzethonium chloride is the active ingredient in a liquid bandage.
The following two tabs change content below.