13 Best Silicone Patches For Wrinkles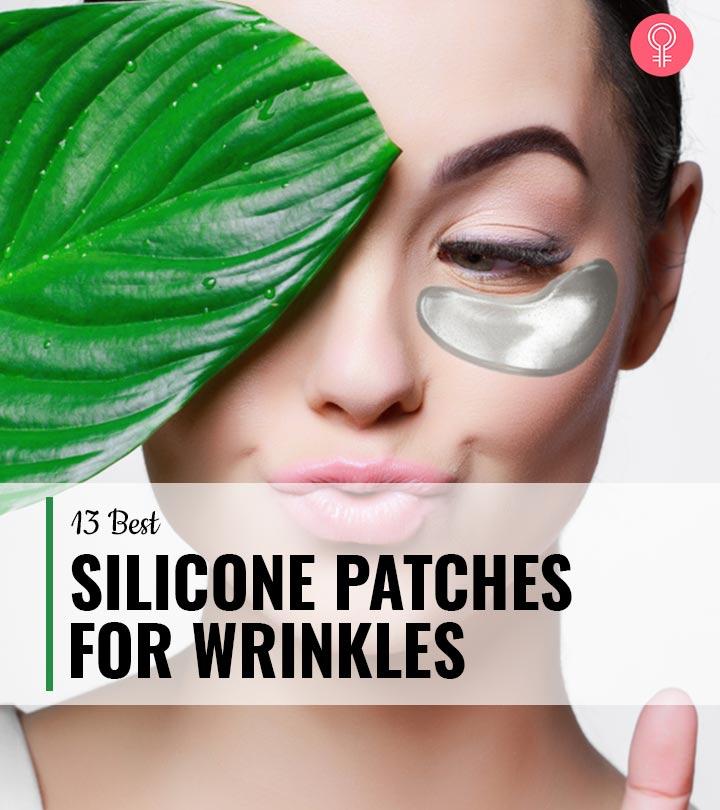 You may have tried enough cosmetics, beauty blemish creams, and skin correctors to mask your fine lines and wrinkles. But if they haven't shown results, you are not alone. Though such products could be effective, today, with modern technology, things are changing fast. Silicone wrinkle patches are the newest innovation that helps mask wrinkles and fine lines. They are a non-invasive method. Though they are not a permanent solution to aging signs, they can help blur them temporarily and refine your appearance.
Wrinkle patches help promote skin repair and collagen production. In this post, we have listed the 13 best silicone wrinkle patches available online. Keep reading to know what they are!
13 Best Silicone Wrinkle Patches
The Blumbody Wrinkle Patches help plump, tone, and tighten the skin and reduce fine facial lines. You can use it daily to regain the strength of your facial muscles and tone them. The patch blurs wrinkles, fine lines, and blemishes caused by environmental aggressors. It has long strips for forehead lines, Y-shaped strips for furrow lines, dolphin strips for crow's feet, curved strips for smile lines, special strips for perioral lines, and triangle strips for other multipurpose uses. The patches are easy to be applied to the skin. They can be used while working or sleeping or relaxing with a cup of coffee.
Pros
Comfortable
Easy to wear
100% money-back guarantee
Multiple strips for different face regions
Non-toxic
Hypoallergenic
Cons
May clog pores
The patches may form creases outside them
The Yoobeaul Facial Wrinkle Patches rapidly smoothen fine lines and reduce wrinkles. These medical-grade, soft, comfortable, and non-invasive patches work with all skin types and fine lines. Applying these facial patches in six different regions helps reduce the deep-set wrinkles, and blurs fine lines and blemishes.
Pros
Reusable patches (2 to 3 times)
Prevent skin damage from environmental aggressors
Hypoallergenic
Medical-grade patches
Soft and comfortable
Dermatologist-recommended
Retain skin moisture
Cons
Patches could be too thin
Adhesives may leave residue
If you are only concerned about your lip wrinkles, the SiO Beauty Super LipLift Patches could be ideal. They are made of 100% medical-grade silicone material that is non-toxic. The patches smoothen lip wrinkles and lines. These clinically-tested anti-wrinkle lip patches provide deep hydration and moisturize and plump up your lips. They also help tighten the skin around the lips.
Pros
Restore skin moisture
Plump up lips
Dermatologically-approved
Easy to use
Reusable
Cons
The Segminismart Facial Patches are lightweight. They help smoothen your skin tone, fine lines, and wrinkles. They are made of medical-grade quality silicone and can easily be placed around your eyes and forehead for wrinkle-free skin. They can be used over the frown lines, eye area, nasolabial area, and the forehead. These chemical-free patches are safe for daily use. They are travel-friendly.
Pros
Lightweight
Compact
Convenient to carry
Easy to use
Reusable
Self-sticking
Easy to peel off
Cons
May hurt the skin while peeling
The Toute Nuit wrinkle patches are hypoallergenic and medical-grade. They help tighten facial muscles and restore elasticity. They are gentle and help fade away fine lines, wrinkles, and blemishes. They also help hydrate and nourish the skin for a vibrant look. The wrinkle patches work overnight by giving your facial muscles and skin a support structure to relax and regenerate. These hydrating patches are skin-safe. They allow your skin to breathe even if you wear them during sleep.
Pros
Hypoallergenic
Skin-safe
Restore skin moisture and health
Medical-grade patches
Breathable
Easy to apply and remove
Relax the skin
Cons
The adhesive may cause allergic reactions
The adhesive may dry skin out
The Scobuty Anti-Wrinkle Facial Patches smooth out the creases caused by facial expressions, excess stress, and sleepless nights. They are professionally designed to remove fine lines, wrinkles, and blemishes. These hydrophilic gel patches restore skin nutrition and increase facial collagen to rejuvenate the skin. The versatile shapes of the wrinkle patches target wrinkle-prone areas and relax facial muscles. They are convenient to stick and peel away. These breathable patches are safe for overnight use.
Pros
Lightweight
Restore skin moisture
Provide long-term nourishment
Soft and skin-friendly
Stretchable
Relax facial muscles
Easy to use and peel off
Cons
The Intellinesse Facial Smoothening Petals are among the best quality silicone patches that smoothen the skin, blur fine lines, and restore skin radiance. They are made of medical-grade material that is skin-friendly. These chemical-free facial smoothing petals seal skin moisture and make you feel refreshed after each use. The petals are ultra-thin and translucent. They easily blend with the skin to mask fine lines and wrinkles overnight. They are easy to use. They also allow your skin to breathe.
Pros
Comfortable
Non-toxic
Hypoallergenic
Ultra-thin
Paraben-free
Phthalate-free
No latex
No added fragrances
Breathable material
Travel-friendly
Cons
None
These Toute Nuit Facial Wrinkle Flattening Patches are made specifically for forehead wrinkles. They consist of top-quality contoured pads that cover the horizontal forehead folds. These non-invasive patches relax the facial forehead muscles, flatten deep wrinkles, and smoothen fine lines. They are made of medical-grade material that is skin-friendly and easily blends with the skin. These patches can be reused 2-3 times without harming the delicate skin.
Pros
Non-invasive
Hypoallergenic
Odorless
Free from additives
Can be used daily
Reusable
Cons
The Matykos Anti-Wrinkle Patches nourish, hydrate, plump, and brighten your skin. The kit contains 15 sets of patches for temples, forehead, upper lip, chin, and areas around the lips. The patches are combined with pure hyaluronic acid. Hyaluronic acid is a humectant that restores the skin's moisture. These soft, flexible, and breathable strips are gentle on the skin. They are travel-friendly.
Pros
Made of safe materials
Skin-friendly
Hydrate and nourish the skin
Soft facial strips
Cons
None
Blulu Anti-Wrinkle Pads are lightweight, safe, and skin-friendly. They are used to mask the lines on the forehead, furrows, crow's feet, and perioral lines. They are gentle on the skin and provide deep hydration. They restore long-term moisturization for a vibrant look. These anti-wrinkle pads stabilize and tighten the skin.
Pros
Lightweight
Non-toxic
Restore skin hydration
Breathable
Travel-friendly
Rejuvenate and soften the skin
Blend easily with the skin
Cons
Do not come with a user manual
The PureSkin Smoothing Beauty Anti-Wrinkle Chest Pads are made of 100% medical-grade pure silicone that reduce and prevent chest wrinkles. Chest wrinkles are often results of aging, excessive sun damage, and side sleeping. Using these lightweight chest pads help mask fine lines and wrinkles. These dermatologically-tested anti-wrinkle chest pads improve collagen production and hydrate the skin by rejuvenating it. The PureSkin chest pads create a moisture-intensive bond to hydrate and plump the skin, and help improve skin elasticity.
Pros
Dermatologically-tested
Skin-friendly
Comfortable and gentle
Give immediate results
Reusable
Hypoallergenic
100% natural
Long-lasting
Washable
Easy to use
Cons
The SSSHZ Chest And face Anti-Wrinkle Patches are made of high-quality medical-grade silicone that quickly repairs fine lines and wrinkles. The set has eight long-lasting pads for reducing wrinkles on the face, neck, and chest. The hydrating, nourishing pads seal moisture and improve collagen production and skin elasticity. These soft, gentle patches are easy to wash. They are breathable and reusable.
Pros
Long-lasting
Made of non-toxic silicone material
Breathable
Seal skin hydration
Improve collagen production
Enhance skin elasticity
Easy to use
Reusable
Safe
Hypoallergenic
Comfortable
Cons
Poor quality adhesive
May irritate the skin
The Vafee Face Smoothing patches are soft, lightweight, and comfortable. They help blur fine lines and wrinkles in just a day. They are made of high-quality medical-grade hypoallergenic silicone that lifts the skin, smoothens fine lines and wrinkles, and improves skin elasticity and texture. They can be worn during sleep as well.
Pros
Lightweight
Hypoallergenic
Suitable for all skin types
Reusable
Easy to use
Cons
None
These are the thirteen top-quality wrinkle patches that you can buy online. However, if you are still unsure of the effectiveness of wrinkle patches, the following section should be of help.
Do Silicone Wrinkle Patches Work?
Silicone wrinkle patches are not permanent solutions to reduce wrinkles. If your skin was pressing against a pillow and has developed a crease overnight, applying a wrinkle patch may help blur it. It also may help reduce certain fine lines and even increase collagen production. It is an overnight solution. For long-term results, you may want to consult your dermatologist.
Before you make a purchase, it is essential to know what to look for in a wrinkle patch.
Tips To Choose The Right Product
Anti-wrinkle patches should be lightweight. They should be made of high-quality medical-grade silicone material that suits your skin.
The patches must be able to target wrinkle-prone areas. Their material should be breathable for overnight use.
The patches must be gentle, soft, and comfortable to wear and peel off.
They should be able to hydrate, nourish, and rejuvenate your skin.
Wrinkle patches are an effective solution to certain signs of aging. Though they may not be long-term solutions, they sure can help blur wrinkles or fine lines for a brief period. Understand your skin type, pick your favorite from this list, and use them today. We are sure they will add value to your beauty routine.
Expert's Answers For Readers' Questions
Could anti-wrinkle patches be a miracle fix for headache and depression?
No, anti-wrinkle patches in no way can reduce severe headache and depression. They only work to blur certain signs of aging temporarily. Depression and headache could be severe issues and warrant immediate medical attention.
Do anti-wrinkle chest pads work?
Yes, anti-wrinkle chest pads help blur chest wrinkles and fine lines.
Recommended Articles