The 10 Best Compression Arm Sleeves To Try Out In 2023
Tools that aid fast recovery with proper compression and enhanced circulation.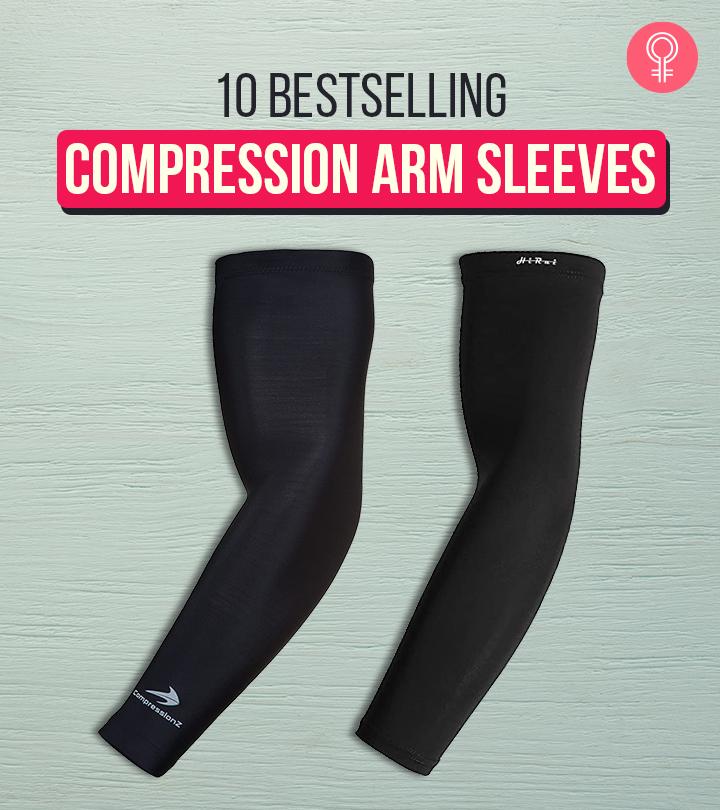 If you find yourself struggling with body pain and aches after every workout session, investing in the best compression sleeves for arms might be a wise idea! While it might look like a fancy sports accessory, it can prove beneficial in several important ways. They help improve blood circulation, reduce pain and fatigue, enhance faster recovery and protect you from the harmful UV rays as well. To give you a fair idea, we have listed down the 10 best compression sleeves to help you continue your fitness journey unhindered and pain-free.
10 Best Compression Arm Sleeves For Workouts
The unisex arm sleeves from Kuhnmarvin are made of 89% polyester and 11% spandex. They are stretchable and provide a comfortable fit. They have UPF 50 for optimal protection from UVA and UVB rays and give a cooling sensation during long hours outdoors.
The sleeves absorb sweat and moisture to keep the arms non-sticky and clean. They also guard against abrasions and can be used for sports, gardening, cycling, and while driving to keep the arms protected. These durable sleeves are suitable for machine wash and quick drying.
Pros
Have UPF 50
Easy to wash
Anti-slip
Moisture-wicking
Cons
Price at the time of publication: $7.99
The gentle pressure applied by the CompressionZ arm sleeves helps relieve discomfort and pain by reducing inflammation and swelling. These elbow sleeves are fabricated with 85% nylon and 15% spandex material. They enhance blood flow to heal tired and injured muscles.
The sleeves act as arm warmers during cold weather and offer UV protection. The breathable fabric absorbs perspiration and keeps the arms dry. These arm sleeves feature a secure cuff at the top for a secure fit and can be used by men and women to achieve optimal performance in any activity.
Pros
Insulating fabric
Breathable
Secure cuff
Sweat-wicking
Cons
Price at the time of publication: $20.99
This compression sleeve from Copper Compression is crafted from copper-infused nylon fabric to provide optimal support during athletic practices, gardening, cleaning, and other daily activities. It provides support and compression while being flexible and allowing freedom of movement. The durable sleeve offers full arm protection from UV rays and can be washed frequently without any loss of elasticity. It promotes blood circulation and protects the tendons and muscles from strain.
Pros
Copper-infused
Easy to wash
Flexible
Moisture-wicking
Cons
Not suitable for big arms.
Price at the time of publication: $19.95
The HiRui compression sleeves feature an anti-slip silicone inner band around the top to hold them securely in place and prevent them from rolling down. The flat seam stitching reduces skin irritation and enhances mobility.
These sleeves are crafted from sweat-proof lycra fabric to provide compression, which boosts blood circulation and supports the muscles. The lightweight fabric offers a comfortable fit and has UPF 50 for UV protection. These sleeves relieve swelling and other injury-related symptoms and minimize cramping and fatigue. They also keep your muscles warm during winters and have a cooling effect in summers.
Pros
Has UPF 50
Anti-slip
Moisture-wicking
Insulation and cooling effect
Extended length
Cons
Top band does not have enough elasticity.
Price at the time of publication: $9.99
These compression sleeves from Kinship Comfort Brands offer continuous support to the muscles and tendons in the arms. They boost blood flow to reduce the risk of muscle fatigue and strain while allowing quick recovery from injury.
The breathable fabric offers sun protection and keeps the muscles warm in cold weather. It also has antimicrobial properties that keep the skin healthy and fresh. These long-lasting sleeves are fabricated from microfiber nylon and spandex and feature wide comfort bands at the upper arm and wrist.
Pros
Has UPF 50+
Lightweight
Antimicrobial
Moisture-wicking
Latex-free
Cons
Price at the time of publication: $15.69
The highly stretchable Kolamom compression sleeves are easy to pull on and take off. They are crafted from nylon and spandex fabric, which makes them suitable for a variety of sports and outdoor activities like driving, gardening, and fishing. These UV-protecting sleeves reduce the temperature to keep the arms cool and refreshed during long hours in the sun. They come in a two-pack set so that you may always have a spare pair. The seamless construction offers a comfortable fit and gentle pressure to support the muscles and joints.
Pros
Cooling effect
Easy to put on and take off
Breathable
Comfortable
Cons
Price at the time of publication: $7.99
The Newbyinn Arm Sleeves come in a two-pair combo and are fabricated from nylon and spandex. They are designed for bigger biceps and have seamless weaving to minimize irritation and itchiness. The UPF 50 provides UV protection from harmful sun rays during all outdoor activities.
The four-way stretchable fabric offers optimal support and gentle compression and is available in multiple colors. The dark colors and extended length are ideal to protect and cover up arm tattoos. The lightweight and breathable fabric delivers rapid cooling to the skin by absorbing moisture and sweat. Check this demo video to learn more about the Newbyinn Arm Sleeves.
Pros
Has UPF 50
Lightweight
Breathable
Stretchable
Cooling effect
Cons
Price at the time of publication: $9.99
These arm sleeves from Lktina enhance blood circulation and provide a massaging action to keep the arms toned and shapely. This two-pair combo comes in black and beige colors and can be used by women to reduce arm flabbiness. The lightweight material allows easy wearability underneath the clothes. These weight loss armbands are crafted from nylon and spandex and can be used as elbow guards as well.
Pros
Lightweight
Comfortable
Stretchy
Cons
Price at the time of publication: $6.99
The high-tech blend of polyamide and spandex used to construct these Shinymod arm sleeves allows maximum flexibility while protecting the arms from sunburn and overheating. The breathable fabric has sweat-absorbing properties to keep the arms cool and dry in summers and provides warmth in cold weather. These ergonomically designed sleeves provide full coverage up to the palms and have thumbholes for freedom of movement. They apply gentle pressure on the muscles for optimal support and offer comfort during muscle training.
Pros
Breathable
Sweat-wicking
Quick-drying
Comfortable
Cons
Pills with use.
Does not fit all.
Price at the time of publication: $36.99
The arm compression sleeves from B-driven Sports reduce injury recovery time by delivering compressions that boost blood circulation. They provide support to the muscles during training to minimize the risk of sprains and fatigue. The compression sleeves also aid in reducing tissue damage caused during any physical activity and offer pain relief from tendonitis, joint pain, lymphedema, and tennis elbow. These unisex sleeves can be used for indoor and outdoor activities by computer users, athletes, and gardeners.
Pros
Lightweight
Comfortable
Insulating and cooling effects
Cons
Not long-lasting
Leave marks
Price at the time of publication: $36.99
Compression arm sleeves are a great option to improve athletic performance and prevent injuries. They protect the muscles from cramps and fasten recovery time after fatigue. With so many options out in the market, here are some of the important factors to consider while choosing a pair of the best compression arm sleeves.
Things To Consider Before Choosing The Best Compression Arm Sleeves
Material: While looking for compression sleeves choose high quality fabric such as polyester, spandex, and nylon. These are stretchable and do not restrict blood flow. These materials also have high breathability and sweat absorbing capacity. Also, they ensure freedom of movement while relieving pain and relaxing muscles. Breathable material also keeps the skin healthy and fresh.
Moisture wicking: Compression arm sleeves are put on by athletes during high intensity activity. So, they must absorb sweat quickly to avoid skin allergies. Look for arm sleeves that provide a cooling effect during the summer season but keep muscles warm to avoid chances of any injury or muscle pulling.
UPF 50: A good pair of compression arm sleeves must have UPF 50. This ensures skin protection from UVA and UVB rays in summer. UPF reduces skin exposure to harmful radiations and also gives a cooling sensation for long hours in summer.
Size: Size is an extremely crucial factor for choosing the right compression arm sleeves. Get a compression arm sleeve that is about half an inch smaller than your bicep area. This will help the sleeve to stay tight even after applying constant pressure during activity time. Compression arm sleeves that are true to size support the muscles and joints during high intensity activity. They are easy to put on and take off .
Other Features: Choose compression arm sleeves that are durable and easy to wash. Ensure they are anti-slip and come with a secure cuff to protect the skin against abrasions and injuries. Compression arm sleeves with extended length and higher elasticity fit best. They can also be used for other purposes such as arm guards. Apart from protecting the skin, look for sleeves that are comfortable enough and do not leave marks on the skin.
Frequently Asked Questions
Can you wear a compression sleeve all day?
Compression sleeves work best when they are used for extended periods, provided they are the right fit and size. It is essential to find one that delivers the right amount of compression to facilitate flexibility and ease of movement. So, while you can use them all day long once you have the perfect fit, it is best to consult your physician before using them while you sleep.
Do compression sleeves help blood flow?
Yes, compression sleeves apply gentle pressure on the limbs to enhance blood circulation. They lessen muscle pain and swelling and improve the recovery rate.
Do compression sleeves help flabby arms?
Compression sleeves are not arm shapers. They are similar to braces and support the muscles and joints. They reduce stress on the weakened arms and prevent unnessary jerks during movement.
How tight is a compression sleeve supposed to be?
The compression sleeve should not be too tight. Make sure that the blood circulation or arm movement is not restricted.
Do compression sleeves help shoulder pain?
Yes. Shoulder compression will reduce the swelling and pain by limiting the blood flow to the affected area
Is it OK to sleep with compression sleeves?
No. Compression sleeves may be used for a short period of time but sleeping overnight with it will cause pressure on the nerves leading to tingling or numbness.
Do compression arm sleeves work for tendonitis?
Compression arm sleeves work great for tendonitis. They reduce pain, aid speedy recovery, and prevent further complications.
Recommended Articles