13 Best Natural Foundations For Flawless Skin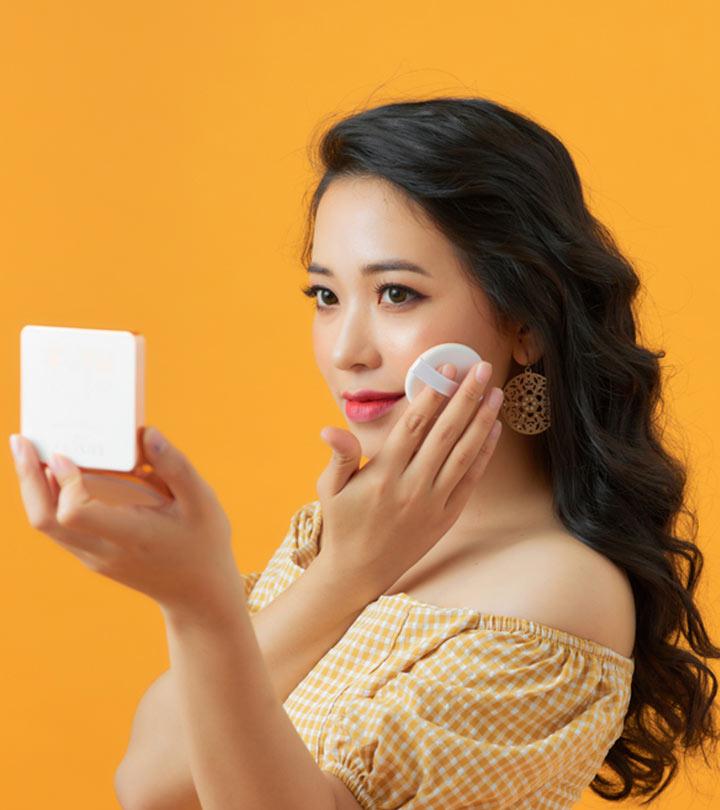 If you follow makeup influencers and have watched celeb interviews, you must already know how almost everybody embraces hints of oils and flower extracts in their makeup. For this very reason, newer, au-naturale brands are springing up, and many existing brands are stepping up to create natural makeup products by sourcing the purest of ingredients. The reason behind this conscious shift towards going organic is quite apparent, as organic makeup acts as food for your skin by nourishing, moisturizing, and fighting the signs of aging while helping with your everyday makeup.
If you're transitioning to natural or organic makeup products, foundations are a good place to start. Since foundations are applied all over the face, you can make the most out of the skin-loving ingredients found in it. Here's our list of the 13 best natural foundations from brands that are loved by the masses.
Top 13 Natural Foundations To Make your Skin Glow From Within
This versatile natural organic foundation from RMS Beauty doubles as a concealer, so you can use it as a base or to cover redness and patches. This foundation can be used as both a makeup and skincare product. You can use it to conceal skin imperfections or benefit from its skin-loving ingredients for flawless and healthy-looking skin. Organic ingredients like coconut oil, beeswax, cocoa butter, jojoba oil, and many more offer hydrating and nourishing qualities. The self-adjusting formula of this creamy natural-looking foundation helps complement your skin tone if it's not an exact match. This is one of the best all-natural foundations if you're looking for natural, buildable coverage for daily wear.
Pros
Easy to apply
Self-adjusting formula
Lightweight
Non-GMO ingredients
Soy and gluten-free
Cons
It may not offer long-lasting wear.
One of the best natural foundations for sensitive skin, the Physicians Formula Silk foundation packs skincare ingredients like aloe vera, botanical cactus flower, sunflower seed, jojoba, and coconut oil. These ingredients help lock moisture and soothe the skin. This organic foundation elixir is ultra-fluid in consistency and easy to apply. It feels light on the skin and offers a sheer to buildable coverage. If you're a fan of the dewy-finish look, this is the best natural liquid foundation to help you achieve that.
Pros
Hypoallergenic
Fragrance-free
Parabens and gluten-free
Dermatologist-tested
Cruelty-free and vegan
Cons
May not offer full coverage
If you wish to wave a final goodbye to your skin breaking out due to foundations loaded with toxic synthetic dyes, it's time for you to switch to this natural liquid foundation. This foundation is truly pure, clean, and certified organic. Each shade is infused with a specific fruit pigment to bring out the perfect hue. The golden peach shade is ideal for people with medium to tan skin with yellow undertones. It offers buildable coverage, and the rice starch in it helps absorb oils and reduce sheen for a pristine matte finish. It is enriched with peach, apricot, and goji berry extracts, and elements like acai and pomegranate oils help fight the signs of aging, and the outcome is softer and firmer skin upon regular use.
Pros
Certified organic
Offers full coverage
Cruelty-free and vegan
Palm-free
Non-toxic
Cons
It allows less time to work with as it may dry too quickly.
If you're looking for the best natural foundation for dry skin, this serum foundation with a host of natural oils is an ideal fix for dryness. We love it because it imparts a flawless complexion while reducing skin irritation with a blend of its botanical actives. It has racked up 2 awards for being the best natural foundation for mature skin. Ingredients like rosa moschata oil, rice powder, jojoba seed oil, and jasmine flower and leaf extract in this foundation help your skin premature aging. Blurred imperfections, minimized pores, and a luminous appearance is what you get with a dime-sized squirt of this natural-finish foundation.
Pros
Dermatologist-tested
Non-comedogenic
Soothes irritations
Offers buildable coverage
Gluten-free
Cruelty-free and vegan
Cons
One of the best natural organic foundations, this mineral foundation from Mom's Secret is certified 90% organic in composition for those who love clean makeup. It offers a polished, breathable finish and makes your skin look natural with sheer coverage. It is among the best natural foundations for combination skin as it suits all skin types. It is a faultless blend of hydrating ingredients fortified with vitamin E, glycerin, rice powder, and oregano leaf extract. Lay your hands on this organic natural foundation if you're looking for sun protection as an added benefit in your foundation.
Pros
Offers sun protection
Certified organic
Gluten-free
Cruelty-free
Non-greasy
Cons
May not be easily buildable
This is one of the best foundations for a natural look when you don't want your makeup to steal the spotlight from your healthy skin. It offers a satin finish and accentuates your complexion by lending an even skin tone. With organic ingredients like frankincense, lotus, myrrh, and oils extracted from castor seed, camellia seed, and bergamot, this foundation offers incredible skincare properties for a lit-from-within glow. None of the toxic elements like silicone, dimethicone, and ethanolamine make it to this chemical-free foundation, which earns it the "organic makeup" tag. When you use a non-toxic liquid foundation like this one every day, you can make your skin feel happy from within.
Pros
Moisturizing properties
Offers great coverage
Lightweight and breathable
Cruelty-free
Cons
May feel greasy on oily skin
Among the top natural foundations for radiant-looking skin is this serum foundation from Juice Beauty as it is infused with certified organic ingredients. Its star ingredient — the phyto-pigments, is reason enough to invest in it. It is rich in antioxidants like champagne grape seed, crushed roses, and coconut alkanes that give your skin all the nourishment it needs. They help fight early signs of aging and reduce the appearance of fine lines and wrinkles. As a bonus, this foundation is packaged sustainably, so you're not harming the planet by choosing this natural coverage foundation.
Pros
Offers full coverage
Uses certified organic ingredients
Does not settle into fine lines
Weightless texture
Free of harmful ingredients
Cruelty-free
Cons
Some may find the consistency slightly runny.
While "clean products" don't necessarily have a single agreed-upon criterion, products like the W3ll People baked foundation are worth the leap of faith for their list of non-toxic ingredients. This all-natural powder foundation offers impressive staying power and stays put throughout the day. It imparts a semi-matte coverage without feeling cakey. Formulated with organic squalene and honokiol, this foundation keeps free radicals at bay and reveals your inner radiance. Sheer, lightweight, and easy to apply, this organic foundation powder qualifies to be in your makeup bag every day, on the go.
Pros
All-day wear
Weightless
Gluten-free
Non-GMO
Vegan and cruelty-free
Cons
May not be suitable for dry skin
Mineral foundations are a welcome change if liquid foundations cause your skin to break out. This organic mineral foundation from Lily Lolo helps control oil without drying your skin. You can step out in the sun wearing this mineral foundation as it contains a natural SPF and is virtually waterproof, saving you from a makeup disaster during hot and sweltering days. It is formulated with light-reflecting mica to reduce the appearance of fine lines. It feels super light on the skin and doesn't settle in, wrinkle, or crease. If you have limited options because of conditions like psoriasis, rosacea, and acne, you can consider this foundation as it is dermatologist-recommended.
Pros
Offers oil-control
Suitable for sensitive skin
Waterproof
Fragrance-free
Cruelty-free
Cons
Some may find it to be a bit chalky.
Serum foundations are popular for offering impressive coverage while providing restorative benefits to the skin. This all-natural full-coverage foundation from Gressa has a fluid-to-velvet formula that dries quickly and feels weightless. With a blend of botanical extracts like broccoli seed oil, neem oil, lemon balm, and bitter melon extract, the Gressa healing complex gives you instant radiance along with long-term skincare benefits. If you're skeptical about switching to organic brands, you can have complete peace of mind with this one as it is made from a wealth of ingredients that are certified organic. All you need is 1 to 3 drops of the serum to either use as a foundation all over the face or to correct blemishes by concentrating on specific areas.
Pros
Long-wearing
Offers full coverage
Paraben-free
Sulfate-free
Cruelty-free
Cons
If you're looking for oil-controlling properties in a foundation, you can bank on this organic foundation for oily skin. Sweep it onto your face for a gorgeous semi-matte finish. The super powers of this best natural powder foundation include creaseless coverage, all-day color stay, and incredible weightlessness. If you're a vegan, you can rest assured that it doesn't contain any animal by-products. It is loaded with natural minerals, iron oxides, and mica that nutrify your skin from the inside, so you can proudly say beauty isn't just skin deep.
Pros
Lightweight
Airbrushed finish
Cruelty-free
Vegan
Free of toxins and synthetic preservatives
Cons
Contains titanium oxide that may cause cell damage
Alima Pure is yet another brand that stays away from questionable ingredients and thrives with thoughtful formulations. This pressed natural-ingredient foundation comprises milled rice and mica powders that care for your skin while providing an even and buildable coverage. The rosehip extract has antioxidant properties that help fight free radicals. The Birch shade is ideal for light skin tones with cool undertones. With moisturizing, toning, and anti-inflammatory elements like evening primrose oil, argan oil, and aloe leaf extract, this foundation is suitable for all skin types.
Pros
Lightweight
Fragrance-free
Buildable
Cruelty-free
Cons
The Ecco Bella foundation is concocted with rich, plant-based ingredients that make it one of the best natural ingredient foundations. Since it is formulated with saccharide isomerate, it blends smoothly and moves with your skin without creasing. You can toss it into your daily makeup pouch as it offers buildable coverage, feels light, and lasts throughout the day. Natural minerals shield your skin from environmental pollutants, ideal for people with sensitive skin. If you place high importance on brands that manufacture products from ethically sourced ingredients, the Ecco Bella foundation becomes a natural choice.
Pros
Certified organic
Gluten-free
Paraben-free
Suitable for sensitive skin
Fragrance-free
Cons
Not available in too many shades.
We're confident that our list of the 13 best natural foundations with glowing reviews are capable of leaving you with glowing skin with a healthy foundation makeup. Let's move on to the next segment about choosing the best natural foundation based on your skin type and other factors.
How To Choose A Natural Foundation?
When you set out to buy the perfect foundation for yourself, the first inevitably crucial factor worth taking into account is your skin tone and the undertones. You can either go through the shade descriptions or order samples of a few shades close to your skin tone.
There are different types of foundations, from stick foundation to powder, mineral, and liquid foundations. The type of foundation you buy should depend on your skin type. Stick and liquid-based foundations are suitable options for dry skin. However, if you have oily skin, powder foundations can help reduce the oiliness. For sensitive skin, always check if the product claims to be suitable for your type of skin and if it is dermatologist-tested.
The most common types of finishes in foundation are dewy, satin, matte, and semi-matte. While this is completely a matter of preference, make sure you check what kind of finish the foundation promises so that you're not disappointed after making a big investment.
There are 4 types of coverages that most foundations offer — sheer, medium, full, and buildable. While sheer is ideal for people who intend to use the most natural-looking foundation on a day-to-day basis and don't have evident imperfections, full coverage works for those with visible imperfections and those looking to even out their skin tone. Medium coverage is a good option if you have not-so-subtle but not-so-evident pigmentation and blemishes. However, buildable coverage means you can apply several coats for better coverage.
All kinds of natural foundations have an array of organic or natural ingredients. While most brands forsake toxic and synthetic ingredients, you still need to go through the list and see if you have a history of breaking out or suffering from an allergy due to a particular ingredient. Besides this, you can also check which ingredients offer skincare qualities and settle for a foundation that works as an elixir for you.
Now that you know the aspects you need to consider when buying a natural foundation, here's how you should use it for the best results.
How To Use A Natural Foundation?
It all starts with a clean face. Cleansing your face before applying makeup helps ensure your face is free of oil, sebum, and any leftover makeup from the previous day.
Most people who complain of their foundation settling into creases and fine lines don't prep their skin before applying the foundation. No matter the coverage, you should always start with a moisturizer to hydrate your skin and then apply primer. A primer saves your pores from being clogged while creating an even layer for a smooth application.
Now that your skin is ready for the best natural foundation of your choice, dab a decent amount of foundation on your face and blend it well. For sheer to medium coverage foundations, you can use your fingers. However, using a sponge or brush gives you more control. If you're applying a buildable foundation, you can go for another layer based on the kind of coverage you want. This can be followed by concealer and translucent powder for a final touch.
Using the best natural foundation or an organic tinted moisturizer gives you the peace of mind that beauty doesn't come at the cost of the health of your skin. While natural elements in these chemical-free foundations bestow your skin with countless benefits, they're also a better choice for people who encounter skin problems like allergies, acne, redness, and irritation, etc. So, what are you waiting for? Pick the best natural foundation from our list and look flawless inside-out.
Expert's Answers For Readers' Questions
Does a natural powder foundation look natural?
The natural ingredients in an organic powder foundation are meant for skincare benefits and to substitute synthetic ingredients. However, whether or not the foundation looks natural depends on the coverage and finish. Most sheer to medium coverage foundations look close to natural.
Does Fenty Foundation look natural?
While some of the Fenty Beauty foundations give you a natural look, full coverage foundations from the brand that help hide imperfections and pigmentation may feel a bit heavy on the skin.
Is natural foundation good for the skin?
Natural foundations are lauded for their skincare benefits. You'll find antioxidants, hydrating elements, and age-defying ingredients in many of the natural foundations. Moreover, you also get to stay away from ingredients like parabens, sulfates, phthalates, etc. However, a natural foundation makeup may cause you to break out or develop an allergy if there's an element in it that you're allergic or sensitive to.