The 15 Best Natural Foundations For Flawless Skin – 2022
Achieve a natural-looking flawless base and join the trend of no-makeup makeup look.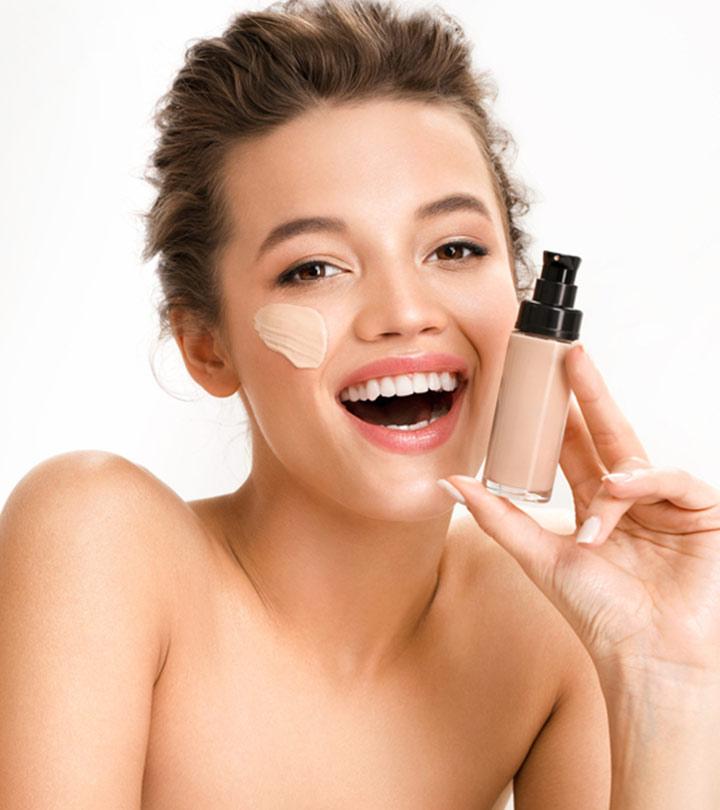 Using foundation as a part of your everyday makeup routine can be tricky. To solve this problem just invest in the best natural foundation, and you're all set! Foundations are ideal for concealing your spots and pimple bumps, and with new brands bettering their products, they are shifting towards making more natural-looking products that moisturize the skin while keeping it even-toned.
Rachel D'Angelo, a licensed beauty professional and former cosmetology educator, says, "A natural foundation is a great match for anyone looking for a cruelty-free, lightweight, vegan and paraben free option. If you're searching for a more natural makeup product and look, a natural foundation might be the perfect product for you."
If you are a person who is skeptical about using foundations that make your skin look chalky and cakey, we have a range of foundations that your skin will surely love. Here are 15 recommendations for you to choose from.
Best Natural And Organic Foundations That You Can Try
Foundation Type: Liquid
The Catrice HD Liquid Coverage Foundation gives full coverage with a mattifying effect. It blurs out imperfections and stays put for up to 24 hours. The unique dropper applicator of the product allows easy application. The ultra-lightweight formula creates a smooth and even-toned complexion and offers a natural-looking finish. The foundation comes in 23 shades and is suitable for normal to oily skin. Check this video to learn more about the product.
Pros
Long-lasting coverage
Vegan
Oil-free
Paraben-free
Alcohol-free
Gluten-free
Fragrance-free
Cons
Foundation Type: Powder
This Natural Loose Mineral Foundation by Youngblood offers sheer to full coverage. It efficiently conceals imperfections like scars, melasma, and rosacea. The lightweight formula contains natural ingredients and blends effortlessly with your skin without clogging pores. The self-adjusting formula of this powder foundation gives you a natural-looking, satin finish. The product is available in 17 true-to-skin shades and suits all skin types. Take a look at this video to get more information on the product.
Pros
Lightweight
Buildable coverage
Breathable
Vegan
Paraben-free
Talc-free
Cruelty-free
Cons
Not long-lasting
Might look cakey
Foundation Type: Liquid
The Phyto Pigments Flawless Serum Foundation from Juice Beauty is infused with certified organic ingredients. It is rich in antioxidants like champagne grape seed, crushed roses, and coconut alkanes that give your skin all the nourishment it needs. They help fight early signs of aging and reduce the appearance of fine lines and wrinkles. As a bonus, this foundation is packaged sustainably and is available in 11 versatile shades that work for all skin types. This video offers a more detailed explanation of the product.
Pros
Certified organic ingredients
Does not crease
Weightless
No harmful ingredients
Cruelty-free
Cons
Foundation Type: Liquid
If you are searching for a high-quality foundation to cover all your imperfections in no time, the Fifth Skin Mineral Foundation is worth trying. It contains aloe and other natural, certified organic ingredients and gives buildable coverage. The formula conceals imperfections, blemishes, redness, blackheads, sun spots, to improve the look of your skin. The foundation also contains natural vanilla and has a pleasant fragrance. It is available in 12 shades with a color adjusting formula to ensure a natural-looking finish. It gives you a slightly dewy look and suits all skin types.
Pros
Lightweight
Vegan
Gluten-free
Cruelty-free
Paraben-free
Palm-free
Talc-free
Lead-free
Non-GMO
Pleasant fragrance
Cons
None
Foundation Type: Liquid
If you're looking for the best natural foundation for dry skin, this Serum Foundation from True Skin is for you. It has a host of natural oils to reduce dryness. The 17 unique shades impart a flawless complexion while reducing skin irritation. The foundation contains a blend of botanical actives like rosa moschata oil, rice powder, jojoba seed oil, and jasmine flower and leaf extracts to prevent premature aging. It blurs imperfections, minimizes pores, and gives a luminous appearance with a dime-sized squirt of the product.
Pros
Dermatologist-tested
Non-comedogenic
Soothes irritations
Offers buildable coverage
Gluten-free
Vegan
Cruelty-free
Cons
Foundation Type: Pressed powder
Alima Pure is another brand that stays away from questionable ingredients and thrives with thoughtful formulations. This pressed powder foundation comprises milled rice and mica powders that care for your skin while providing an even and buildable coverage. The rosehip extract in the formula has antioxidant properties to help fight free radicals. The foundation is available in 17 shades and works ideally for all skin types. With moisturizing, toning, and anti-inflammatory elements like evening primrose oil, argan oil, and aloe leaf extract, this foundation is suitable for all skin types.
Pros
Lightweight
Fragrance-free
Buildable
Cruelty-free
Cons
Foundation Type: Crème
The Lauren Brooke Cosmetiques Crème Foundation provides good coverage all day long. This smooth and lightweight foundation is packed with nourishing botanical ingredients that do not irritate eczema and rosacea-prone skin. It contains a blend of beeswax to increase the skin's moisture level, argan seed to shield against pollution, and silica to reduce the appearance of large pores, fine lines, and wrinkles. The foundation has a special Phytolipid Complex (blend of jojoba, rosehip, and vitamin E oil) to provide additional nourishment and contains antioxidant-rich green tea and zinc oxide to soothe irritation and offer sun protection. The breathable formula with SPF 28 blends beautifully to give a natural and dewy finish.
Pros
Lightweight
SPF 28
Cruelty-free
Gluten-free
Vegan
Paraben-free
Non-GMO
Contains biodegradable ingredients
Cons
None
Foundation Type: Liquid
The EVXO Organic Liquid Mineral Foundation is made with certified and organic ingredients that do not clog your pores. The long-lasting formula gives you a dewy and non-greasy look. It is formulated with chamomile with anti-inflammatory properties, thyme extract to minimize blemishes, and vitamin E to block free radicals. This organic foundation in the shade sea shell is perfect for fair complexions with cool undertones. The long-lasting formula offers buildable coverage and keeps your skin bright. It is available in 12 shades and is suitable for all skin types.
Pros
Vegan
Gluten-free
Non-greasy
Long-lasting
Cons
Not for mature skin
Overwhelming fragrance
Foundation Type: Liquid
The Lux Liquid Foundation by BaeBlu has an advanced botanical anti-aging formula that blots excess oil and balances dry spots while restoring the skin's youthful glow. It is infused with nourishing ingredients and has a non-greasy texture to smooth out fine lines and leave skin naturally gorgeous. The formula covers redness, acne scars, blackheads, dark circles, and sunspots while boosting luminosity. The foundation is available in 16 shades and works well for all skin types.
Pros
Lightweight
Plant-based formula
Vegan
Cruelty-free
Paraben-free
Gluten-free
Fragrance-free
No artificial colors
Non-GMO
Recyclable packaging
Cons
Foundation Type: Liquid
The Shimarz Natural/Organic Liquid Mineral Foundation is best for all skin types. The lightweight formula gives you a natural-looking coverage. It is formulated with natural plant-based ingredients like aloe leaf juice with anti-aging properties, rice powder to absorb excess oil, shea butter for moisturization, chamomile for its soothing properties, vitamin E to fight free radicals, and vanilla to soothe irritation.
The foundation also contains oregano leaf extract for its antifungal and antiseptic properties, thyme extract with healing benefits, and olive leaf and rosemary leaf extracts to offer sun protection and fight free radicals. It is available in six different shades to match different skin tones and give a crease-free look all day long.
Pros
Lightweight
Vegan
Gluten-free
Cruelty-free
Paraben-free
Non-toxic
Non-GMO
No added chemicals
Cons
Foundation Type: Pressed powder
The Burt's Bees Mattifying Powder Foundation gives you natural shine and super smooth skin that lasts long. The formula is enriched with bamboo extracts that blur imperfections and offer buildable coverage. It is lightweight and absorbs oil without causing dryness. The six lightweight, mattifying shades match a wide variety of skin tones, and it is perfect for oily skin. The foundation comes with a sponge applicator and a mirror that makes it even easier to use. If you are a fan of mattifying makeup looks, this powder foundation can help you achieve that.
Pros
Lightweight
Non-comedogenic
Cruelty-free
Paraben-free
Phthalate-free
SLS-free
Talc-free
Synthetic fragrance-free
Silicone-free
Cons
Foundation Type: Pressed Powder
While "clean products" don't necessarily have a single agreed-upon criterion, products like the W3ll People Bio Base Baked Foundation are worth the leap of faith for their list of non-toxic ingredients. This all-natural powder foundation stays put throughout the day. It imparts a semi-matte coverage without feeling cakey. The foundation is formulated with organic squalene and honokiol to prevent free radical damage and reveal your inner radiance. It is available in six shades and is lightweight, and easy to apply.
Pros
All-day wear
Weightless
Gluten-free
Non-GMO
Vegan
Paraben-free
Dimethicone-free
Cruelty-free
Certified organic (USDA approved)
Cons
Foundation Type: Liquid
The Harvest Perfecting Organic Liquid Foundation is fortified with vitamin E and packed with organic ingredients that smoothen, moisturize, and nourish your skin. It is free of harsh chemicals, parabens, and pore-clogging ingredients and suits all skin types, especially sensitive skin. The foundation is available in six different shades, non-comedogenic, and blends easily to give a natural finish.
Pros
Lightweight
Non-toxic
Vegan
Cruelty-free
Phthalate-free
Cons
None
Foundation Type: Liquid
This Natural Liquid Mineral Foundation from Mom's Secret contains 90% certified organic ingredients. It offers a polished, breathable finish and makes your skin look natural with sheer coverage. The foundation comes in 12 shades and is perfect for every skin type. It is a blend of hydrating and skin-nourishing ingredients like vitamin E, glycerin, rice powder, and oregano leaf extract and also offers sun protection.
Pros
90% Certified organic
Gluten-free
Cruelty-free
Non-greasy
Cons
Foundation Type: Liquid
This is one of the best natural foundations for sensitive skin. The Physicians Formula Silk foundation packs skin care ingredients like aloe vera, botanical cactus flower, sunflower seed, jojoba, and coconut oil. These ingredients help lock moisture and soothe the skin. This organic foundation elixir has an ultra-fluid consistency and is easy to apply. The 12 skin-compatible shades of the product offer a sheer to buildable coverage, and it works best for sensitive and combination skin. If you are a fan of the dewy-finish look, this is the best natural liquid foundation to help you achieve that.
Pros
Hypoallergenic
Fragrance-free
Paraben-free
Gluten-free
Dermatologist-tested
Cruelty-free
Vegan
Cons
May not offer full coverage
This is our list of the 15 best natural foundations that will leave you with glowing and smooth skin. Let's move on to the next segment about choosing the best natural foundation based on your skin type and other factors.
How To Choose A Natural Foundation
1. Consider The Skin Tone
Match the foundation with your skin tone and the undertones. You can either go through the shade descriptions, order a sample size, or swatch the foundation near the jawline to see if it blends well or not.
2. Consider Your Skin Type
The type of foundation you buy should depend on your skin type. Stick and liquid-based foundations are suitable for dry skin. However, if you have oily skin, powder foundations can help reduce the oiliness. For sensitive skin, always check if the product is hypoallergenic and dermatologist-tested.
3. Check The Finish
The most common types of finishes in the foundation are dewy, satin, matte, and semi-matte. While this is entirely a matter of preference, make sure you check what kind of finish the foundation promises to avoid disappointment after buying it.
4. The Coverage
Most foundations offer sheer, medium, and full coverage. While sheer is ideal for people who prefer a natural-looking finish for daily use. Medium and full coverage foundations work best for those who have marks, spots, and uneven skin tone. Medium coverage is a good option if you have not-so-subtle but not-so-evident pigmentation and blemishes. All these foundations are buildable to meet your preferences.
5. Ingredients
All kinds of natural foundations have an array of organic or natural ingredients. While most brands forsake toxic and synthetic ingredients, you still need to go through the list and see if you are allergic to any of the ingredients. All-natural does not mean it is safe – you can be allergic to any natural ingredients.
Now that you know the aspects you need to consider when buying a natural foundation, here's how you should use it for the best results.
How To Apply A Natural Foundation
1. Clean Your Face
It all starts with a clean face. Cleansing your face before applying makeup helps ensure your face is free of oil, sebum, and any leftover makeup from the previous day.
2. Prep Your Skin
Prepping the skin is crucial so that the foundation does not settle into creases and fine lines. Always start with a moisturizer to hydrate your skin, and then apply primer. A primer prevents pore clogging and provides a smooth base for the foundation to glide on.
3. Dab And Blend
Dab a decent amount of foundation on your face and blend it well. For sheer to medium coverage foundations, you can use your fingers. However, using a sponge or a kabuki brush gives you more control. This can be followed by concealer and translucent powder for a final touch.
Why Trust StyleCraze?
Chaitra Krishnan is a beauty and fashion enthusiast passionate about reviewing the latest trends and products. She takes her skincare and makeup game seriously and has dug deep to understand the critical points about what works and what does not. She combined her thorough understanding of skin tones and undertones with her passion for finding organic and natural beauty products to curate this product list through extensive review exploration. The foundations in this list come with gentle and natural ingredients that offer the perfect makeup base for various skin tones.
Frequently Asked Questions
Does a natural powder foundation look natural?
It depends on the coverage and finish. Most sheer to medium coverage foundations look close to natural.
Does the Fenty Foundation look natural?
While some of the Fenty Beauty foundations give you a natural look, full coverage foundations from the brand that help hide imperfections and pigmentation may feel a bit heavy on the skin.
Recommended Articles