15 Best Foundations For Fair Skin That Give A Flawless & Toned Look – 2023
Create a dewy and youthful look with the right high coverage base makeup products.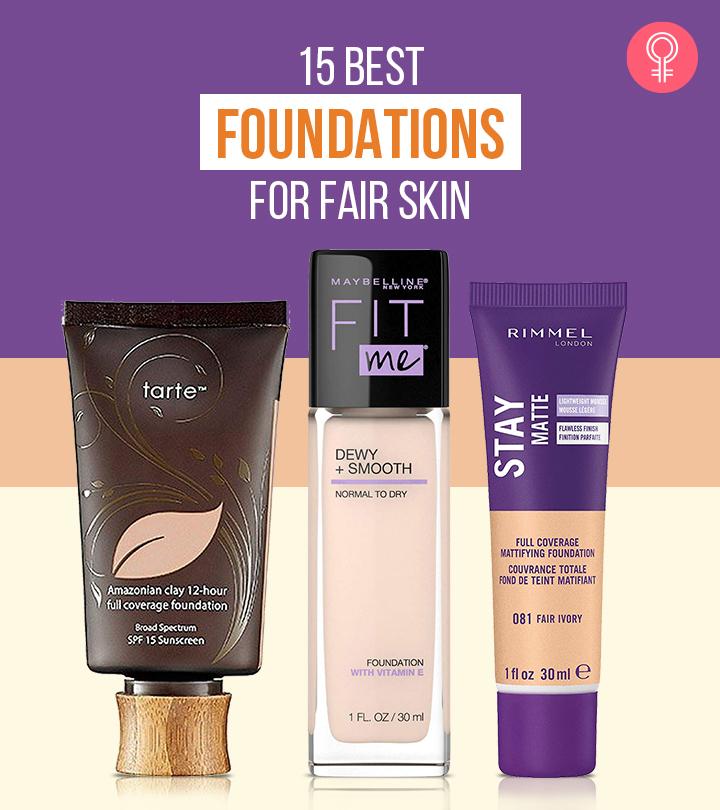 If you are scouring for a foundation that can blend in perfectly with your fair skin, then you must place your hands on the best foundation for fair skin available in the market. These products are capable of covering all your flaws and leaving your skin with an even-toned look. It totally sounds excellent, right? Therefore, in this article, we have made a list of the 15 most effective foundations that are suitable for fair skin. So go ahead and check it out because it is time for flawless makeup!
15 Best Foundations For Fair Skin – 2023 Update
The Simply Ageless 3-In-1 Foundation by Covergirl+Olay adds a youthful charm to your face. It is formulated with hyaluronic complex and vitamin C that instantly reduce the visibility of wrinkles, fine lines, blemishes, and other imperfections. It offers medium coverage and improves skin tone. The hyaluronic complex in it binds moisture to reveal radiant, healthy-looking skin. Vitamin C shields the skin with its highly potent antioxidant properties and eliminates toxic free radicals. It also maintains collagen levels that reduce skin breakouts, acne, or pimples. The Fair Ivory shade is also rich in niacinamide and vitamin B3 and is suitable for all skin types.
Pros
Hydrating formula
Firms skin
Ideal for sensitive skin
Lightweight
Cruelty-free
Cons
Unpleasant smell
May feel greasy
Price at the time of publication: $14.47
This dermatologically-tested foundation from Maybelline New York adds a dewy glow to the skin and leaves it with a smooth finish. The formula is enriched with vitamin E and contains SPF 18 that protects the skin against sun damage. The thin consistency of the foundation melts into the skin, moisturizing it with a radiant finish. You can apply just the foundation or use it as a base to achieve the perfect makeup look. It is crafted and innovatively formulated to stay fresh on the skin for several hours. Moreover, it keeps the skin hydrated without becoming cakey.
Pros
All-day wear
Non-comedogenic
Lightweight
Long-lasting
Mess-free
Fragrance-free
Sustainably manufactured
Cons
May irritate sensitive skin
Price at the time of publication: $2364
The Super Stay Liquid Foundation from Maybelline New York gives full matte coverage while correcting imperfections. It leaves your skin with a seamless finish that lasts up to 24 hours. The shade remains true to its color without being gray and looks natural. The lightweight formula blends into your skin easily and makes it look flawless. Moreover, the formula is dermatologically-tested to be gentle on the skin and does not clog the pores.
Pros
Long-lasting
Lightweight
Dermatologist-tested
Moisturizes skin
Oil-free formula
Non comedogenic
Cons
None
Price at the time of publication: $10.45
The Can't Stop Won't Stop foundation by Nyx Professional offers full coverage and ensures your makeup turns out just the way you want it. Its matte finish lasts up to 24 hours and controls shine. The formula is intensely pigmented for a durable finish and does not fade or come off as it is water- and sweat-proof. The creamy foundation mattifies the makeup and covers blemishes and dark spots perfectly.
Pros
Silky texture
Non-comedogenic
Lightweight
Waterproof
Non-transferable
Cruelty-free
Cons
None

Price at the time of publication: $14.99
The Stay Matte Foundation from Rimmel London offers a long-lasting matte finish. Its liquid mousse texture blends flawlessly and leaves your skin with a natural look. It hides skin imperfections and minimizes pores while creating a natural, almost 'no makeup' appearance. The silky-rich pigmented formula makes your skin baby soft. It is infused with state-of-the-art gel emulsifiers that control shine for the entire day. The formula is lightweight and leaves the skin fresh and naturally matte for 24 hours.
Pros
Reduces pores
Long-lasting
Lightweight
Non-greasy
Controls shine
Does not cake
Oil-free
Cons
Price at the time of publication: $2.4
The Clinique Even Better Makeup evens out skin tone and sets the perfect canvas for makeup. It is infused with SPF 15 and protects the skin from the harmful UV rays. The powerful formula visibly blurs fine lines, wrinkles, marks, blemishes, and other imperfections, helping you fight the signs of premature aging. This full-coverage foundation is suitable for normal, dry, combination, and oily skin types and ensures 24-hour coverage. It brightens and improves skin texture with every wear.
Pros
Formulated by dermatologists
Lightweight
Hydrating formula
Oil-free
Cons
Price at the time of publication: $22.0
It Celebration Foundation Illumination is a powder foundation that is highly pigmented. It instantly brightens the face with a non-greasy radiance. This drugstore foundation effectively covers and reduces the visibility of scars, marks, blemishes, crow's feet, and facial imperfections. The foundation is offered in a sleek compact case that can be slipped into your pocket, purse, backpack, or handbag for use any time. It feels luxuriously silky smooth as it is made with hyaluronic acid, peptides, hydrolyzed collagen, antioxidants, and silk. Hyaluronic acid attracts moisture and keeps your skin well hydrated beneath all those layers of makeup. In contrast, the peptides nourish and help the skin regenerate by itself. The powdery foundation absorbs oil and shine without smudging, creasing, or cracking.
Pros
Blends effortlessly
Buildable coverage
Crease-proof
Crack-proof
Ultra-hydrating formula
Cons
Becomes cakey
Settles in fine lines
Price at the time of publication: $33.95
The Bare Minerals Matte Foundation creates a perfect matte look for oily skin. The product is vegan and comes in a loose powder form that can be buffed easily to get sheer to full coverage. The foundation with SPF 15 perfects the skin for a beautiful no-makeup look. It consists of active mineral pigments like titanium dioxide and zinc oxide that spread smoothly across the skin, evenly covering the imperfections without stripping the natural nutrients. This foundation gives coverage to reduce the appearance of wrinkles, fine lines, creases, and other signs of premature aging. The skin puffs up beautifully, looking clear and perfect.
Pros
Lightweight
Does not become cakey
Paraben-free
Talc-free
Gluten-free
Fragrance-free
PEG-free
Tree nut-free
SLS-free
Cruelty-free
Phthalate-free
Cons
Price at the time of publication: $22.89
The Tarte Foundation is infused with micronized zinc and titanium, giving long-lasting buildable coverage with a smooth finish. It is especially designed for acne-prone skin and powered by Amazonian clay that is breathable and does not cake. The vegan foundation easily hides skin breakouts and contours facial features. It is enriched with vitamin E that nourishes and preserves the skin naturally. It ensures maximum coverage of up to 12 hours, and its broad-spectrum SPF 15 protects your skin from harmful UV rays. The foundation gives flawless matte coverage, concealing blemishes and discoloration. It is suitable for oily and combination skin.
Pros
SPF 15
Long-lasting wear
Cruelty-free
Gluten-free
Oil-free
Mineral oil-free
Sulfate-free
Paraben-free
Phthalate-free
Triclosan-free
Cons
Feels heavy during summers
Price at the time of publication: $46.0
The silky foundation from the Physicians Formula is an elixir for the skin. The foundation is nourishing, weightless, and organically prepared. It is enriched with jojoba oil, orange fruit extracts, aloe vera, vegetable collagen, olive oil, sunflower seed oil, and coconut oil. The blend of these ingredients deeply moisturizes the skin, giving you a youthful glow throughout the day. It gives a buildable medium to high coverage and stays long without being oxidized. This formula comes with a dropper that squeezes out the foundation in drops. The foundation is ideal for combination skin.
Pros
Plant-based ingredients
Lightweight
Safe for sensitive skin
Hypoallergenic
Improves skin texture
Value for money
Cons
Price at the time of publication: $14.53
The true match Super-Blendable Foundation by L'Oreal Paris is true to its name and gives you a finish so natural that it feels like your own skin. This oil-free foundation lasts long and gives you medium to buildable full coverage. It also comes in broad spectrum SPF 17 that gives you maximum protection from the sun. The product comes in 45 shades that can match most light to dark skin tones.
Pros
Blends easily
Long-lasting
Available in multiple shades
Cons
None
Price at the time of publication: $17.99
The Neutrogena Serum Foundation, which is suitable for sensitive skin, serves as a skincare and makeup product. It provides sheer, buildable, and natural coverage while minimizing the appearance of pores and fine lines, reducing redness, and masking imperfections. This foundation helps in maintaining healthy skin as it is made with pro-vitamin B5, which is recognized by dermatologists for preserving the skin's moisture barrier. This light coverage foundation has a skin-like finish and keeps your skin rejuvenated.
Pros
Lightweight
Buildable coverage
Skin-like finish
Paraben-free
Fragrance-free
Sulfate-free
Alcohol-free
Suitable for sensitive skin
Cons
None
[multi_buy_now_btnasin="B09J1Y9NSK"amz_affilate="tsr-makeuppro-20″walmart_affilate=""]
The Clinique Even Better Foundation is prepared especially for dry and oily combination skin types and creates the perfect mattifying look. It is infused with SPF 15 to keep the skin protected against the harmful UV rays. It is ideal for daily use for moderate wear and gives 24-hour flawless coverage. The creamy texture hides discoloration, age spots, and scars to provide flawless-looking skin. This dermatologist-developed formula visibly reduces dark spots in 12 weeks. Moreover, it contains sweat- and humidity-resistant pigments, making it an excellent choice in humid weather.
Pros
Buildable coverage
24-hour coverage
Oil-free
Paraben-free
Sulfate-free
Sweat-resistant
Humidity-resistant
Cons
None
Price at the time of publication: $39.99
The Bare Minerals foundation is enriched with a combination of rich pigments and SPF 15 that take care of your skin unlike any other. It visibly reduces the appearance of large pores with its Active Soil™ Complex. The foundation offers maximum coverage and leaves you with a no-makeup, natural look. The product remains on the facial skin for up to 8 hours. It comes as a loose powder that improves skin texture and works its magic on oily skin. The powder soaks up the excess sebum, creating an even skin complexion.
Pros
Vegan
Lightweight
Cake-free
Filler-free
Binder-free
Paraben-free
Synthetic chemical-free
PEG-free
SLS-free
Talc-free
Tree nut-free
Synthetic fragrance-free
Gluten-free
Cons
None
Price at the time of publication: $26.5
The Physicians Formula Butter Believe It is a 2-in-1 formula that works as foundation and concealer. It is prepared with a blend of tucuma butter, cupuacu butter, murumuru seed butter, shea butter, watermelon lentil fruit extract, and apple fruit extract. This powerful blend helps enhance skin elasticity and hydration. The creamy, silky smooth foundation melts into the skin without clogging the pores. It gives a light and natural coverage. Its nutrient-rich formulation blends easily and camouflages dark spots, pigmentation, and other skin imperfections.
Pros
Vegan
Lightweight
Hydrating formula
Long-wearing
Paraben-free
Cons
Price at the time of publication: $12.48
Foundation creams improve skin tone and texture. They conceal wrinkles, fine lines, and blemishes and improve skin tone. If you're confused about finding the best foundation for your fair skin, here are some important points to consider.
Things to Consider Before Buying Best Foundations for Fair Skin that Give A Flawless and Toned Look
Lightweight and Long Lasting
The best foundations for fair and flawless skin should be lightweight and mess-free. They should not feel heavy on your skin even after hours of application. The foundation must not leave a greasy residue or cakey appearance. It should successfully conceal lines, wrinkles, and dark spots to make the skin even textured and bright. Opt for a foundation infused with SPF for day outings which will protect the skin from harmful UV rays.
Opt for foundation creams that give long-lasting hydration to the skin without making your face look greasy. Look for moisturizing ingredients like niacinamide, vitamin B3, hyaluronic complex, and vitamin C. The formula should be oil-free, crease-free, and crack-proof.
Different types of skin need different coverage, so if you have dry skin which needs more coverage, try a liquid or moisturizing powder foundation. Use powder and liquid foundation for combination skin while blending carefully to get full coverage. You can also strategically choose to apply liquid and powder foundation for light to heavy coverage.
Consider your skin type while choosing a foundation. For example, go for an oil-free foundation if you have oily and acne-prone skin since oil can aggravate acne. Also, choose a non-comedogenic foundation that doesn't clog pores. For dry skin, hydrating ingredients work wonders and give a smoother coverage.
Chemical preservatives in cosmetics are harmful to skin health. Instead, use a foundation that doesn't contain paraben, SLS, PEG, silicone, phthalate, and sulfate. It should also be free from synthetic fragrances, mineral oil, talc, and triclosan. It must be suitable for sensitive skin and dermatologist-recommended. Many people also choose to buy foundation creams that are vegan, cruelty-free, and gluten-free.
Why Trust StyleCraze?
The author of this article, Baishali Bhattacharya, is certified in makeup artistry. Her passion lies in creating comprehensive content on makeup that helps her readers find suitable products. She has curated a list of the best foundations for fair skin after carefully browsing online reviews on several e-commerce websites. These foundations are sweat-proof, lightweight, and easily blendable. They are dermatologically tested and offer mess-free applications.
Frequently Asked Questions
Should the foundation be lighter or darker than your skin?
If you are only going for base makeup, match your foundation shade exactly to your natural skin tone. However, if you also plan to apply bronzer and contour, you can go a shade lighter.
What color foundation should I use for fair skin tone with pink undertones?
If you have fair skin with pink undertones, go for a foundation shade that matches your skin tone and has neutral, cool, or pink undertones.
Should I match my foundation to my face or body?
Match your foundation to your jawline so that it matches both your face and neck.
Do you apply foundation under your eyes?
Yes, if you have mild hyperpigmentation under your eyes, use a thin layer of foundation to conceal it. If you use too much foundation under your eyes, the area can look cakey.
Which is better for applying foundation: a sponge or a brush?
Apply cream or liquid foundation with a sponge when you want sheer coverage. If you want full coverage, apply it with a tapered, flat brush.
Recommended Articles: