11 Best Niacinamide Creams For Bright, Glowing Skin
For healthy and flawless skin, niacinamide creams are must-haves in your makeup pouch.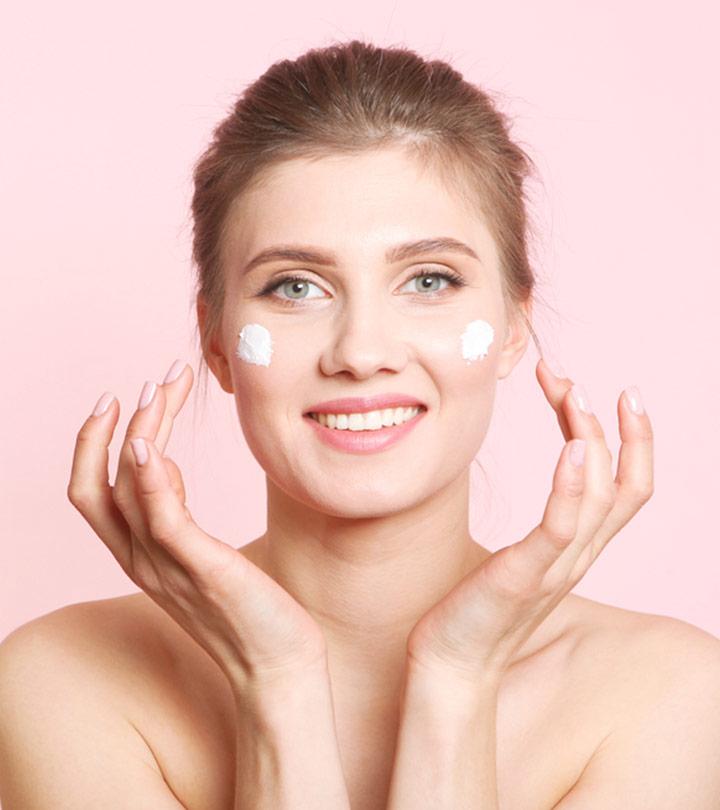 The meaning of skin care has changed drastically with the emerging trends. It is no more a single cream or gel, as every skin has different needs. To satisfy these needs, you need to incorporate the best niacinamide cream into your skin care regimen. It offers an array of benefits to your skin. Visible results can be achieved with regular use. It stands as a superior ingredient in skin care. Continue reading further to know more about this cream and how it can benefit your skin.
What Is Niacinamide?
Niacinamide is a skin-loving water-soluble form of vitamin B3 and is best known for its versatility in nourishing every skin type. It is found in a wide range of skin care products, including serums, eye creams, night creams, and toners. It repairs and replenishes the skin's moisture barrier while reducing the appearance of fine lines, wrinkles, and dark spots. To put it simply, niacinamide is the star ingredient that ensures your skin is glowing, radiant, and healthy-looking.
11 Best Niacinamide Creams To Try In 2022
Are you looking for a magic product to renew your tired skin overnight? Try this niacinamide lotion infused with skin-plumping hyaluronic acid and ceramides. This dermatologist-recommended cream restores your protective skin barrier, so you wake up feeling refreshed and renewed every day. It also contains shea butter and citric acid to cleanse and moisturize your skin while improving uneven skin tone. This gentle, non-irritating formula has a luxuriously rich, creamy texture and is fragrance-free and non-comedogenic. This niacinamide cream for acne scars is not only suitable for sensitive skin but also for those prone to breakouts. You may check this video for a better understanding of this product.
Pros
Non-greasy and fast absorbing formula
Fragrance-free
Non-comedogenic ingredients
Suitable for sensitive skin
Cons
This soothing moisturizer has a high concentration of niacinamide, which helps you kiss your tired skin goodbye. Prebiotic thermal water, glycerin, and ceramides in this formula replenish essential moisture and restore the skin's natural barrier, thereby protecting it against harmful environmental aggressors. The soft, creamy texture will add a comforting step to your skin care regime, and will also reduce the appearance of dryness, redness, and roughness. Suitable for all skin types, this niacinamide face cream can be used day and night for long-lasting hydration. This video review will help you learn more about the product.
Pros
Safe for sensitive skin
Oil-free and non-comedogenic
Free of parabens, synthetic ingredients, and fragrances
Dermatologist-tested and allergy tested
Cons
Some might find the texture of this product a bit flaky.
If you're looking for products containing niacinamide explicitly designed for sensitive skin that also double as a sunscreen, you're in the right place. This soothing day cream is infused with skin-loving ingredients like blue tansy oil, anti-bacterial calendula, and calming chamomile, which gently heal irritated and sensitive skin. Hyaluronic and sunflower amino acids reduce the appearance of dehydration lines, redness, and dryness by hydrating and plumping up the skin. This hyaluronic acid and niacinamide cream also provides calming support for skin that appears healthier and well-rested.
Pros
Provides broad spectrum SPF 30 sun protection
Free of parabens, sulfates, and petrolatum
Contains no mineral oil
100% vegan and cruelty-free.
Cons
Some might find the fragrance of this product a bit unpleasant.
If you need a day moisturizer that helps you achieve smooth, supple skin, this premium quality lotion is an ideal pick. Formulated with niacinamide and hyaluronic acid, this niacinamide cream for oily skin brightens and improves skin tone while reducing the appearance of fine lines and wrinkles. It also contains willow bark extract and caffeine to soothe the skin and rid pores of impurities. Lightweight and fast-absorbing, this formula is suitable for normal to oily. Regular use of this cream will improve moisture absorption and retention for skin that is soothed, refreshed, and rejuvenated.
Pros
Lightweight, fast-absorbing formula
Ideal for normal to oily skin
Oil-free and non-comedogenic
Free of fragrances and parabens
Cons
Some might find that this cream leaves a bit of shiny residue on the skin.
If worrying about the appearance of premature signs of skin aging like wrinkles, fine lines, and crow's feet keeps you up at night, here's a niacinamide face cream that works while you sleep. Formulated with 5% niacinamide, peptides, ocean minerals, and seaweed, this night cream spreads easily and absorbs quickly to hydrate and rejuvenate skin overnight. Also included in the impressive list of clean ingredients are organic jojoba and spirulina maxima, which improve the skin's elasticity and boost moisture levels.
Pros
Made with natural and organic ingredients
Lightweight, fast-absorbing texture
Suitable for all skin types
Fragrance-free formula
Vegan and cruelty-free
Cons
Some might find the texture of this night cream a bit greasy.
This niacinamide eye cream is specifically formulated to rejuvenate the delicate eye area and reduce the appearance of tiredness, fine lines, dark circles, and wrinkles. The convenient eye-roller design ensures the nourishing gel-based essence is massaged and quickly absorbed into the under-eye area. Hyaluronic acid, peptides, and panthenol improve skin elasticity and skin tone for hydrated, radiant, and younger-looking skin. Suitable for all skin types, this eye cream can be used day and night.
Pros
Safe for sensitive skin
Free of parabens, alcohol, and sulfates
Oil-free formula
Ideal for daily use
Cons
Some might find the texture of this eye cream a bit thin.
This versatile 3-in-1 niacinamide face cream provides the perfect solution to oily skin and enlarged pores. This non-comedogenic blend contains niacinamide and cannabis sativa seed oil, which reduce the appearance of skin imperfections for glowing, healthier-looking skin. Providing broad-spectrum sun protection against harmful exposure, this niacinamide serum cream is ideal for the minimalistic young woman who is happy with one multi-purpose day cream to nourish, moisturize, repair, and protect the skin. This video will help you make an informed decision about your purchase.
Pros
Lightweight, fast-absorbing texture
Leaves behind no white residue
Provides broad-spectrum SPF 30 sun protection
Fragrance-free formula
Free of parabens, mineral oil, and dyes
Dermatologically and ophthalmologically tested
Vegan and cruelty-free
Cons
Some might find the texture of this product a bit oily/greasy.
If dark circles, fine lines, and wrinkles are your biggest concern, give this niacinamide eye cream a try. It instantly boosts radiance, evens skin tone, and revives and energizes the delicate skin around the eyes. Infused with moisturizing ingredients like hyaluronic acid, vitamin C, and coffee seed extract, this niacinamide brightening cream protects your skin against environmental stressors. Antioxidant-rich guava and eyebright extract improve the texture of the skin for a glowing, healthier-looking complexion.
Pros
Suitable for all skin types
Designed for daily use
Gluten-free
Free of parabens, sulfates, and phthalates
Vegan and cruelty-free
Rich in antioxidants
Cons
Product may not effectively reduce dark circles
This lightweight, fast-absorbing niacinamide gel cream has a rich texture made with 5% niacinamide and phytonutrients to gently repair and rejuvenate skin. Potent hydrators and advanced emulsifiers help you achieve a dewy, poreless, porcelain-like look you've always desired. Formulated for sensitive skin, this soothing cream can be used twice daily as the last step in a meticulous skin care routine. This product is free of harsh chemicals and synthetic fragrances, making it an ideal choice for people sensitive to scents.
Pros
Lightweight, gel-based cream
Free of harsh chemicals and synthetic fragrances
Paraben-free and gluten-free
Vegan and cruelty-free
Cons
This product might not be best suited for those with very dry skin.
Here's a soothing niacinamide skin cream, which provides rich hydration and restores moisture levels without the weight. The lightweight, gel-based formula is non-greasy and instantly refreshes skin while minimizing the appearance of pores. The skin-calming ingredients include oat extract, which alleviates sensitivity, and licorice extract, which calms redness and defends against environmental stressors. The pore-reducing properties and ultra-light texture make this cream ideal for oily and acne-prone skin.
Pros
Lightweight, non-greasy formula
Designed for oily, acne prone skin
Free of parabens and synthetic fragrances
Cruelty-free
Cons
Might not be best suited for those with sensitive skin
This versatile retinol and niacinamide cream is ideal for people who are looking for multiple skin-loving ingredients in one convenient package. This therapeutic cream is formulated with high niacinamide concentrations, hyaluronic acid, retinol, vitamin C, and collagen. Together, these powerhouse ingredients improve skin tone and texture for a softer, smoother, more even complexion. The anti-aging benefits of this product make it suitable for those looking to reduce the appearance of fine lines, wrinkles, and dark spots.
Pros
Suitable for all skin types
Free of parabens, sulfates, and harsh chemicals
Contains no synthetic dyes or fragrances
Cruelty-free
Cons
Some might find the scent of this product a bit overpowering.
Now that we have looked at our pick of the 11 best niacinamide creams in 2022, let us look at some things to consider when picking a product best suited to your unique skin requirements.
How To Choose The Best Niacinamide Cream
Niacinamide is a high-powered ingredient that is beneficial to all skin types. A quick look at the labeling will ensure you pick a product that addresses all your skin concerns. Those with oily and acne-prone skin should choose a cream that is non-comedogenic and doesn't clog pores. Dry skin will benefit from a product with additional moisturizing and skin-plumping ingredients like hyaluronic acid, coconut oil, and jojoba oil. Those with sensitive skin problems should stick to products that are hypoallergenic and dermatologist tested for safety.
If you're waking up every morning with tired-looking, puffy eyes, and unsightly dark circles, don't try to hide behind concealers and foundation. Instead, pick a niacinamide eye cream that will penetrate deep to moisturize, replenish, and re-energize the delicate under-eye area. If a sunburn is what you're trying to avoid, pick a niacinamide day cream with added broad-spectrum sun protection. A quick analysis of your specific skin concerns will help you choose the best niacinamide cream for your skin care regime.
If you're looking for a day cream that you can apply under your makeup before you quickly dash out of the door, make sure to pick a cream that has a lightweight and fast-absorbing texture so that you don't spend the entire day blotting your skin. A nourishing night cream that works to repair and rejuvenate skin overnight should have a rich, creamy texture. Depending on the purpose and time of use, pick a niacinamide cream that has the consistency you prefer to ensure your skin is adequately moisturized and hydrated.
Why Trust Stylecraze?
Kirtana Divakar, the author of this article, is a skincare enthusiast and loves reviewing new trends in this field. After careful research and going through numerous user reviews online, she has curated this list of the best niacinamide creams for her readers. She has hand-picked products with great user reviews and top ratings to help you find the most effective products.
Frequently Asked Questions
Are niacinamide creams good for acne?
With regular use, niacinamide creams can help treat severe acne and reduce the appearance of pimples, spots, and blemishes. The anti-inflammatory properties of niacinamide make it an ideal ingredient in products designed for sensitive, oily skin that is prone to breakouts.
Are niacinamide creams good for breakouts?
Niacinamide creams are an effective topical cream for breakouts and other inflammatory skin conditions like rosacea, eczema, and psoriasis. Niacinamide does not irritate or dry out the skin, making it ideal for those suffering from sensitive skin problems.
Do dermatologists recommend niacinamide?
Dermatologists recommend niacinamide to address skin concerns like visible dark spots, acne, rosacea, pigmentation, wrinkles and reducing the appearance of pores. Its anti-inflammatory properties help with swelling, redness, and the visible signs of aging. Dermatologists generally consider niacinamide safe for topical use and recommend them for all skin types.