11 Best Natural Face Serums For Glossy And Healthy Skin – 2023
Address all your skin care issues by providing proper nourishment to your skin.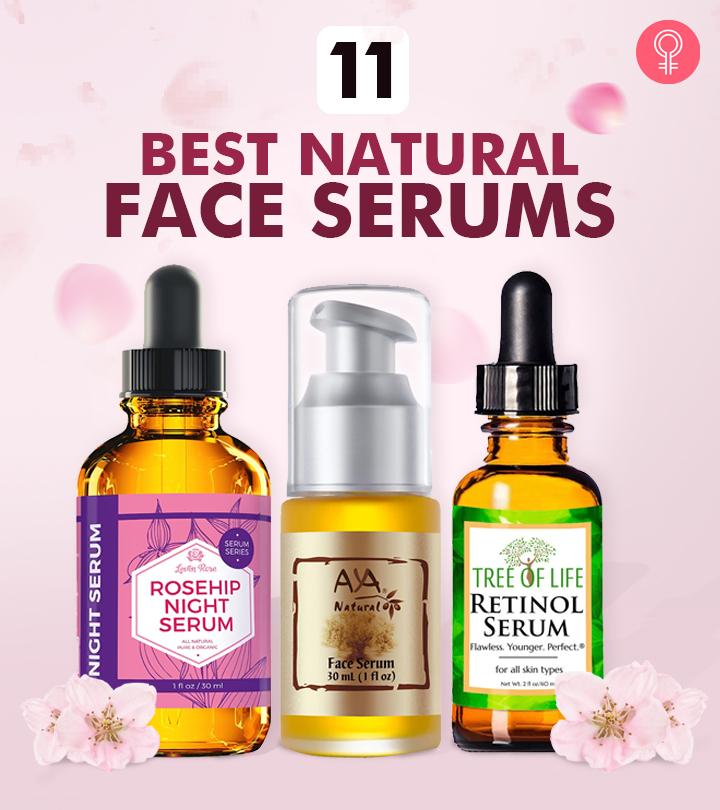 The best natural face serums help address several skin issues. These products contain powerful active ingredients that can treat early signs of aging like fine lines and wrinkles. They even out your skin tone and get rid of dry skin, dark spots, and breakouts. The lightweight formulas sink deeply into your skin and provide nourishment. Each product consists of plant-derived ingredients, nutrients, and vitamins suitable for your skin type. This article reviews and compiles a list of the 11 best organic face serums available on the market. Take a look below!
11 Best Natural Face Serums Available Right Now
TruSkin Vitamin C, E And Hyaluronic Acis Serum is an advanced antioxidant face serum. It is a plant-based formula that is free of synthetic color additives, stabilizers, and fragrance. This vitamin C serum is precisely designed to revitalize aging skin with key nutrients that impart a natural glow to your skin. It is infused with natural vitamin C, botanical hyaluronic acid, and vitamin E that help fight against the signs of aging like fine lines, wrinkles, dark spots, and sunspots. This video reviews this clinically-tested product, so watch it for more information.
Pros
Antioxidant formula
Moisturizes the skin
Nutrient-rich formula
Fights the signs of aging
Cruelty-free
Fragrance-free
No synthetic color additives
Dermatologist-tested
Cons
Sticky formula
May cause breakouts
InstaNatural Vitamin C Serum is the best hydrating face serum. This anti-aging serum is infused with powerful antioxidants that support healthy collagen production to prevent the signs of aging such as fine lines and wrinkles. The natural vitamin C in this facial serum lightens the appearance of eye bags, dark circles, and puffy under-eyes. Hyaluronic acid deeply hydrates and plumps the skin instantly and boosts its ability to retain moisture. This wrinkle-reduction serum also reduces dark spots and helps clear and minimize clogged pores, breakouts, blackheads, and acne. This skin-brightening serum fades the appearance of sunspots, redness, hyperpigmentation, and spots and smoothens the skin texture for increased radiance. Go through this video review for a detailed understanding of the product before you test it out yourself.
Pros
Reduces the appearance of fine lines and dullness
Smoothens the skin texture
Imparts a youthful complexion
Moisturizes the skin
Scented
Suitable for all skin types
Cons
May cause breakouts
Unsatisfactory packaging
Eva Naturals Vitamin C+ Skin Clearing Serum is the best anti-aging natural face serum. This affordable hydrating serum is packed with vitamins, antioxidants, essential oils, and organic ingredients and is suitable for all skin types. This vitamin C serum delivers visible results and helps protect your skin against UV rays while repairing sun damage. Hyaluronic acid provides deep hydration to the skin, and niacinamide reduces inflammation and soothes troubled skin. It clears the clogged pores, thereby making them appear smaller with its retinol activity. It fights blemishes and improves acne-prone skin. This facial serum is an effective dark spot corrector and hyperpigmentation treatment. Check out this video of a reviewer testing this skin care product to gather more information about the formula.
Pros
Anti-aging formula
Boosts collagen production
Hydrates the skin
Reduces inflammation
Soothes troubled skin
Clears clogged pores
Cruelty-free
Suitable for all skin types
Cons
Unpleasant fragrance
Watery formula
Asterwood Naturals Matrixyl 3000 + Argireline + Vitamin C Serum is an oil-free face serum. The potent Matrixyl 3000 signals your skin to increase its collagen production for firmer and youthful-looking skin. Argireline peptide is also known as natural botox as it creates smoother and tighter skin. Vitamin C decreases the appearance of sunspots. This serum also enhances skin elasticity, evens out the skin tone, and improves the skin texture and overall skin health. A patch test is recommended to avoid any skin irritation.

Pros
Increases collagen production
Enhances skin elasticity
Evens out the skin tone
Pore-minimizing formula
Smoothens and tightens the skin
Decreases the appearance of sunspots
Deeply moisturizes the skin
Paraben-free
Sulfate-free
Oil-free
Fragrance-free
Cruelty-free
Cons
Tree Of Life Retinol Serum is a high-quality moisturizing face serum. This double-strength retinol serum fights the signs of aging and gives your skin a smooth and refreshed look. It provides superior moisturization and imparts a youthful glow to the skin. This anti-wrinkle serum is non-greasy and suitable for all skin types. It is formulated with 10% hyaluronic acid that replenishes the moisture in your skin and reduces the appearance of fine lines and wrinkles. This antioxidant serum is also infused with vitamin E and other natural ingredients such as witch hazel, jojoba oil, green tea, and other powerful ingredients that help provide long-lasting moisturization to the skin. Reviewers highly recommend this serum due to its ability to deliver visible results without causing any irritation, especially on sensitive skin types.
Pros
Anti-aging formula
Non-greasy
Moisturizes the skin
Imparts a youthful complexion
Reduces the appearance of fine lines and wrinkles
Vegan
Paraben-free
Cruelty-free
Dermatologist-tested
Suitable for all skin types
Cons
May cause breakouts
Loaded with preservatives
Mad Hippie Vitamin C Serum is antioxidant-rich face serum. Its rich blend of vitamins C and E, ferulic acid, and hyaluronic acid reduces discoloration and blemishes. It works wonders in evening out the skin tone, smoothening your skin texture, and improving the overall appearance of your skin. The vitamins C and E in this serum reduce discoloration and provide protection from photoaging, while hyaluronic acid reduces the appearance of wrinkles. Ferulic acid has a compounding antioxidant protective effect. Test this skincare product today to bid goodbye to dark spots forever and get improved skin health!
Pros
Reduces discoloration
Evens out the skin tone
Minimizes the appearance of wrinkles
Smoothens the skin texture
Moisturizes the skin
Vegan
Cruelty-free
GMO-free
Cons
Not suitable for oily and sensitive skin
The ClarityRx Daily Dose Of Water Hyaluronic Acid Hydrating Serum is a plant-based daily moisturizing treatment, formulated to reverse dry, dull skin. The hyaluronic acid in the formula minimizes the appearance of fine lines and wrinkles and the phenoxyethanol prevents the growth of yeast, bacteria, and fungi. The serum is infused with purified water that traps natural moisture and improves your skin health and hydration. It is also unscented, making it ideal for sensitive skin.
Pros
Lightweight
Fast-absorbing formula
Suitable for all skin types
Safe for daily use
Cruelty-free
Fragrance-free
Sulfate-free
Paraben-free
Cons
None
The Balance Me Tri-Molecular Hyaluronic Serum is a high-end beauty product. It is infused with hyaluronic acid that moisturizes the skin and restores its suppleness, aloe vera that treats skin inflammation, and chamomile water that soothes and calms your skin. The formula is also enriched with yarrow which reduces skin redness. This repair serum plumps and tightens your skin while smoothening fine lines.
Pros
Suitable for all skin types
Vegan
Cruelty-free
Cons
None
Get healthy skin with the DERMA-E Vitamin C Concentrated Serum, a clinically proven, skin-brightening serum. This concentrated serum has several antioxidants and anti-aging properties that help in reducing the appearance of fine lines, wrinkles, and age spots, and evens out the skin tone. Vitamin C supports collagen health and improves the appearance of sun-damaged skin. Hyaluronic acid prevents the signs of aging and acts against free radical damage, while aloe and vitamin E moisturize your skin and improve its texture.
Pros
Supports collagen health
Minimizes fine lines and wrinkles
Moisturizes the skin
Evens out the skin tone
Dermatologist-recommended
Vegan
Cruelty-free
Paraben-free
No mineral oil
Gluten-free
Lanolin-free
GMO-free
Cons
The Foxbrim Naturals Collagen Peptide Face Serum is designed to minimize the appearance of fine lines and wrinkles and promotes skin elasticity. It is formulated with plant-based collagen peptides that deliver visible results, such as repairing damaged skin by boosting collagen production and smoothing fine lines. It is also enriched with clean ingredients such as organic aloe vera, botanical hyaluronic acid, and gotu kola that moisturize the skin, smoothen it, and even out its tone. It also manages excess sebum production and reduces crows feet and gives you smoother skin. This revitalizing serum is free of harsh chemicals like gluten, paraben, and petroleum.
Pros
Suitable for daily use
Evens out the skin tone
Vegan
Cruelty-free
Fragrance-free
Gluten-free
Paraben-free
Petroleum-free
GMO-free
Synthetic dye-free
SLS- and SLES-free
Mineral oil-free
Sustainable packaging
Cons
May cause an allergic reaction
The Microderm GLO's Peptide Complex Serum is a potent formula created to improve the overall texture of your skin. It boosts collagen synthesis, tones and tightens your skin, and enhances its luminosity. The formula is enriched with hyaluronic acid and natural ingredients such as aloe vera, Japanese green tea, active peptides, and honeysuckle that moisturize and smoothen your skin while calming redness. This dermatologist-approved formula is suitable for all skin types.
Pros
Dermatologist recommended
Suitable for all skin types
Cruelty-free
Paraben-free
Fragrance-free
Sulfate-free
Phthalate-free
Cons
None
*The prices provided in this article are based on the latest available information. However, they may vary due to changes in pricing by the seller and/or promotional offers.
That was our list of the 11 best natural face serums available right now. We hope this article helps you find the best natural serum for your skin type. Pick your favorite one from this list and try it out to get bright and even-toned skin!
The Bottom Line
Why Trust StyleCraze?
Oyendrila Kanjilal is a certified skincare coach and has conducted in-depth research on many branded serums to help you pick the best natural face serums for your skin type. She has also visited brand websites and browsed through multiple forums for user feedback. After careful consideration, she brings the best ones for her readers. These products not only provide nourishment to the skin but also treat early signs of aging.
Frequently Asked Questions
How do you use a natural face serum?
Use your natural face serum just like you would use any serum. First, cleanse and tone your face. Next, pour a few drops of the serum onto your face and pat it with gentle pressure. Give it a minute to absorb, and follow up with a moisturizer.
How does using a serum benefit facial skin?
Serums are potent formulas packed with nourishing ingredients. They help hydrate, smoothen, and even tone the skin. Some serums even come with antioxidants that combat early signs of aging like fine lines, wrinkles, and dark spots.
Does face serum have any side effects?
No, face serums do not cause any side effects. However, if you have sensitive skin, make sure to use an organic product made with a hypoallergenic formula. Special serums made for acne-prone skin may cause a fleeting tingling sensation and redness.
How long does serum last on the face?
The serum takes about a minute or two to get completely absorbed into the skin. You can leave it on for the entire day or overnight to get the best results.
Should I use face serum every day?
Yes, use a face serum twice daily as a part of your skin care routine. It is advisable to use a skin-protecting, lightweight day serum during the day and an anti-aging, moisturizing night serum at night.
Recommended Articles